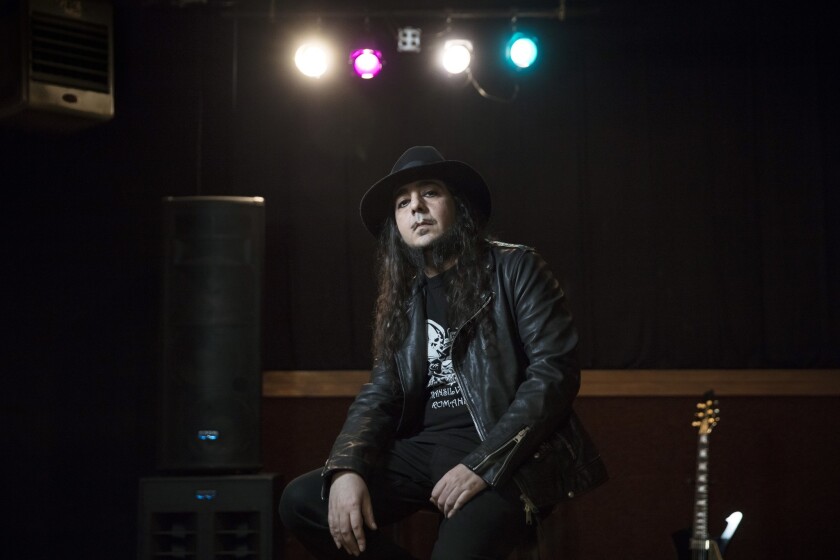 Pop Music Critic
It took Daron Malakian only a single gig to understand that rock star was the job for him.
Best known today as the guitarist in System of a Down — the arty and outspoken Los Angeles band that played to a capacity crowd of 45,000 a few months ago at San Bernardino's Glen Helen Amphitheater — Malakian was an eighth-grader at Theodore Roosevelt Middle School in Glendale when he went in front of others for the first time to perform "Wild Thing" with some pals during an assembly.
"We did the Sam Kinison version," he recalled with a laugh. "Somebody has video of it — I'm headbanging, just totally losing my" stuff, he added, using a stronger word.
Offstage, Malakian is thoughtful and reserved — "very much a keep-to-myself kind of guy," as he put it from a lumpy sofa in a North Hollywood rehearsal studio. "But when I go onstage, I like the attention.
"I demand it."
The problem? System of a Down, which put out its most recent album in 2005, doesn't play that often these days — one result of Malakian's inability to agree with the band's frontman, Serj Tankian, on a creative direction.
And that leaves Malakian, 43, with energy and inspiration to burn — which is why he was preparing on a recent evening for a brief West Coast tour with his other group, Scars on Broadway.
"I've done very well for myself in System of a Down," he said of the band whose pummeling 2001 single "Chop Suey!" has more than 800 million views on YouTube. "But OK, I made some money. What am I gonna do? Just sit at home and not do anything?"
Last year, Scars on Broadway, which will play the Wiltern on Friday night, released its second album, "Dictator." Like the band's 2008 debut, the record sets Malakian's catchy vocal melodies — with traces of the Armenian music he grew up hearing as a kid — over precisely calibrated hard-rock grooves; the lyrics address grim subjects like drugs and violence, but with an eye toward the bleak absurdity of our techno-pharmacological era.
"I'm an isolated and a motivated man," Malakian sneers in the perversely cheerful "Sickening Wars," "I've been nominated for the best Armenian tan."
If the approach reminds you of System of a Down, Malakian has no problem with that. In fact, the songs on "Dictator" may well have become System songs if he and Tankian saw eye to eye. (In a lengthy Facebook post last summer, Tankian wrote about how, working with Malakian, he'd "bring in a song that would be morphed into an undesirable version that I myself would withdraw from consideration").
"To me, Scars is just a continuation of where I left off in System of a Down," Malakian said.
He actually wrote "Dictator" a few years ago, then sat on the material in case System managed to come together to make a record; when that didn't happen, he decided to release the project as an album by Scars on Broadway, with a cover depicting a brutish figure with a conspicuously fluffy haircut.
Painted by Malakian's father, Vartan, the image can't help but call to mind Donald Trump — especially given the title track's lyrics, which have Malakian insisting, "Your politics will never correct me."
"It's not about Trump," he said, pointing out that the album's songs predate the president's election.
How old is the cover art?
The art is newer.
So maybe your dad was thinking about Trump.
Maybe. But he said he wasn't either.
Obviously, other people have asked you this.
Yeah, because people always expect some kind of political message from me.
Which this album definitely has, whether or not it's about Trump.
But I try not to do it in a preachy way. I'm not a far left or a far right person. I consider myself down the middle. I root for Trump to do a good job; I'd like to see our country be in a good place. I'm not one of those people that totally despises the guy.
How much ideological variety do you see in your audience?
I think it's more people from the left.
And how does that strike you?
I think they'd be surprised if they found out that I'm a gun owner.
Malakian says he's got plenty more songs where those on "Dictator" came from — probably enough for two more albums, he figures.
And he'd like to get the next one out quicker, which should be feasible now that Scars on Broadway records for Malakian's own label, Scarred for Life. (Interscope released the band's first album.)
"This is a very do-it-yourself operation," he said, adding that he relishes the freedom of not owing anything to anyone.
Asked what he learned during System of a Down's days signed to a major label, Malakian replied, "How the machine works. I learned that to get your song on the radio, you need to hire someone, which is sad.
"Not that I'm against anyone who wants to throw money into it. It's just not for Scars." His ambition for this band is rooted in the pleasure he finds in recording and performing, he said; he's not concerned with scaling Scars on Broadway up to System of a Down's level, even if the former has supplanted the latter as his priority.
"With System, we get together and rehearse when there's a big show coming up," he said. "But outside of that, we're not really the band I would like to be in.
"For me, Scars is my project — my only project."
Malakian must know that's sure to bum out some of his fans.
"Look, if Ozzy [Osbourne] and [Black] Sabbath didn't have their time when they separated, you wouldn't have 'Crazy Train,'" he said, referring to Osbourne's classic 1980 solo single.
"Good things can happen when the members of a band do their own thing."
Twitter: @mikaelwood
---