Fans flock from around the globe for 'once-in-a-lifetime' Desert Trip
As if it wasn't enough that Paul McCartney served up more than three dozen classic Beatles songs, solo hits and other material spanning his career during his turn onstage at Desert Trip, he also conducted a little unscientific demographic research on the audience.
Upon polling those 75,000 concert-goers at the Empire Polo Field in Indio last weekend, he first asked how many were from the Coachella Valley, eliciting a smattering of applause ("OK, that's three," he joked). Then he asked how many were from California (larger response) and, finally, how many were from outside the Golden State, generating the largest ovation of all.
"On behalf of the tourist board," McCartney quipped, "we welcome you."
Festival organizers said that ticket orders for Desert Trip came in from every continent except Antarctica. And the marketing for the gathering of Bob Dylan, the Rolling Stones, McCartney, the Who, Neil Young and Pink Floyd's Roger Waters as a "once-in-a-lifetime" event apparently struck a chord for those who came from far and wide to Indio for one or both of the festival's three-day weekends.
See the most-read stories in Entertainment this hour »
"Too small," Terayuki Kobayashi, 25, said of his home in Yokohama, Japan, explaining why he traveled 5,600 miles to the Coachella Valley on only his second visit to the U.S.
As was the case for many who came from outside the U.S., it was their first and possibly only time to see six artists who helped define and change the course of pop music history.
It's easy for Southern Californians to underestimate the impact of Desert Trip's summit meeting of rock music titans, because all still tour regularly and Los Angeles is virtually always a stop on their itineraries.
That's not the case for the vast majority of the world's music fans.
"This is wonderful for me," said Li Wang, a 28-year-old ear, nose and throat physician who journeyed alone from Shanghai, China. "Only the Rolling Stones and Bob Dylan have played in China. But I love the Beatles the most."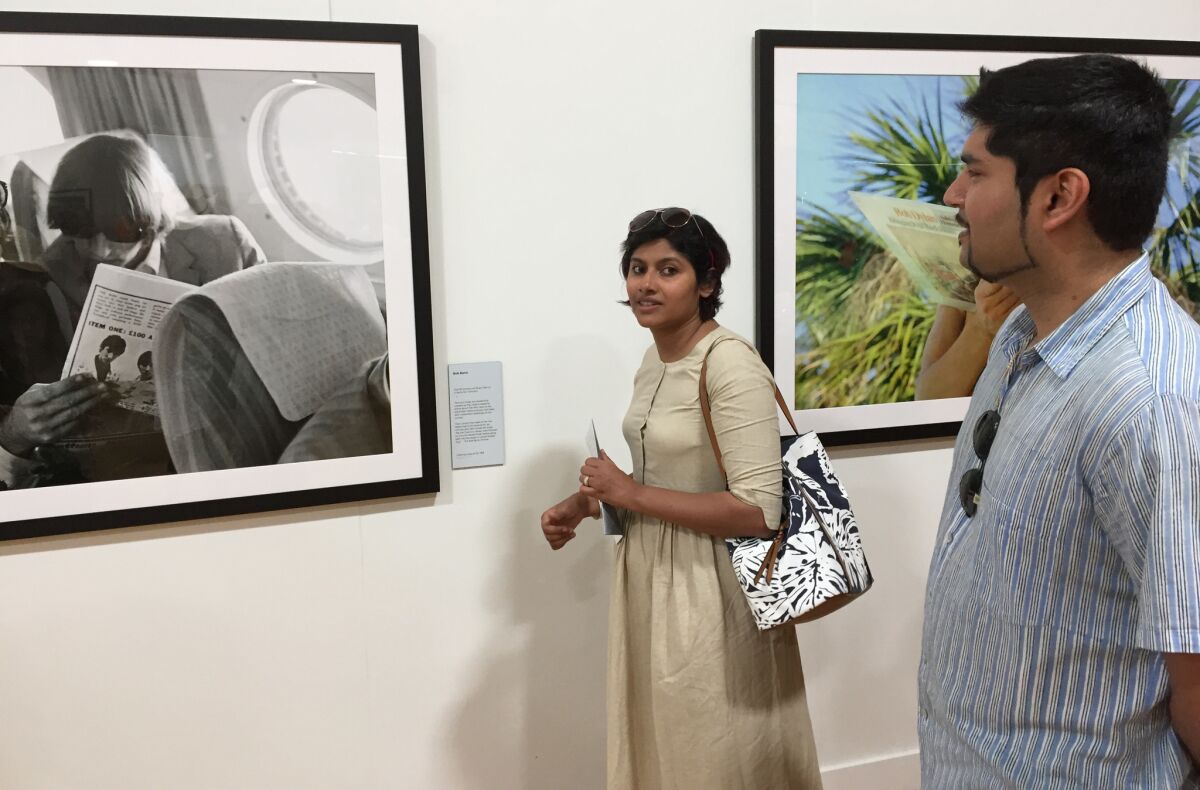 Nihdi Hegde and Shujah Dasgupta, both 33 and originally from Bangalore, India, moved from Bombay to Oakland about 18 months ago, and bought tickets to experience "the music we heard every day growing up in Bangalore," Hegde said. "None of these people ever come and play in India. I think Roger Waters did once."
Hegde and Dasgupta recruited a friend still living in India to join them, and together they strolled through the extensive Desert Trip photo exhibition taking in images of the musicians they admired from afar in their youth.
The situation was nearly the opposite for Daniel and Irene Cameron, a white-haired couple from Redding, England.
Four of the six Desert Trip acts hail from cities within a couple hundred miles of their residence, yet they trekked more than 5,000 miles to see them gather in the same place at the same time, with two celebrated North American singer-songwriters neither had ever seen live.
"This is very different from when I saw Pink Floyd in 1970 in a gymnasium," Daniel said. "We don't know how many more chances we'll have to see them all."
Faustino Sanchez, 51, and his wife, Ana Marciel, 49, moved from Mexico City to San Jose in 2007, and raised their three children — Mariana, 25, Diana, 19, and Alonzo, 17 — who accompanied them to Desert Trip, on the music of the Beatles, the Rolling Stones, Dylan and the other featured performers.
"When we saw that the concert was happening, we started looking for tickets," Marciel said while visiting the photo exhibition, which, in an air-conditioned tent, is one of the festival's main attractions.
"We found five tickets available for a good price," she said, "so we said, 'We're in.'"
Mariana Sanchez said of Friday's atmosphere during performances by Dylan and the Rolling Stones, "There's such a communal feeling. Everyone from all different generations are enjoying the same songs together."
As Hegde and Gasdupta did, the Sanchezes called a friend who still lives in Mexico City, Eduardo Uruchurtu, 59, urging him to join them.
"You want to know what the immigration officer asked me at the airport?" he said. "He asked why I was coming into the country, and I told him I was going to the big rock festival. He looked at me and said, 'Aren't you too old for a rock festival?' I said 'No — all the performers are older than me!' "
Follow @RandyLewis2 on Twitter.com
For Classic Rock coverage, join us on Facebook
ALSO
Desert Trip features Rihanna and Paul McCartney on stage, and multiple generations in its audience
Fans cook up fantasy concert lineups for possible Desert Trip sequel
Bob Dylan's Nobel Prize response at Desert Trip? It's a classic
---
Your essential guide to the arts in L.A.
Get Carolina A. Miranda's weekly newsletter for what's happening, plus openings, critics' picks and more.
You may occasionally receive promotional content from the Los Angeles Times.