What Donald Trump had to do with the smash-hit remix of 'Despacito'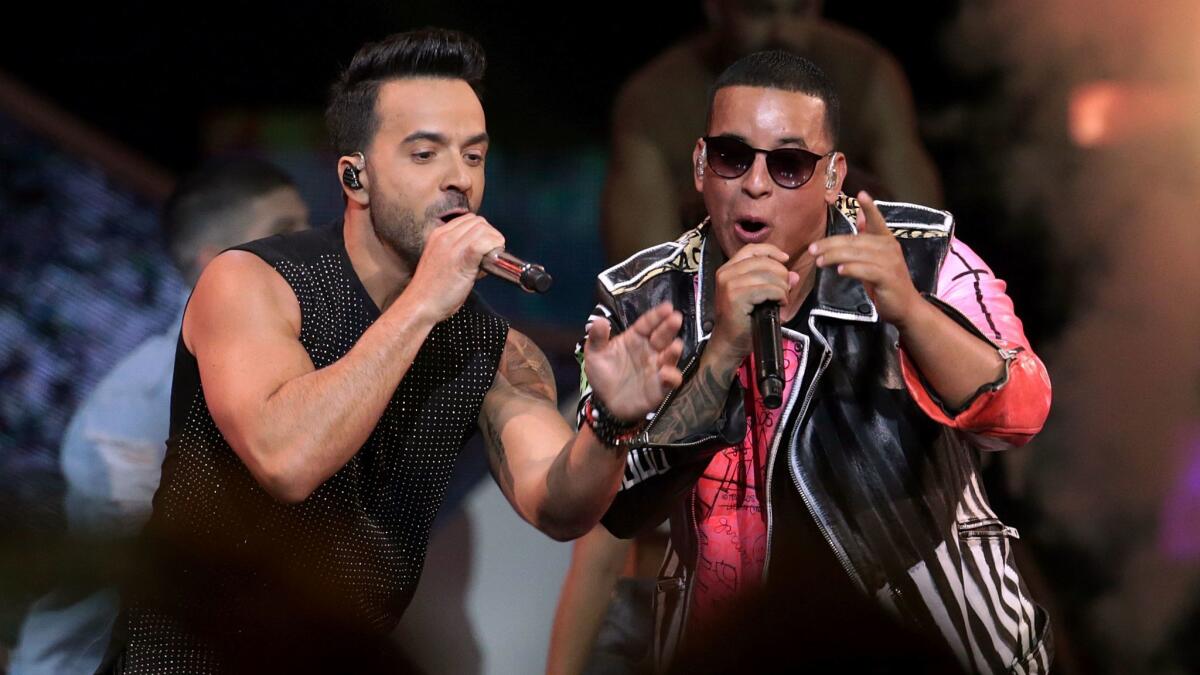 Pop Music Critic
The opening flourish of guitar-like cuatro is instantly recognizable, a gentle but effective means of telling you what you might've assumed to be true even before the song began: You're about to hear the remix of "Despacito."
Again.
Unavoidable over the last few months on both the Internet and Top 40 radio, this sleek — and surprising — collaboration between Justin Bieber and two of Puerto Rico's biggest stars, Luis Fonsi and Daddy Yankee, is without question the song of the summer.
It's sold more than 2 million downloads. It's been streamed on Spotify nearly 800 million times. And so far it's spent 15 weeks at No. 1 on Billboard's Hot 100 — longer than any song except one: Mariah Carey and Boyz II Men's "One Sweet Day," which logged 16 weeks atop the music industry's most closely watched singles chart in 1995 and 1996.
At Sunday's MTV Video Music Awards, "Despacito" is nominated for only one prize — the result, MTV says, of Fonsi's label not submitting the song's video for consideration in the major categories. But the prospect of one of its competitors winning the trophy for song of the summer seems beyond laughable.
"If you'd told me a few months ago that the song was still going to be No. 1 in August, I would've been like, 'There's no way — people are going to be sick of it,'" Fonsi said with a laugh. "But here we are."
The success of "Despacito," whose title translates to "slowly," is to some extent an artistic triumph. A seamless blend of pop and reggaeton, the expertly crafted song about a sexual encounter zeros in on an emotional and aesthetic sweet spot; it strikes an ideal balance of melody and rhythm, romance and lust.
But it also happened in the right place at the right time. Sung mostly in Spanish, "Despacito" has resonated with many listeners this year as an implicit counterpoint to President Donald Trump's tough rhetoric regarding Latinos and immigrants from Latin America.
Indeed, Bieber's manager, Scooter Braun, says his principal motivation in putting the remix together was the idea of topping the Hot 100 while Trump was in office.
"A song in Spanish is all over pop radio," Braun said, "in an America where young Latino Americans should feel proud of themselves and their families' native tongue."
That political edge wasn't necessarily in Fonsi's mind when he and Erika Ender, an experienced songwriter from Panama, came up with the tune in 2015. According to Ender, who's also worked with Gloria Trevi and Los Tigres del Norte, "Despacito" was born one afternoon at Fonsi's house after the two friends had caught up over coffee.
"We started writing around 3 p.m. and finished around 6 with the song completed from top to bottom," Ender said. "We were looking for a very contagious melody, and it came very easy."
Well known among Latin pop fans as a sensitive balladeer, Fonsi wanted a different kind of production for the recorded version of "Despacito" — an "evolution" of his signature style, as he described it, with a pronounced "urban" vibe à la recent hits by Shakira and Maluma ("Chantaje") and Enrique Iglesias and Nicky Jam ("El Perdón").
So after trying out a number of approaches, Fonsi and his producers sought out Daddy Yankee, one of the driving forces behind reggaeton's synthesis of hip-hop and more traditional Latin music. (Even casual pop listeners are likely to recall Daddy Yankee's "Gasolina," which caught fire in the U.S. in 2004.)
The duo's original take on "Despacito" came out in January 2017 and blew up immediately in Latin America, thanks in large part to widespread sharing of the song's video on social media, said Jesús López, who oversees Universal Music's Latin division.
An industry veteran who helped make hits of Iglesias' "Bailando" and Los Del Río's "Macarena" — the latter was the last Spanish-language song to top the Hot 100, more than two decades ago — López said he's never seen a song grow as quickly as "Despacito," whose video has the most views of any clip on YouTube: 3.3 billion at last count.
Yet the song wasn't just attracting young people permanently attached to their phones. López recalled watching Fonsi perform "Despacito" in concert earlier this year and seeing him inspire a diverse audience — "from kids to grandparents," the executive said — to sing along.
---
Still, there was a crowd the song hadn't quite won over by the beginning of April, and that was mainstream American pop fans. Ender said she, Fonsi and Daddy Yankee wrote an English translation of "Despacito" in the hopes of getting an American singer to take part in a remix.
And Monte Lipman, chairman of Republic Records, said he'd spoken with Braun (whose other clients include Usher and Ariana Grande) about various strategies for breaking the record in this country.
The singer they got wasn't one they'd been courting. According to Braun, Bieber (who's Canadian) heard "Despacito" in a club while on tour in Colombia; after seeing the room react to the song, he got in touch with Braun and asked the manager what he thought about lending his voice to a new version.
Braun liked the idea, but Bieber wanted to move fast. So the manager called Poo Bear, a songwriter and producer with whom Bieber has collaborated closely in recent years, and had him get to work that night on a fresh verse for the singer.
"It was my anniversary, I'll never forget," Poo Bear said. "Scooter booked the Record Plant" — a recording studio in Hollywood — "and after I got off my date for my anniversary I went into the studio around 12:30."
The verse Poo Bear wrote — and quickly sent to Bieber in Bogotá — was in English, which Braun figured would help ease American listeners into the song. (Sure enough, Bieber's verse about "the way you nibble on my ear" comes first in the remix, right after that fluttering cuatro.)
Yet Braun says his client wanted to sing in Spanish. "What's the point of doing a gigantic Latino record unless you're going to do it for the Latino market?" Braun said the singer asked.
That thinking aligned with Braun's own ambition to counteract what he saw as an anti-immigrant movement by which "young Latino American kids were … being told that speaking Spanish made them un-American."
So in a reversal of crossover-record protocol, Bieber recorded the song's chorus in Spanish, learning the lyrics phonetically over the course of a four-hour session in a Colombian studio, Braun said.
Fonsi said the gesture struck him as "very brave." And audiences responded: Released in mid-April, the remix of "Despacito" hit No. 1 on the Hot 100 a month later and hasn't left the top spot yet.
---
The two record executives behind the song, López and Lipman, both point to streaming as a crucial component of the song's success.
According to Lopez, the numbers "Despacito" was racking up on YouTube and Spotify offered proof to traditional gatekeepers — radio programmers, television talent bookers and the like — that demand for the record was high. And that sped up "Despacito's" journey toward more old-fashioned media plays, which in turn led to further action on the new streaming platforms.
Not that the song's popularity insured Bieber, a reliable lightning rod for both positive and negative attention, against all criticism. When video surfaced online showing Bieber struggling to sing along with "Despacito" in a New York nightclub — "I don't know the words, so I say Dorito," he appears to sing — many observers accused him of the precise kind of cultural insensitivity Braun says he was working against.
The manager deflected that idea, saying Bieber doesn't speak Spanish and has never claimed to — which is why, he added, the singer has never properly performed "Despacito" in concert.
"I think that whenever you have great success, you're going to have some people who want to tear it down," Braun said. "But at the end of the day, the guys made a great song."
And there are sure to be more aiming for its reach, everyone involved agreed. Lipman said the story of "Despacito" reminds him of the introduction of SoundScan in 1991, when that system's computerized tally of record sales suddenly showed the music industry how huge a previously underestimated — and soon-to-be-emulated — act like N.W.A really was.
"We always knew Latin was important," Lipman said. "But I don't think anybody realized the popularity of Latin music until we saw the boom of streaming."
Last month Lipman's label paired Fonsi with another of its acts, Joe Jonas' electro-funk group DNCE, for a bilingual remix of DNCE's song "Kissing Strangers."
The song is a reasonably good time, and it's consistent with what Fonsi described as his approach going forward: "this sort of fusion between melodic pop and a more rhythmic angle."
At the moment, though, the "Kissing Strangers" remix has fewer than half a million views on YouTube. Does it stand a chance of becoming the next "Despacito"?
"Oh, there will only be one 'Despacito,'" Fonsi replied with a laugh. "There won't be any more 'Despacitos' — from me or from anybody."
---
Beyond "Despacito"
As Fonsi suggests, the success of his song may well make it one of a kind. But "Despacito" is undoubtedly clearing a path for future crossover hits. Here are three to keep an ear on.
J Balvin & Willy William, "Mi Gente"
Already a No. 1 track on Spotify's Global Top 50 chart, "Mi Gente" pairs Balvin, the Colombian heartthrob known to American listeners for his appearance on a remix of Bieber's "Sorry," with the French DJ William for a thumping club jam that echoes earlier duets by Enrique Iglesias and Pitbull.
CNCO featuring Little Mix, "Reggaetón Lento (Remix)"
From Menudo to Aventura, great boy bands have figured as prominently in Latin pop as in the American variety. The latest is CNCO, which formed in 2015 after the members met as contestants on the singing show "La Banda." This remix of its "Reggaetón Lento," with input from the British girl group Little Mix, is roaring up the charts across the pond.
Danny Ocean, "Me Rehúso"
Reportedly written for his girlfriend on Valentine's Day, this Venezuelan crooner's blissed-out love song has already spawned an English-language rendition called "Baby I Won't." But it's the original in Spanish that's racked up more than half a billion plays on YouTube.
Twitter: @mikaelwood
ALSO
'It's part of our DNA': How California shaped the music of L.A.'s Haim
What Sam Hunt had to say about cultural integration at the Greek Theatre
'Hamilton' in L.A.: Think of the touring show as a remix of the Broadway smash
Get our L.A. Goes Out newsletter, with the week's best events, to help you explore and experience our city.
You may occasionally receive promotional content from the Los Angeles Times.