Review: Dolly Parton's larger-than-life country music at the Hollywood Bowl
Dolly Parton performs at the Hollywood Bowl. (Patrick T. Fallon / Los Angeles Times)
The fabulous paradox of Dolly Parton is that this pint-sized dynamo has created and sustained a larger-than-life, often-cartoonish persona immersed in glitz and glamour without losing the connection to her humble beginnings in the impoverished backwoods of Tennessee's Great Smoky Mountains.
At the first of two sold-out shows over the weekend at the Hollywood Bowl — on her most extensive North American tour in a quarter-century — the country singer and songwriter who turned 70 in January was every bit the effusive performer, even while apologizing to the audience for nursing a slight head cold.

For the record:
9:59 p.m. June 8, 2023An earlier version of this post said video screens were not used during Parton's performance. The main screens flanking the stage were not used, but remote screens further back in the Bowl were employed.
"It's a good thing it's not a chest cold," she quipped in one of a string of self-effacing one-liners targeting her famous figure. "That'd be like a giraffe with a sore throat."
Her current "Pure & Simple" tour, drawn from her new album with the same title, creates an elegant stage setting, with half a dozen curtains flowing from the rafters down to the stage, gorgeously lighted in colors that helped to highlight her pristine white jumpsuit.
The grand-scale stage design aside, she is using a relatively modest production on this tour — video screens flanking the stage were off (although screens further back were used) and just three accompanying musicians: keyboardist Richard Dennison, guitarist-banjo player Kent Wells and bassist Tom Rutledge, all of whom also joined in on backing vocals.
Parton herself deployed a succession of instruments, nearly all of them rhinestone-encrusted, that illustrated her gifts as a multi-instrumentalist as well as one of country music's most valuable songwriters and singers. By turns she moved from guitar to piano to fiddle to dulcimer to tin whistle and even saxophone — the latter generating a flurry of predictably groan-worthy "good sax" gags.
But the heart of the 2 1/2-hour show (with a 20-minute intermission) was her straight-from-the-heart stories and songs drawn from her hardscrabble upbringing with 11 siblings and a pair of loving parents who provided love and security in the absence of most material possessions.
She grew up in a time and region not known for respect for diversity, yet Parton has built a message of equality for all that's given her a remarkably variegated following. The Bowl crowd included families who soaked up her stories of rural family life, gay men who cheered her deeply emotional love songs, and women who identified with her messages of female empowerment.
She opened on an fittingly festive note with the rollicking country gospel song "Night Train to Memphis," from the 1946 film by that name starring country great Roy Acuff. The rest of the evening sampled generously across her half-century career, up to an including the new album, from which she offered the disarming title tune and another heart-on-sleeve love song, "Outside Your Door."
The emphasis in the outdoor setting was expectedly upbeat, but she did make room for several love songs, among them a pumped-up version of her 1973 hit "Jolene" and a powerful and dark reading of her Southern gothic ballad "Little Sparrow," which she introduced by saying she had tried to emulate the ancient folk ballads her mother favored singing to her children.
"I am not a little sparrow," she sang in a hushed voice, "I am just the broken dream/Of a cold false-hearted lover/And his evil cunning scheme."
In a generous segment in the show's first half, she sat on a modest mock-up front porch to relate tales from her childhood, and how she often played out a childhood fantasy of becoming a star on the Grand Ole Opry by planting a tobacco stick — used for drying and curing tobacco leaves — placing a tin can on it and pretending she was singing to her audience of chickens and pigs.
"Thank you for letting my little-girl dreams come true," she told the boisterous crowd.
Her rags-to-riches story is perhaps most famously embodied in her song "Coat of Many Colors," the 1971 country hit that became a TV movie last year and which will morph this winter into an NBC-TV holiday special "Christmas of Many Colors — Circle of Love," which she plugged a couple of times during the evening.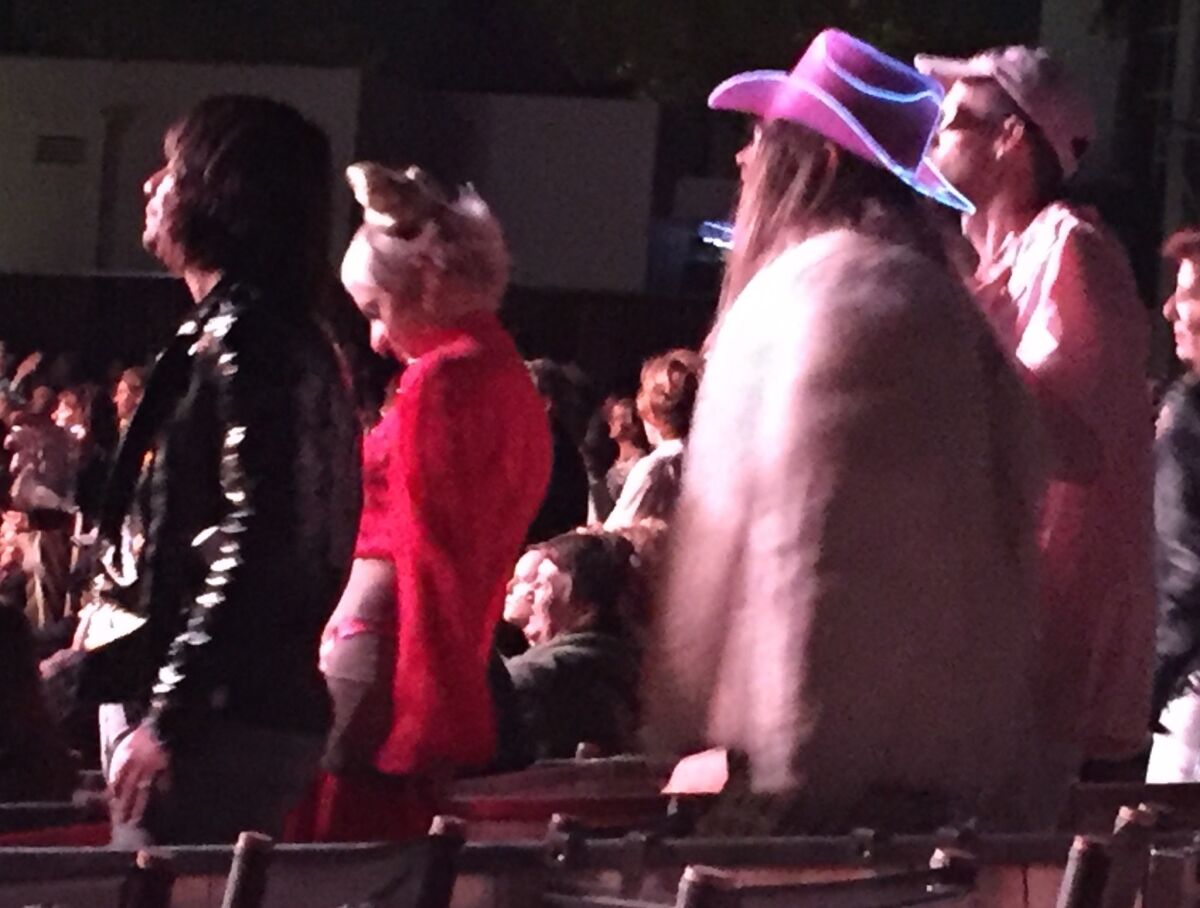 See the most-read stories in Entertainment this hour »
Following the intensity of "Little Sparrow" in the show's second half, she promised a party and delivered with string of her late-'70s, early-'80s pop-minded hits: "Here You Come Again," "Two Doors Down" and "9 to 5" — the last from the hit film she co-starred in with Lily Tomlin, who looked on from her box seat several rows back from the stage, and Jane Fonda.
To no one's surprise, the show culminated with her best-known song, "I Will Always Love You," a melodramatic ode to self-sacrifice in the service of love that she infuses with an emotion largely missing from Whitney Houston's mega-hit version: humility.
Follow @RandyLewis2 on Twitter.com
For Classic Rock coverage, join us on Facebook
ALSO
Stars swap songs in L.A. at Country Hall of Fame benefit
Bruce Springsteen on keeping life honest, real in 'Born to Run' autobiography
Chris Stapleton, Jason Isbell take top Americana Music Assn. Awards in Nashville
Get our L.A. Goes Out newsletter, with the week's best events, to help you explore and experience our city.
You may occasionally receive promotional content from the Los Angeles Times.