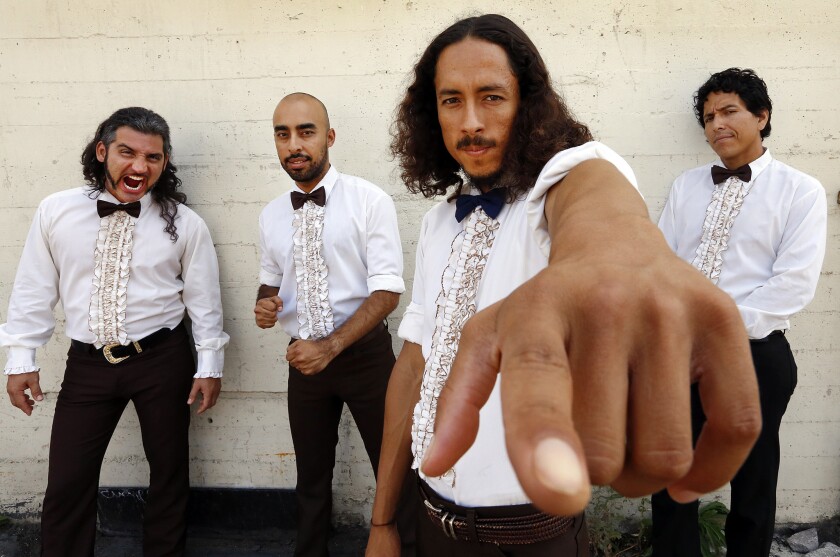 There are over 4 million people in the city of Los Angeles, and most days it seems like the majority are either musicians or stand-up comedians (when they're not writing screenplays or auditioning for acting roles).
The four-day Echo Park Rising festival, for example, which occurs at various venues on or near Sunset Boulevard in Echo Park, will bring to a dozen-odd stages enough comedians and musicians to rumble the Los Angeles basin.
Specifically, over 300 acts will showcase their stuff starting Thursday night. Only a few have established themselves on the national stage.
Hence the "rising" part of the equation, which promises a bevy of bands gunning to be discovered by would-be devotees — or their next manager/booking agent/publicist/label.
Now in its sixth year, the event is free and open to the public, and will feature musical headliners including garage-rockers Chicano Batman, post-punk band Bleached, old school punks the Weirdos and electro-funk innovator Egyptian Lover. (For a rundown of comedians, visit the festival site.)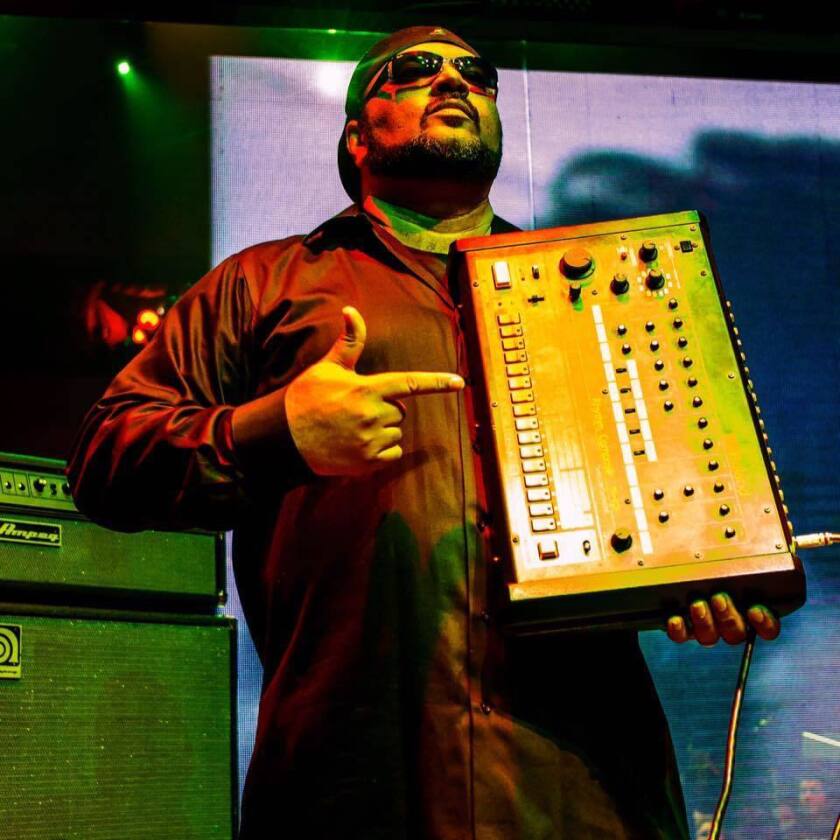 By design, the festival is a humble, bespoke affair: It's free, occurs in clubs, storefronts and open lots and features a bunch of bands doing quickie showcase sets a la the South by Southwest music festival. Like that event, the roster is so thick that it's a hit-or-miss affair. Along with the so-called rising acts like the Regrettes are just as many derivative others that have earned their place on the undercard.
But this is Los Angeles, where expert musicians from around the world migrate to make things happen. Below, seven tracks by artists not to miss during the festival.
Colleen Green. A Los Angeles singer, songwriter and guitarist, Green has been writing humble, catchy gems for the past few years, and they've earned her a small but dedicated fan base through her records for the Seattle-based Hardly Art imprint.
A natural-born songwriter, Green knows how to mix catchy melodies with multitracked vocal harmonies and metronomic, synthy drum patterns to create songs that stick after one listen. "Green My Eyes" is one such gem. 11 p.m. Friday at Taix Champagne Room.
Forest. The Los Angeles group Forest features four synth players and a drummer, and will be making its live performance debut Thursday as part of the festival. Sonically, those four electronics experts combine to create a cacophony, at least on the first song from the group's debut EP. The song is called "[10]," and you can hear it on Forest's Bandcamp page. 9:45 p.m. Thursday at the Lost Knight.
Sex Stains, "Land of La La." Sex Stains is the new project from writer-activist-musician Allison Wolfe, best known for her fantastic punk bands Bratmobile and the Cold Cold Hearts, whose records on Kill Rock Stars and Lookout remain crucial documents of the Olympia, Wash., indie-punk scene.
Like Bratmobile, Sex Stains trade in garage punk, but augmented with a dose of surf-rock tinged guitar work. Through a quick two minutes they weave in lyrics that, like Stevie Wonder's song of the same name, address regional perceptions and realities. 8:20 p.m. Saturday at the Echoplex.
Sadgirl. A Link Wray-suggestive rumble, Sadgirl's guitar instrumental "Norma and Jessica" draws on the region's love affair with surf guitar and does so through a video that nods at Quentin Tarantino. Warning, there's a lot of fake blood in the below video, but the distorted guitar lines are as real as the lines on actor Danny Trejo's face. 6:40 p.m. Thursday at the Echoplex.
Iris. The crawling guitar riffs that drive Los Angeles rock band Iris suggest the slowed-down rock attitude that spawned Seattle bands like Soundgarden, Pearl Jam and Tad.
With one foot in punk, the other in metal and their brains firmly buried in grunge, the Los Angeles band isn't forging a new path, per se, but revisiting a particularly well-worn one to fill it with new energy. 7:15 p.m. Saturday at Stories.
Starcrawler. The band hasn't issued any songs yet, but that's never stopped a buzzing Los Angeles group before, especially with such a pedigree. The debut project from Arrow De Wilde, whose photographer-mother Autumn has documented Los Angeles music for decades and whose dad has drummed for acts including Father John Misty and Beachwood Sparks, Starcrawler has performed only a handful of times.
But who'd bet against anyone who as a child spent quality time with Elliott Smith? Or who'd already appeared in hit videos by Bleachers by the time she had turned 16? 8 p.m. Friday on the Echo patio.
Kids in Heat. What's an upstart punk band without a cheesy, low-budget video? Kids in Heat won't win any cinematography awards for "Fun Years," which features magic candy, a game of "40 hands" (tape two 40-ounce bottles of beer to your hands and drink).
But what it lacks in professionalism it more than makes up for in rolling thunder riffs and buzz-off attitude.
Like a weirder, more punk version of Kyuss, the dudes in Kids in Heat worship down-tuned riffs but add menace through the yowl of screamer Mikey Belknap. 4 p.m. Friday at the Short Stop.
There's a lot of terrible music out there. For tips on the stuff that's not, follow Randall Roberts on Twitter: @liledit
ALSO:
The Regrettes may be high-school age, but the band's worldview is all grown up
Creators, fans and death threats: Talking to Joss Whedon, Neil Gaiman and more on the Age of Entitlement
L.A.'s original punk Alice Bag is back, and she has a lot to say on her first solo album
---