Bernie Taupin reflects on 50 years of working with Elton John — and why their songs have endured
Two new star-studded albums saluting the music of longtime collaborators Elton John and Bernie Taupin were crafted with a couple of main goals in mind.
The albums coincide roughly with the 50th anniversary of when the composer and lyricist met in London through an ad posted in the New Musical Express weekly music magazine. They are designed to reconnect veteran musicians and longtime fans with one of the richest bodies of work in all of pop music, as well as introduce that music to younger performers and listeners.
They encompass more than two dozen John-Taupin songs — hits as well as deep cuts — from "Bennie and the Jets," "Your Song" and "Goodbye Yellow Brick Road" to "Sorry Seems to Be the Hardest Word," "Candle in the Wind," "I Guess That's Why They Call It the Blues" and "Border Song."
They have been newly reinterpreted by a raft of pop, rock, R&B, urban, country and Americana artists, including Lady Gaga, Miley Cyrus, Don Henley and Vince Gill, Willie Nelson, Mary J. Blige, Mumford & Sons, Chris Stapleton, Coldplay, Pink, Demi Lovato and Q-Tip, among others.
Released Friday, the albums are "Revamp" and "Restoration," both subtitled "Reimagining the Songs of Elton John and Bernie Taupin."
The former is a pop-oriented collection curated by John, the pop star who has prided himself over the years on keeping current on the latest trends in music. "Restoration" was assembled by Taupin and skews toward country and Americana, reflecting his lifelong interest in music and artists from the American South.
One unintended ripple effect of the project, however, is the impact it has had on the two artists whose music is being celebrated.
"I think in the past I've possibly been very cavalier about the songs, and just accepted them as they are," Taupin said, relaxing in the Garden Bar at Le Montage Hotel in Beverly Hills on a recent jaunt to L.A. from his longtime home in the Santa Ynez Valley north of Santa Barbara.
"I accepted the kudos and whatever anybody had to say about them — good, bad or indifferent," said Taupin, 67. "But when you hear all of those songs, back to back on both albums, you do kind of pat yourself on the back a bit and say, 'Wow.'
"I actually feel myself with them going around in my head when I go to bed, or I walk around singing them in my head during the day, and I've never done that in my life," he added.
It took John and Taupin a couple of years to find their groove after they met randomly in 1967 — both men now look back on it as "kismet" — when a publisher handed the budding pianist born Reginald Kenneth Dwight an envelope with some lyrics submitted by aspiring wordsmith Taupin.
But beginning with their 1970 hit single, "Your Song," a ballad that eloquently channeled the notion of someone being tongue-tied in love, John and Taupin soon joined fabled songwriting teams — including John Lennon-Paul McCartney and Mick Jagger-Keith Richards — that were among the most successful and continually inspired in rock history.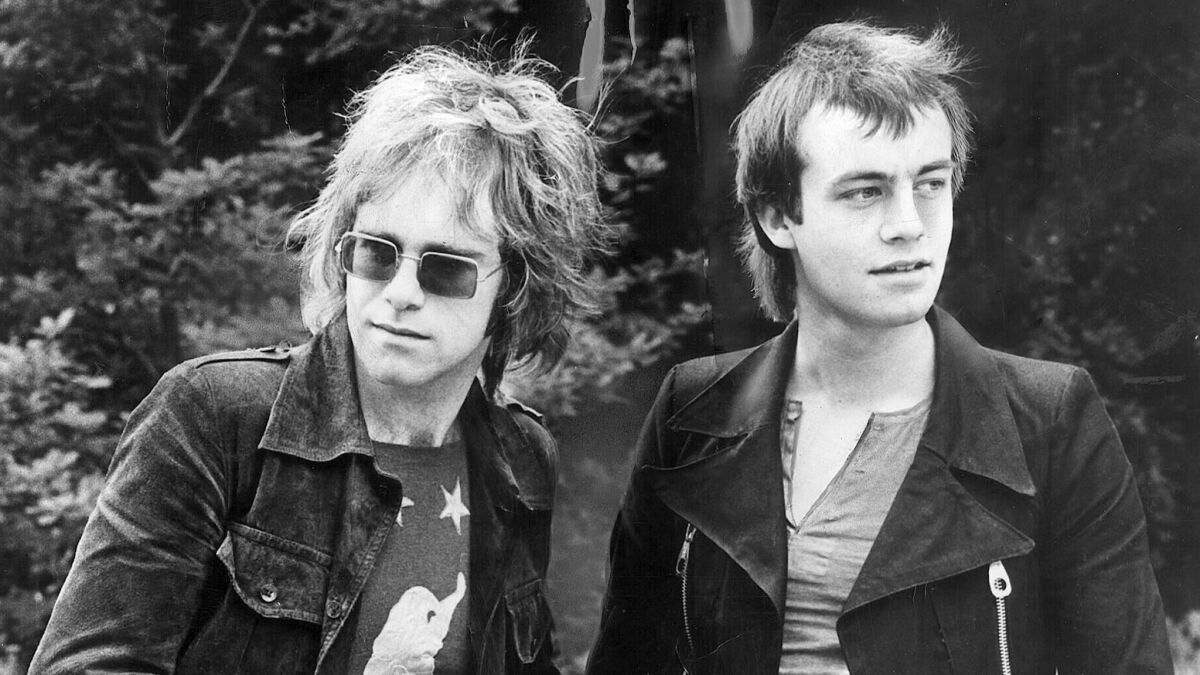 Over the next 45 years, John charted 71 singles on the Billboard Hot 100 singles chart (a smattering written with other lyricists or by other songwriters). Twenty-six of those singles made the Top 10, and eight went all the way to No. 1.
John's studio albums have reached the Top 10 of Billboard 200 albums ranking 17 times, seven of those climbing to the top of the chart. It all contributed to John's ranking as the best-selling recording artist of the 1970s, according to chart historian Joel Whitburn.
"We have so many great artists doing our songs, it's quite incredible," John, 71, said in a filmed interview for the project's electronic press kit.
"As soon as we started off as songwriters … it meant a great deal when other people chose to sing one of our songs, and reinterpret it in their own particular way," he said.
Among the earliest examples of others who noticed the unique character of the John-Taupin collaboration were Three Dog Night, who recorded two songs, "Lady Samantha" and "Your Song." Aretha Franklin interpreted "Border Song (Holy Moses)" from their 1970 record "Tumbleweed Connection," an album both John and Taupin cite among their personal favorites.
"When Aretha recorded that, I thought I'd died and gone to heaven," John said in the taped promotional interview. "To have Aretha Franklin record one of our earlier songs, right at the beginning of our career, was pretty special. Since then we've been so lucky with other people recording our songs."
Among the new renditions, Willie Nelson's recording of "Border Song" is on par with Franklin's version.
"Somebody who works with Willie — maybe it was an engineer — they said they'd never seen Willie put so much effort into working on a song, a cover, whether that's true or not," Taupin said. "My favorite part of that is the breath he takes at the beginning. It just makes it so much more human. What a way to finish the album."
Artists were generally given carte blanche for which songs they recorded, although Taupin wryly noted, "That's not to say I didn't nudge them in a certain direction." Both said they specifically requested gravel-voiced singer-songwriter Chris Stapleton to record their latter-day song "I Want Love."
And Taupin said that after inviting Henley — the first artist he approached about participating — Taupin suggested the song the Eagles co-founder ended up recording.
"He said, 'What song do you want me to do?' and I said, 'There's only one song I can see you doing and that's "Sacrifice," ' which happens to be one of my favorites I've ever written," Taupin said.
"Then I thought, 'Hmmm... would you mind doing it as a duet with Vince Gill?' He said: 'I've worked with Vince. That would be fine,' " Taupin said.
Henley's presence creates a bridge between the new albums and an earlier homage to the John-Taupin songbook. "Duets," in 1993, teamed John with a bevy of singers in conjunction with the 25th anniversary of their partnership. Among the other participants on that collection: Leonard Cohen, George Michael, k.d. lang, Little Richard, Gladys Knight and RuPaul.
Yet another all-star tribute came out a little more than a year earlier: "Two Rooms: Celebrating the Songs of Elton John and Bernie Taupin," a rare tribute album to crack the Billboard Top 20. It peaked at No. 18 and went platinum, selling more than 1.3 million copies since January 1992, according to the Nielsen Music sales monitoring service. Tina Turner, Eric Clapton, Sinéad O'Connor, George Michael, Rod Stewart and Hall and Oates were on the lineup for that album.
One key difference between those earlier recordings and the new ones, Taupin noted, is generational.
"A lot of the artists on these records weren't even born when most of those tracks were originally released," Taupin said. "Not that they don't like the songs — obviously they wouldn't do them if they don't like them — but they weren't as reverential of them. They hadn't grown up with them, they hadn't lived them.
"The artists who were on [the earlier tributes] were either contemporaries of ours, or people that had been around maybe slightly longer," he said. "I think those people were more familiar with the material and I think they tended to stick to the original blueprint and not get too adventurous with the material."
The new renditions, however, "totally seem to be retelling them in a different age and time, which they are," Taupin said, contrasting John's original recording of the Civil War-themed ballad "My Father's Gun" from "Tumbleweed Connection" with Miranda Lambert's new take on it.
"We were like two kids from England who were sort of playing Civil War," Taupin said. "She plays with guns. She's a Texas girl, man, she's no-nonsense. That's her."
In a separate interview, Lambert told The Times that she jumped at the chance to take part.
"I instantly texted [album co-producer Frank Liddell] and told him I want to do this one," she said. "It's such a great record, and they have such a love for the South.
"It was incredible," she said. "I got to meet Elton and drink martinis with Bernie, who is one of the greatest songwriters of all time. It was such a cool experience. When you meet people who are such geniuses, so iconic and they are so nice and normal, it is so inspiring."
The country music connection is strong for both John and Taupin, but all the more so for the English lyricist, who said he found his creative inspiration first by watching American cowboy movies and TV shows, and later from American country music.
"It was classic country music that eventually pointed the direction for me to go in," said Taupin, who has lived for the last 25 years on a working horse ranch on California's Central Coast. "I've said on countless occasions... that if it weren't for Marty Robbins' [1959 album] 'Gunfighter Ballads and Trail Songs' and [his hit single] 'El Paso,' I probably wouldn't be sitting here today.
"If I was listening to pop songs at the time, I might have enjoyed them, but I didn't ever think that I could do that, because I didn't know how you wrote songs," he added, adding with a hearty laugh, "I'm still not sure I do."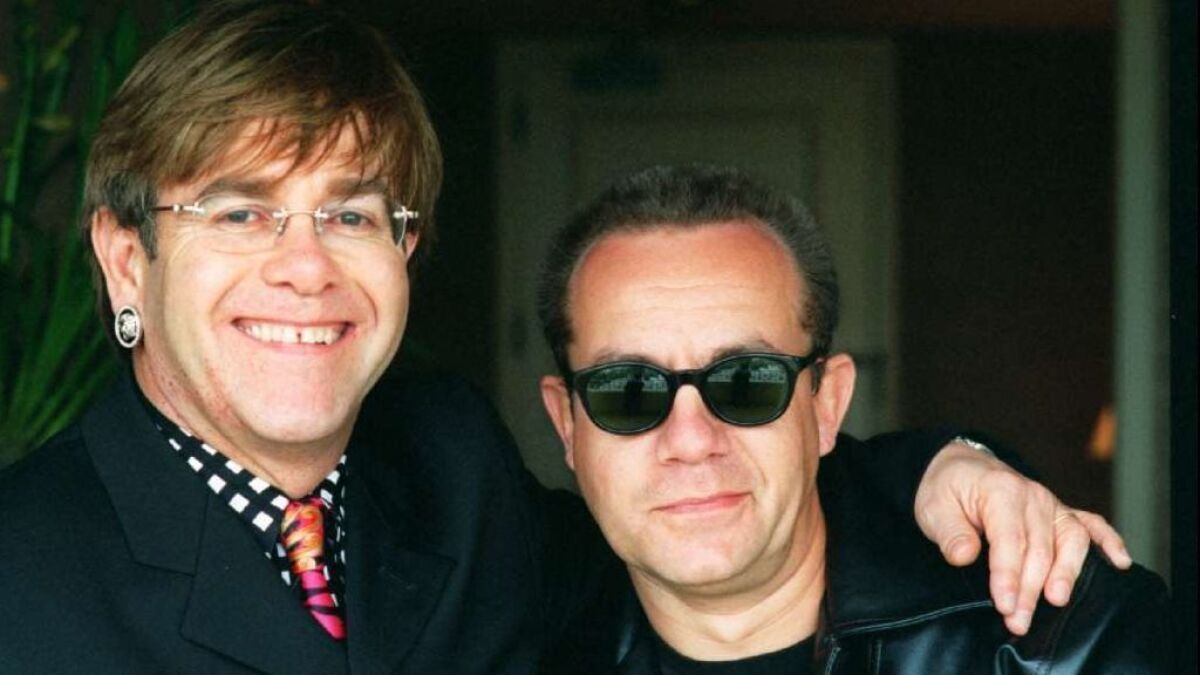 The new tribute albums intersect with a forthcoming TV special in which many of the albums' artists, plus several others, spent an evening at Madison Square Garden in New York City singing John-Taupin songs following the 60th Grammy Awards.
The two-hour show, "Elton John: I'm Still Standing — A Grammy Salute," premieres April 10 on CBS, and features album participants Lambert, Cyrus, Kacey Musgraves, Maren Morris, Coldplay's Chris Martin, Ed Sheeran, Sam Smith and Little Big Town, as well as Keith Urban, John Legend and Kesha.
Perhaps more so than a quarter century ago, a theme of legacy is in the air now (particularly because John recently announced he will retire from touring — after a three-year tour).
"I have two sons now and I want them to have a legacy of great songs," John said in his recorded remarks. "I want my songs to continue long after I'm gone. That's why I wrote them — to give people pleasure, to touch them. I have so many songs that have touched me during my life, written by other people. I just hope that our songs do the same thing."
If you're worried Taupin will be out of a job once his longtime collaborator hangs up his rock 'n' roll shoes, don't be. He has spent much of the last quarter century focusing on his other passion as a visual artist.
But Taupin, too, said he plans to bring his family along as the Farewell Yellow Brick Road tour wends its way across the globe over the next three years.
"Heather and I also have young children," Taupin said at last month's news conference announcing the final tour. "I want them to see as much of this tour as they can so they can know what their father did and be proud of it."
Follow @RandyLewis2 on Twitter.com
For Classic Rock coverage, join us on Facebook
Get our L.A. Goes Out newsletter, with the week's best events, to help you explore and experience our city.
You may occasionally receive promotional content from the Los Angeles Times.