Elton John's 26th Oscars viewing party raises $5.9 million for his AIDS Foundation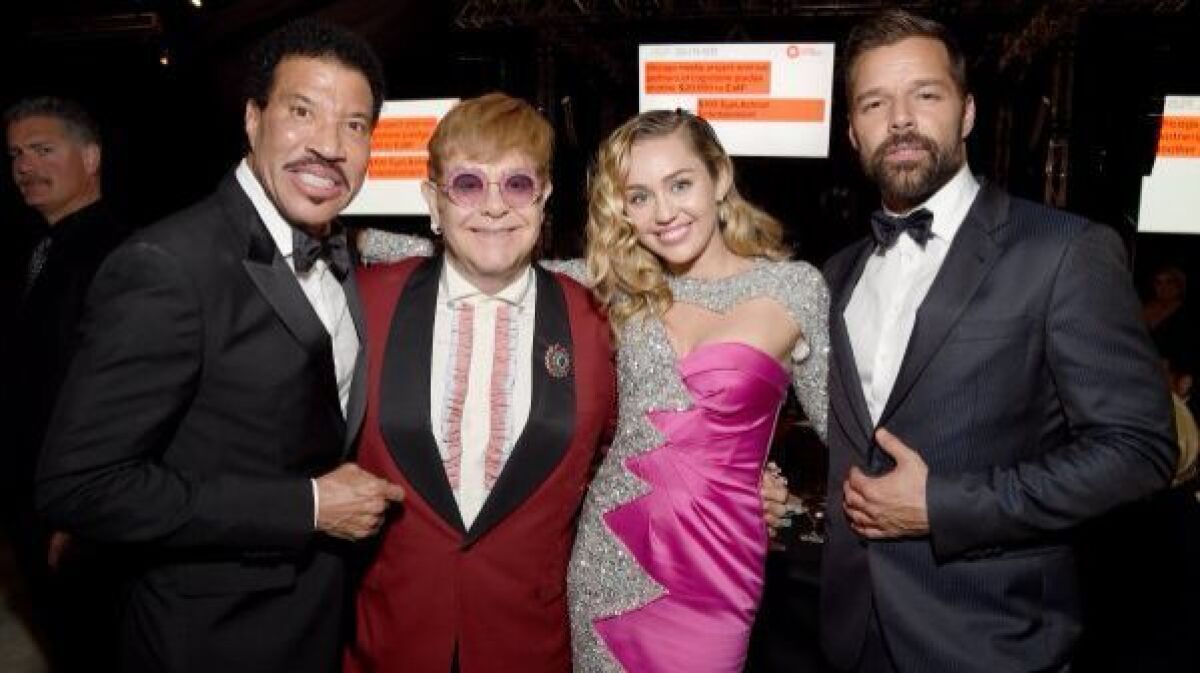 Nearly 1,000 invitees to Elton John's 26th Academy Awards viewing party raised $5.9 million for his AIDS Foundation on Sunday night in West Hollywood.
The tony gathering under white tents set up in West Hollywood Park drew its own bevy of celebrities from film, music, TV and other realms.
Among them were Miley Cyrus, Liam Hemsworth, Billie Jean King, Spike Lee, Lionel Richie, Quincy Jones, Zooey Deschanel, Gladys Knight, Heidi Klum, Ricky Martin, George Hamilton, Jennifer Garner, longtime Grammy Awards telecast executive producer Ken Ehrlich and John's songwriting collaborator for 50 years, lyricist Bernie Taupin.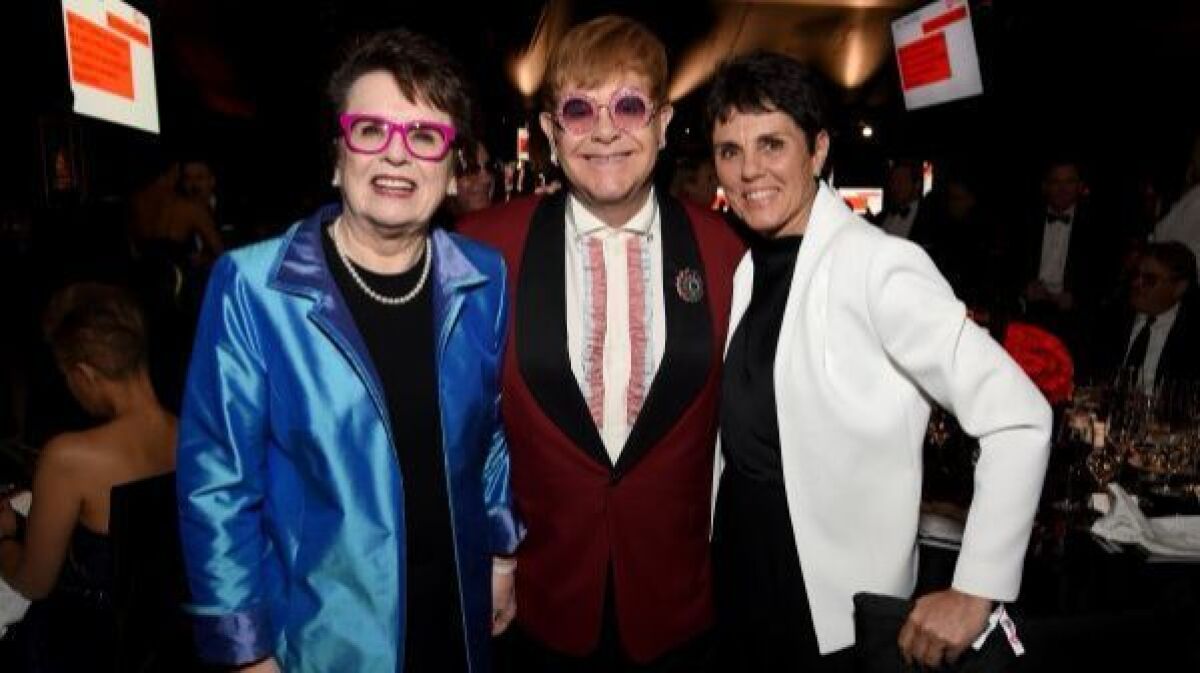 Attendees were invited to text in pledges as the Oscars telecast was displayed on multiple screens throughout the room. At one point, audience members were informed it was one of the rare events where "it's OK to spend the night texting."
During commercial breaks in the Oscars ceremony, the video screens showed text messages and pledge amounts from partygoers that ranged from $10 to $20,000.
"Jennifer Tillly is here!" one pledge text read, while another attendee ponied up money because the veteran rocker had sung "Indian Sunset" from his 1971 album "Madman Across the Water" in Las Vegas recently.
Former "Glee" cast member Chris Colfer, 27, put up a $5,000 pledge with the message, "No one has carded me yet. Woo hoo!"
The evening's host was characteristically resplendent, wearing a rust-colored tux jacket and bejeweled round-frame glasses.
He and David Furnish, his husband and event co-creator, thanked guests for their contributions to the foundation, which has raised more than $400 million for various programs aimed at fighting AIDS globally since the Elton John foundation's launch in 1992 in the U.S., with a sibling foundation having opened the following year in the U.K.
A live auction of several artworks and other items generated more than $725,000 on Sunday, a major chunk of that for artist Chris Levine's luminescent portrait of Queen Elizabeth II, "Lightness of Being, 2018," which sold for $270,000. A lalique sculpture that John created for the evening sold for $80,000.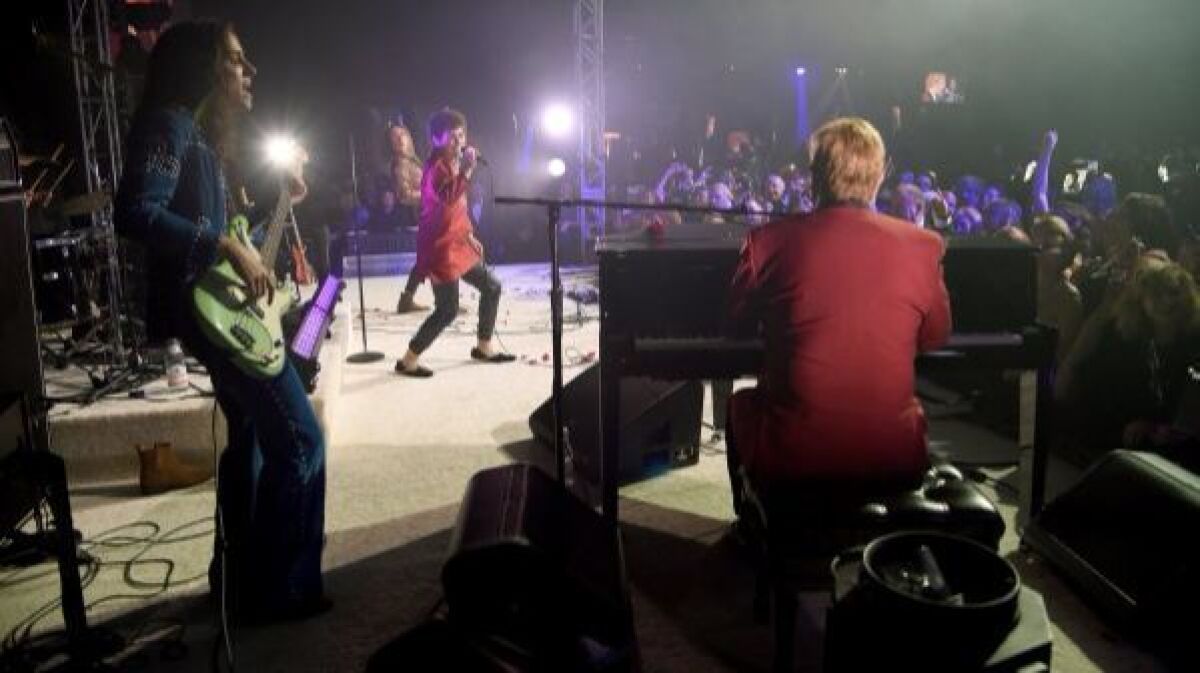 Following the awards ceremony and live auction, John turned over the annual musical spotlight segment to Michigan-based hard-rock band Greta Van Fleet, which let loose with Led Zeppelin-inspired riffs and decibels and high-pitched, Robert Plant-like vocals from 21-year-old lead singer Joshua Kiszka, who looks several years younger.
The band's strengths included smartly sculpted melodies, strong riffs and tightly executed instrumental passages. The group also includes Kiszka's twin brother, guitarist Jake, and another brother, Sam, on bass, along with drummer Danny Wagner.
With his short, curly hair and elfin demeanor, Joshua Kiszka defies the stereotype of the ultra-macho hard-rock singer. He's still developing a compelling performance style, yet invokes often thrilling upper-register wails à la Plant during Led Zeppelin's heyday.
"Whoever says rock music is dead is completely wrong," said John, 70, who joined the group at the piano during its set. "When I first saw them they knocked me out.… They are going to be one of the biggest bands of the year."
Among the evening's other high-profile guests: actors Tim Allen, Joan Collins, Peter Fonda, Seth Green, Judith Light, Andie McDowell and Jane Seymour, musicians Rufus Wainwright, Mary Wilson and JC Chasez, fashion designer Tyler Ellis, filmmaker Roland Emmerich, Universal Music Group Chairman Lucian Grainge, former athletes Caitlyn Jenner and Tara Lipinski, CNN anchor Don Lemon and actress-models Sonia Ben Ammar and Gisella Marengo.
Follow @RandyLewis2 on Twitter.com
For Classic Rock coverage, join us on Facebook
Get our L.A. Goes Out newsletter, with the week's best events, to help you explore and experience our city.
You may occasionally receive promotional content from the Los Angeles Times.