With 'Rocketman,' Elton John lays bare his weird and wondrous musical genius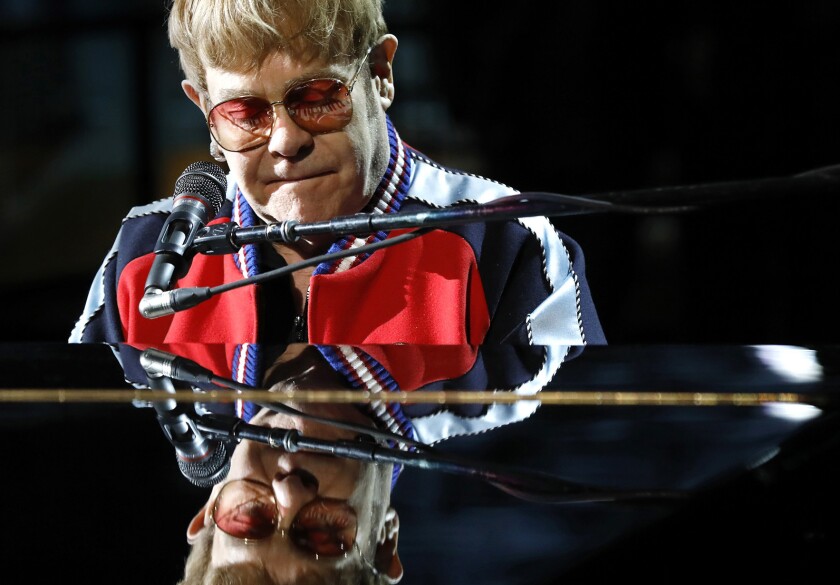 Pop Music Critic
Not long into the new Elton John biopic "Rocketman" — after we've been introduced to the polite, precocious kid born Reginald Dwight; after he's wowed an instructor at the Royal Academy of Music; after he's discovered rock and roll, met Bernie Taupin and found his calling — we see our hero sit down at an upright piano to write the song that would help make him one of the biggest pop acts in the world.
Elton, as he's calling himself by this point, has an unfamiliar lyric sheet before him; he peers down at it, readying us for an instance of the intense creative struggle we're accustomed to encountering in this kind of movie.
Yet the struggle never happens.
Elton, dressed in a bathrobe, lays his fingers on the keys, and "Your Song" just pours out, as readily as the booze from the many bottles we'll soon see him clutching.
In its witty depiction of a rock artiste blessed with the melodic gifts and song-factory motor of a Tin Pan Alley composer, the scene gets at some of what set Elton John apart from the very beginning. And it's part of a movie that feels similarly exceptional. Titled, of course, after John's classic early-'70s hit about an astronaut "burning out his fuse up here alone," "Rocketman" does what the vast majority of music biopics — including the most commercially successful of all time, last year's "Bohemian Rhapsody" — do not: It dramatizes the life of an artist in a fashion that artist might recognize.
The film has long, complicated musical sequences with shifting points of view. It has spectacular costumes. And it careens among any number of modes and genres, from weepy melodrama to broad comedy, just like John's catalog, almost certainly the most eclectic of any superstar musician to emerge in the 1970s.
The result is an unconventional movie about an unconventional career — one that invites us, at a moment when John is on a lengthy world tour he's calling his last, to consider everything beyond his prodigious talent that might've prevented this 72-year-old genius from ending up here.
For starters, there were the obstacles not of his own making: the loveless childhood in which a pop star's crucial self-belief is all but stamped out of him; the hardly-great looks of a gap-toothed fellow balding before his time; the sexuality of a gay man in an era when even show business enforced a code of public secrecy.
"Rocketman" centers John's gayness in a way that feels especially welcome in the wake of "Bohemian Rhapsody," which treated Freddie Mercury's sexuality like an inconvenience. Where sex for Mercury is represented as a source of shame, Elton is shown enjoying himself in bed (and in a recording studio's tape room) with another man — a capitulation to the woke sensibility of a modern audience, perhaps, but an important driver of a narrative in which we're meant to understand that Elton is speaking his truth in "Someone Saved My Life Tonight," his deeply moving song about freeing himself, at least for a while, from the punishing illusion that he was straight.
Except, wait, hold on: As any serious fan knows, John didn't write the words to "Someone Saved My Life Tonight"; Taupin, his longtime lyricist, did. "Rocketman" is thorough in its telling of the partners' collaboration, from their meet-cute at a diner (after being paired by a music publisher) through their development of a process, unheard-of in rock, in which Bernie mails lyrics to Elton, who then sets them to music — and typically with as little effort as in that scene about "Your Song."
Their system wouldn't surprise a veteran of Broadway or the Brill Building, where singers don't write their own songs. But those weren't John's worlds. Much is made in the movie of Elton's breakthrough at the Troubadour, the venerable West Hollywood hangout where in 1970 he played his first shows in America. A crazy number of L.A. rock royals turned out to see John that August, including Linda Ronstadt, Don Henley and all three members of Crosby, Stills & Nash — precisely the singer-songwriter types, not to mention the Me Decade sex symbols, that the Troubadour came to symbolize at a time when pop was preoccupied with the idea of sensitive artists spilling their guts in song.
How odd, in retrospect, that this was the wave that delivered John to fame; after all, the guts he was spilling — and with a camp sense of razzle-dazzle that may well have scandalized Crosby — were technically Taupin's. Obviously, John's melodies and grooves contained their own power. As "Rocketman" demonstrates, "Your Song" was just a piece of paper stuffed in an envelope until John got ahold of it.
But it's a testament to the emotional clarity of John's music that, for all he shares with master interpreters such as Cher and Celine Dion, he's more widely regarded these days as a rightful member of rock's auteur class, no different in terms of esteem than Billy Joel or Bruce Springsteen or Paul McCartney. (No doubt his gender helped in this respect.)
Indeed, it's our belief in John's authorship — our willingness to think of him as the throughline — that allowed him to get away with what does distinguish him from his peers, which is the astonishing sweep of his catalog, particularly his output from 1970 to 1975. To take in his excellent farewell concert, in which he jumps from the sunburned Americana of "Tiny Dancer" to the disco-flecked "Philadelphia Freedom" to the swooning space operatics of "Rocket Man" is to buy into the fantasy that this person experienced all these things and then lived to write about them. He was that good then, and he's that good now.
Which isn't to say he was always good. The late '70s and early '80s were a sketchy phase for John, who's spoken freely about his substance abuse at the time; not unrelatedly, one gathers, this was also the period when he fired his core band and even broke up with Taupin for a while. He was still prolific, but for the first time his often-crummy records aroused suspicion that he was merely exploiting his audience's devotion. ("Blue Moves" deserves your scorn, but spin the sprightly "Jump Up!" again before writing off the era entirely.)
To John's credit, "Rocketman" — of which he's said he's very proud — doesn't skip over this low ebb, nor the narcissism and selfishness that led to it; there's an unsparing set piece with a drunken Elton rampaging though his mansion that could scarcely have been more brutal if John and his husband, David Furnish, hadn't overseen the movie. Still, "Rocketman" ends on a high note, naturally, as John rediscovers his mojo with his 1983 comeback hit "I'm Still Standing."
And so he is, all these decades later. His moves in the intervening years were easier to predict than in the early days. He got into musical theater, a plush landing spot for someone with his skills; he made albums to shore up his rock-snob cred (think of 2010's "The Union" with Leon Russell) and albums that reflect only his compulsion to compete (2016's "Wonderful Crazy Night," which he promoted one evening at the Wiltern by persuading Shawn Mendes to join him for a duet on "Tiny Dancer").
But where he can still surprise you — where he really lives now, at least until his tour finally wraps at the end of 2020 — is onstage, where he gives Taupin's purple poetry the life only he can.
No wonder he's excited about the movie — you walk out wanting to see this one-of-a-kind superstar down here on Earth.
Twitter: @mikaelwood
---
The complete guide to home viewing
Get Screen Gab for weekly recommendations, analysis, interviews and irreverent discussion of the TV and streaming movies everyone's talking about.
You may occasionally receive promotional content from the Los Angeles Times.