Taron Egerton channels Elton John in 'Rocketman,' and the role is about to change his life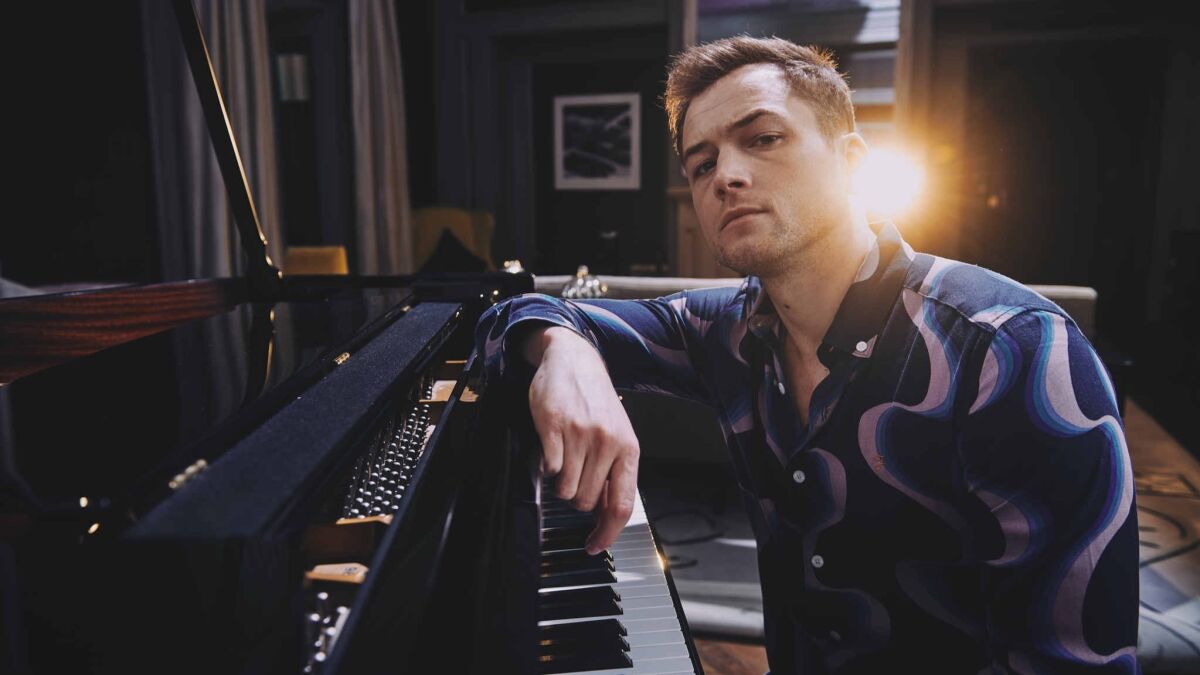 CANNES, France —
"Sorry for the delay," Taron Egerton says, putting his iPhone down on a table. "I can literally say that I had to take a call from Elton John."
Little more than 12 hours have passed since the lights came up inside the Cannes Film Festival's grandest theater, revealing the actor and the iconic musician he plays in "Rocketman" both in tears. The crowd around them rose to its feet as the two embraced, quietly sobbing into the other's shoulder. Then they migrated down the Croisette to a party on the beach, where the 29-year-old and the 72-year-old duetted together for hundreds of guests standing in their black-tie attire on the sand.
"It was just the perfect day," Egerton says — one of the best of his young life. But he started it off anxious, walking into the Grand Théâtre Lumière with his breath high in his chest. He couldn't relax for the first 45 minutes of the film, seated beside John as the performer faced depictions of emotionally turbulent years filled with parental neglect, sexual confusion and substance abuse.
"He only saw it for the first time yesterday, which is why I think he was so profoundly moved," Egerton recalls. "He's lived a life less ordinary, but it's not been an easy life, I don't think. So to see him, frankly, relive some of that and have such an acute emotional reaction? It's an emotional thing for me."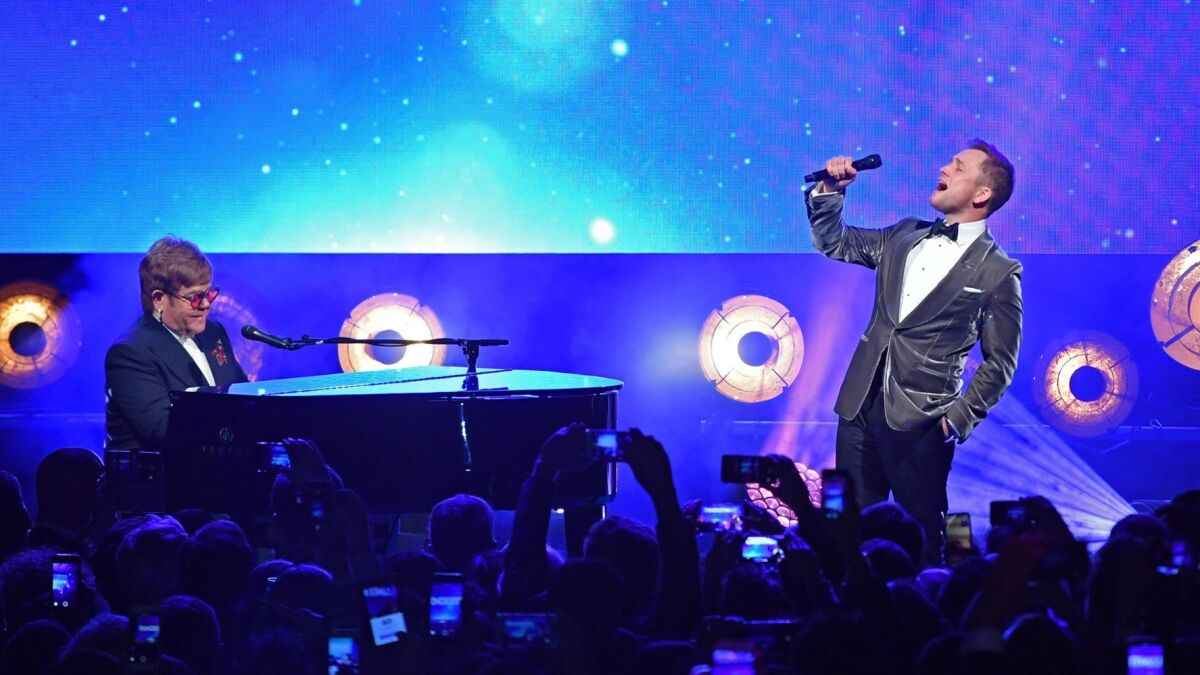 Hence the call from John just now, "taking a moment to be happy" over the resoundingly positive reviews that have poured in overnight. After a long night of drinking beer, Egerton is now mainlining coffee in a hotel suite overlooking the waterfront where he performed hours earlier. The Tricker's loafers he's chosen to wear, he points out, are coincidentally the brand's "Elton" style.
He's trying not to look at his phone, but it keeps lighting up with messages. First came a text from Jamie Bell, who plays John's longtime songwriting partner Bernie Taupin in the film. "You're my brother," wrote Bell, who couldn't make the premiere because his wife was about to have a baby. And there were a handful from his mother, who showed him "The Lion King" when he was 5, the movie in which he first heard John sing.
"I've had some fab calls this morning," he acknowledges. "But you know, we've got a long way to go, and we don't know how things are going to go."
Indeed, no matter how splashy the debut, the timing of "Rocketman" is also nerve-racking. The film, which opens in the U.S. on May 31, comes on the heels of last fall's "Bohemian Rhapsody," the Freddie Mercury biopic that earned an astonishing $900 million at the global box office. In February, Rami Malek earned a best actor Oscar for his performance as the Queen frontman. And "Rocketman" director Dexter Fletcher had stepped in to finish production on "Bohemian Rhapsody" when that film's credited director, Bryan Singer, was fired.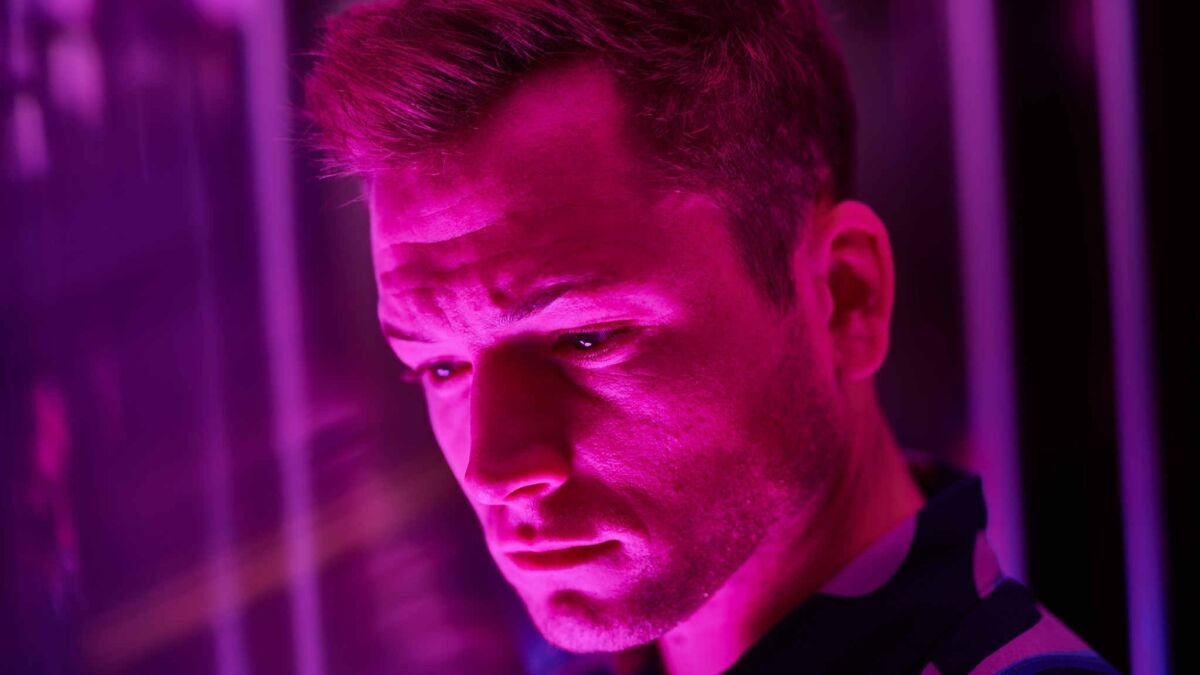 REVIEW: 'Rocketman' is an affecting, sprawling musical about the life of Elton John »
The comparisons are inevitable — and no matter how good "Rocketman" is, or how good Egerton is in "Rocketman," might it just be too soon for another portrait of a rock 'n' roll star to be fully embraced?
Egerton says he hopes the success of "Bohemian Rhapsody" proves just the opposite — "that there's an appetite for this type of film." And while he understands the similarities between the two movies, he's keen to emphasize their differences: The Queen movie was a more straightforward portrait, where "Rocketman" is a musical fantasy homage that tracks John from boyhood to to his early 40s, when he gets sober. And while Malek gave a "wonderful performance" that felt like he "resurrected Freddie," Egerton says, he was lip-syncing primarily in concert and recording session scenes.
"Our film is a different animal, I think, and hopefully we garner some of the same love," he says. "We ain't gonna make $900 million. I think everyone needs to adjust their expectations a bit. That film is a unicorn."
The timing is also something of a coincidence, considering John and his husband, David Furnish, had been developing a "Rocketman" film for nearly two decades. The first actor officially cast to play John, Oscar nominee Tom Hardy, was not planning to sing in his own voice. But producers ultimately decided that Hardy, who is 41, was simply too old to believably play the singer in his teenage years.
"It's also a musical, and Tom's obviously probably the most gifted actor of his generation — and I think Tom knows this — but he ain't a singer," says Egerton, who counts the fellow U.K. native as a friend. "He emailed me last week as well, just congratulating me and saying he felt that I was the man to portray the big man. It was a beautifully gracious thing for him to do. Tom's a class act."
Since the two actors share the same agent and lawyer, Egerton had long been aware of the existence of "Rocketman." After the success of 2014's "Kingsman: The Secret Service," the franchise-launching action comedy starring Egerton as a cheeky agent who's recruited into an undercover spy organization, "a lot of opportunities were presenting themselves," he says. A graduate of the Royal Academy of Dramatic Art — where he performed John's "Your Song" for admissions directors — Egerton wanted his next role to include singing. He'd inquired about "Rocketman" but moved on after he heard Hardy was attached.
Then, on the set of the 2017 "Kingsman" sequel, director Matthew Vaughn suddenly asked: "How would you feel about playing Elton?" Vaughn had just come aboard "Rocketman" in an effort to help John and Furnish get the long-gestating project off the ground. Coincidentally, the couple had just met Egerton for the first time on the set of the second "Kingsman" film, in which John made a cameo.
"The first thing Elton ever said to me was during a wedding scene we were filming: 'You know, if I were five years younger, it'd be me that you were marrying there,' " Egerton says with a laugh.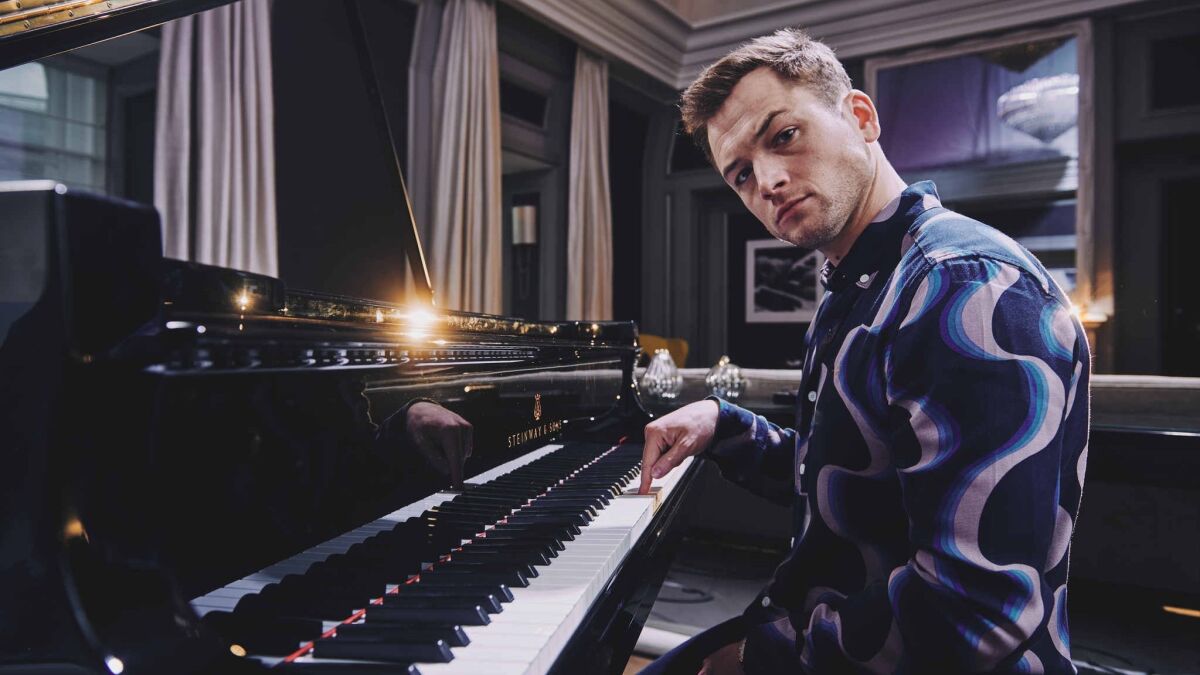 READ MORE: When Elton John became a rock star -- The untold story of the Troubadour concert »
After Vaughn advised them that the actor also had "the voice of an angel," John and Furnish began seriously considering Egerton for the role. It helped, Furnish adds, that "he and Elton got on like a house on fire."
After he was cast, Egerton started spending more and more time with John, who made himself totally available to the actor. During visits to the singer's mansion in Windsor, England — where, after getting too drunk one night, he was caught in the kitchen by John's head of security at 3 a.m. — he began to ask the singer questions about his life.
"Sex, drugs and rock 'n' roll — everything," Egerton says. "Because when you play someone, you have to know the beating heart of their experience. If you're playing a drug addict, the world of addiction is not pretty. That's a dark place, and I asked him a lot about it, because I felt it was important I know. And I have never asked Elton anything that he has been uncomfortable with. You cannot make that man blush."
While Furnish admits his husband is an open book — "you can push a button with Elton and he'll go on" — he says John took to Egerton's natural approach. "It never felt deliberate," he explains.
John allowed Egerton to read the diaries he'd kept in the 1970s and even gifted him the first diamond earring he'd ever bought. The actor would go on to wear it during a pivotal rehab scene in "Rocketman," coming to feel the jewelry was his "little talisman — my thing that made me feel close to him."
The only time John ever weighed in on his performance, Egerton says, is when he first heard the star's takes on his songs.
"I f—ing love it. Stop trying to sound like me."
"And I was like, 'OK, what am I supposed to do then?' " Egerton remembers. "I was quite stressed by it."
Ultimately, Fletcher advised him to just sing the songs as best he could, without fixating on mimicking John's voice precisely. From that point forward, neither John — who was reviewing dailies — nor Furnish — who spent a lot of time on set — gave Egerton any notes. And while he was well aware of the pair's presence — they did serve as producers on the project, after all — he tried his best to put it out of his mind.
"There are moments in the movie where I'm screaming and shouting or doing lines of gear — moments that aren't pretty," says Egerton. "It's tantrums and tiaras, man — it's Elton John. There's moments where you've got to see him lose his [mind]. If I thought too much about Elton watching it, I'd start to go, 'God, is he going to hate the fact that I'm making him look crazy?' "
The fact that John didn't sanitize the screenplay is a "tribute to Elton's bravery," believes Egerton, noting that "we've all seen movies where the real-life protagonist who is still knocking around have made themselves look saintly."
He also credits Paramount for not watering down a love scene between the musician and his manager, John Reid, played by Richard Madden. Though the sequence is brief and nonexplicit, its mere existence immediately generated headlines after the Cannes premiere: "'Rocketman' Blazes Trail as First Major Studio Film to Depict Gay Male Sex," wrote the Hollywood Reporter.
"The fact that people write about it in that way means that it's still a conversation. It wouldn't be a conversation if it was a heterosexual scene, so it's still important we push that boundary," says Egerton. "That scene in the movie is not a gratuitous, indulgent bit of soft-core pornography. It's two people falling in love and one person losing their virginity. And I'm very proud to be part of a film that has handled that with humanity and integrity, rather than trying to sidestep it because it's not been done before."
As for the reports that Paramount forced the production to scale back the scene to make it tamer, Egerton insists that wasn't the case.
"People have said they cut the scene substantially? What do they think has been cut?" he says, becoming animated. "We shot that scene for ... four hours. What do you think [is] missing? What graphic bit of detail do you think [is] missing? No, it's just been edited together now. You could probably watch a five-hour version of it if you wanted."
While Egerton did attend an Alcoholics Anonymous meeting mid-shoot to better understand addiction, he says he tried not to get too caught up in the emotional turmoil of the character. He doesn't subscribe to method acting — "Frankly, I think it's indulgent nonsense" — and didn't hide out in his trailer, getting into character.
ALSO: Robert Hilburn's 1970 review of Elton John at the Troubadour — 'new rock talent' »
Bryce Dallas Howard, who plays John's mother in the film, says she was impressed by the "high-wire act" Egerton pulled off immersing himself in John's world while acting like a normal dude on set. Cast just six days before the shoot began, Howard wasn't able to spend time mining the real-life family for their insights on her character.
"It was a fast learning curve, and I didn't want to play some general idea of a loveless mother. I mean, she was a real person," the actress says. "And Taron made himself so incredibly available to me and followed through. I'm one of those people where when I ask, 'Do you have a minute to chat?' the talk ends up being four hours. And he was there for me. Which showed the trust that Elton had for Taron and the confidence that Taron felt in being supported by Elton."
Even if "Rocketman" doesn't make $900 million, it will likely have a big impact on Egerton's career, propelling him to a new level of international recognition — the odd side effect of a film largely about the perils of fame. Egerton insists he lives a low-key life in London, riding the Tube and never walking around masked by a hat or dark glasses.
"People are always saying to you, 'You're about to blow up.' It's not true," he says. "Que sera sera, but I'm not going to become an overnight A-lister. I would like to have autonomy over my choices creatively, and I like earning money. These things are fine. I want the movie to be a success, and of course I want me personally to be a success. Would I like to not be able to get on the bus without being hounded? No, I'm not interested in that at all. I don't mind taking a selfie out now and then, but if I had to do as many every day as I did yesterday? That sounds like fun, but it isn't."
Egerton doesn't know what he's going to sign on to next. He'd like to continue a steady but relatively slow pace of work, making no more than one film per year. And he's interested in further pursuing music. He says he feels most at peace when expressing himself through song — which is also how he connects with John, whose husband told Egerton: "The only time I don't worry about Elton is when he's onstage."
"I'd love to do more, but if I drink as much beer as I did last night, I haven't got much future as a singer," he says with a grin. "I need to learn how to play the piano properly. That's my next big aim. … Elton's very keen that I do it too. I need to learn an instrument, because if I learn an instrument, who knows? Maybe I could write something ... If I ever wanted to pursue that as a thing, I'd have to be able to write some songs, I think."
No matter what, one thing is certain: Egerton and John are bonded for life. After the screening last week, Furnish says, he pulled the actor close and told him: "You're an indelible part of our family, forever and ever."
"It sounds a bit weird, because Elton's a musical genius and I'm just an actor country bumpkin', but we've always felt a sense of kinship," says Egerton. "He says we're cut from the same cloth. And I've always felt like I understand him. I understand his troubles, I understand his difficulties. I think I understand what it means to be sensitive in the extreme, because I do think I'm a little bit like that. I have the utmost respect for him and I love him. I don't say that in a flippant way. I love him like family."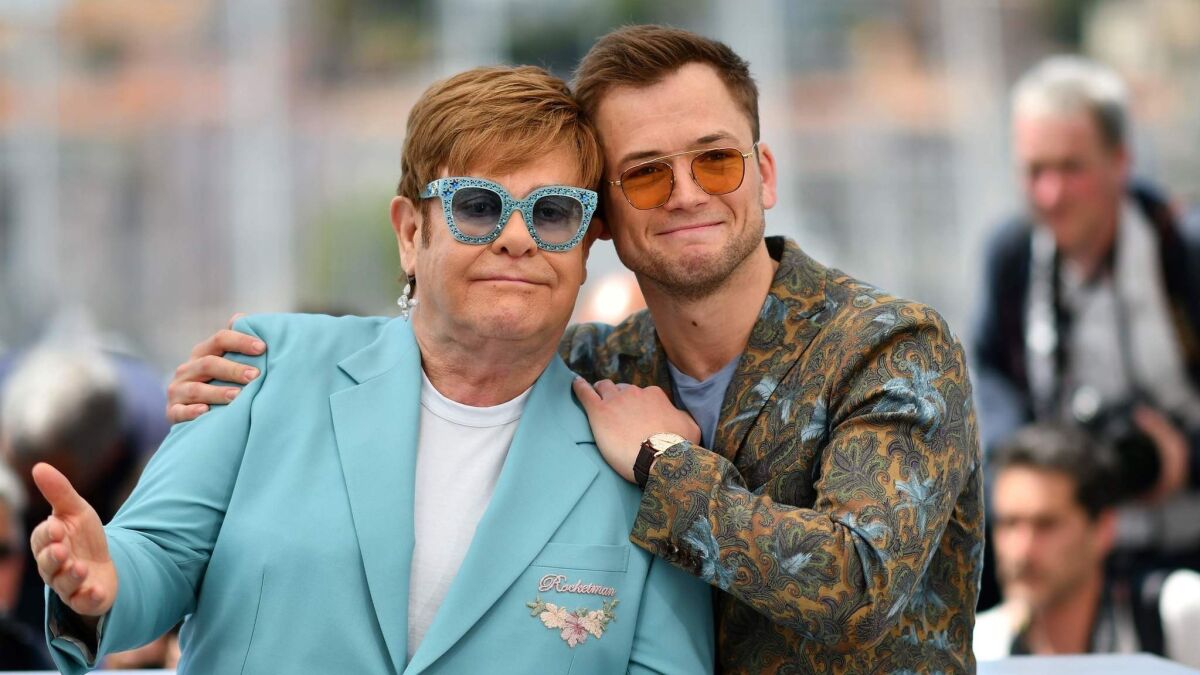 Follow me on Twitter @AmyKinLA
---
Get our L.A. Goes Out newsletter, with the week's best events, to help you explore and experience our city.
You may occasionally receive promotional content from the Los Angeles Times.