When Elton John became a rock star: The untold story of the Troubadour concert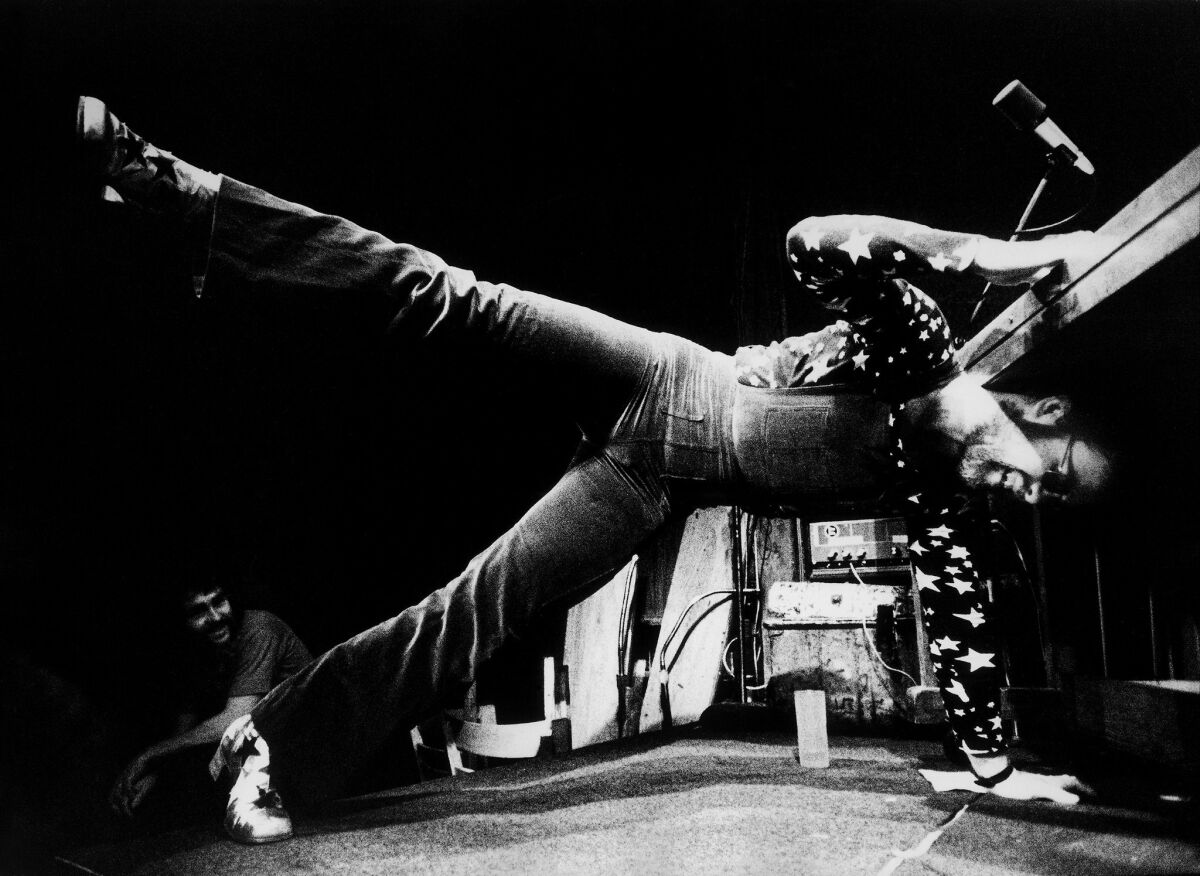 When Elton John flew to Los Angeles to make his U.S. debut at the Troubadour on Aug. 25, 1970, the prospect of a visit to America was so tantalizing to his British pals that many accompanied him. In addition to his band mates (bassist Dee Murray and drummer Nigel Olsson), John, then 23, traveled with his lyricist, Bernie Taupin, manager Ray Williams, producer Steve Brown, graphic designer David Larkham and roadie Bob Stacey. "We were very much a gang," says Taupin. They were soon joined by Roger Greenaway, a great British songwriter who was already visiting L.A.
John played eight shows in six nights at the Troubadour, and those shows helped turn him from an odd-named unknown into rock's biggest star since the Beatles. Rolling Stone included the Troubadour shows in a recent list of the 50 greatest concerts of the rock era. The visit not only turbo-charged John's career, it also altered the lives of Taupin and Larkham, who met their first wives, and Williams, who lost his job. At a time of maximum cultural contrast between London and L.A., the Brits came looking for freedom and enchantment and found it in multitudes.
Prior to the Troubadour, John had little success. In 1967 the singer (who hadn't yet changed his name from Reg Dwight) and Taupin were signed by Dick James, a British music mogul who published the Beatles songs. In a 1970 Record Mirror poll, John was named the fifth most promising U.K. act in pop, trailing Juicy Lucy and Pickettywitch, but his singles failed on the charts. Every American label passed on signing him except UNI Records (home of Neil Diamond and not much else), which signed him for an advance of $0.00. James was almost out of patience but resolved to put a final $10,000 into breaking John in the U.S.
ALSO: Robert Hilburn's 1970 review of Elton John at the Troubadour — 'new rock talent' »
UNI head Russ Regan and publicist Norm Winter, through the force of their big personalities and relentless hype, helped fill the Troubadour, which had a capacity of about 300, with L.A.'s best-known musicians. On opening night, Neil Diamond introduced John, and other attendees included Quincy Jones and Peggy Lipton, Linda Ronstadt, Brian Wilson and Mike Love of the Beach Boys, Van Dyke Parks, Don Henley, Randy Newman, David Crosby, Stephen Stills and Graham Nash. But for Elton's future, the most important witness was Times pop critic Robert Hilburn, who wrote an inflamed review. "Rejoice!" Hilburn announced. "Rock music has a new star."
The Troubadour gigs didn't make Elton John a star, but they did create an opportunity for him to become a star, with the right song. In October 1970, UNI released "Your Song," which John Lennon called "the first new thing that's happened since we [the Beatles] happened." It roared to eight on the Billboard Hot 100, the first of an incredible 16 top 10 singles John released in the 1970s. He also released seven consecutive No. 1 albums in less than four years.
John is currently on a farewell tour, has written a memoir that will be published in October and executive produced "Rocketman," a movie about his rise to pop sovereignty and subsequent addictions-fueled fall. The Troubadour shows play a significant part in the film, but director Dexter Fletcher, working in the traditions of Baz Luhrmann and Ken Russell, changes facts and rearranges chronology in order to better create a speedball fantasia. "Rocketman" is huge, ludicrous fun, but if you want the true story of the 1970 L.A. residency that catapulted Elton John to mass stardom, here it is.
Packed My Bags Last Night, Pre-Flight
Elton John: I didn't think we were ready to try breaking America. I'd been performing as a solo artist for about a year in England by that point, and the shows had been going down really well. I felt I still needed to properly break the U.K. first, and I wanted to keep my focus there.
Bernie Taupin: Success? Pretty much nothing. Zip. Zero. The Troubadour shows were the blue-touch paper for our career.
Ray Williams: We'd played in Europe — got booed off the stage in France — and had good press. The Troubadour shows were probably a last chance to get things going.
John: It was Dick James who really pushed for me to go to the Troubadour. He thought it would kick-start things — and he was right!
Taupin: Dick had an ability to be the luckiest white man alive. He signed the Beatles to a publishing deal, lost the Beatles, and then got us. Lightning does strike twice!
Williams: Our booking agent, Jerry Heller, asked if we'd do a gig at the Troubadour. I said, "How much?" He said, "$150." You've got to be joking. But that gave us a platform to go to Dick, and he put up the money to do it.
Roger Greenaway: If Elton had died at the Troubadour, that would've been the end of it.
David Larkham: I'd met Elton in 1968, when [producer] Steve Brown asked me to take publicity photographs of two unknown songwriters. We all became friends. We'd go buy albums, or as in Bernie's lyrics [to the song "Social Disease"], we'd get juiced on Mateus and just hang loose. I decided to come along to L.A.
Taupin: Elton and I were inseparable from the time we met.
Nigel Olsson: Elton and Bernie were so nervous. Dick James had said, "If this doesn't work, you can all come back and I'll get you jobs in a shoe store on Oxford Street." Yes, jolly decent of you!
Greenaway: They land in L.A., and the record label had gotten him an open-top bus, a British double-decker bus. On the side, it said, ELTON JOHN HAS ARRIVED. People thought "Elton John" was a new kind of toilet.
ALSO: Taron Egerton channels Elton John in 'Rocketman,' and the role is about to change his life »
Blue Jean Babies, L.A. Ladies
John: My first trip to L.A. was like stepping into a movie. Los Angeles looked just like it did on television in the "Beverly Hillbillies." One of the first places Bernie and I wanted to visit was 77 Sunset Strip, from the iconic TV series.
Taupin: The first thing we wanted to do was go to record stores. Tower Records, the one on Sunset, that was like nirvana to us.
John: Everything in L.A. looked and sounded different. It was the first time I heard proper FM stereo radio. Everything looked and sounded amazing.
Williams: I'd been to L.A. before. So when Nigel needed a hair dryer, I said, "I've got a girlfriend here." Her name was Joanna Malouf. I rang Joanna, but she was in Greece, on holiday. Her sister Janice answered the phone instead and kindly offered to bring a hair dryer to the hotel. Janice also brought a friend, Maxine Feibelman.
Joanna Malouf: I was in Europe with Sonny and Cher, who I met through Ray — he'd done their PR. Ray was gorgeous. And he had an accent — that was already enough.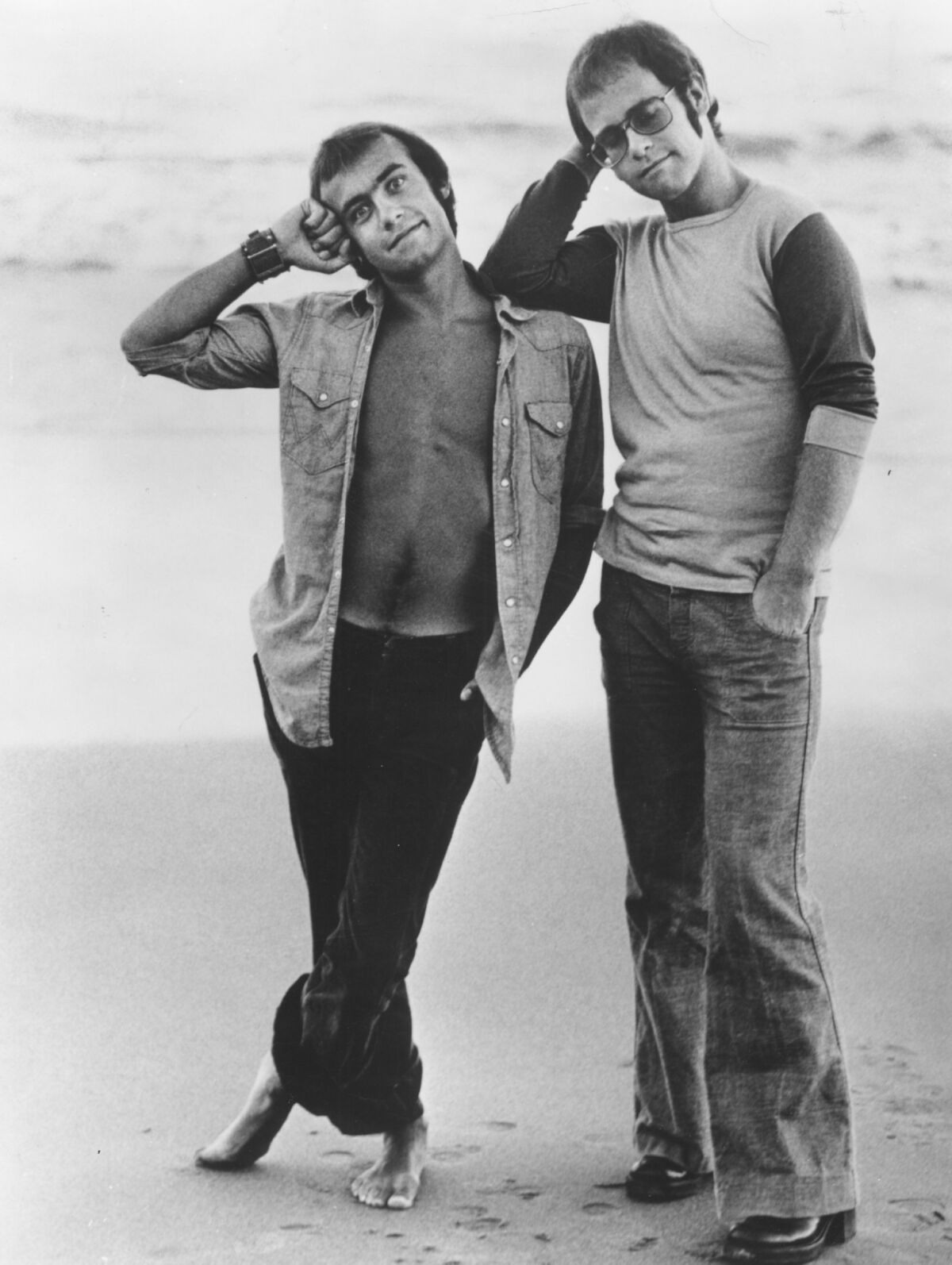 Williams: We were all hanging out, and Janice and Maxine said we should go to Palm Springs. Elton said he didn't want to go. We stayed one night in a hotel, then came back. As a net result, David Larkham ended up with Janice, and Maxine ended up with Bernie. [Both couples married in 1971.]
Malouf: Bernie and Maxine fell in love, got married, and he wrote "Tiny Dancer" about her.
Taupin: The women in England were much more reserved. In California, they had a wonderful spirit about them, which is where the sentiment of "Tiny Dancer" comes from.
Malouf: It was free love, for sure, after the braless '60s. I was hanging out with the Grass Roots, Buffalo Springfield, Love, the Byrds. ... There was so much new music in L.A.
Larkham: Elton was pissed off at not being invited to Palm Springs, and perhaps he had nerves — this was prior to opening night.
Williams: Elton said, "I'm not doing this gig. I'm going home." That's when we got into a big two and eight — [Cockney] slang for a debate. I said, "You can't do that. You'll ruin your career."
Larkham: There was a shouting match in the hotel corridor. A lot of the tension dissipated once Elton had thrown Ray Williams in the hotel swimming pool.
Olsson: I didn't know about any tension between Elton and Ray. I just didn't want to go work in a shoe shop.
Williams: Elton was so nervous. Finally, he said, "All right, I'll do the shows." His tantrums, which he's now quite famous for, had already started.
Burn Down the Mission
Robert Hilburn: The Times hired me in June 1970 as their first pop music critic. My first review was Kris Kristofferson — I thought he was the new Hank Williams. There was a huge reaction to that review, which gave me confidence. You wanted to bring great artists to the attention of music fans.
Neil Diamond: I got a call from my old friend David Rosner, who was working with Elton's publisher, Dick James. I'd just come off three years of hits, and David wanted to know if I'd introduce the totally unknown Elton John on opening night. I agreed to do it, based on David's and Russ Regan's word that Elton had the makings of a big star.
Olsson: We were freaking out. I mean, Neil Diamond, for God's sake.
Hilburn: I'd never heard of Elton until I started getting calls from UNI Records. Russ Regan or Norm Winter called me every day for six or seven days. "Hi, it's Norm." "Jesus, Norm..." "This guy's got the same publisher as the Beatles." I didn't care who the publisher was. I might've said, "I've got something else to do that night," just to freak them out. I was gonna be there regardless. I went to the Troubadour every Tuesday. It was the most important club in the country. Elton could have killed his career in one night.
T Bone Burnett: The Troubadour was just down the hill from Laurel Canyon, where all the musicians were living. A waitress let me slip into the club that night — I couldn't afford a ticket.
Linda Ronstadt: There was a cafe society aspect to the Troubadour bar — it's where all the musicians hung out. We'd finagle a way to get in for free, so we saw everything Doug Weston booked.
Diamond: Elton was very polite and very quiet.
Greenaway: But when he went onstage, he became a different person.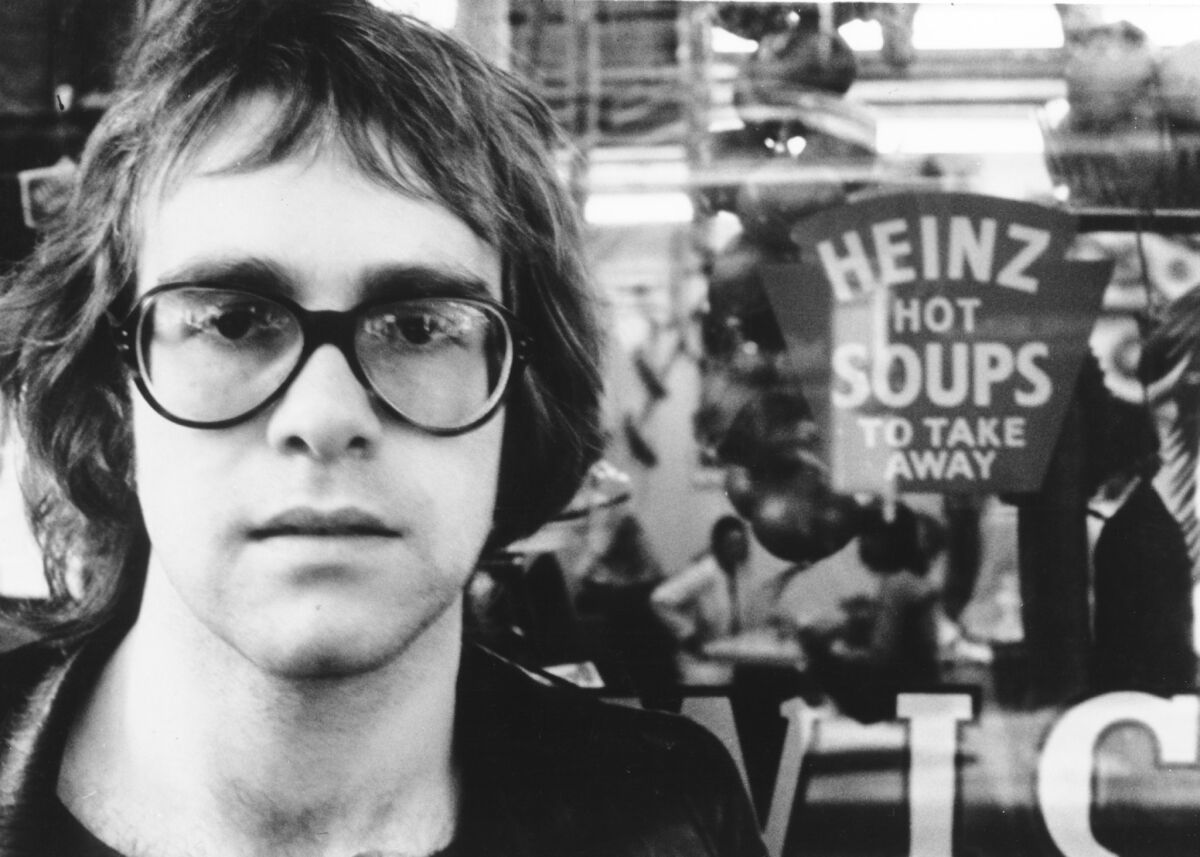 REVIEW: 'Rocketman' is an affecting, sprawling musical about the life of Elton John »
Hilburn: He seemed shy onstage. He played almost with his head down, like he was hiding. They were pretty songs, but he wasn't selling them in any way. For the first 10 minutes, I thought, "This is gonna be a disaster."
John: The photo on the cover of the Elton John album led people to believe I'd be quite folksy and Randy Newman-esque. When I walked out on stage wearing flying boots with dungarees, everyone was genuinely taken aback.
Hilburn: He knocked the piano bench down and did Jerry Lee Lewis-type antics. He went from a non-performer to an over-the-top performer.
Larkham: Once he started doing handstands on the piano, it revved up the excitement in this little club.
Van Dyke Parks: I do recall the show at the Troubadour with Elton. I knew then and there the Troubadour was changed forever.
John: The atmosphere during those nights at the Troubadour was electric. Something inside me just took over. I knew this was my big moment and I really went for it. The energy I put into my performance, kicking out my piano stool and smashing my legs down on the piano, caught everyone off guard. It was pure rock 'n' roll serendipity. Even before the reviews came in, we knew that something special had happened.
Ronstadt: It was like a ball of fire hit the Troubadour. When he got to "Take Me to the Pilot," the place levitated. They were a trio, but they sounded so tight, like a garage band.
Burnett: It was like seeing a Little Richard show. Elton was playing fast and really hard. He was wild. The music was ecstatic. People were knocked out. The sound of the audience was the sound of a star being born.
Olsson: It still gives me goosebumps.
Taupin: You could see the surprise on their faces. It was almost movie-esque: people were tentative to begin with, then came smiles, and then tumultuous applause. Robert Hilburn got it.
Williams: After the first night, everybody woke up with a headache. But I've never seen that level of excitement after a gig. It was one of rock's greatest gigs.
John: I had no idea who was in the house most nights. I knew Neil Diamond was introducing me, but that's it. On the second night, I spotted my hero Leon Russell in the audience during "Burn Down the Mission" and temporarily froze. He was so distinctive looking — you couldn't miss him! He came backstage and was incredibly kind to me and invited me to go on tour with him.
Burnett: Leon Russell told me that when he saw Elton, after two songs, he thought, "OK, my career's over."
Taupin: Once Hilburn's review hit the streets, it was a sellout for the rest of the week.
Larkham: The record company arranged for us to go to Disneyland for a day, in limousines.
Olsson: Dee Murray, Bernie and I were sitting in the tiny Troubadour dressing room when Elton came in with Mickey Mouse ears on his head. He said, "I'm going onstage like this tonight." It was horror and laughter at the same time. I think that was the start of his crazy stage wear.
Greenaway: At the end of the week, I was driving to LAX and I heard a DJ say, "Ladies and gentlemen, we have a new messiah in town. His name is Elton John." I don't think anybody ever became that big, literally overnight, in America.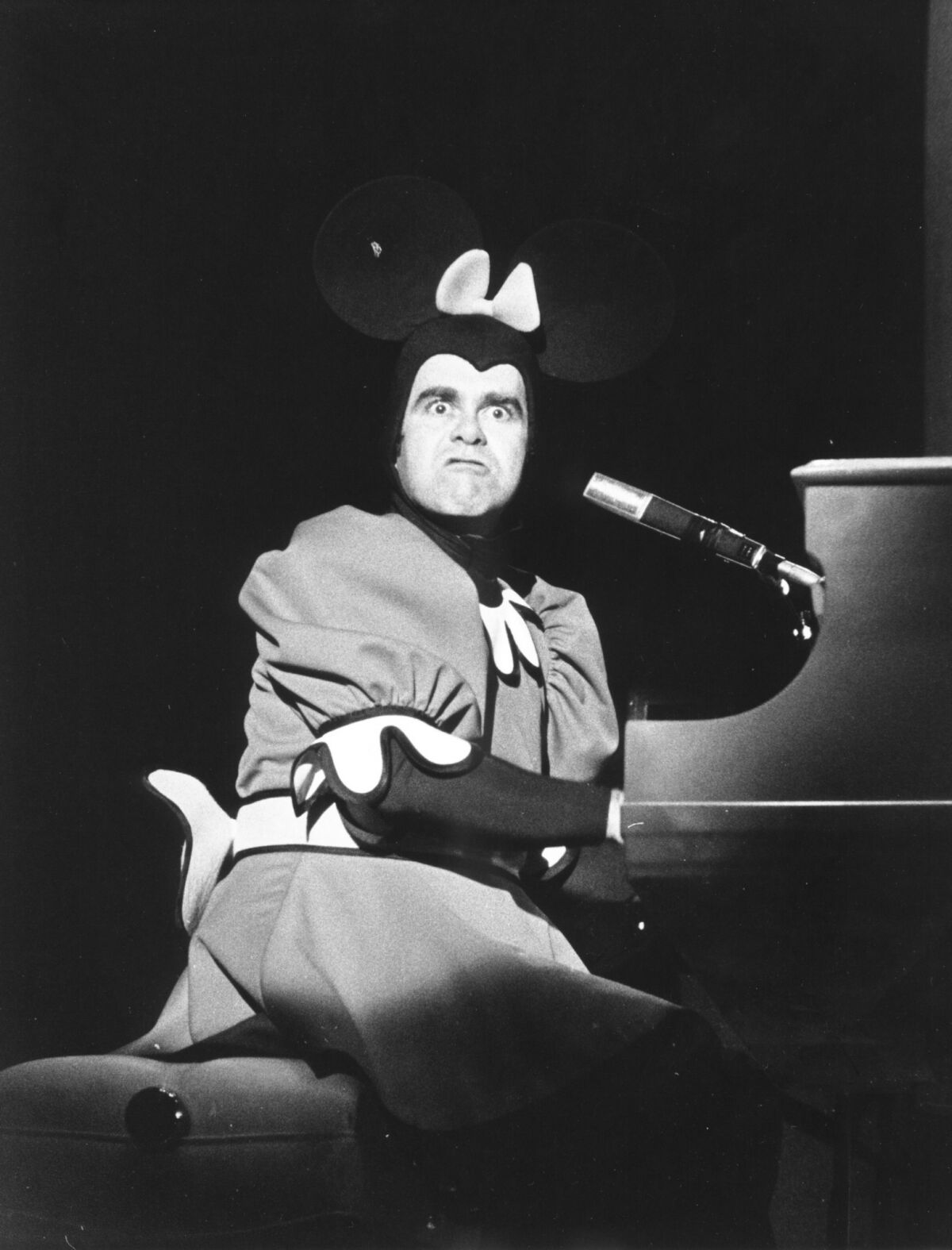 My Gift Is My Song
Olsson: If you had your song on KHJ, which was AM, you'd made it. Russ Regan told me that when he first heard "Your Song" on KHJ, a few months after the Troubadour shows, he was driving on the 101 and he had to pull over. He said he cried his eyes out for 10 minutes.
Williams: When we got back to England, Elton and I had lunch and amicably decided to sever our agreement. I wasn't comfortable being a manager, and Elton was — how do I say this? He was going through some traumatic changes, and he'd already met [future manager and lover] John Reid.
Hilburn: Three months later, Elton came back and played the Santa Monica Civic Auditorium to 3,000 people. A month after that, 9,000 people at the Anaheim Convention Center. Then the Forum and Dodger Stadium. The love affair with L.A. has never stopped, on both sides.
Olsson: Now we're on the final farewell tour. Somebody asked me, "What are you looking forward to, after the tour?" And I said, "The start of the next tour!" I'm hoping it's not a farewell tour.
Hilburn: I've gotten occasional Christmas cards from Elton. There's a bond from that night that has continued. In almost every interview he does, he mentions my review, including when he played the Staples Center a few months ago. That's very gracious.
John: My one takeaway from that week that I still take on the road with me is thanks to Leon Russell. Backstage at the Troubadour, he told me about gargling with cider vinegar and honey — and I still do it to this day.
Olsson: My grandkids, when they came over to L.A. a couple of years back, said, "Granddad, can you take us to the Troubadour? We just want to stand outside." So we got some pictures in front of the club. They said, "Wow. This is where it all started."
I said, "Yep. This is where the magic happened."
Get our L.A. Goes Out newsletter, with the week's best events, to help you explore and experience our city.
You may occasionally receive promotional content from the Los Angeles Times.