Review: Elton John's fond farewell on final L.A.-area night of Yellow Brick Road retirement tour
Unless Elton John drops in any more dates to his already exhaustive three-year Farewell Yellow Brick Road retirement tour, Saturday's stop at the Forum in Inglewood will go down in the books as the finale of his nearly 49-year touring love affair with Los Angeles.
"I won't forget tonight, ever," the 71-year-old English rocker said just before delivering "Your Song," his first U.S. hit, one last time in concert for a packed house.
It was, after all, his string of shows in 1970 at the Troubadour folk-rock club in West Hollywood that launched him on the road to superstardom, an auspicious debut he's often noted during subsequent shows here.
In fact, every night during his five-show L.A. farewell stand, he went so far as to name check former L.A. Times pop music critic Robert Hilburn, whose review of the virtually unknown singer and songwriter at that Troubadour stint prompted the music industry to start paying serious attention to the exceptional songs John was crafting with his songwriting partner, lyricist Bernie Taupin.
"By the end of the evening, there was no question about John's talent and potential," Hilburn wrote in a piece published Aug. 27, 1970 — on page 22 of The Times' arts and entertainment section — without a photo. "Tuesday night at the Troubadour was just the beginning. He's going to be one of rock's biggest and most important stars."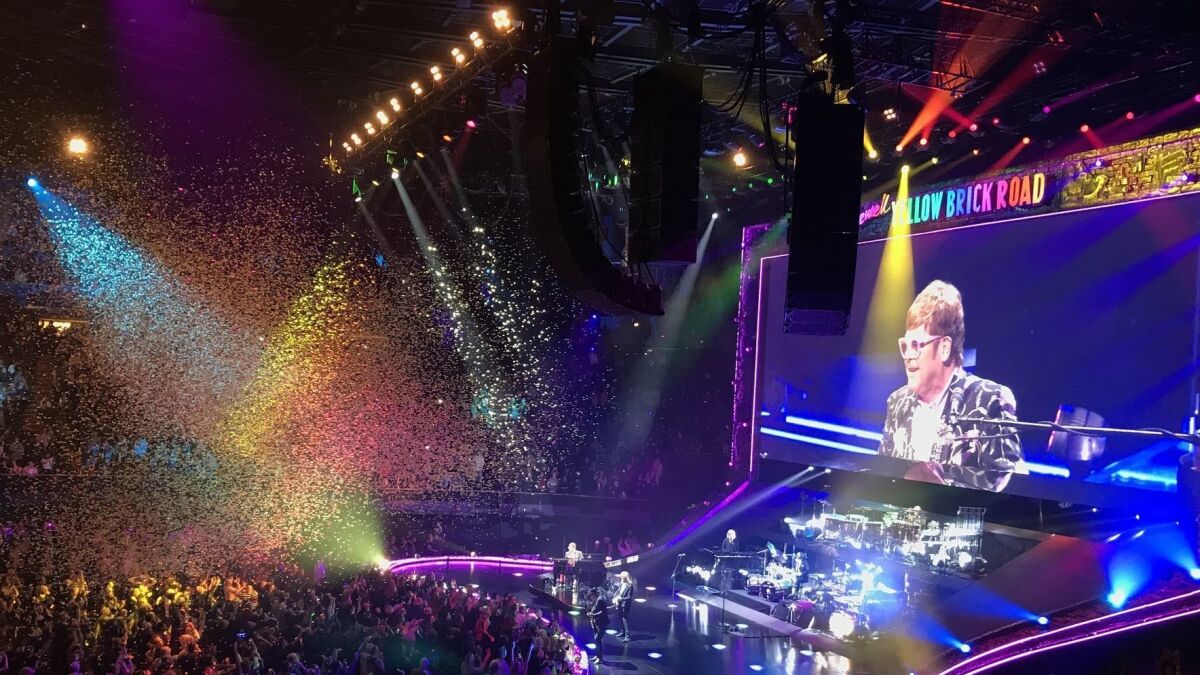 That turned out to be spot-on prediction, and the reception John received here initially helped forge a bond with the region he has prized for decades.
This tour includes several nods to the special affection he holds for the City of Angels, including a video that plays on a screen behind the stage during "Tiny Dancer" following several Angelenos on different journeys around the city.
His bejeweled Dodger uniform, created for another unforgettable show he gave in 1975 at Dodger Stadium, is prominently displayed in the main image projected on a giant video screen that greeted fans upon entering the Forum.
There was also footage incorporated into the show from his landmark 1973 engagement at the Hollywood Bowl, at which he introduced his blockbuster double album "Goodbye Yellow Brick Road," from which he draws several songs for his grand exit tour.
Along with the hit singles from the album, including the title track, "Candle in the Wind," "Bennie and the Jets" and "Saturday Night's Alright for Fighting," John and his crackerjack band also dropped in "All the Young Girls Love Alice," an early (for him) celebration of same-sex physical attraction, and the epic opening track "Funeral for a Friend/Love Lies Bleeding."
As colleague Mikael Wood noted in his review of John's opening night at Staples Center last month, there's nary any downtime in the show that runs nearly three hours.
It was inspiring Saturday to see that even at 71, John and his band (including longtime lead guitarist Davey Johnstone, drummer Nigel Olsson and percussionist Ray Cooper) still stretch songs out the way they did decades ago, pushing "Levon" and "Burn Down the Mission" to nearly 10 minutes apiece, and the "Funeral for a Friend/Love Lies Bleeding" diptych further yet to almost 15 minutes.
It was also remarkable to realize that despite a set with almost two dozen songs, most of them Top 10 hits, there were probably 10 other bona fide hits he skipped. That was at least in part to make room for some deeper cuts including "Indian Sunset" from "Madman Across the Water," with which he made an indelible impression when he introduced that song and the title track at the Greek Theatre in 1971.
His shopping sprees at the old Tower Records store in West Hollywood are the stuff of legend — officials would open early or stay late so he could sweep through and pick up all the latest singles and albums that captured his fancy.
And he's had a second home in Beverly Hills where he spent time during extended visits here — including those related to his annual Academy Awards viewing party that benefits the Elton John AIDS Foundation.
Upon finishing "Your Song," that long-ago hit with the earnestly sweet refrain about "how wonderful life is, while you're in the world," it came through as considerably more sincere than a perfunctory [name of city goes here] shout-out to the current town he's playing when John said, "This is your song, Los Angeles."
For 49 years, the feeling's been mutual, Elton.
Twitter: @RandyLewis2
For Classic Rock coverage, join us on Facebook
---
Get our L.A. Goes Out newsletter, with the week's best events, to help you explore and experience our city.
You may occasionally receive promotional content from the Los Angeles Times.