Review: Eric Clapton at the Forum: Was it dullness or was it bliss?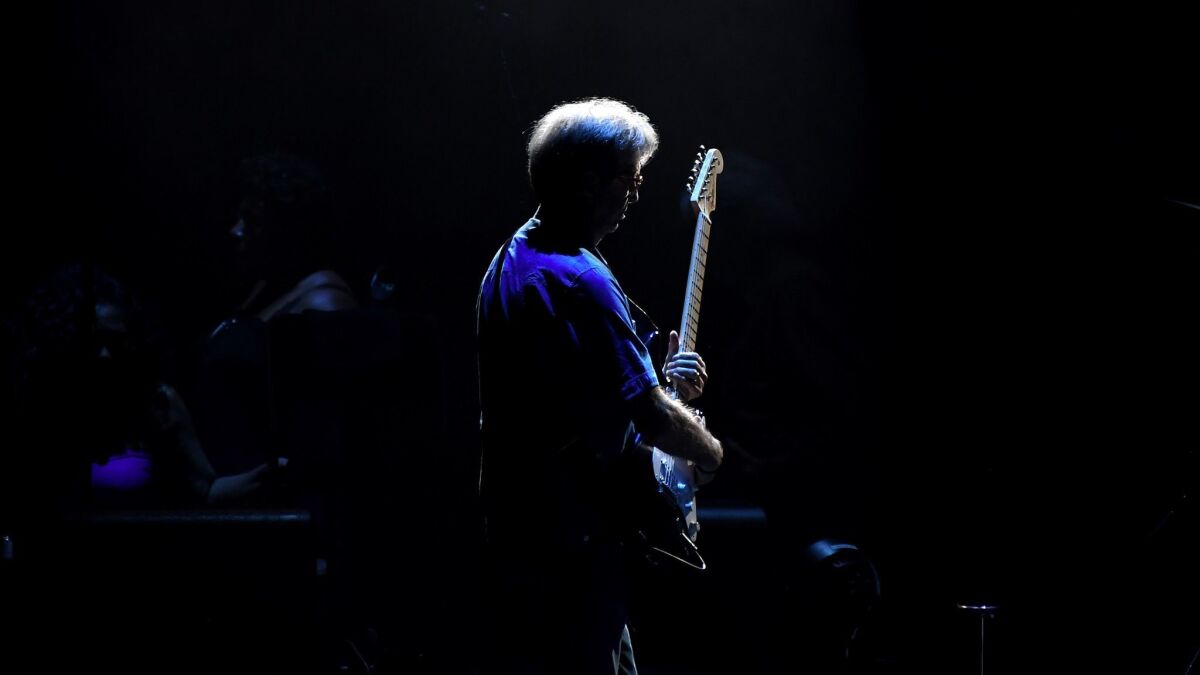 Pop Music Critic
I have no trouble understanding why Eric Clapton keeps threatening to retire from the road.
There's the nerve damage he says makes it painful for him to play guitar. There's the time away from his family, whose love he's described as the thing he was always searching for.
And not least there's the fact that whenever he performs, he can't get offstage without playing "Tears in Heaven," the plaintive pop hit he wrote in the early 1990s about the tragic death of his 4-year-old son.
Who in his right mind would want to relive that horror every night?
Yet there he was Wednesday at the Forum in the first of four concerts through Monday, two of which had been rescheduled from March, when Clapton canceled at the last minute due to sickness — one more reason he might understandably call it quits at age 72.
Why do it then? After watching the show, I'm no closer to knowing than I was when I walked in, which in a weird way may have been the show's strength.
With some floor seats priced at $500, money is a motivator, of course, just as it is for plenty of other classic rockers, including those who made millions playing last year's insanely lucrative Desert Trip festival.
And perhaps Clapton feels the need to drum up interest in a new documentary about his life that premiered this week at the Toronto International Film Festival.
Beyond those pragmatic concerns, though, he seemed almost blissfully undriven as he moved through a set meant to encapsulate his half-century in music, from his early days playing the blues with the Yardbirds through stints in Cream and Derek and the Dominos and onto stardom as a solo act. (Before he reached Los Angeles, Clapton brought the same show to New York's Madison Square Garden and London's Royal Albert Hall.)
At the Forum, he wasn't showing the kids how it's done, like the Rolling Stones at Desert Trip. He wasn't demonstrating his creative fortitude, like Bob Dylan with the standards albums he won't stop releasing.
And though Clapton ripped some impressive solos — and laid into his wah-wah pedal for a noisy "White Room" — he wasn't sticking up for the idea of the electric guitar at a moment when the instrument has lost much of its talisman-like power.
"Maybe the guitar is over," he reportedly said during a news conference in Toronto.
Am I making the concert sound dull? Some of it was, particularly the blues stuff, which lacked the energy the music needs.
"Cocaine" also felt very blah — an irony the song's author, the late J.J. Cale, may have appreciated, even if it didn't make the main riff sound any less creaky.
But in the best parts of Wednesday's gig, Clapton seemed to reach some kind of zen state that rendered his ambitions and his calculations irrelevant; he was playing because playing is what he does.
Backed by a slick yet unfussy band that featured bassist Nathan East and drummer Steve Gadd, Clapton gave "Lay Down Sally" an eternal-groove quality, as though we'd just happened to check into the tune at that moment. To start "I Shot the Sheriff," Clapton played a long, ambling intro, in no hurry to get to the song's catchy chorus.
Even "Wonderful Tonight," that once-creamy ballad used and abused by countless wedding DJs, had a lightness to it that you can also hear on Clapton's last few studio albums — including the one called "Old Sock," which says everything about his belief in low-impact activity.
Remarkably, that soft touch extended to "Tears in Heaven," which I'd have thought Clapton might try to get through quickly, wary of getting sucked into its quicksand. Instead, he hung around for a few minutes in the song, which he'd rebuilt with a delicate reggae arrangement.
For a guy so eager to bail, he looked like he had nowhere else to be.
Twitter: @mikaelwood
ALSO
How the 'Hand in Hand' hurricane telethon turned surprisingly political
Walter Becker approached everything with irreverence — except Steely Dan's music
Dave Grohl on Foo Fighters' expansive new record: 'Come on! What would Adele do?'
---
Get our L.A. Goes Out newsletter, with the week's best events, to help you explore and experience our city.
You may occasionally receive promotional content from the Los Angeles Times.