Resonance Records resurrects jazz history once again with Eric Dolphy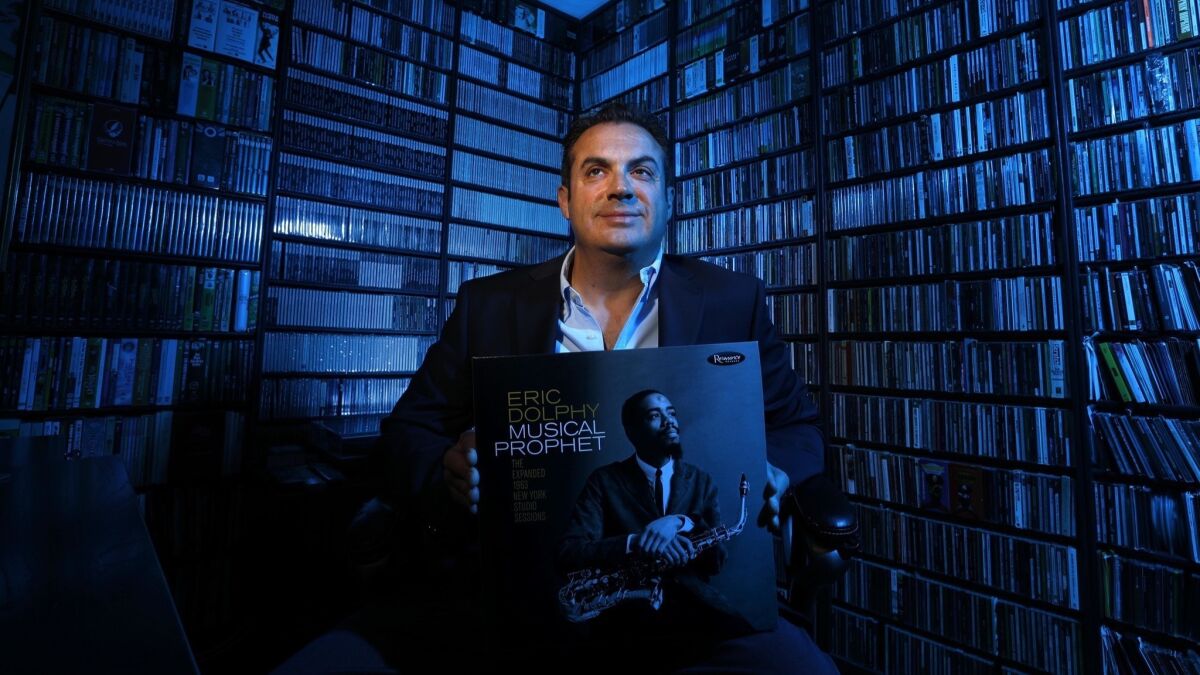 The story of "Eric Dolphy: Musical Prophet" begins in a suitcase.
It's 1964, and the Los Angeles-born jazz multi-instrumentalist Eric Dolphy, then living in New York and at the peak of his alto-sax-blowing powers, is headed overseas.
Known for his work as a bandleader and with Charles Mingus, John Coltrane, Booker Little and others, Dolphy is embarking on a European tour and has entrusted his effects, including a case full of important stuff, to a friend for safekeeping. Not long after, Dolphy, a diabetic, dies suddenly during the tour in Berlin.
After a series of sanctioned handoffs, the suitcase lands with composer and flutist James Newton and, over a half-century later, recordings within it are loaded onto a reel-to-reel player in the Beverly Hills studios of Resonance Records.
Variations of this story occur on a regular basis at Resonance, a West Adams-based imprint that just celebrated its 10th anniversary. Founded by jazz producer, former studio owner and philanthropist George Klabin, who was eager to invest in what he describes as "a virtual museum" to his lifelong passion, the label will release the Dolphy triple-CD set and digital download package "Musical Prophet" on Jan. 25.
It's the first unreleased Dolphy recordings to arrive in decades, and follows a November vinyl release put out in conjunction with Record Store Day, a marketing promotion designed to spur purchases at independent retailers. Subtitled "The Expanded New York Studio Sessions," the collection features nearly 85 minutes of previously unreleased recordings, as well as the otherwise unavailable monaural tapes of seminal Dolphy albums "Conversations" and "Iron Man."
Those who follow Resonance have come to expect nothing less, and 2018 was a good year for the Grammy-winning label. It issued two searing live recordings by jazz-funk guitarist Grant Green and a previously unreleased set by jazz guitarist Wes Montgomery. On the contemporary front, its Klabin-produced recent studio album by jazz clarinetist Eddie Daniels is nominated for a Grammy in the Latin jazz album category.
Since its birth as a division of Klabin's nonprofit, the Rising Jazz Stars Foundation, Resonance has earned attention for old and new records from bassist Jaco Pastorius, trumpet-and-drum team Thad Jones and Mel Lewis, pianist Bill Evans, British jazz singer Polly Gibbons, bossa nova collaborators João Gilberto and Stan Getz and others. For the live album, "Wes Montgomery in Paris," Resonance teamed with France's National Audio-Visual Institute to issue an estate-sanctioned version of a crucial, and oft-bootlegged, Montgomery recording.
RELATED: Flying Lotus reflects on a decade of Brainfeeder: 'It's either smooth jazz or us' »
The label's mission is straightforward, Klabin said, and has arisen out of necessity. "There's really no place where you can hear really great mainstream jazz of the nature we do on a consistent basis."
Describing his team as "curators of really great music — we choose very carefully," Klabin stressed that in addition to searching for lost recordings, Resonance is equally devoted to finding, in his words, "true virtuosos of mainstream jazz."
The philanthropist found a dedicated producer in Zev Feldman, who earlier this month was hired by jazz imprint Blue Note Records to work on archival recordings.
Feldman, who will remain on at Resonance, described the aim as "creating these wonderful experiences [that] are more than just albums we put out, but whole projects that celebrate the memories of some of the greatest names in jazz."
For Dolphy's "Musical Prophet," Feldman embarked on what he called "a four-year journey out at sea, collecting all the facts, putting it together."
The end product captures Dolphy at Music Makers Studios in New York across two summer 1963 sessions showcasing his skills as an alto saxophone, bass clarinet and flute expert alongside a selection of equally dextrous players.
Interpreting songs by Duke Ellington and Fats Waller and Dolphy originals "Burning Spear," "Mandrake" and "Iron Man," collaborators on the sessions included bassist Richard Davis, alto sax player Sonny Simmons, vibraphonist Bobby Hutcherson and drummers Eddie Kahn and J.C. Moses.
Klabin said he had a particular affection for this project. As he was hiring Feldman nearly a decade ago, Klabin recalled giving him a directive: "If there's some way you could find an unreleased Eric Dolphy recording, I would love to put it out."
What the archivist came back with, arriving as "Musical Prophet," checked all the boxes in Klabin's unofficial Resonance guidelines: It was the sound of artists expressing through "rhythm, harmony, melody and passion."
Pausing for a second, he added, "Most important is passion."
For tips, records, snapshots and stories on Los Angeles music culture, follow Randall Roberts on Twitter and Instagram: @liledit. Email: randall.roberts@latimes.com.
Get our L.A. Goes Out newsletter, with the week's best events, to help you explore and experience our city.
You may occasionally receive promotional content from the Los Angeles Times.