Drake, Prince, Janelle Monae and more: This fall's must-hear albums and must-see concerts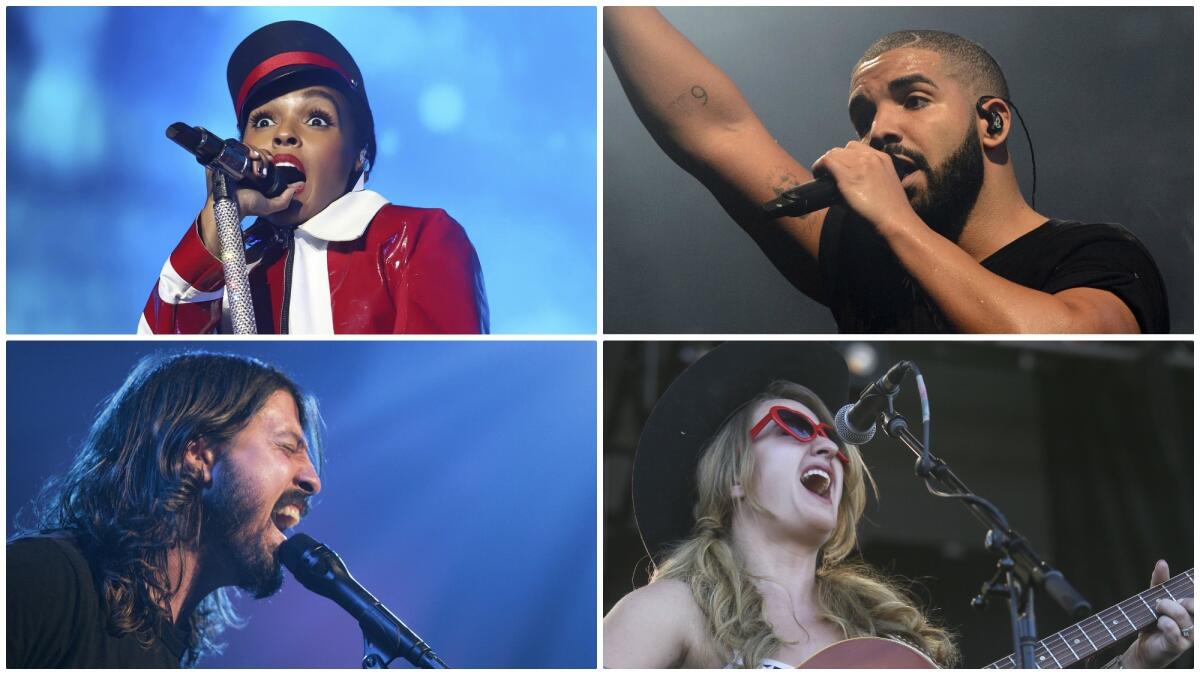 We call it the summer festival season — but this year fall is staking a claim (at least in Southern California) as the best time to go stand in a field to watch bands play.
From Cal Jam and Desert Daze to Camp Flog Gnaw and Tropicália, the next few months promise a remarkable number of smartly designed events, most of which should be made all the better by temperatures that stay out of the triple digits.
Set for Oct. 6 at Glen Helen Regional Park in San Bernardino, Cal Jam is the second annual festival presided over by Dave Grohl's Foo Fighters, who will headline a proudly rock-centric bill — remember those? — that also features Iggy Pop, Tenacious D, Garbage and Greta Van Fleet.
Yet Cal Jam isn't the only show tailored to the specific tastes of one artist: On Oct. 20, Damon Albarn of Gorillaz will present Demon Dayz at the Pico Rivera Sports Arena; other far-flung acts scheduled to perform alongside the globe-tripping Gorillaz include Erykah Badu, the Internet and Tony Allen.
And Tyler, the Creator is back for another edition of his Camp Flog Gnaw, which this year will bring Post Malone, SZA, Lauryn Hill and the public debut of Kanye West and Kid Cudi's Kids See Ghosts to Dodger Stadium on Nov. 10 and 11.
FULL COVERAGE: 2018 fall arts preview »
Even festivals not tied to a single artist feel tightly curated — one way to lure fans who might be burnt out after a summer of catch-all mega-shows.
Desert Daze, set for Oct. 12-14 at Lake Perris, makes a strong argument that psychedelia is alive and well; its lineup includes Tame Impala, My Bloody Valentine, Ty Segall and Julia Holter.
And after an impressive debut in 2017, Tropicália will return to Long Beach's Queen Mary Events Park on Nov. 3 and 4 for a Latin-music experience more about culture than about sound.
This is where Cardi B, Kali Uchis and Chicano Batman will share the stage with … Morrissey, the British pop star viewed by many Mexican Americans as a hero.
Only in L.A. — Mikael Wood
Concerts & Events
J Balvin, Sept. 23-23
You almost certainly know his thumping 2017 club hit "Mi Gente," which recently passed 2 billion views on YouTube. But if you don't somehow, then you're familiar at least with his verse from "I Like It," Cardi B's chart-topping song of the summer. On tour behind his 2018 album "Vibras," the Colombian reggaeton singer will perform those tunes — and many more — for an audience that's long regarded Balvin as a superstar. The Forum, 3900 W. Manchester Blvd., Inglewood. $39-$500. fabulousforum.com (MW)
Music Tastes Good, Sept. 29-30
Imagine Coachella with more breeze and less chaos, and you'll get a sense of the relatively chill vibe of Long Beach's Music Tastes Good festival. This year's two-day event features headliners New Order, James Blake, Janelle Monae, Broken Social Scene and dozens more. They're coupled with food from 16 chefs working up and down the Pacific Coast, including Michael Thiemann (Mother), Christine Rivera (Galaxy Taco) and Wesley Young (Pidgin). As with previous years, music and food receive equal billing at the festival. Marina Green Park, Long Beach. $85-$300. www.mtglb.co.
Linda Ronstadt, Oct. 4, 8 p.m.
Besides being blessed with one of the most beautiful and extraordinarily versatile voices ever applied to rock, pop, country, folk, blues, gospel, mariachi, the Great American Songbook and light opera music, Linda Ronstadt also happens to be one of the smartest and most articulate artists pop music has ever produced. She shares her insights, humor and seemingly endless string of illuminating anecdotes from her remarkable career, before and since Parkinson's Disease took that voice away from her more than a decade ago, in a new multimedia touring show, "A Conversation with Linda Ronstadt." Cerritos Center for the Performing Arts, 18000 Park Plaza Drive, Cerritos. $35-$100. www.cerritoscenter.com. Also Oct. 6, 8 p.m. at the Theater at Ace Hotel, 929 S. Broadway, Los Angeles, $35-$100. https://www.acehotel.com. (RL)
Adult Swim Festival, Oct. 6-7
Adult Swim is dipping its toes into the ever-crowded festival landscape in the Southland with this tentpole event. The bill is packed with a mix of musicians and comedians — Run The Jewels, Hannibal Buress, Wavves, Thundercat, Zola Jesus, Julianna Barwick, Dan Deacon, Big Freedia, IDK, DAWN, Code Orange and Jena Friedman are on the bill. Adult Swim's hit comedy "Rick and Morty" will stage a musical experience, Flying Lotus' Brainfeeder imprint will host a stage, T-Pain will perform his "Freaknik" musical that aired on the network and the festival will offer a massive marketplace with interactive gaming and more. Row DTLA, 777 Alameda St. Single day passes $85, weekend passes $255, preview night (Oct. 5) $49. adultswimfestival.com. (GDK)
Junkyard Jab Jab, Oct. 7.
Earlier this summer, hundreds of revelers gathered in a South L.A. junkyard to celebrate J'ouvert — a traditional Caribbean fete that involves dousing yourself in colorful paint and dancing till well past sunrise. For the party's second, Halloween-themed installment, the music remains a mix of soca, dancehall and Afrobeat — but this time around, the paint will be a suitably devilish shade of black. Secret South LA Junkyard, $9.99 early bird, $14.99 standard. fromforeign.co/junkyard. (ML)
Drake and Migos, Oct. 12-14 and Oct. 16-17 and 19.
The fall's biggest hip-hop tour touches down in L.A. for six nights — long enough, one presumes, that Drake or Migos will persuade some of their famous friends to come through for guest appearances. (This month it took only three nights in Boston for Drake to arrange a drop-in by his former nemesis Meek Mill that promptly broke the internet.) Even if nobody shows, though, these guys have spun off so many hits over the last several years that a dull evening seems out of the question. Staples Center, 1111 S. Figueroa St., the Forum, 3900 W. Manchester Blvd., Inglewood. $79-$229. staplescenter.com, fabulousforum.com (MW)
Desert Daze, Oct. 12-14
Several EDM and hip-hop festivals are vying to become the new proto-Coachella in town, but Desert Daze looks likeliest to capture FYF's early core audience of experimental hard rock fans. This year's lineup sports a few acts who have played Coachella's main stage at prime time, including Tame Impala and My Bloody Valentine. The new location at Moreno Beach on Lake Perris (after long stints in the Coachella Valley and Joshua Tree desert) is more inviting for having some water around, and has plenty of room to grow. Moreno Beach,17801 Lake Perris Drive, Moreno Valley. $99-$1,999. desertdaze.org (AB)
Yaeji, Oct. 18-19.
It's impossible not to be charmed by Yaeji — a Korean-American vocalist and DJ/producer (born Kathy Lee) who sings and raps in a mix of Korean and English, over irresistibly catchy pop-house. After launching out of Brooklyn's underground electronic scene in 2017, the 25-year-old has amassed an adoring cult following with her inclusive spirit — and endearingly awkward dance moves, which have been compared to an Asian dad at a wedding. The Regent Theater. 448 S. Main St. Los Angeles, CA, 90013. $22.50 Advance / $30 Day of Show. www.spacelandpresents.com (ML)
Outlaw Music Festival, Oct. 21
Now in its third year, the Outlaw Music Festival reaches Southern California for the first time with a lineup topped by one of the original maverick Texas singer-songwriters dubbed "outlaws" in the 1970s, Willie Nelson. At 85, he's as prolific as ever, releasing on average two new studio albums per year, his latest, "My Way," finding the Red Headed Stranger applying his idiosyncratic tenor to pop standards associated with Frank Sinatra. Along for the ride will be jam band heroes Phil Lesh & Friends and several other Nelson acolytes including Sturgill Simpson, Margo Price, Willie's kids Lukas Nelson (and his fiery roots band, the Promise of the Real) and Micah Nelson (bringing his group, Particle Kid), for a full dose of family and friend-minded outsider perspectives. Hollywood Bowl, 2301 N. Highland Ave., Los Angeles. $45 to $179. www.hollywoodbowl.com. (RL)
Christina Aguilera, Oct. 26
For a generation that hit puberty during the great Y2K pop explosion, Christina Aguilera was an essential voice. Her music tackled self-empowerment, feminism, sex and domestic violence — subject matter her contemporaries were shying away from. But the big-lunged singer lost her footing along the way and took an extended hiatus from music. Reconnecting with her purpose led to "Liberation," her first album in six years and one that showcases an artist reborn. She's hitting the road for her first tour in a decade and setting up in relatively cozy venues for a star. The Greek Theatre, 2700 N. Vermont Ave., $59.50-$279.50. www.lagreektheatre.com. (GDK)
Childish Gambino, Oct, 26
Does Donald Glover want to be a voice for black America's conscience in the Trump era or just a really accomplished musician making feel-good hits for the end of summer? Well, why not both? The trenchant, startling "This Is America" was instantly one of the year's most discussed singles and music videos, but his subsequent pack of single releases have been pure, balmy escapism. Both sides of his ambitions are political (joy is resistance, after all), and he's come into his own as an artist at the heights of his myriad powers. The Forum, 3900 W. Manchester Blvd., Inglewood. $39-$500. fabulousforum.com. (AB)
Mitski, Nov. 7.
This whip-smart indie-rock star held her own playing basketball arenas last spring as an opening act for Lorde. And that was before Mitski could draw deeply from her latest album, the vivid and expansive "Be the Cowboy," on which she tricks out her super-thoughtful love songs with throbbing beats and sparkling synths. Now, with tunes like "Nobody" — a euphoric disco jam that starts out, "My God, I'm so lonely" — Mitski is likely to make the Wiltern feel too small. The Wiltern, 3790 Wilshire Blvd. $20-$65. livenation.com. (MW)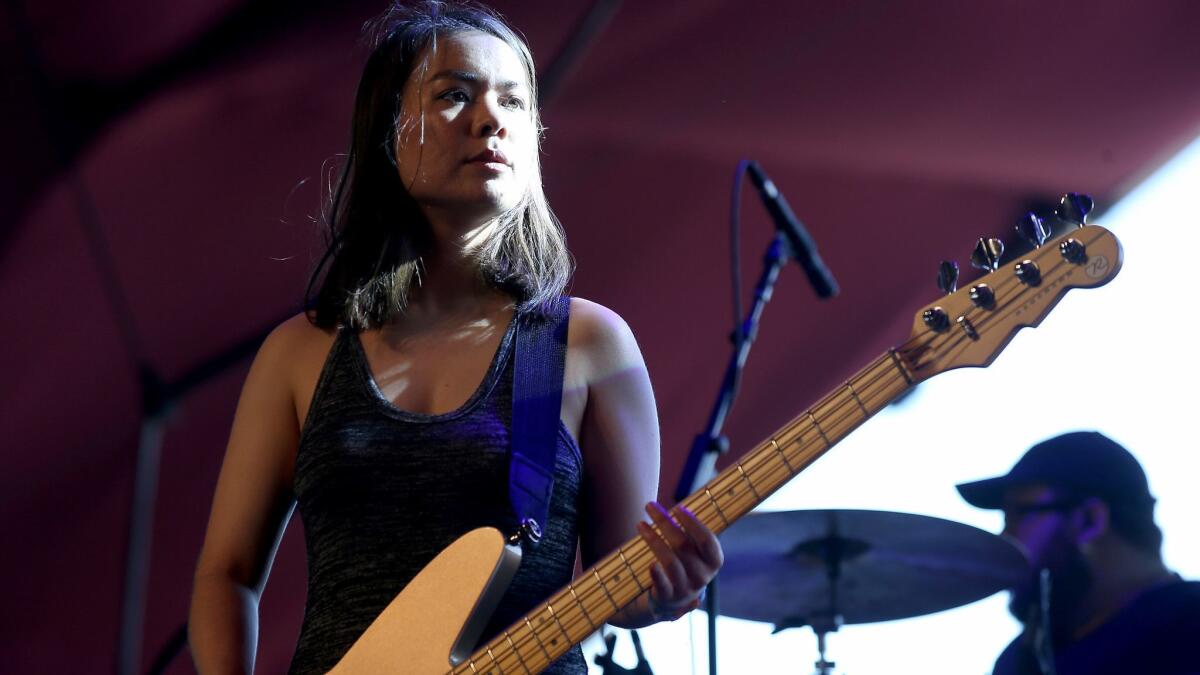 Eddie Palmieri, Nov. 25
Back in the '60s, Nuyorican keyboardist Eddie Palmieri did the unthinkable: during his nine-minute salsa epic "Azúcar," he launched a piano solo performing a rhythmic pattern with one hand while playing a sinuous melody with the other. Replacing the tropical orchestra's customary trumpet section with two roaring trombones, his band La Perfecta brought a touch of rock'n'roll madness to salsa. Later, he would merge Afro-Cuban frenzy with avant-garde dissonance and engage in abstract improvisations in front of puzzled audiences at the tropical ballroom. Now 81, Palmieri remains as edgy as ever, and his SoCal appearance, as part of the Baila Mi Gente festival, gives us the rare chance to witness classic salsa by one of its few remaining masters. Palmieri's group usually includes one of the best singers in the business: the wonderful Hermán Olivera. A Mi Hacienda de Pico Rivera, 9613 Whittier Blvd. Pico Rivera. Price TBA. www.palmierimusic.com (EL)
Bomba Estéreo, Dec. 8
A lot has transpired in Latin music since Colombia's Bomba Estéreo emerged in 2009 like an erupting volcano with "Fuego" — a propulsive electro-cumbia fueled by the aggressive vocalizing of singer/rapper Liliana Saumet. The brainchild of Bogotá composer Simón Mejía, Bomba has continued exploring the fertile territory where Colombia's folk genres meet contemporary dance music (the video for "Soy Yo" became something of a Latin pride manifesto in 2015.) Bomba's upcoming performance at the intimate Novo will showcase a band at the apex of its powers, underscoring the transcendental impact that Colombia continues to have on Latin music. The Novo, 800 W. Olympic Blvd. $29.50 - $39.50. www.thenovodtla.com (EL)
Albums
The Beatles, "The Beatles (a.k.a. the White Album) 50th Anniversary Box Set." (Universal Music/Capitol Records, release date TBD).
Details have yet to be formally announced, but Paul McCartney recently told an interviewer that a half-century anniversary reissue of the Fab Four's most expansive and bestselling album ever is being readied for release before the end of this year. If last year's critically lauded 50th-anniversary edition of their "Sgt. Pepper's Lonely Hearts Club Band" album is the model, fans should be prepared for a deep dive in the Abbey Road archives for enlightening outtakes and other bonus material. (RL)
Ella Mai, As yet untitled album (10 Summers/Interscope, release date TBD).
The explosion of Ella Mai's sultry single "Boo'd Up" this summer ended the long dearth of women breaking out in R&B's mainstream and sparked buzz for her debut, which she's been working on alongside her mentor DJ Mustard and hitmakers Da Internz and Bryan Michael Cox. Fans can expect records inspired by '90s house, contemporary R&B and bass rattling trap. "The word 'album' makes you nervous, especially 'debut album.' But to be honest, there's no one around me making me feel a lot of pressure," she said of the project. "Working on this album, I feel like I know myself way better than ever before." (GDK)
Anderson .Paak, "Oxnard" (Aftermath, release date TBD).
Few in R&B/hip-hop are as wildly adventurous, and unpredictable as Anderson .Paak. A church-raised soul singer, hip-hop purist and free-spirited musician, .Paak's ability to effortlessly move through '70s-era soul and psychedelic funk to jazz, rock, classic hip-hop, beat-driven electronic music and contemporary R&B made his 2015 offering "Malibu" a breakout hit after years of underground gigging (a massive co-sign from Dr. Dre certainly didn't hurt, either). He's been touring exhaustively for the past two years — both solo and as part of his hip-hop soul outfit NxWorries with producer Knxwledge — and the new album's lead single, "Bubblin,'" shows him reveling in his hard-earned success. (GDK)
Marco Sanguinetti, As yet untitled album. (Twitin Records. Release date TBD).
In 2016, Buenos Aires-based pianist Marco Sanguinetti released a wondrous double album of instrumental Radiohead covers performed by a quintet merging jazz with classical impressionism. Now, Sanguinetti tackles the songbook of Argentina's ultimate rock star: the late Gustavo Cerati, founder of Soda Stereo and creator of an influential solo discography cut short by his death in 2014 at age 55. Both with Soda Stereo — the first rock en español band to become a pan-Latin phenomenon — and as solo tastemaker, Cerati's compositions were all about cinematic mood and melancholy chords. Peppered with touches of cello and DJ sonics, Sanguinetti's virtuoso reinvention of the Soda anthem "Primavera Cero" highlights one of the most moving Latin albums of the year. (EL)
Macy Gray, "Ruby" (Mack Avenue, Sept. 21).
Within its first few songs, the 10th studio album from Gray delivers a series of lightning-strike reminders of the soul singer's way with phrasing a lyric.The artist, who rose alongside Lauren Hill and D'Angelo as part of the so-called neo-soul revival of the late 1990s, hasn't equaled the commercial success of her smash 1999 album, "On How Life Is," but "Ruby" needs to be heard by anyone ever drawn to her immediately identifiable cords. For the menacing "When It Ends," Gray assumes the role of a stalker lurking in an ex-lover's Instagram feed. She arrives at the chorus with a command: "You say my name when you tell them about the best you ever had." (RR)
Prince, "Prince: Piano & A Microphone 1983" (Warner Bros. Records, Sept. 21)
Prince's posthumous archive will likely yield material for years, but this demo release is one of the more intriguing early projects from that wealth of recordings. The album is exactly what the title describes — a little more than a half-hour of rehearsal tapes of songs like "Purple Rain, "International Lover" and others with the most minimal of arrangements. Prince's instrumental virtuosity is still on display, obviously, but this level of unguarded musical intimacy is something Prince rarely showed in life. (AB)
Mount Eerie, "(after)" (P.W. Elverum & Sun, Sept. 21)
The indie singer-songwriter Phil Elverum spent much of career as a cult-favorite, known for his ruminative and experimental folk music. But the last few years have seen both personal devastation and professional triumphs (including being sampled by the late rapper Lil Peep and a recent marriage to actress Michelle Williams). The brutal, gorgeous LP "A Crow Looked At Me," about the death of his then wife Geneviève, was a critical and commercial peak. A new live recording from the tour of that album, "(after)," captures both the emotional fragility of that time but also the beauty and resilience of his music.(AB)
Jlin, "Autobiography." (Planet Mu, Sept. 28)
Jlin, a former steel factory worker from Gary, Ind., has been behind some of the most boundary-pushing electronic music in recent years as she twists Chicago footwork into dizzying new permutations. "Autobiography" is her soundtrack for a collaborative performance with award-winning British choreographer Wayne McGregor, and it's evident how the producer's agile, expressive rhythms — paired with lush symphonic orchestration, sawtooth synths, and snatches of ambient screams — would perfectly fuel the explosive torque of limbs flying through the air. (ML)
Nile Rodgers and Chic, "It's About Time" (Virgin, Sept. 28).
Thanks to recent collaborations with the likes of Daft Punk and Lady Gaga — not to mention a triumphant appearance at this year's Coachella festival — the 65-year-old disco veteran is as recognizable to young listeners as he has been in decades. And Rodgers is wisely taking advantage of the moment with the first album since 1992 by his long-running group Chic. Missing, of course, is Rodgers' late bandmate Bernard Edwards — one reason, perhaps, that the guitarist and producer solicited cameos by Gaga, Elton John, Craig David and others. (MW)
Cat Power, "Wanderer" (Domino, Oct. 5).
On her first album in six years, the singer and songwriter born Chan Marshall dials down the sleek rhythmic intensity of 2012's "Sun" for a set of rustic indie-folk tunes built around her smoky vocals. But don't assume that Cat Power, set to play the Theatre at Ace Hotel on Nov. 21, has been hiding out in some isolated log cabin somewhere: "Wanderer" features a sultry duet with Lana Del Rey (one of Marshall's highest-profile inheritors) and a haunting rendition of Rihanna's pop ballad "Stay." (MW)
Elvis Costello & the Imposters, "Look Now" (Concord, Oct. 12).
Following a scary recent bout with cancer, which he has since assured fans is fully in remission, England's prolific rock iconoclast Elvis Costello is delivering new music this fall. He and has regular collaborators, the Impostors, are back together for "Look New," Costello's first new studio collection in five years — and his first in a decade with the Imposters since they recorded "Momofuku" together in 2008. They're supporting the album with a U.S. tour that reaches the Southland for stops Nov. 28 at the House of Blues in Anaheim and Nov. 29 at the Wiltern in L.A. (RL)
Anna St. Louis, "If Only There Was a River" (Woodsist, Oct. 12).
An understated folk-rock album, the studio debut album by the Kansas City-born, L.A.-based singer and songwriter features sturdy, seemingly timeless works untouched by modern conceits. Recorded in Mt. Washington, the album's eleven songs touch universal concerns — the challenge of living a meaningful life, the evasive nature of bliss, the need for solace and the comfort of community. With a voice that recalls Neko Case at her most restrained, St. Louis sings of solitude and contemplation while accompanied by a band that features devastating fiddle runs, AND the occasional organ. (RR)
Neneh Cherry, "Broken Politics." (Smalltown Supersound/Awal Recordings, Oct. 19)
Neneh Cherry crashed landed into international stardom in 1988 with her sassy hip-hop hit "Buffalo Stance," a song that immediately cemented her as one of pop music's most defiant and original voices. On her fifth solo LP "Broken Politics" — made in collaboration with electronic powerhouse Four Tet — the Swedish-born singer takes a more subdued and sophisticated approach. Describing the album as "a fight against the extinction of free thought and spirit," she tackles topics like American gun culture and the European migration crisis over a hazy, haunting backdrop of trip-hop beats. (ML)
Draco Rosa, "Monte Sagrado" (Sony Latin, Oct. 26)
After successfully recovering from two bouts with cancer, Latin rock pioneer and former Ricky Martin collaborator Draco Rosa returns with a new album that will intrigue longtime fans with its back-to-roots approach.Titled "Monte Sagrado" ("Sacred Hill") and recorded in Rosa's Puerto Rico estate, the album feels deceptively simple at first, anchored on confessional lyrics and stark rock'n'roll structures. Rosa's journey becomes more layered and complex as the album moves on, ending with the soulful "En Las Horas Más Tristes" and an atmospheric hidden track. (EL)
Contributors: August Brown (AB), Gerrick D. Kennedy (GDK), Ernesto Lechner (EL), Michelle Lhooq (ML), Randy Lewis (RL), Randall Roberts (RR), MIkael Wood (MW)
Get our L.A. Goes Out newsletter, with the week's best events, to help you explore and experience our city.
You may occasionally receive promotional content from the Los Angeles Times.