Fifth Harmony breaks down its 'passionate' new album track by track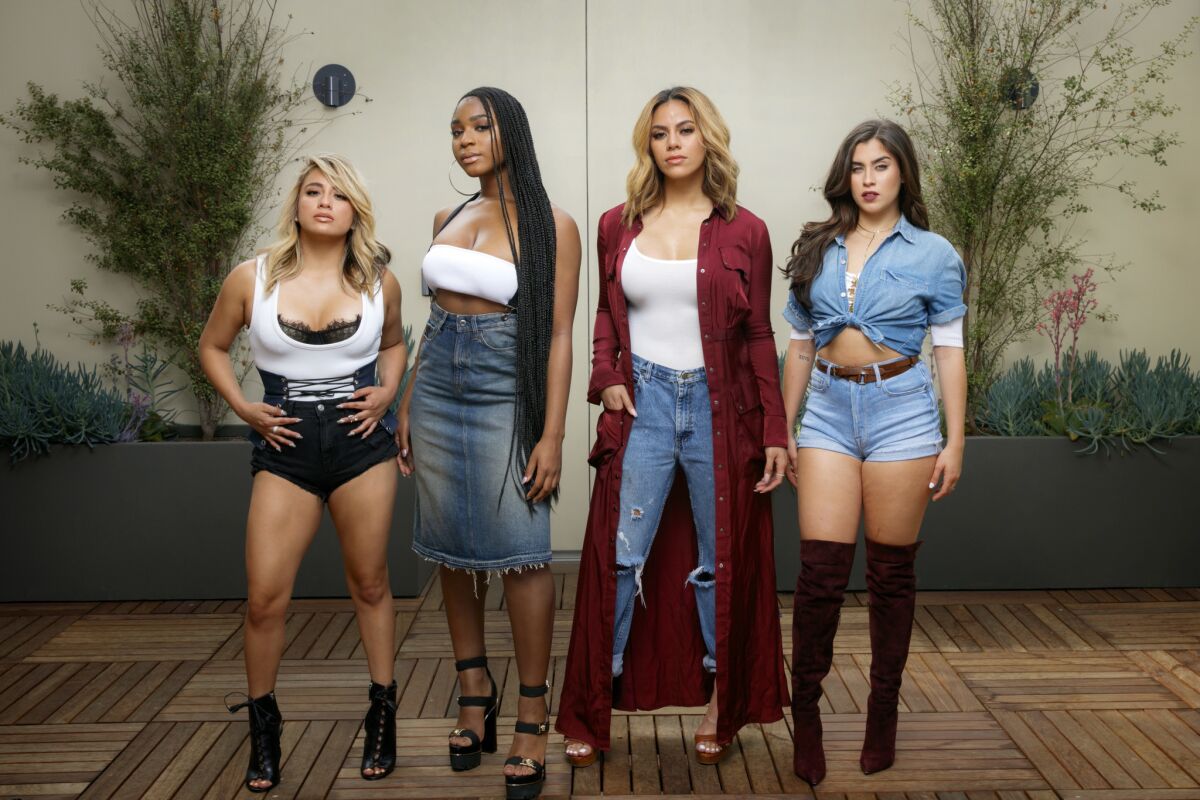 When the women of Fifth Harmony are asked to describe their new album, they offer words such as "authentic," "truth" and "passion."
The self-titled project, out Aug. 25, marks a major moment for the girl group — it's the first time its members have had complete control over a project, co-writing more than half of the album's songs alongside producers they handpicked.
"I genuinely listen to every single song, which … straight up, I've never done," said Lauren Jauregui of the new project.
"Down," a dancehall-flavored cut featuring Gucci Mane, leads the album and set the tone for it when the group first heard the track in February.
Throughout, they sample MC Hammer's frisky "Pumps and a Bump" ("He Like That"), dip into trap ("Angel"), conjure '90s R&B ("Deliver"), and get political ("Bridges") while balancing the slinky dance-pop and R&B/hip-hop-informed anthems they've long been known for.
During an interview, Fifth Harmony broke down its new album. Here's what they had to say about each track.
Read how Fifth Harmony found its voice, got in control and ended up tighter than ever »
(Warning: The video below contains profanity.)
"Down"
Produced by Ammo, Dallas K; written by Jude, Ammo, Dallas K, Gucci Mane
Ally Brooke Hernandez: What was such a beautiful moment was when we premiered "Down" on "Good Morning America." It was the first music we gave [as a quartet] and it was our highest-debuting single. We found out in the car, and we were crying to each other. We were so excited. It felt so beautiful, and it pierced our souls. Everything that's come after has been a blessing.
"He Like That"
Produced by Ammo, Dallas K; written by Ester Dean, Ammo, Dallas K
Normani Kordei: Honestly, "He Like That" and "Angel" are going for my No. 1 slot. I love this song because I feel like melodically it's kind of the dirtiest thing we've done.
Dinah Jane Hansen: Our generation heard of "Pumps and a Bump" from our parents. I remember telling my mom about the [sample] and she was like, "You don't know anything about this song … girl this is back in my day." She made me pull up the original and play it.
NK: When I first heard it, I was like, "It sounds a little dirty."
Lauren Jauregui: It is a little dirty. [Laughs]
DJ: It's just heels and your butt!
LJ: Whatever, it's sexy and cute.
"Sauced Up"
Produced by Harmony Samuels; written by Harmony Samuels, Candy Shields, Ryan Toby and Fifth Harmony
LJ: It's such a turn up song. This is the one that when it drops in the club, you're going to want to dance.
DJ: It actually reminds me of "Party" by Beyoncé. It gives you that vibe — we like to party.
"Make You Mad"
Produced by Dreamlab and Ruffian; written by Dreamlab, Ruffian and Fifth Harmony
NK: This is a bop. It's that record you really underestimate.
LJ: I just love the verses on this one.
"Deliver"
Produced by the Stereotypes; written by The Stereotypes, Taylor Parks, Whitney Phillips and Fifth Harmony
DJ: I love how mature it is. It's the kinda song for when you're getting down with your man. I played Taylor Parks a couple of tracks we had done and she was like, "You know what I know the direction y'all are going." She immediately told the pianist and came up with some words and said, "Let's do something a little grown." She was witty with all the words. I was happy to witness it because it's the direction and lane we were trying to touch. Definitely giving you Mariah Carey vibes, '90s vibes, real R&B — it takes you there. Can't wait to perform it; this is the one you get onstage and just go off!
LJ: We've already started vibing to it at rehearsal.
DJ: Melodically, I love how it's kind of everywhere. There's almost a creative chaos.
AB: We wanted soul on this album and we got soul on this album. It let us bring out our fun personalities and our different vocals. Our sexiness of the harmonies and the high notes, the way they lay on the track, it was amazing. This is for sure a Fifth Harmony record.
NK: It reminds me of "Everlasting Love" [a track from the group's debut, "Reflection"] … that's why I love it so much.
"Lonely Night"
Produced by Monsters & Strangerz; written by Monsters & Strangerz, Jason Evigan and Fifth Harmony
LJ: What I love about this song is the range of the musicality. I had never heard a song like this before, and that made me really happy. The transition of the production is just crazy. The zones you go in melodically are really cool — and as a vocal performance, by all of us, it's just so dope. The group dynamics are on! And the content of the song, it's giving a guy a breakdown of what you need from him in order to [be] with him. He's gotta be of a certain caliber and you're watching.
"Don't Say You Love Me"
Produced by Ian Kirkpatrick and The Electric; written by Lisa Scinta, Ian Kirkpatrick and The Electric
DJ: It's a heart-wreching song — I can dance to it, I can cry to it. I played it for my sister and she says this is a road trip song where you're looking at mountains and lakes. It gets you in your feelings. If you're in a relationship or not in a relationship, it gets to you because Lauren's voice just slays. It's the perfect way to start the song off. I love the play on words: Don't promise me tonight without tomorrow too. That's a caption for Instagram.
LJ: It really is like something that would play in a movie montage.
"Angel"
Produced by Skrillex and Poo Bear; written by Poo Bear and Skrillex
NK: I'm obsessed with this song. Poo Bear and Skrillex absolutely destroyed my life with this one.
LJ: Yeah, it just gives me life. The track is sick. The lyrics are really cool. The way we're spitting it, you've never heard us like this before.
DJ: It shows you a different side of us. You feel the frustration — "Who said I was an angel?"
AB: It goes so hard. It's dark. I really turned on my alter ego for this one. I also think this is the dopest video we've ever done. It's visually stunning and we look like we're in our element with such fierce attitude that reflects in the song. Skrillex and Poo Bear are such an incredible team. The way Skrillex produced the song and broke down what he did, it just gave me chills. It was mind-blowing.
"Messy"
Produced by Dreamlab and Ruffian; written by Dreamlab, Ruffian and Fifth Harmony
AB: Normani and I co-wrote this with the Dreamlab. It's such a vulnerable, sweet song. You can hear our vulnerability, literally, in the vocals and in the breaths that we take. And there's some sweet harmonious moments.
"Bridges"
Produced by Tommy Brown; written by Sebastian Kole, Anthony Jones and Fifth Harmony
NK: Honestly, "Bridges" is my least favorite on the album. But I really love the message and what it stands for.
LJ: The message is just beautiful. And the song is grandiose and positive — and so something we need right now.
For more music news follow me on Twitter:@GerrickKennedy
ALSO
'It's part of our DNA': How California shaped the music of L.A.'s Haim
Jay-Z and Beyoncé's L.A. mansion purchase is a done deal, sources say
In a festival-heavy market, Echo Park Rising has thrived while its peers have downsized
Review: What Sam Hunt had to say about cultural integration at the Greek Theatre
---
Your essential guide to the arts in L.A.
Get Carolina A. Miranda's weekly newsletter for what's happening, plus openings, critics' picks and more.
You may occasionally receive promotional content from the Los Angeles Times.