With 'HandClap,' Fitz and the Tantrums may soundtrack the summer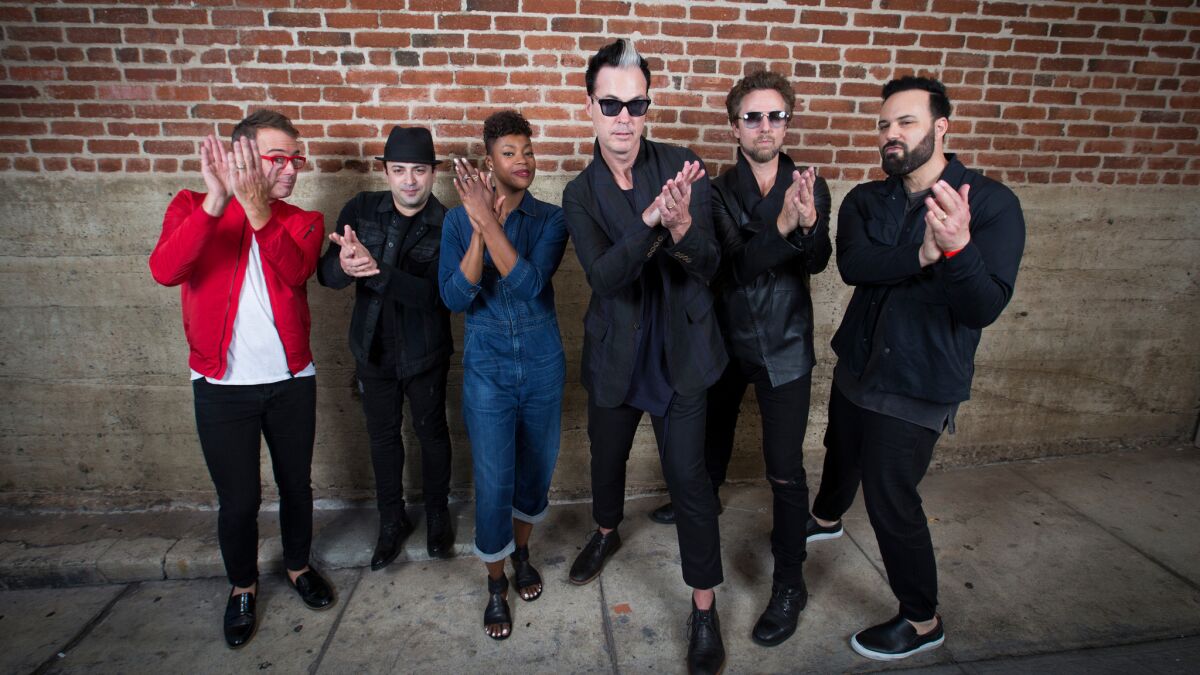 Fitz and the Tantrums didn't set out to write 2016's Song of the Summer. But "HandClap," the lead single from the L.A. band's new self-titled third album, has suddenly emerged as a contender.
It's already being counted alongside Justin Timberlake's "Can't Stop the Feeling!" and Drake's "One Dance" as one of the defining singles of the season. "HandClap" is currently at No. 6 on Billboard's Alternative Songs chart and at No. 12 on the Hot Rock Songs tally.
Don't expect it to slow down.
"HandClap" was the "perfect summer song for us," said Andrew Harms, the Alt 98.7-FM host and assistant program director. "It was a no brainer to put in right away. I'm sure we'll be playing it all summer and beyond."
Adds KROQ-FM's music director Lisa Worden, "Fitz and the Tantrums are local KROQ darlings and once again have written an incredibly catchy summer alt-pop song," she wrote in an email. "It sounds great on the radio and it's virtually impossible not to sing along."
With a new self-titled LP out Friday, Fitz and the Tantrums face one of the best problems a band can have. Eight years into its career, how does the group handle the beach-party rock hit of the season?
"HandClap" begins with sampled soul horns, a fuzzy punk bass line and Michael Fitzpatrick's sing-speak vocals promising sexy intrigue on the dance floor.
But then comes that hook.
"I can make your hands clap," he declares, followed by call-and-response applause. It's a self-fulfilling boast, one that might have won the approval of James Brown, whom the song overtly shouts out to in the lyrics. One can already imagine the sea of palms thrown together when Fitz and the Tantrums play it at festivals.
"We've always had audience participation as part of our writing," Fitzpatrick said. "It's part of how we built the band, to say 'Let's get the crowd to do this' and feed off it, to go faster and faster and watch the heat level rise. Now, we can play the first two seconds of 'The Walker" or "Out of My League' at a festival like Lollapalooza and 40,000 people go bananas."
The song marks a potential new peak for the group, one of L.A.'s hardest-working yet slowest-burning bands to rise up the rock charts.
For its 2013 LP "More Than Just a Dream," the band moved from vintage soul into more synthetic pop styles. The act wrung a hit from "Out of My League," which after 33 weeks became the longest-climbing top song in the history of Billboard's Alternative Songs chart. "The Walker" performed just as well (Ellen DeGeneres danced to it on her show), and the band played Coachella's main stage.
The upbeat "HandClap," however, emerged from a pretty dark point in Fitzpatrick's creative life. This time, when Fitzpatrick sat down to write, the new husband and father was paralyzed with indecision.
"I had endless nights of crying myself to sleep because it just wouldn't flow," he said. "We'd had success with the last record, and no matter how good a songwriter you are, you're lucky if you strike gold one out of five times. But it was total writer's block."
Should Fitz keep the shimmery '80s vibes? Return to its Sharon Jones-ish R&B-inspired roots? Something else entirely?
The unselfconscious catchiness of "HandClap" was a bolt from the blue – a new way to think about writing.
"It came very quickly, with a visceral energy," he said. "I didn't care what anyone said – this was the single, I could feel it in my bones, and it changed the whole process."
The rest of the album grew from there. "Roll Up" has a similar call-to-partying immediacy, while "Complicated" has a suaveness that recalls the French pop of Phoenix with an indisputable hook: "It's complicated when we get naked."
That concept – write fast and catchy, and keep live-show crowds in mind – got the act to the finish line. An early placement in a ubiquitous Fiat campaign helped give "HandClap" a major early push -- the kind of reception that inspires confidence from one's major label.
But when an indie-minded band hands over a pearl of a pop song like this, where do you take it first – alt-rock radio, or go straight for top 40?
"I remember hearing the demo of it and thinking 'OK, can we get this record out now?' said Gregg Nadel, the general manager of Elektra Records.
With Fitz, Nadel continued work started by former Elektra President Jeff Castelaz, who brought the group over from his L.A. indie Dangerbird. But even if "HandClap" is being mentioned in the same breath as Timberlake and Drake for the summer anthem title, the band's roots are in indie and alt-rock, and it may not make sense to push it hard into pop radio just yet.
"They had two big modern rock songs and put a lot of hard work in there," Nadel said. "It's important to stay true to that core fan base."
While it took close to a year to break "Out of My League," "HandClap" has become a live staple in the run-up to the LP's release. The single is in wide rotation on KROQ and Alt 98.7, and last month the band played KROQ's rock-tastemaker Weenie Roast fest in Irvine.
"It's a special thing to find a song with the multi-genre appeal of 'HandClap,'" Harms said. "It happens maybe two or three times a year. We love it."
Though nothing is guaranteed in pop music, "HandClap" will almost certainly be soundtracking plenty of cookouts and pool parties over the next three months. The band has high hopes for what that means, but after eight years of style shifts, writer's block and relentless road-dogging, the act knows to wait for the applause to come naturally.
"It's up to the gods and the stars aligning," Fitzpatrick said. "Before we started this band, I'd stopped listening to the radio, and every article says no one buys music anymore in this age of streaming. But the reception's been incredible. It's like 'Maybe I'm not imagining how special this song is'."
ALSO:
Summer scene gets a jolt of L.A.'s rock legacy with Guns N' Roses, Red Hot Chili Peppers and Prophets of Rage
Drake, Brian Wilson and Blink-182: Your essential summer music guide
'TRL' lives again as summer concert season sets its sights on millennial nostalgia
Get our L.A. Goes Out newsletter, with the week's best events, to help you explore and experience our city.
You may occasionally receive promotional content from the Los Angeles Times.