Zappa Family Trust announces auction of Frank Zappa gear and memorabilia — and Dweezil and Moon aren't happy about it
Looking to purchase one of Frank Zappa's business cards? A psychedelic concert poster from an early Mothers of Invention gig? Bruce Bickford-designed clay Zappa figures used in the film "Baby Snakes"? Vintage mixing boards, recording gear and guitars that Zappa harnessed to create one of his dozens of studio albums?
You're in luck.
Julien's Auctions has announced an extensive sale of items from the estate of the late Frank and Gail Zappa, and that property and more will likely make its way to the auction block.
Featuring memorabilia and gear that until recently was stored in the family's longtime home and recording studio in Laurel Canyon, the auction will begin on Nov. 4. It will include hundreds of items notable to music and art collectors, gear-heads and those interested in the old, weird Los Angeles.
"One way to get into somebody's head is to look at what they surround themselves with," said Darren Julien, founder of the Los Angeles-based Julien's Auctions.
Asked to characterize the collection, Julien said, "I think the best way to describe it is 'Zappa style.' There's no way you can put into words what their decor was, because I've never seen anything like it, to be honest with you."
Julien estimates that, conservatively speaking, the auction will earn between $600,000 to $800,000.
The sale, however, has once again revealed fissures among Frank's children. The items are being listed by the Zappa Family Trust, which is controlled by two of Frank and Gail's four children, Ahmet and Diva Zappa, and comes less than a year after Gail's death.
The two other children, Moon and Dweezil, oppose the sale. But as minority stakeholders in the trust, they are helpless to stop it.
"I do not agree with the auction," Moon Zappa said during a conversation in the spring. "I don't want my childhood photos and my baby teeth and my Christmas ornaments and the furniture I grew up with sold to the public. That's weird."
For his part, Dweezil insists that he is the rightful owner of some of Frank's old guitars, and he fears those will end up in the sale.
An itemized rundown of items in the auction has yet to be made public, and there's no indication that Moon's private heirlooms or the guitars in question are among the items listed for sale.
According to the press release that accompanied the auction announcement, the sale will feature quite the haul.
Among the booty listed: "exotic furnishings, fine antiques, salvaged architectural pieces, unique collectibles and whimsical items that appealed to their panache for colorful and non-conformist eye."
See the most-read stories in Entertainment this hour >>
Also: "a Venetian gilt metal chandelier, an Italian Baroque console table, and a carved gilt wood bookcase. Contemporary fine art including a still life by John Alexander, a nail relief sculpture by Robert Harley, and a large painting by Ashley Laurence titled 'Angel Pig' (painting name given by Gail Zappa) are also included in the auction."
Fashion? "A Dandies Fashions coat worn by Frank Zappa on the July 20, 1968 cover of Rolling Stone magazine; a purple ribbed turtleneck worn by Frank Zappa in '200 Motels' (United Artists, 1971); a stage worn vest that Zappa also wore on the back cover of the 1972 album 'Waka Jawaka'."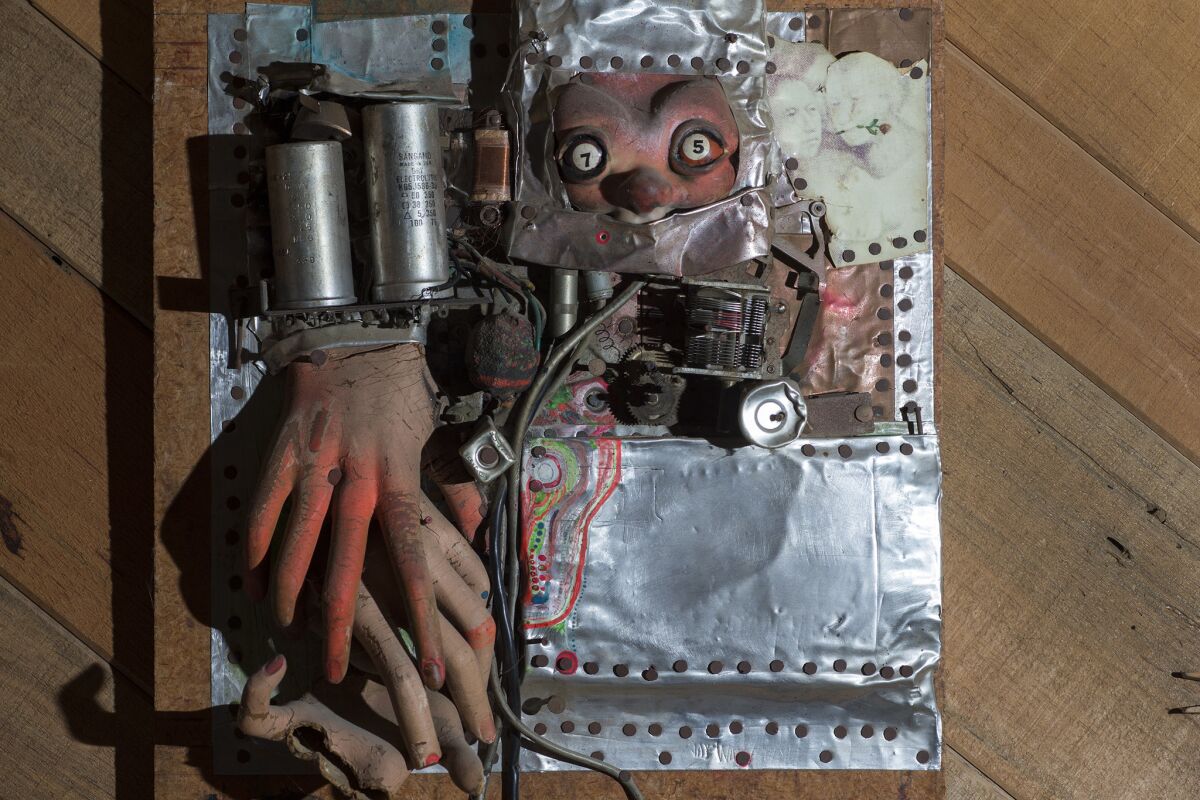 And: "a collection of career related awards presented to Frank Zappa including various Gold records, a National Academy of Recording Arts and Sciences Lifetime Achievement Award, a GRAMMY nomination plaque; a clay Thing-Fish model; a ukulele featured on the Thing-Fish album cover; and a collection of hotel keys collected by Frank and Gail in their travels."
Combined, it's a stunning collection, said Julien, and captures the Zappa aesthetic through a "mixture of clothing and memorabilia and instruments and furnishings. Sometimes you can really capture the heart and soul of the musician with the things they surround themselves with."
Julien, who has handled the sales of many celebrity estates, compares the Zappa sale with two in particular: Michael Jackson's would-be auction of his Neverland collection (which Jackson ultimately canceled) and the auction of guitarist and technical wizard Les Paul's gear.
"We were the ones that disassembled Neverland, and it was kind of the same way with this," Julien said of the Zappa stuff and the way it was showcased at the house. "You hated to see it happen, but it had to happen, because there's no way that somebody could just keep it up."
But, stressed Julien, "It's one of those things where it's only going to happen once ... It's very exciting to me, like the Les Paul estate auction was, because it's all the technical stuff. Whenever you have an auction like that, people come out of the woodwork to bid."
Zappa's fans in particular, said Julien, are "more of a sophisticated audience. It's not like the the pop audience. It's really hardcore guitar [collectors] – I think a lot of celebrity guitarists will be bidding on the sale."
He also predicts the auction will "bring out the technical geeks who really want a piece of Frank Zappa." Throughout his career, Zappa invested in state-of-the-art recording equipment. Taken as a whole, it offers a glimpse at both the evolution of technology and the ways in which Zappa's unique modifications created singular sounds.
"There are a lot of things that he would spend a lot of money on, but then he'd take it a step further and have it professionally modified," said Julien. "It would be unlike anything else anybody else has. Some of them were crude, but it made the sound or did what he wanted — and we kept it exactly as he built them."
For details on how to bid, visit Julien's Auctions.
There's a lot of terrible music out there. For tips on the stuff that's not, follow Randall Roberts on Twitter: @liledit
RELATED:
It's brother and sister against brother and sister in bitter fight over control of Frank Zappa's legacy
Zappa family drama: A look at where Moon Unit, Dweezil, Ahmet and Diva are today
Get our L.A. Goes Out newsletter, with the week's best events, to help you explore and experience our city.
You may occasionally receive promotional content from the Los Angeles Times.