Pop music still lacks a gay breakout star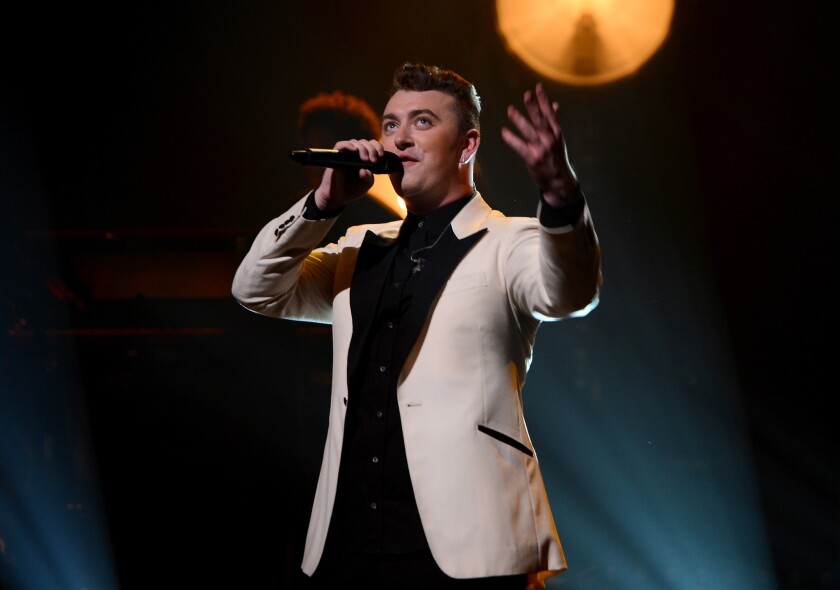 Frank Ocean made a bold, career-defining decision ahead of his 2012 debut album. Before "Channel Orange" was released, the R&B singer silenced the growing speculation about his sexual orientation.
In a poignant letter, posted on Tumblr and initially intended as the album's liner notes, he sweetly detailed falling in love with a man, something he sang about on the album. It was a groundbreaking move for an artist in R&B and hip-hop, genres long riddled with unbridled homophobia.
"I don't know what happens now, and that's alrite," he wrote. "I don't have any secrets I need kept anymore." What happened? He became a critic's darling, scored a Grammy and topped numerous year-end lists.
But nearly two years later, it's worth asking, has the music industry and audiences grown any more comfortable with gay culture?
Although the film and TV worlds have increased their number of LGBT stories, there is still no openly gay pop star ruling the charts and driving the conversation the way Beyoncé, Kanye West, Katy Perry, Rihanna and Justin Timberlake do.
The openly gay British soul singer Sam Smith may be narrowing that gap with his recent chart success, but the landscape of mainstream music is far behind other major entertainment mediums in with gay issues.
Not that there aren't visibly out performers: From Ricky Martin to Adam Lambert to Scissor Sisters to Tegan and Sara to Dave Koz to Gossip, they are making music in various genres. But name another openly gay performer who has managed to reach the same heights, or influence, and maintained the same cultural relevance as Elton John.
The lack of gay superstars in pop is especially odd considering how much of today's music finds inspiration from gay culture. But the tide appears to, finally, be changing.
'Same Love' breaks through
It was a big deal when breakout Seattle hip-hop duo Macklemore & Ryan Lewis issued "Same Love" in 2012. A hip-hop song celebrating same-sex marriage, from a straight rap act at that, was unheard of — especially as hit rappers like Eminem use anti-gay slurs without consequence — and it became a Top 40 smash. It was even nominated for song of the year at the Grammys.
But as courageous and poignant as "Same Love" was (during the Grammy performance dozens of gay and straight couples were married), it's hard not to wonder if the song would have enjoyed similar success had it come from a gay rapper.
Yes, artists like Jay Z and Adam Levine and Pink and many others have championed marriage equality, and pop divas Beyoncé, Lady Gaga and Rihanna have incorporated choreography and vernacular lifted from gay culture like Madonna before them, but the thought of mainstream gay performers still seems curiously distant.
A couple of weeks ago, the L.A. Pride Festival attracted tens of thousands to a three-day celebration of the LGBT community. The bill was packed with queer acts like Mary Lambert, Azealia Banks and Ryan Cassata, with gay-friendly performers Jennifer Hudson, the Bangles, Betty Who, Deborah Cox and Danity Kane as main attractions.
L.A.'s Pride is one of the biggest gay celebrations in the country, with more than 400,000 participants, spectators and marchers in this year's parade. There was plenty to celebrate: Marriage equality continues to make landmark strides; the transgender civil rights movement is in the middle of a major breakthrough and the sports world got its first publicly gay athlete to play in a pro game.
Pop music has long been a youth-driven medium, which should have pushed it to the forefront of progressive thought — especially as society's consciousness toward equal rights reached a tipping point.
After Ocean stunned the industry with his beautifully crafted letter, he was embraced, even heralded, by many — although he did face criticism for not divulging more details or actually using "gay" or "bisexual" in the letter.
But what Ocean did was something many out performers didn't have the luxury of doing: Addressing who he was on his own terms. By not subjecting himself to the People magazine cover story or PR-orchestrated announcement that has long been the standard, Ocean made his sexuality far less important than the music.
Slow change
In the wake of Ocean's glass ceiling moment, there's been indicators that the landscape is changing — albeit slowly.
The queer rap scene has gotten more notice in the last two years, as explosive performers like Mykki Blanco, Big Freedia, Le1f and Zebra Katz have gotten mainstream notice with flamboyant aesthetics (many incorporate drag or subversive performance art into their act) and unapologetically gay rhymes.
Freedia, who has been around since the '90s and helped put sweaty, twerk-centric New Orleans bounce music on the map, has a reality show on Fuse tracing his growing fame. Blanco is winning over critics with his venomous rhymes channeled through a drag character who switches from street tough male to ultra-feminine. And since breaking out with party anthem "Wut" in 2012, New York rapper-producer Le1f scored a deal with Terrible Records and made his TV debut on the most mainstream platforms — "Late Show With David Letterman."
Their success and rising female voices such as Banks and Angel Haze openly discussing their sexuality continue to challenge hip-hop's unacceptable yet shamefully tolerated misogynist and homophobic ways. Other genres are shifting too.
Last year, Steve Grand went from an unknown singer-songwriter and underwear model to viral celebrity in just a week after his video, "All-American Boy," a tale of sweet, unrequited love for another man, amassed more than 1.2 million views on YouTube in 10 days.
The country tune quickly gained traction for its groundbreaking potential in a genre that has been particularly shy about gay acts. Internet virility (and arguably his good looks) worked in his favor, and the $81,000 budget he set on Kickstarter to fund his debut album was matched four times over.
An 'Idol' opening
"American Idol," which has been around for a dozen years, only recently had its first openly gay contestant when M.K. Nobilette competed last season.
Nobilette wasn't the first gay competitor on the singing competition, but in previous years the show didn't have contestants discussing their sexual orientation on camera despite delving, profoundly, into their personal lives.
The show's most famous gay contestants, Adam Lambert (who never hid his sexuality) and Clay Aiken, "came out" after appearing on the show, although the media speculated on their orientation and the voters' readiness for an openly gay winner during their seasons.
But Sam Smith seems poised to narrow the gap even further.
Since exploding on U.K. radio with hit collaborations "Latch" and "La La La," all eyes have been on the baby-faced singer with stunning vocals and a knack for gorgeous, emotional balladry. His single "Stay With Me," has cracked the Top 10 on Billboard's Hot 100, and his highly anticipated debut, "In the Lonely Hour," is expected to make a major splash on the charts next week.
"In the Lonely Hour" bursts with painstaking honesty and rawness that pack more emotional wallop than anything currently on radio. Even more? The album is dedicated to Smith's unrequited love for another man.
"Set my midnight sorrow free, I will give you all of me / Just leave your lover, leave him for me," he yearns on "Leave Your Lover."
Predictably, the song's lyrics and music video have ignited rampant media speculation. Like Ocean, he kept his response low key, saying recently that the album is "about a guy, and that's what I wanted people to know — I want to be clear that that's what it's about."
Maybe one day these moments won't feel so groundbreaking.
---
Inside the business of entertainment
The Wide Shot brings you news, analysis and insights on everything from streaming wars to production — and what it all means for the future.
You may occasionally receive promotional content from the Los Angeles Times.