Appreciation: George Michael always knew he was a serious artist. Then he went on to convince the world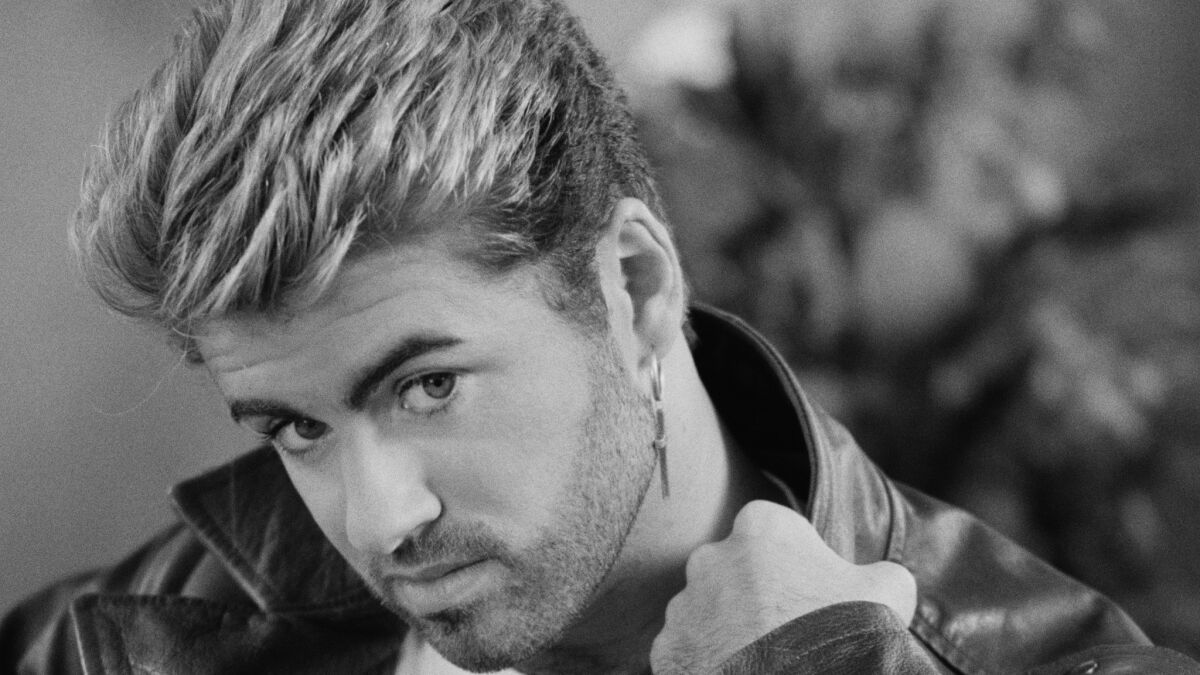 Pop Music Critic
In November 1998, George Michael appeared on "Late Show With David Letterman" to promote his new greatest-hits collection — and to publicly address his arrest earlier that year for lewd conduct in a Beverly Hills restroom.
The English pop star, pressed to explain what happened at Will Rogers Memorial Park, told Letterman he'd been a victim of police entrapment but acknowledged, "I'm no stranger to outdoor nooky."
At that, the late-night host summoned up some faux outrage over Michael's use of a naughty word.
"I'm not allowed to say 'masturbation,'" the singer replied, stroking his artfully shaped mustache. "I'd have to say 'nooky.'"
The exchange was a signature George Michael moment — expertly maneuvering around a silly rule, and then slipping in the prohibited term anyway — one of many transgressions in a remarkable career that ended too early when he was found dead Sunday in his home at age 53.
Michael emerged in the early 1980s as half of the duo Wham!, which scored global hits with happily lightweight tunes like "Everything She Wants" and "Wake Me Up Before You Go-Go." The group sought opportunities to break ground; Michael and guitarist Andrew Ridgeley helped develop the visual grammar of MTV, and in 1985 they became the first Western pop musicians to play China.
But it wasn't long before Michael was chafing against the creative restrictions, and the low expectations, placed upon a gorgeous teen idol. He stepped away from Wham!'s upbeat sound for "Careless Whisper," a sumptuous, grown-up ballad issued in Britain as his first solo single.
And after the duo's breakup he set to work establishing himself as the kind of serious artist he'd been wrongly thought not to be in Wham! In 1987 he teamed with Aretha Franklin — how's that for serious? — for an assured duet, "I Knew You Were Waiting (For Me)," which won a Grammy Award for best R&B performance.
Then he released his solo debut, "Faith," which bravely mingled thoughts of lust, family and religion against arrangements that could be just as bold.
Clearing a path later followed by Justin Timberlake and Justin Bieber (among other once-disparaged dreamboats), Michael made the rare successful transition to artistic adulthood — and did it, as he would later on "Letterman," with risqué language intact: The album's heavy-breathing lead single, banned on some radio stations, was called "I Want Your Sex."
Nearly 30 years after it came out, what stands out about "Faith" is how audaciously Michael was using classic iconography of American masculinity — the ripped jeans, stubble and aviator shades in the music video for the rockabilly-style title track — in music that set its own sexual agenda.
He wouldn't officially come out as gay until after the incident in Beverly Hills, but Michael's work was clearly part of a pop tradition that expanded the idea of what it means to be a man.
Indeed, given the recent losses of two other crucial disruptors — David Bowie and Prince — 2016 will be remembered as a particularly wretched year for anyone who looks to pop to destabilize rigid gender norms.
Yet even those unsympathetic to that cause couldn't deny Michael's craft as a songwriter and producer on "Faith" and its 1990 follow-up, "Listen Without Prejudice Vol. 1," both of which show off his knack for pretty but sturdy melodies and his deep sense of groove.
He may have written "Freedom '90" about his frustrations with MTV and Top 40 radio, but the song found a natural home in both places, as vivid and irresistible as commercial pop gets.
Michael's singing too was something to behold in tunes like "Father Figure," perhaps his steamiest blue-eyed soul cut, and "Praying for Time," a king-sized anthem in which he cranks up the vocal theatrics to deliver a lyric about "hanging on to hope when there is no hope to speak of."
No wonder Franklin was just one of the legends to recruit him for a duet. At 1985's Live Aid concert, Elton John performed "Don't Let the Sun Go Down on Me" with Michael, while Whitney Houston remade her song "If I Told You That" as a spirited duet with the singer for a 2000 compilation.
The latter wasn't the only indication that Michael remained attached to stardom even after he claimed it had turned into a bother. Though his later records — "Older" in 1996 and "Patience" in 2004 — received less attention than his earlier works (especially in the U.S.), the singer continued to put himself in the public eye, performing on "American Idol" and taking part in a Live Aid sequel; he even appeared as himself in the short-lived ABC series "Eli Stone."
But in his music he kept resisting the easy route. His obligatory standards album, "Songs from the Last Century," opened with the Depression-era "Brother, Can You Spare a Dime?" — not exactly "It Had to Be You." And he released pointed singles like 1998's "Outside," with a music video set in a men's restroom, and "Shoot the Dog" from 2002 about George W. Bush and Tony Blair's plan to invade Iraq.
A pop star willing to take on those two by name wasn't one to be told what he could and couldn't say. We're likely to find out how much we needed such a figure in the years to come.
Twitter: @mikaelwood
ALSO
George Michael dies at 53; pop singer was half of duo Wham! before successful solo career
When George Michael visited TV's 'Eli Stone' it wasn't just a hallucination
FROM THE ARCHIVES: George Michael's case against fame (!990)
FROM THE ARCHIVES: George Michael's got 'Faith' and lots more (1988)
---
Get our L.A. Goes Out newsletter, with the week's best events, to help you explore and experience our city.
You may occasionally receive promotional content from the Los Angeles Times.