George Michael dies at 53; pop singer was half of duo Wham! before successful solo career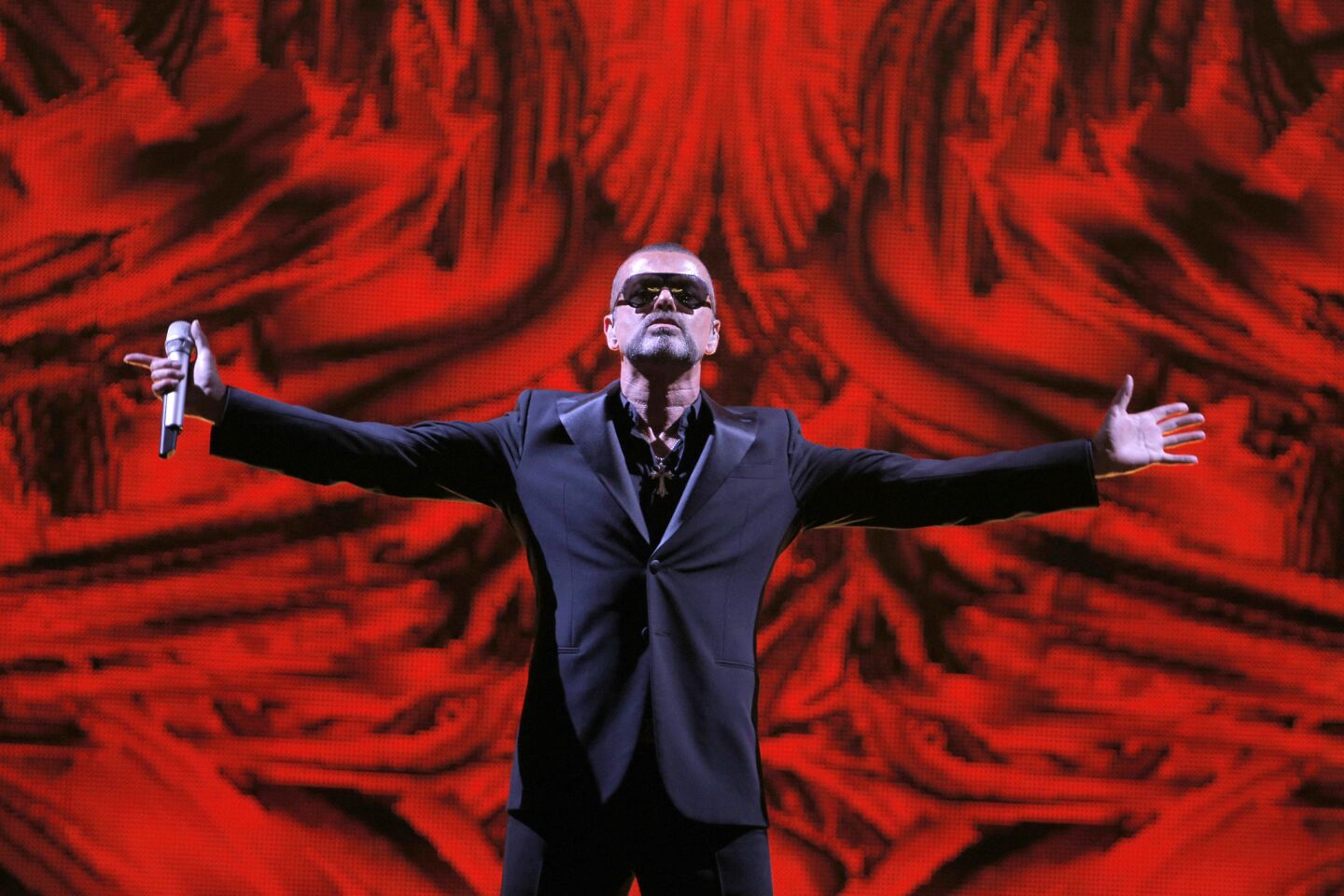 British singer George Michael performs at a concert in Paris in 2012 to raise money for an AIDS charity.
(Francois Mori / Associated Press)
English singer and songwriter George Michael during the Japanese/Australasian leg of his "Faith World Tour" in February-March 1988.
(Michael Putland / Getty Images)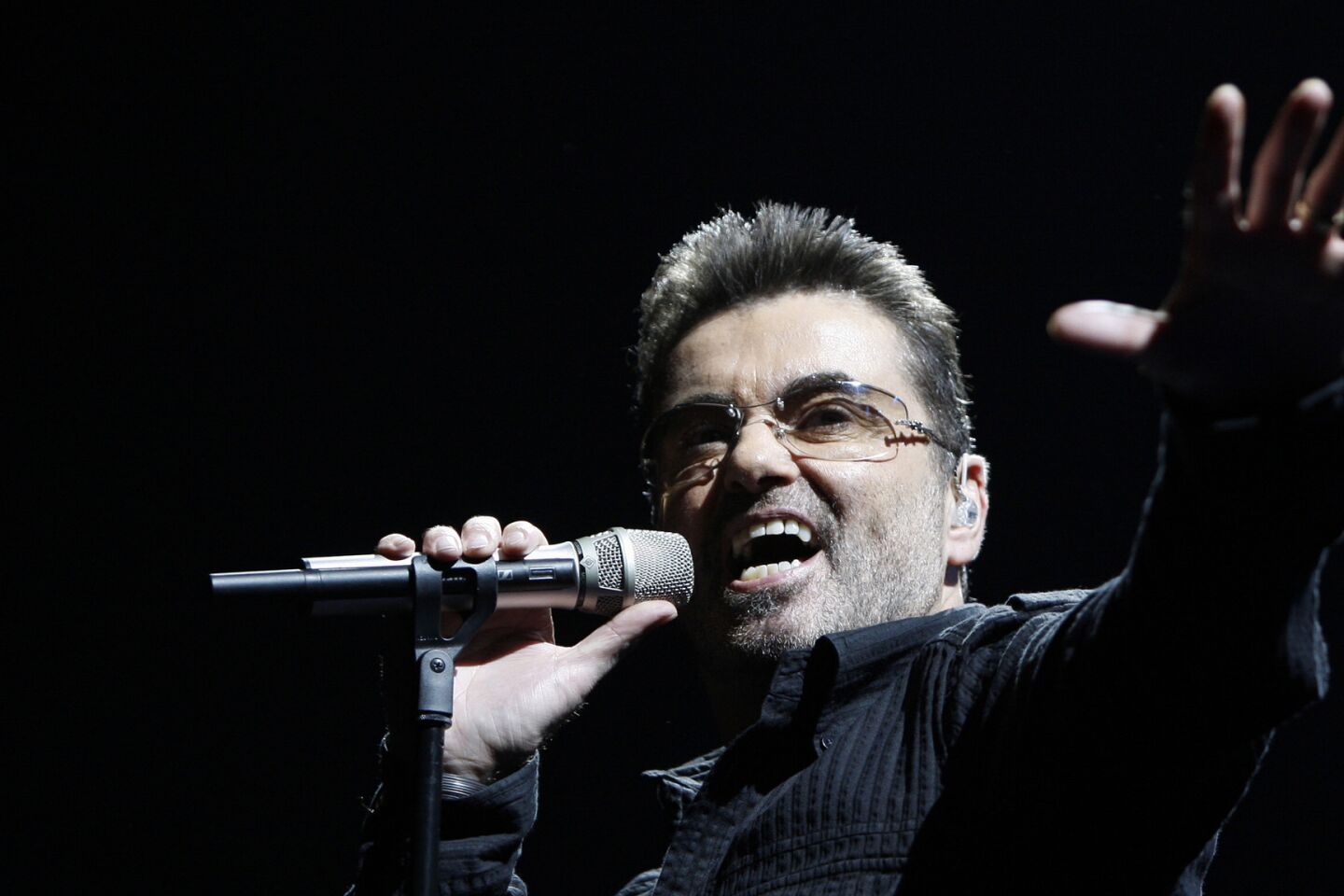 Singer George Michael performs during his "Live Global Tour" concert in Inglewood in 2008.
(Matt Sayles / Associated Press)
British singer George Michael performs during the closing ceremony at the 2012 Summer Olympics in London.
(Matt Slocum / Associated Press)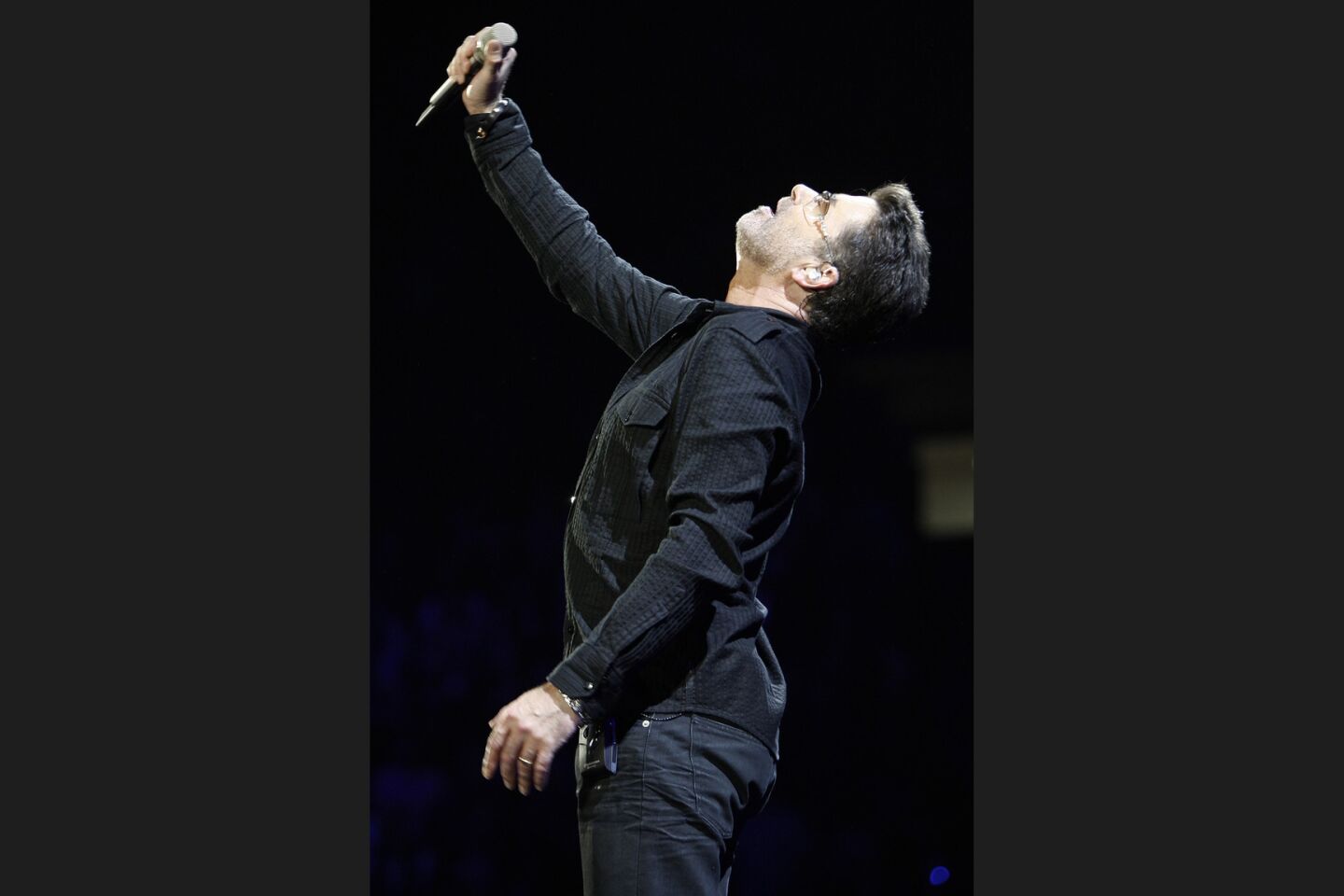 Singer George Michael performs during his "Live Global Tour" concert in Inglewood in 2008.
(Matt Sayles / Associated Press)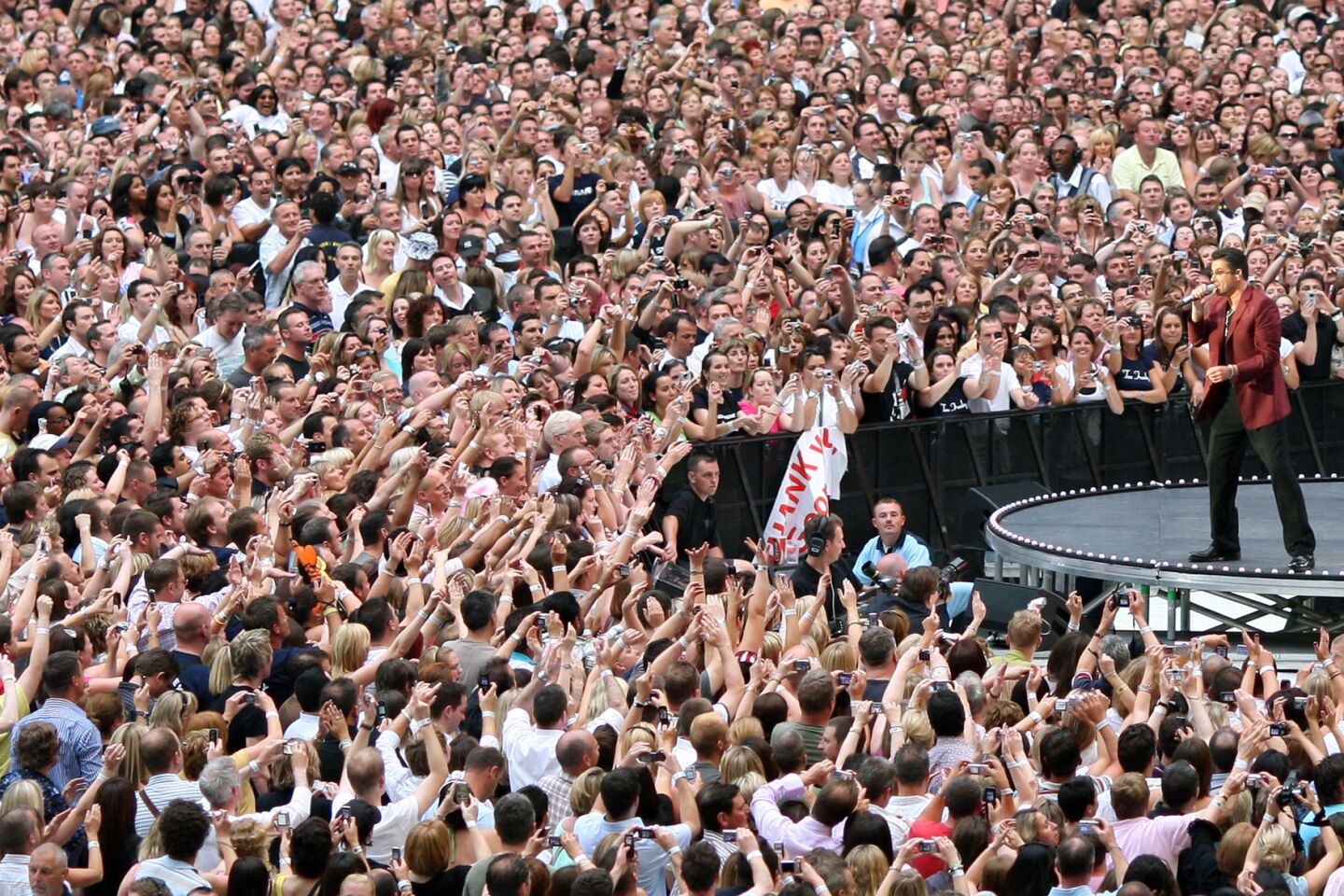 British pop singer George Michael performs during his 25 Live concert at the Wembley Stadium in London June 9, 2007.
(ADRIAN DENNIS / AFP/Getty Images)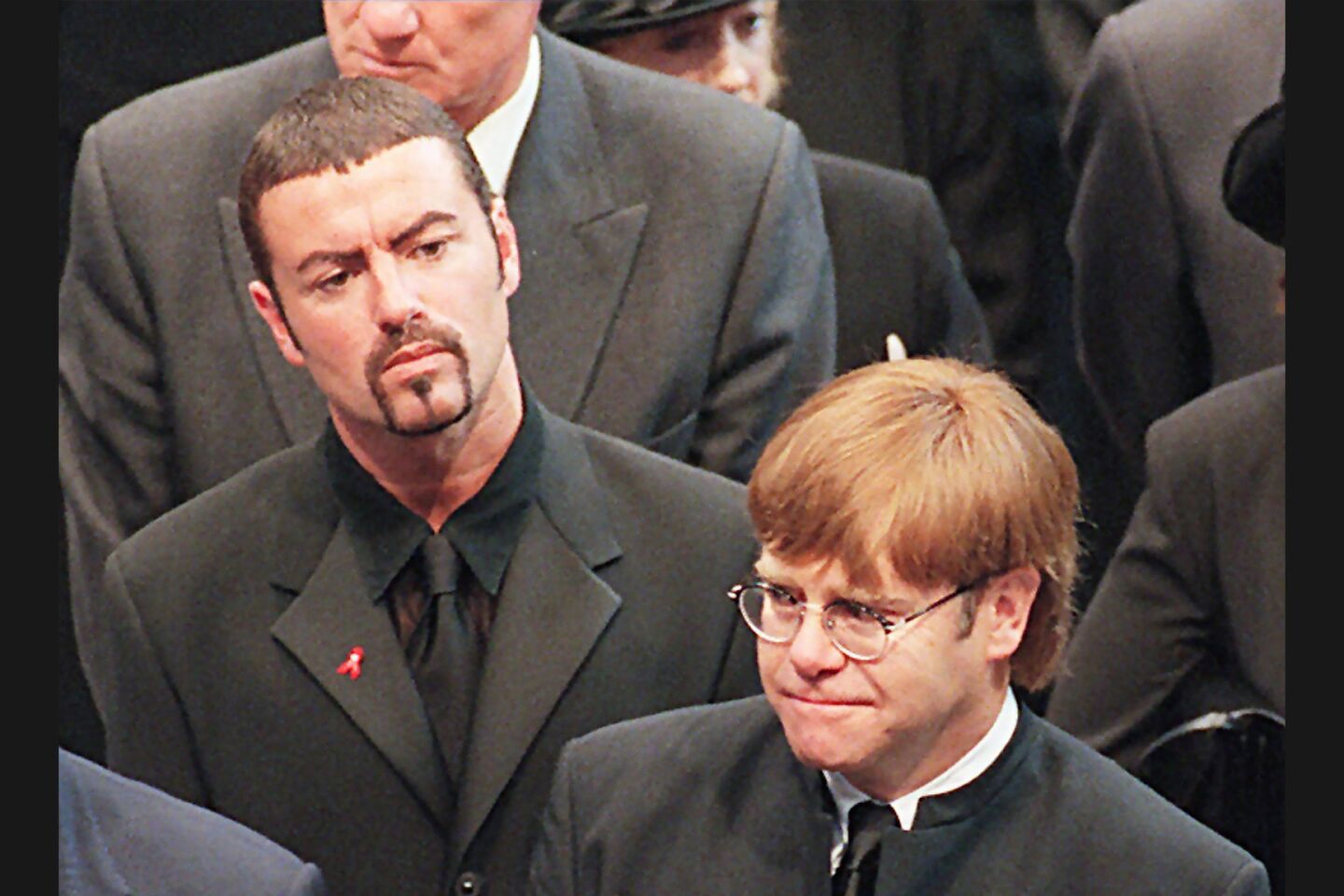 Pop stars George Michael (L) and Elton John (R) leave Westminster Abbey following the funeral service of Diana, Princess of Wales September 6, 1997.
(JOHNNY EGGITT / AFP/Getty Images)
Accompanied by other musicians and children from Africa, British singer George Michael waves goodbye in the finale of the Live 8 concert in Hyde Park, London, in 2005.
(Lefteris Pitarakis / Associated Press)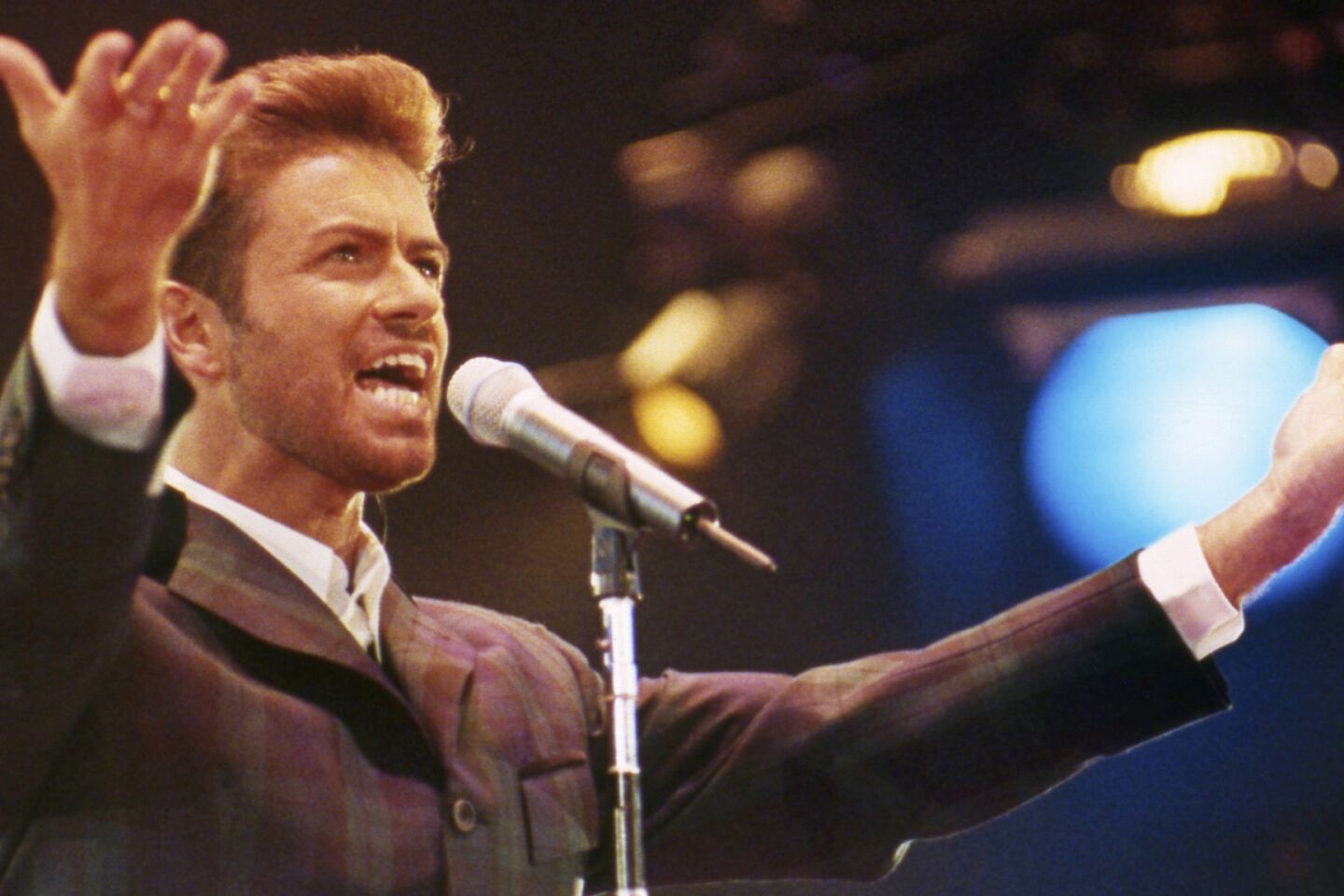 George Michael performs at "Concert of Hope" to mark World AIDS Day at London's Wembley Arena December 2, 1993.
(Gill Allen / AP)
Italian tenor Luciano Pavarotti, left, Italian showgirl Milly Carlucci and British singer George Michael perform at the Pavarotti and Friends International benefit concert for Tibetan and Cambodian children, in Modena, Italy, on June 6, 2000.
(Renato Ferrini / Associated Press)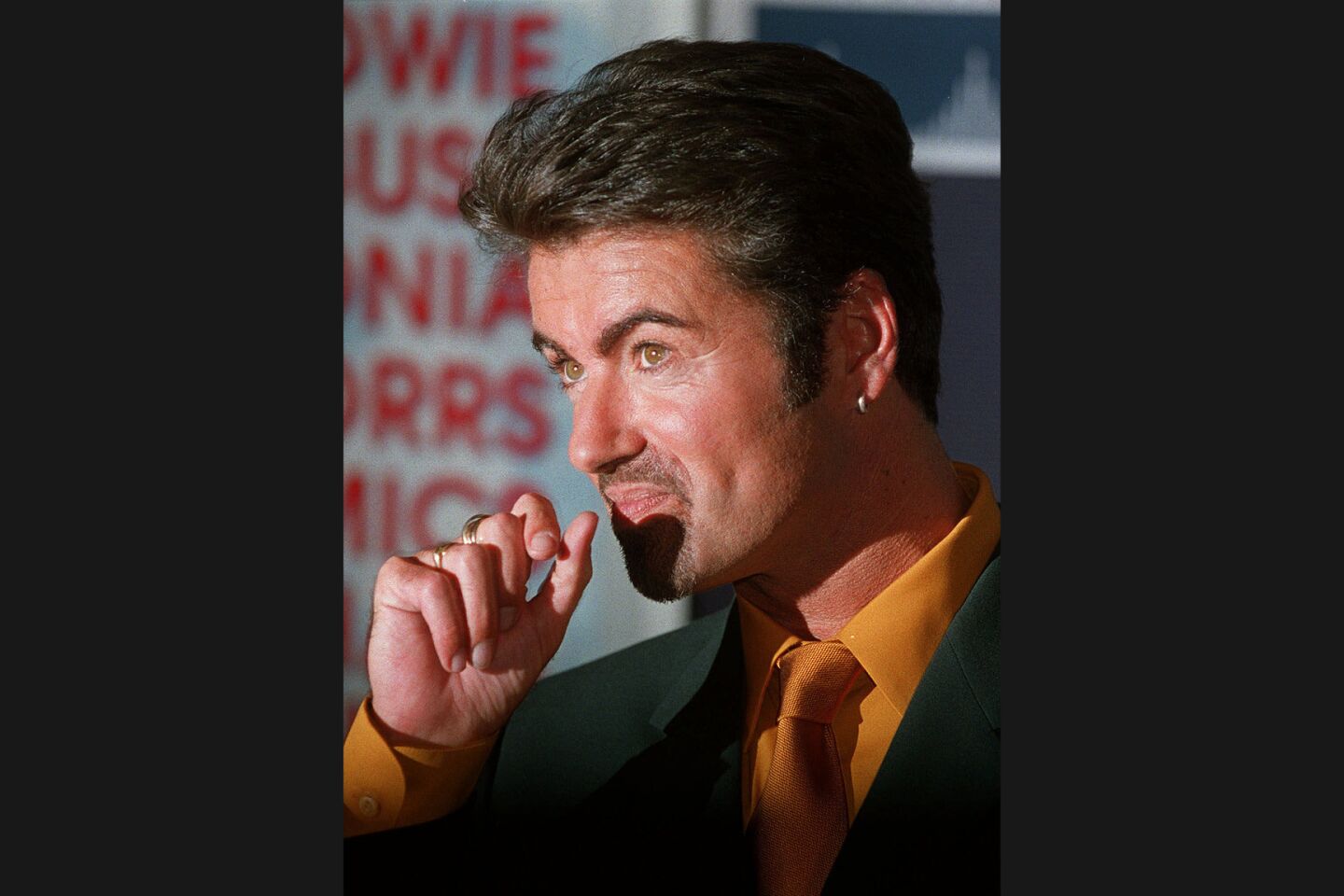 British singer George Michael at a photo call in central London in 1999 to promote a concert for refugees in Kosovo and Sudan.
(Alastair Grant / Associated Press)
George Michael, left, and Stevie Wonder perform "Living for the City" at the "Fourth Annual VH1 Honors" in Universal City, Calif., in 1997.
(Mark J. Terrill / Associated Press)
George Mitchel performs for the first time in about five years at the Commitment to Life Aids benefit concert in 1995.
(Lori Shepler / Los Angeles Times)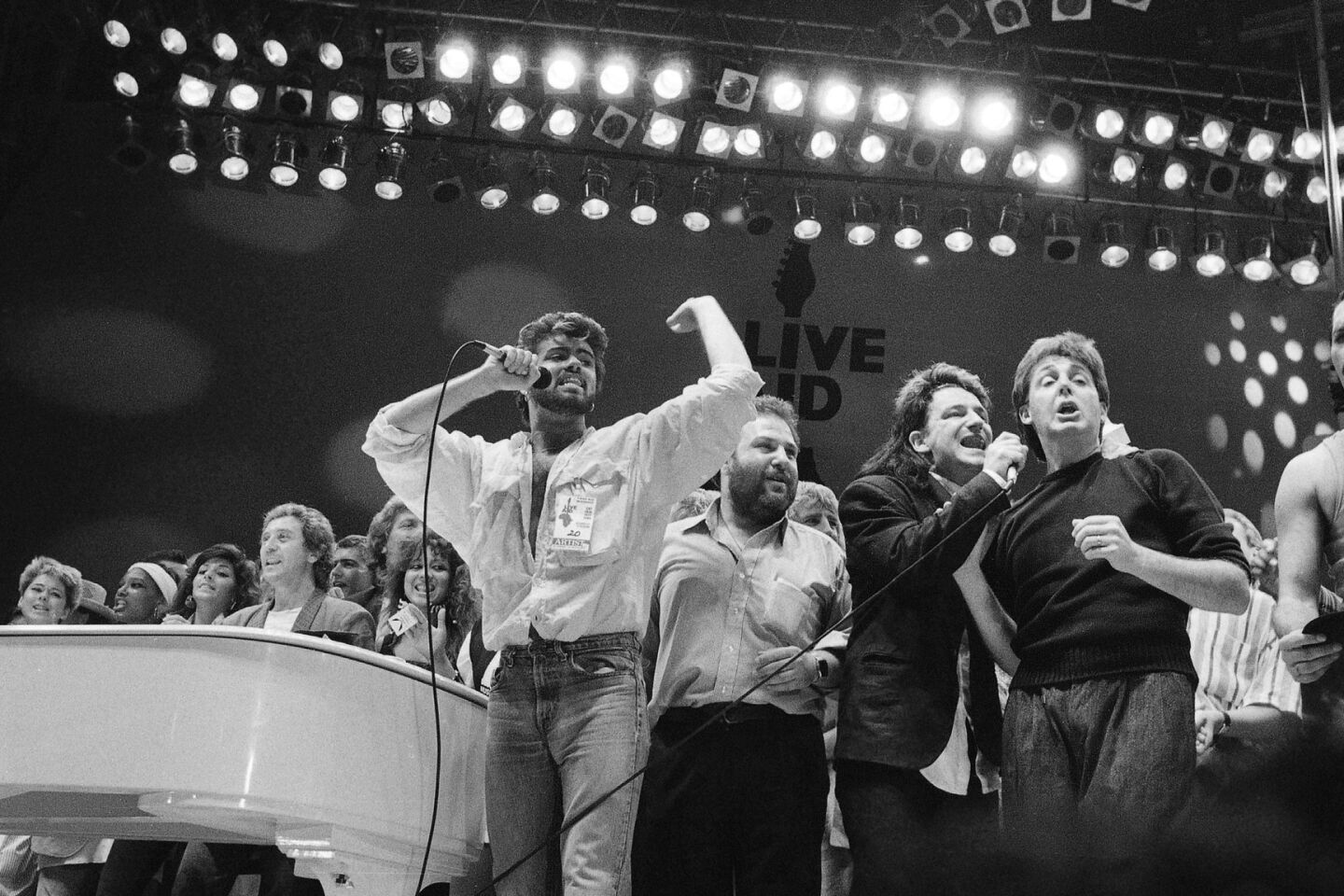 George Michael of Wham, center-left, concert promoter Harvey Goldsmith, U2 lead singer Bono Vox, Paul McCartney and Queen lead singer Freddie Mercury perform during the Live Aid famine relief concert finale July 13, 1985 at Wembley Stadium in London, England.
(JOE SCHABER / AP)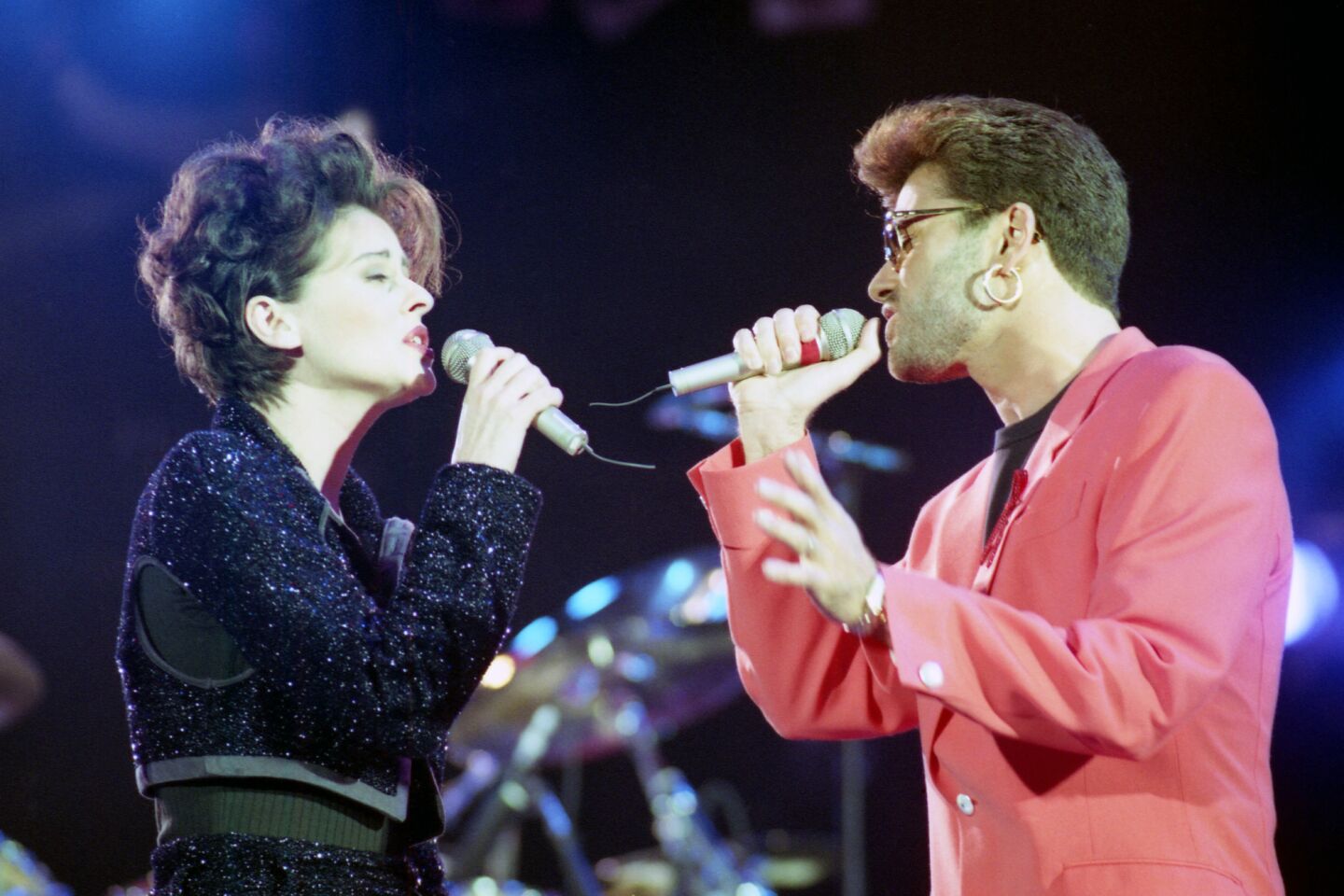 British singers George Michael, right, and Lisa Stansfield perform together at the Freddie Mercury Tribute Concert at London's Wembley Arena in 1992.
(Gill Allen / Associated Press)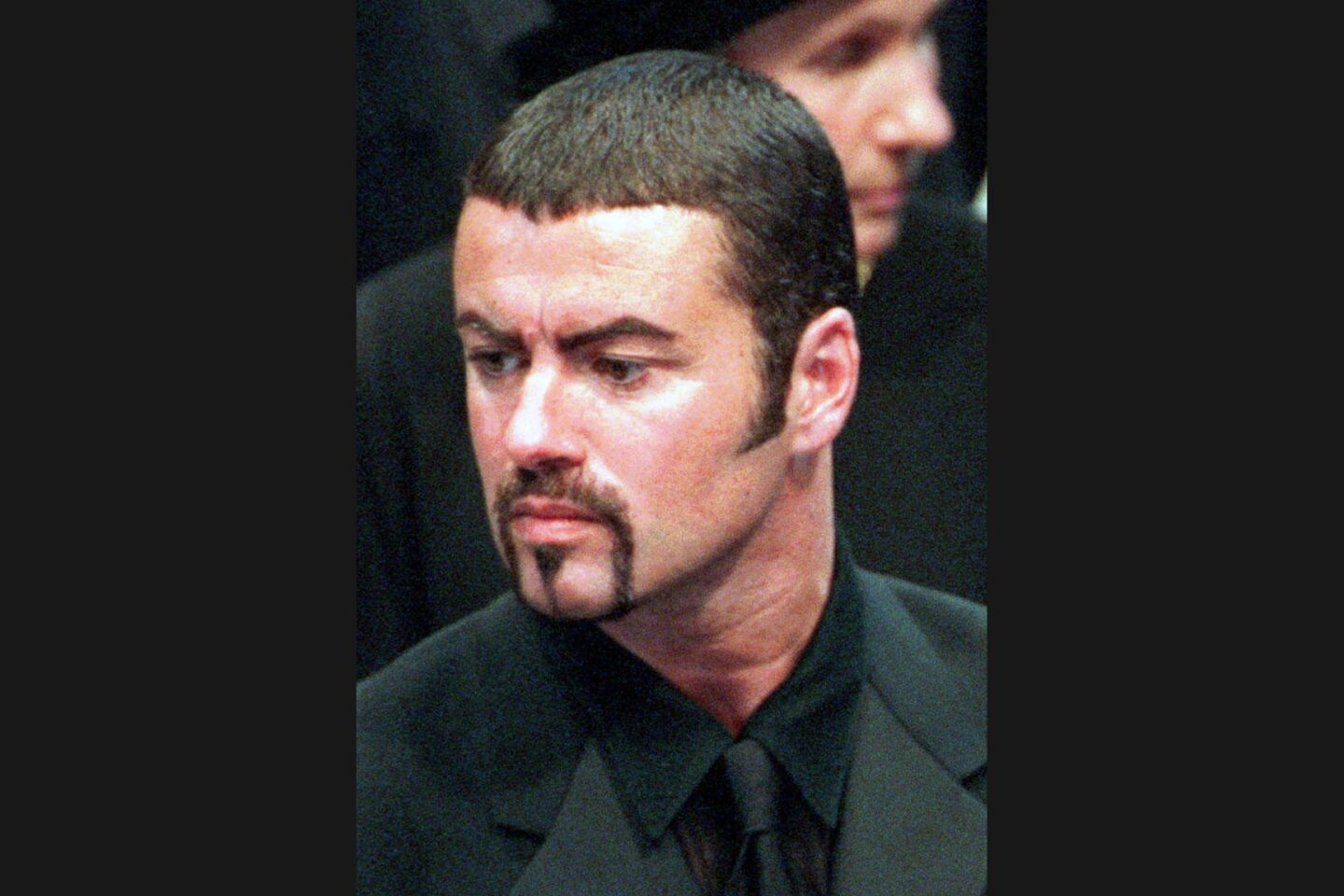 George Michael is shown in this Sept. 6, 1997, file photo. The British pop singer has died at the age of 53.
(Peter De Jong / Associated Press)
Singing great Aretha Franklin, right, joins George Michael during his Faith World Tour in Auburn Hills, Mich., in 1988.
(Robert Kozloff / Associated Press)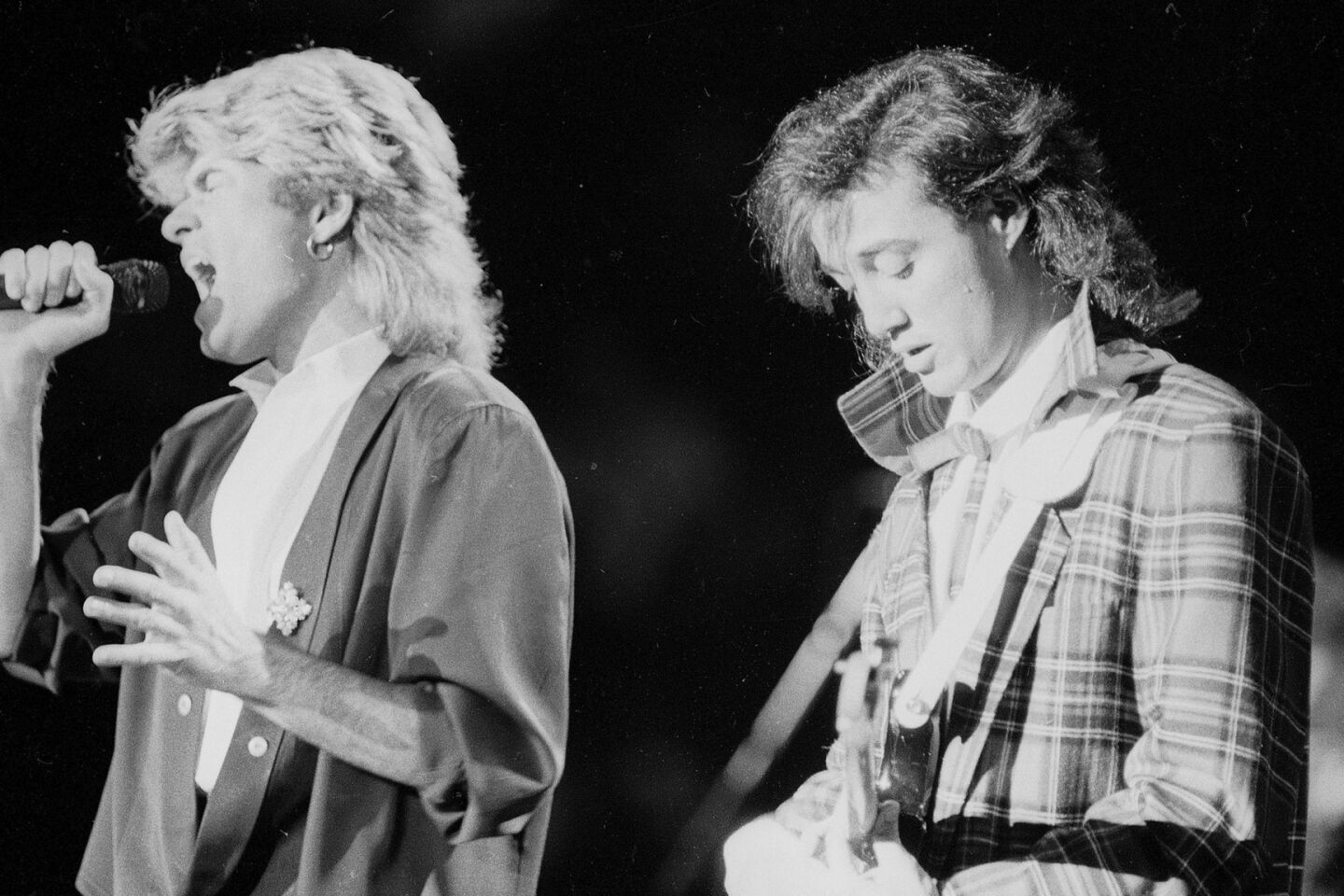 George Michael, left, and Andrew Ridgely of the pop duo Wham! perform in Peking before a capacity audience of Chinese and foreign fans on April 7, 1985.
(Neal Ulevich / Associated Press)
George Michael, the English singer-songwriter who shot to stardom in the 1980s as half of the pop duo Wham! and went on to become one of the era's biggest pop solo artists with hits such as "Faith" and "I Want Your Sex," died over the Christmas holiday. He was 53.
Michael died peacefully at his home in Goring, England, according to his publicist. She said he had not been ill. In a statement, Thames Valley Police called Michael's death "unexplained but not suspicious."
Michael's longtime manager, Michael Lippman, told Billboard magazine that the singer died "peacefully" in his bed of apparent heart failure.
Teamed with guitarist Andrew Ridgeley in Wham!, Michael soared to fame in the United Kingdom in the early '80s with hits such as "Young Guns (Go For It!)", "Wham Rap! (Enjoy What You Do)" and "Bad Boys."
The duo's "Wake Me Up Before You Go-Go" was an international million-selling single that put Wham! on the map in America, where it reached No. 1 on the Billboard Hot 100 in late 1984.
Two other Wham! songs went to No. 1 on the Billboard chart in 1985: "Careless Whisper" (released in Britain as a solo single by Michael) and "Everything She Wants."
Their international popularity was further confirmed in 1985 when they became the first Western pop group to play in Communist China.
The stylishly coiffed duo, who wore tight-fitting short-shorts in their "Wake Me Up Before You Go-Go" video and appeared shirtless in leather jackets in promotional stills, are described in "The Encyclopedia of Popular Music" as "the most commercially successful teen-oriented group of the '80s."
Michael was known as the creative half of the duo, whose stage appearances whipped young female fans into a frenzy with music that some critics dismissed as juvenile and exploitative. Yet Michael maintained that he was not writing songs specifically for teenage girls.
"People who accuse me of that just don't know what they're talking about," he told The Times in 1984, while promoting the Wham! album "Make It Big," which was produced, arranged and mostly written by Michael.
"I'm writing for my own age group, but they're put off by all these screaming young girls who like us," he said. "It's really a shame. That's not a good reason not to listen to our music."
With Michael reportedly feeling restricted in Wham! and wanting to do other things musically, the duo split up in 1986; a crowd of 72,000 fans turned out at London's Wembley Stadium for their farewell concert.
"I Knew You Were Waiting (For Me)," a duet Michael recorded with Aretha Franklin, was a No. 1 hit in the spring of 1987 and earned them a Grammy Award.
Michael's debut solo album, "Faith," was released later that year.
The album, which won a Grammy for Album of the Year, spawned the No. 1 hit singles "Faith," "Father Figure," "One More Try" and "Monkey" — as well as the controversial "I Want Your Sex," which rose to No. 2 and was banned by many U.S. radio stations.
Michael had another No. 1 hit with "Praying for Time," a 1990 single off his "Listen Without Prejudice, Vol. 1" album.
Despite Michael's commercial success, the '90s proved a difficult period for him, marked by a protracted legal battle with Sony Music Entertainment in an attempt to escape his longtime contract. There was also a series of personal upheavals, including the 1993 death of his Brazilian lover, Anselmo Feleppa, whom he had met at a rock festival in Rio in 1991.
In 1998, Michael was arrested for lewd conduct in a men's restroom at Will Rogers Memorial Park in Beverly Hills. He pleaded no contest and completed 80 hours of community service with a youth leadership program, paid $910 in fines and underwent counseling.
Though rather tame as celebrity scandals go, the incident amounted to a public outing of the singer and a possible threat to his career. In an interview with CNN the week after his arrest, he apologized to fans and acknowledged that he was gay.
"I have no problem with people knowing that I'm in a relationship with a man right now," he said at the time. "I have not had a relationship with a woman for almost 10 years."
Of his arrest, he said: "I don't feel any shame. I feel stupid, and I feel reckless and weak for having allowed my sexuality to be exposed this way."
Seven months after his arrest, Michael made fun of the high-profile incident with the satirical single "Outside," which former Times pop music critic Ann Powers later described as "a highly danceable paean to public sex."
The accompanying music video included a sequence in which Michael, wearing shades and a police uniform, appears in a public restroom that morphs into a flashy disco dance palace.
Years later, in an interview with the BBC, Michael said that the manner of his unintentional outing had made his life more difficult. Yet he did not shy away from who he was; he raised money to combat AIDS and supported gay rights.
Michael's drug use — he admitted to using prescription sedatives and marijuana — led to several run-ins with law enforcement in the 2000s, after his career had reached its apex.
In 2010, his driver's license was revoked for five years after he drove his Land Rover into the side of a photography shop with so much force that his vehicle dented the wall.
A passer-by remembering Michael's early career wrote the word "WHAM" on the spot his SUV had hit.
Michael was born Georgios Kyriacos Panayiotou on June 25, 1963, in North London, the son of a English mother and a Greek Cypriot immigrant father who ran a local restaurant.
He was 7 when he began dreaming of musical stardom.
"It's not like I had a remarkable voice as a child," he said in a 2004 interview with the Sunday Telegraph. "I got thrown out of choir, but that didn't stop me from telling everyone I was going to be a famous pop star."
Michael was 12 when he met Ridgeley, a fellow student. After leaving school, they spent more than a year in a ska band called the Executives and began writing songs together.
A demo tape that included two of their songs, "Wham Rap" and "Careless Whisper," led to their 1981 signing with a British independent label and the launch of Wham!
"Heartbroken at the loss of my beloved friend," Ridgeley, 53, said on Twitter. "Me, his loved ones, his friends, the world of music, the world at large. 4ever loved."
Michael's sudden death stunned the music world, given his young age and the fact he had been working on a documentary film called "Freedom" in recent months. He was also beginning work on a new album. In 2011, Michael suffered a severe case of pneumonia during a tour and later revealed he had come close to dying. "It was by far the worst month of my life, but I am incredibly, incredibly fortunate to be here," he told the Guardian.
Friends and fellow performers offered tributes. "I am in deep shock," Elton John said on Instagram. "I have lost a beloved friend — the kindest, most generous soul and a brilliant artist."
ALSO
'Rockline' host Bob Coburn dies at 68
Zsa Zsa Gabor dies at 99; she had glamour and husbands in spades
Carrie Fisher is spending Christmas in intensive care, but is in stable condition, mom Debbie Reynolds says
---
UPDATES:
6:48 p.m.: This article was updated with background, reactions.
5:53 p.m.: This article has been updated with new information from Thames Valley police and other details about Michael's life and career.
This story was originally posted at 3:35 p.m.
Must-read stories from the L.A. Times
Get the day's top news with our Today's Headlines newsletter, sent every weekday morning.
You may occasionally receive promotional content from the Los Angeles Times.