Appreciation: Glen Campbell's Alzheimer's battle added a heroic coda to a pop-country star's life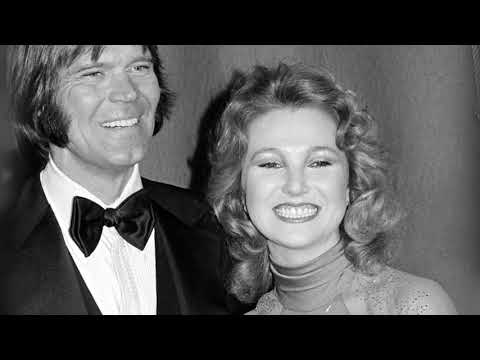 Glen Campbell, the multiple Grammy-winning country-pop singer, guitarist and TV personality has died at 81. (Aug. 8, 2017) (Sign up for our free video newsletter here http://bit.ly/2n6VKPR)
I witnessed up close the ravaging effect that Alzheimer's disease was having on Glen Campbell in the later years of his life. This was in 2011, when I interviewed him at his Malibu home shortly after he'd gone public with his diagnosis.
At that point, although his short-term memory was failing rapidly, he was in fairly good spirits, and his sense of humor was fully intact.
But even little points he wanted to make turned into a struggle. His brain was no longer responding with the kind of dexterity that his fingers and voice had done in making him a bona fide pop-country star in the 1960s, '70s and '80s.
Campbell, whose death at 81 was announced Tuesday, rode a long string of pop hits that began in 1967 with John Hartford's "Gentle on My Mind" and continued with Jimmy Webb's "By the Time I Get to Phoenix" and more Webb songs ("Wichita Lineman," "Galveston"), all of which led to his breakout success as the host of "The Glen Campbell Goodtime Hour."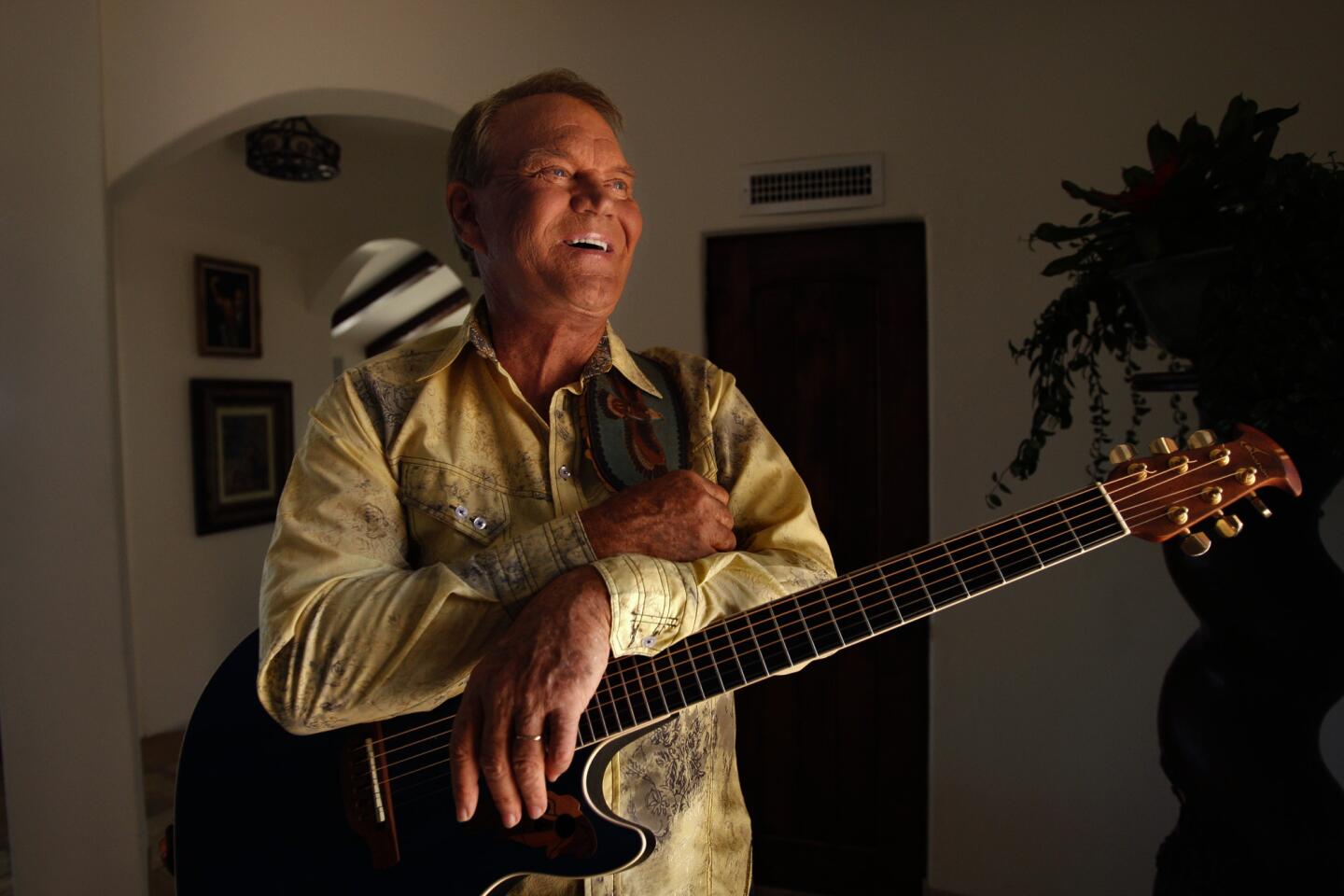 Glen Campbell's career stretches over five decades, from his early years as a session guitarist in Los Angeles when he played on recordings by Phil Spector, the Beach Boys, Frank Sinatra, Elvis Presley and many others, to his success as a solo artist with such hits as "Gentle on My Mind," "By the Time I Get to Phoenix," "Galveston" and "Rhinestone Cowboy."


(Genaro Molina / Los Angeles Times)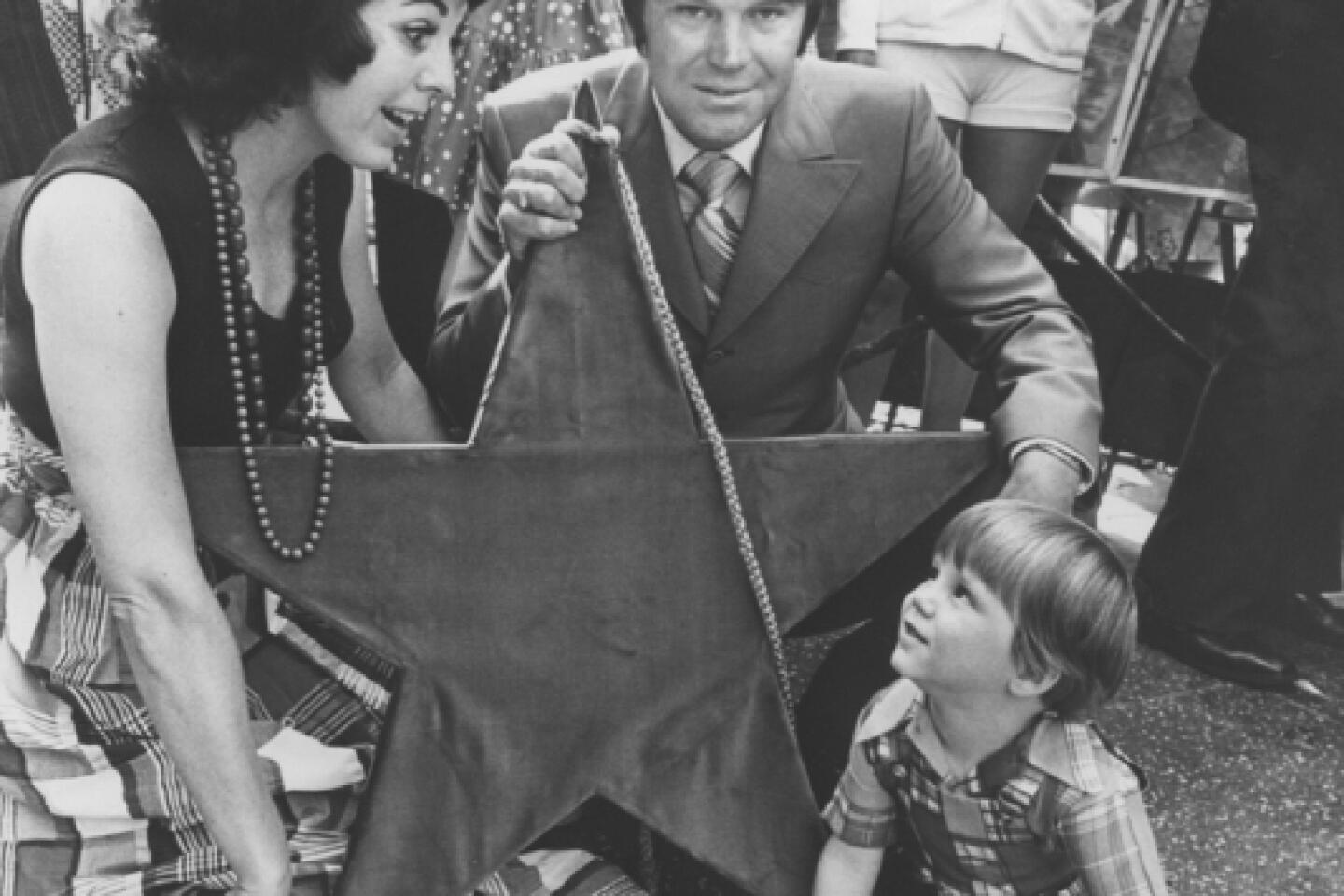 The singer received his star on the Hollywood Walk of Fame with his wife Billie and their third child, Kane, during the ceremony on May 5, 1972.
(Frank Q. Brown / Los Angeles Times)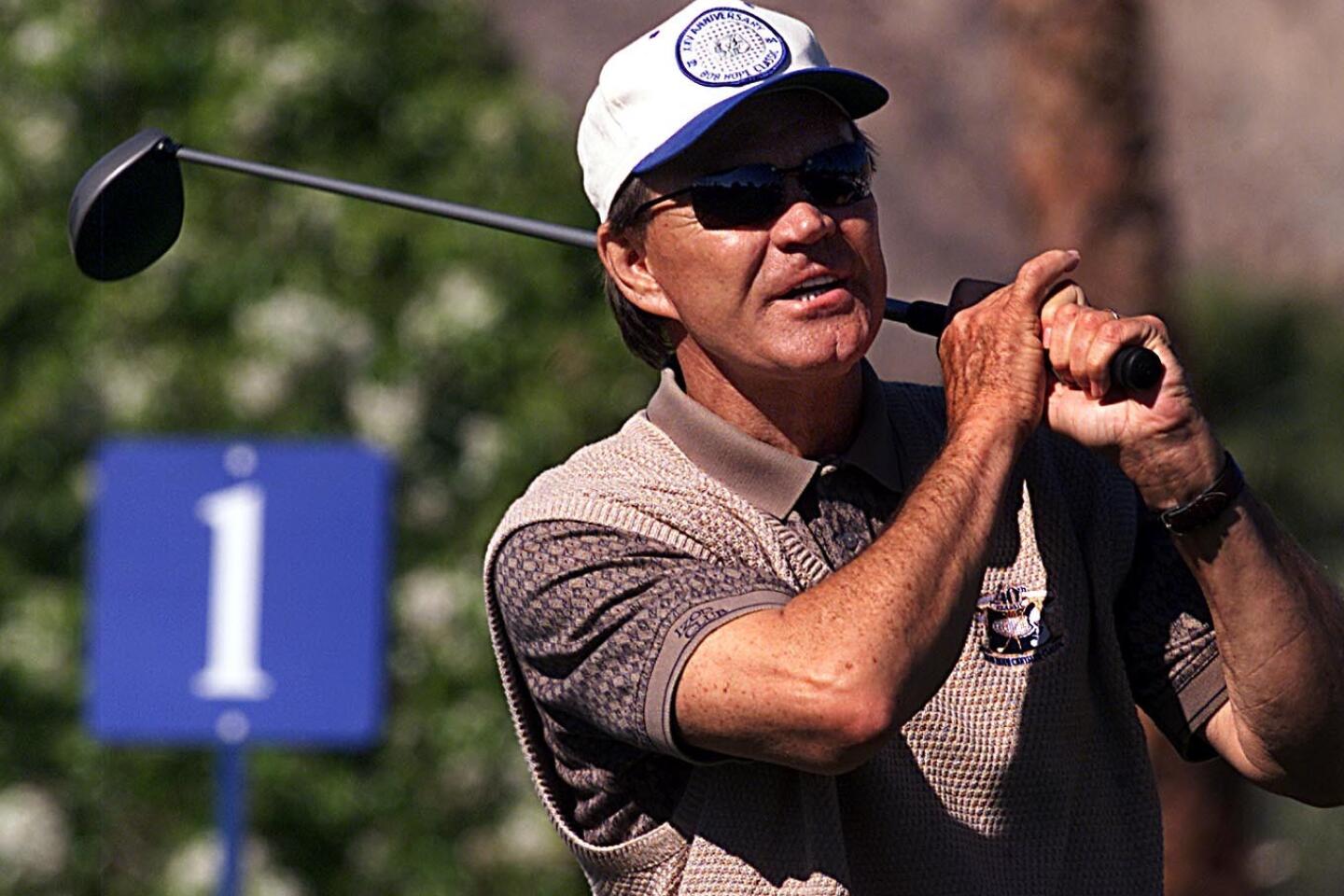 Campbell tees off at a pro-am tournament at La Quinta Country Club in February 2001. The Los Angeles Open was called the Glen Campbell Los Angeles Open for 13 years, and 10 tournaments took place at the Riviera.
(Luis Sinco / Los Angeles Times)
Campbell performed for about 1,000 inmates inside Maricopa County Sheriff Joe Arpaio's Tent City Jail on July 9, 2004, while serving his 10-day sentence for extreme driving under the influence and leaving the scene of an accident.
(Darryl Webb / Associated Press)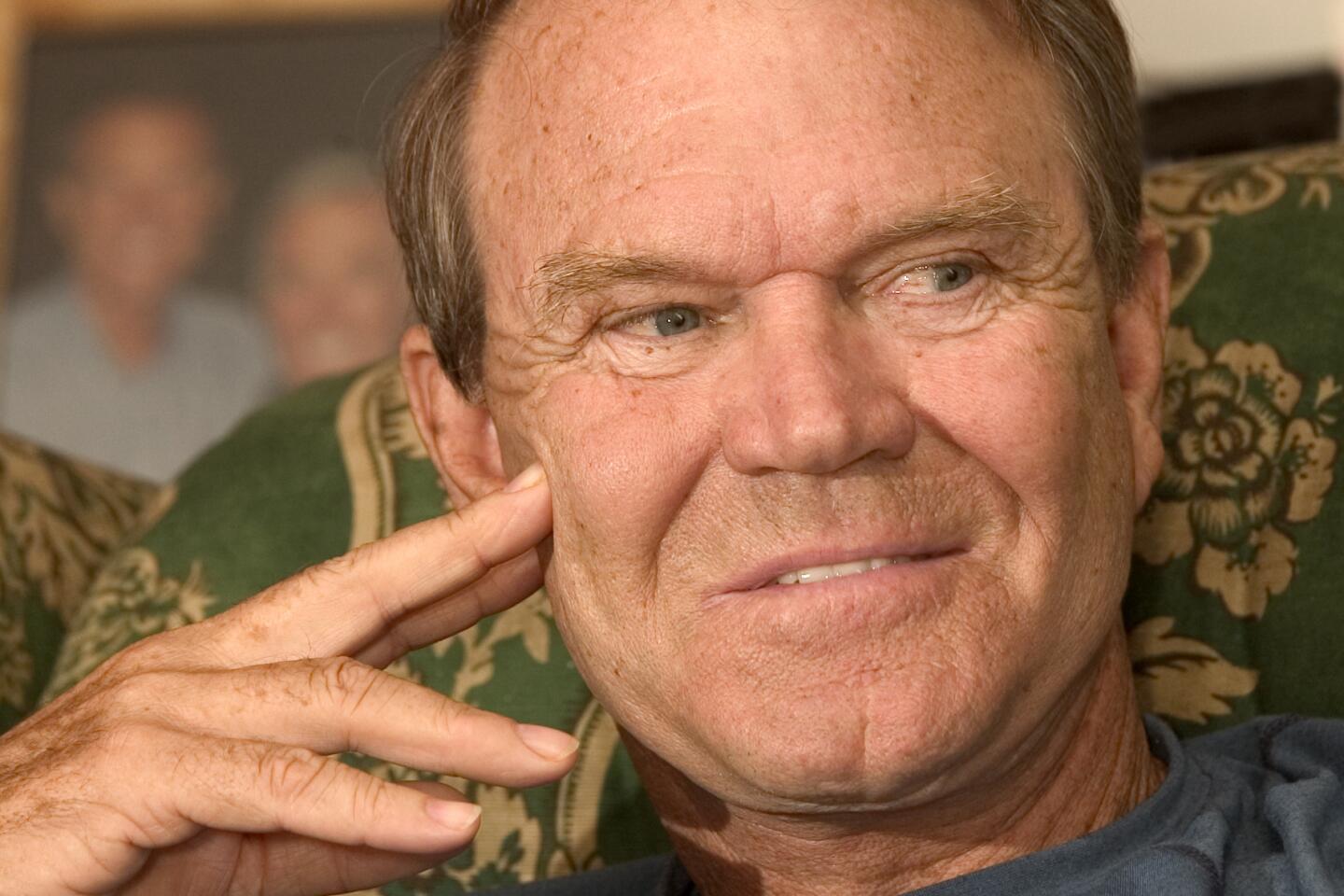 "I'd hate to see what happened to me happen to anybody else," the singer said in an interview at his Phoenix home on July 19, 2004, after he was convicted of extreme driving under the influence. Campbell was released from county jail after a 10-day stay.
(Sherrie Buzby / For the Los Angeles Times)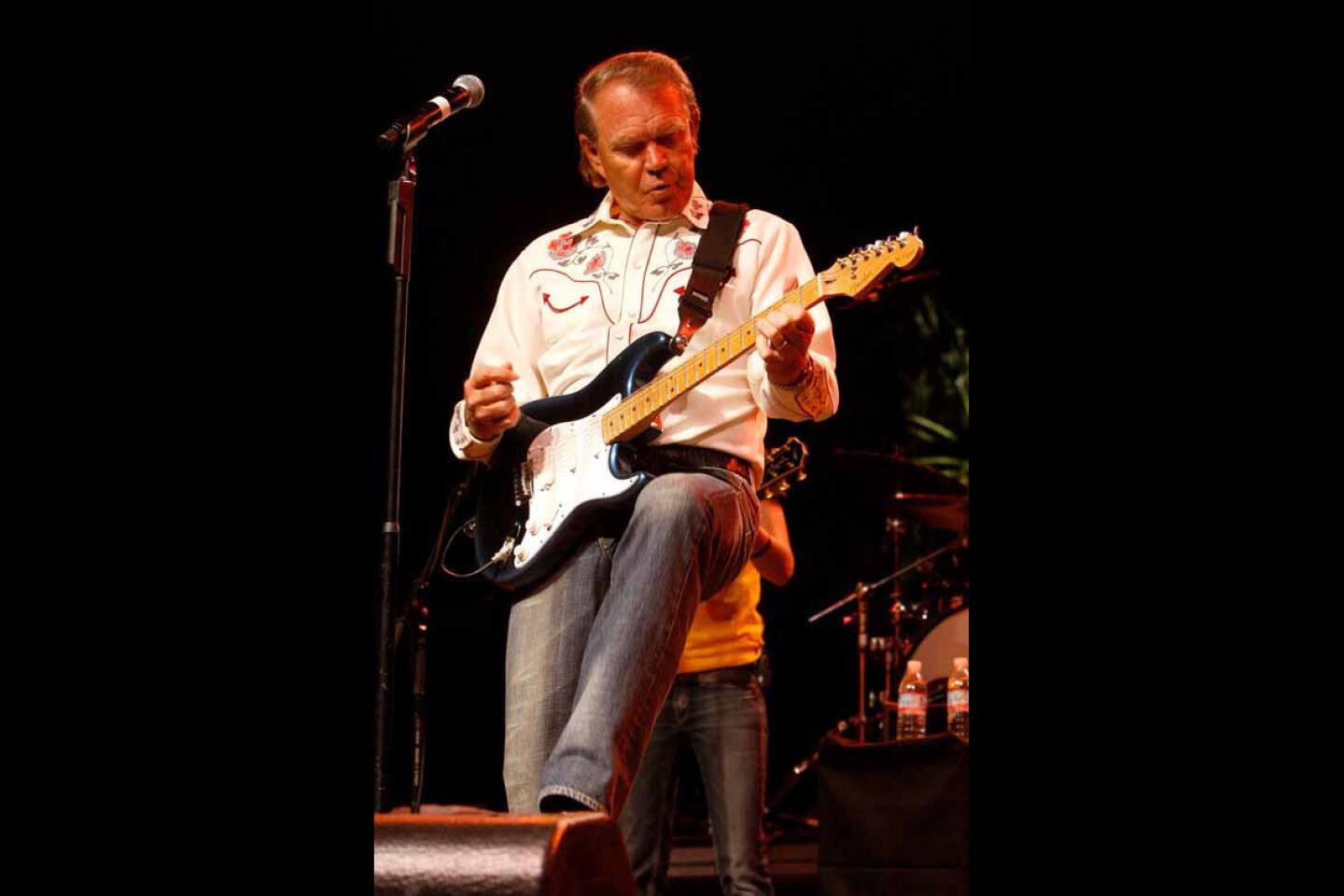 Campbell performs during Day 1 of the Stagecoach country music festival, held at the Empire Polo Field on May 2, 2008, in Indio.
(Michael Buckner / Getty Images)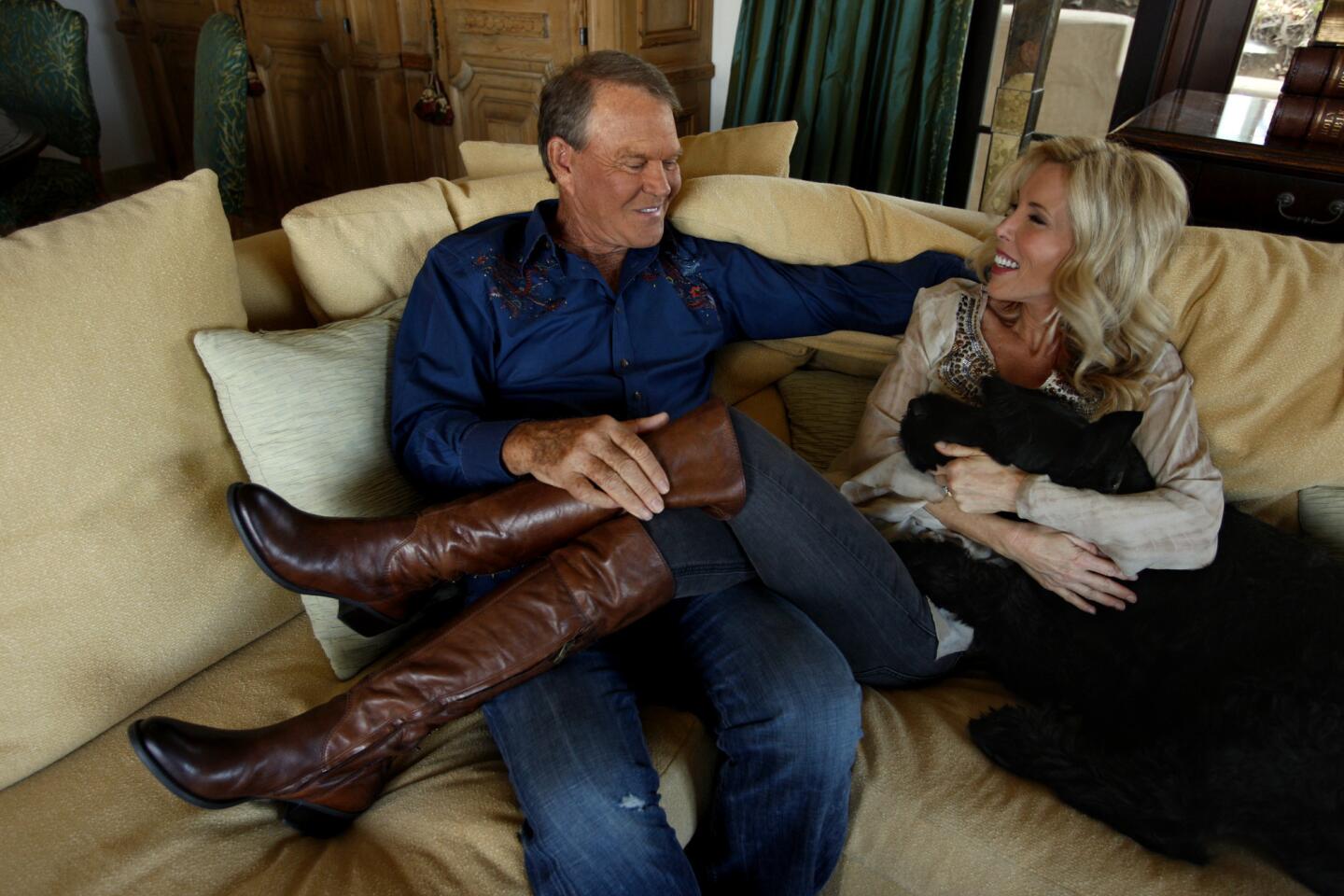 "Glen is still an awesome guitar player and singer," his fourth wife, Kim Woolen, said. "But if he flubs a lyric or gets confused onstage, I wouldn''t want people to think, 'What's the matter with him? Is he drunk?'" The couple is pictured at their Malibu home on July 27, 2011.
(Genaro Molina / Los Angeles Times)
Yet that day, when I asked how he perceived the effect of this pernicious disease, his response shifted from astutely analytical to frustratingly forgetful.
"I'm fine," he said at first, as we sat at the counter in his kitchen, his wife, Kim, seated near him. "It's just sometimes days are better than other ones."
A moment later, he added, "It hasn't affected me in any way. In fact, I don't even know what it is. Who came up with that?"
When Kim reminded him —"Your doctor," she said — he shot back, "Well, he's probably wrong."
In other situations he liked to quip, "I don't have Alzheimer's. I have part-timer's."
In fact, Campbell had been experiencing the onset of dementia or Alzheimer's for years before he and Kim chose to let the world in on the news.
At that time, they said they wanted fans to know what he was up against, because he wished to continue performing as long as he could, but didn't want people thinking he'd relapsed on his sobriety if he forgot lyrics or repeated a joke he'd told a few minutes earlier.
That revelation made me rethink another interview I'd done with him a few years earlier. This one I cited for years as one of the most disappointing of my career.
Then, Campbell had released 2008's "Meet Glen Campbell," an excellent album in which he applied his endearing boy-next-door tenor and phenomenal guitar technique to a batch of recent-vintage songs by artists such as Tom Petty, Green Day, Velvet Underground, U2, the Replacements and other left-field (for him) sources.
I'd gotten little other than "yes," "no" and "I don't remember/I'm not sure" responses from him. I left the interview wondering why he'd even bothered, since he seemed more focused on getting to the round of golf he said was awaiting him.
In retrospect, I could understand that he was already impaired to an extent. But no one knew that yet — not even him.
In the 2014 documentary "Glen Campbell: I'll Be Me," directed by actor-filmmaker James Keach, there's a scene where Campbell and his wife travel to Washington, D.C., to lobby on behalf of greater federal support for increased Alzheimer's research funding. The disease figures to affect millions more as the baby boomers move into what are supposed to be "the golden years."
In an interview with former President Clinton — one of Campbell's fellow Arkansans — he suggested that despite the millions of records Campbell had sold and all the fans he'd entertained over half a century, his greatest legacy might turn out to be his advocacy for those with Alzheimer's. Clinton praised the singer and guitarist for using his own difficult experience to put a public face on the cruelly degenerative disease.
A big part of what made Campbell's journey so unusually compelling is the way that music allowed him to stave off some of the worst effects of Alzheimer's much longer than many.
That's because it's said that music resides in a part of the brain that the disease doesn't fully invade until its final stages. Thus, even when he was forgetting the names of his children, or little details like what he ate for breakfast, he could still summon lyrics to songs he'd sung hundreds of times over the decades.
Even more impressively, with apparent effortlessness he could still spin out magnificently complex guitar solos requiring highly intricate brain-muscle-nerve communication.
That element of his 2012-13 Goodbye Tour was reassuring to fans who remember the signature guitar style that he honed to perfection as a studio professional working in Los Angeles in the '60s with other session pros who came to be known as the Wrecking Crew.
His chiseled good looks and down-home Arkansas humor allowed him to emerge from the relative anonymity of studio work to become a TV and recording star through his CBS musical variety show "The Glen Campbell Goodtime Hour," and a long string of pop-country hits such as "Gentle on My Mind," "By the Time I Get to Phoenix," "Wichita Lineman," "Rhinestone Cowboy" and "Southern Nights."
Throughout his career, like so many celebrities, he also battled substance abuse and found himself more frequently on the cover of supermarket tabloids than Billboard or Rolling Stone in the 1980s and '90s.
But following a humiliating arrest for "extreme drunken driving" in Arizona in 2004, he got sober and returned to recording, delivering some of his best work since the '60s and '70s, beginning with "Meet Glen Campbell" with producer Julian Raymond, who also shepherded "Ghost on the Canvas" and collaborated on writing songs that addressed what Campbell was going through physically, mentally and emotionally.
The poignancy of his slide into Alzheimer's certainly figured into several industry nominations and awards he received for his 2011 album "Ghost on the Canvas" and for Keach's documentary, which generated an Academy Award nomination for the song ""I'm Not Gonna Miss You."
In that number, he sang, "I'm never gonna hold you like I did/Or say 'I love you' to the kids/You're never gonna see it in my eyes/It's not gonna hurt me when you cry." Elton John called it "not only the best song nominated; it's one of the most beautiful songs of all time."
When I spoke to Keach about working with Campbell on the project, a work that didn't flinch from sharing what he was like on some of his bad days, he spoke in admiration of the singer's bravery in letting others in on what he and his family were going through.
"Here's a guy, an iconic musician, who was faced with having to hang up his guitar, his career is over," Keach told me. "But instead, he says, 'I ain't done yet. I'm going out to show what this disease is' because he wants to change the conversation. He writes the song with Julian, records it, sometimes a line at a time, sometimes a word at a time, and he wins a Grammy and gets nominated for an Oscar.
"If that ain't a hero," Keach said. "I don't know what is."
Glen Campbell, we're all gonna miss you.
See the most-read stories in Entertainment this hour »
Follow @RandyLewis2 on Twitter.com
For Classic Rock coverage, join us on Facebook
ALSOWhat Chuck Berry's and Glen Campbell's final albums have to say about the end of the road
'A shining light in so many ways': Music world remembers country-pop great Glen Campbell
Grab a Kleenex: Glen Campbell's final studio album is called 'Adiós'
Grammys 2015: Glen Campbell's poignant win for best country song
Get our L.A. Goes Out newsletter, with the week's best events, to help you explore and experience our city.
You may occasionally receive promotional content from the Los Angeles Times.