Glen Campbell dies at 81; country-pop singer battled Alzheimer's
Glen Campbell, the multiple Grammy-winning country-pop singer, guitarist and TV personality whose half-century career was capped by a singular last act after he went public with his advancing Alzheimer's disease, has died. He was 81.
Possessed of a crystalline tenor voice and boy-next-door good looks, Campbell sold more than 45 million records and was known for a signature string of '60s and '70s country music hits that included "Gentle on My Mind," "Wichita Lineman" and "Rhinestone Cowboy."
Campbell began to slowly draw the curtain on his prolific career after announcing that he had been diagnosed with Alzheimer's disease in 2011, a battle that inspired a farewell tour, documentary and a heartbreaking final album, "Adiós," released in 2017.
Campbell died in Nashville Tuesday at 10 a.m., according to a representative for the family. His death was also announced Tuesday in a post on his official website and social-media accounts.
"It is with the heaviest of hearts that we announce the passing of our beloved husband, father, grandfather, and legendary singer and guitarist, Glen Travis Campbell, at the age of 81, following his long and courageous battle with Alzheimer's disease," the statement said.
APPRECIATION: Glen Campbell's Alzheimer's battle added a heroic coda to a pop-country star's life »
Glen Travis Campbell was born April 22, 1936, in Billstown, a tiny community near the town of Delight, Ark., the seventh son of a seventh son, to sharecropper John Wesley and Carrie Dell Campbell, who would go on to have several more children.
By all accounts, Campbell's early life was one of severe poverty that included picking cotton in the fields alongside his brothers. The seeds of his career were planted at the age of 4 when he received a guitar that had been ordered from a Sears, Roebuck & Co. mail-order catalog.
By age 6, he was skilled enough to appear on local radio stations, and by 10th grade he would quit high school to pursue a music career full time. By the time he was 20, he had joined his uncle's band — the Albuquerque-based Sandia Mountain Boys — where he would hone his skills before striking out on his own to form Glen Campbell and the Western Wranglers in 1958.
In his 20s, Campbell, who had come west to Los Angeles to seek stardom, flourished as part of the Wrecking Crew, the fabled, though mostly unknown to the public, collective of studio and session musicians who played behind some of the biggest names in the music business.
He would become a longtime resident of the Los Angeles area. In this early stage of his career, Campbell was a sought-after instrumentalist, and his brisk, confident guitar work was featured on records by Elvis Presley and the Monkees, among others, as well as "Pet Sounds," the classic album by the Beach Boys, with whom he would briefly tour as a substitute for Brian Wilson.
Campbell's career started to move center stage — or at least further to the front of it — with a few modest hits beginning with "Turn Around, Look at Me," a 1961 single he recorded for Crest Records; "Kentucky Means Paradise," a 1962 tune recorded with the Green River Boys; and "Swingin' 12 String Guitar" as part of the Folkswingers in 1963.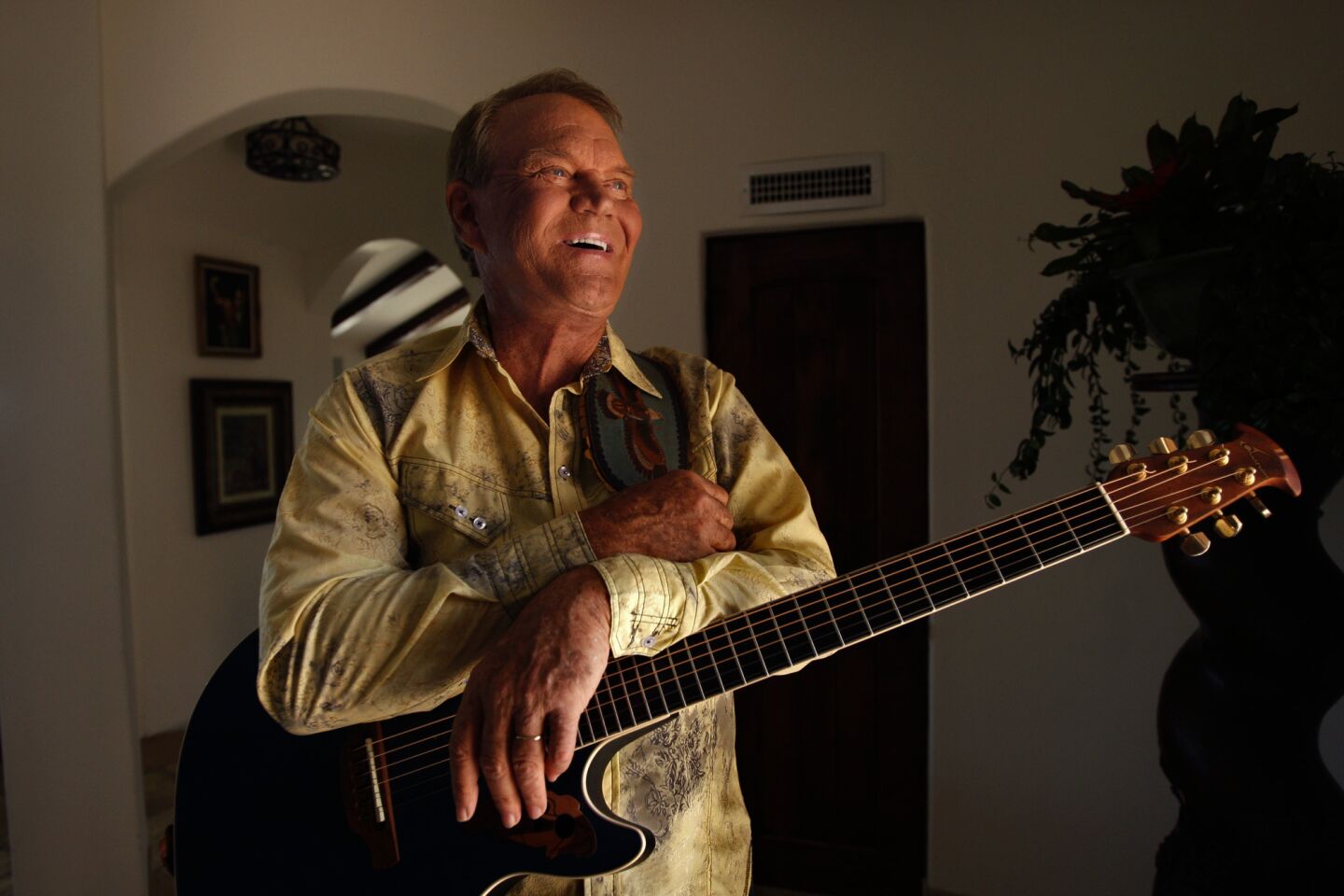 Glen Campbell's career stretches over five decades, from his early years as a session guitarist in Los Angeles when he played on recordings by Phil Spector, the Beach Boys, Frank Sinatra, Elvis Presley and many others, to his success as a solo artist with such hits as "Gentle on My Mind," "By the Time I Get to Phoenix," "Galveston" and "Rhinestone Cowboy."


(Genaro Molina / Los Angeles Times)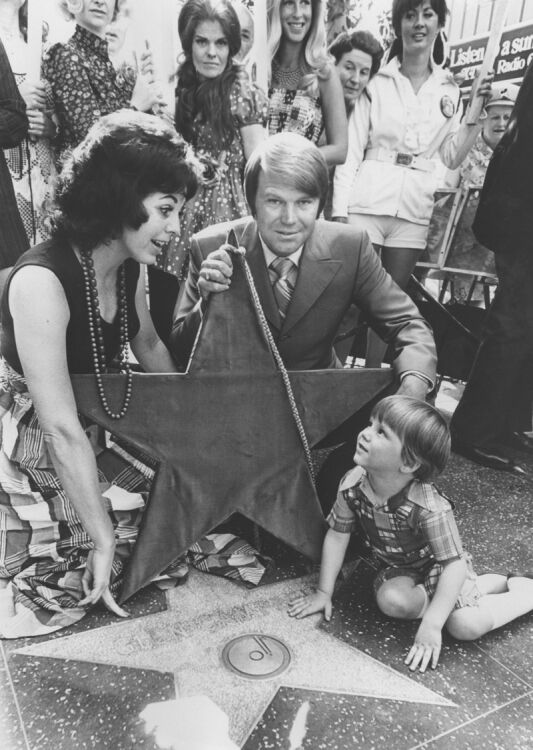 The singer received his star on the Hollywood Walk of Fame with his wife Billie and their third child, Kane, during the ceremony on May 5, 1972.
(Frank Q. Brown / Los Angeles Times)
Campbell tees off at a pro-am tournament at La Quinta Country Club in February 2001. The Los Angeles Open was called the Glen Campbell Los Angeles Open for 13 years, and 10 tournaments took place at the Riviera.
(Luis Sinco / Los Angeles Times)
Campbell performed for about 1,000 inmates inside Maricopa County Sheriff Joe Arpaio's Tent City Jail on July 9, 2004, while serving his 10-day sentence for extreme driving under the influence and leaving the scene of an accident.
(Darryl Webb / Associated Press)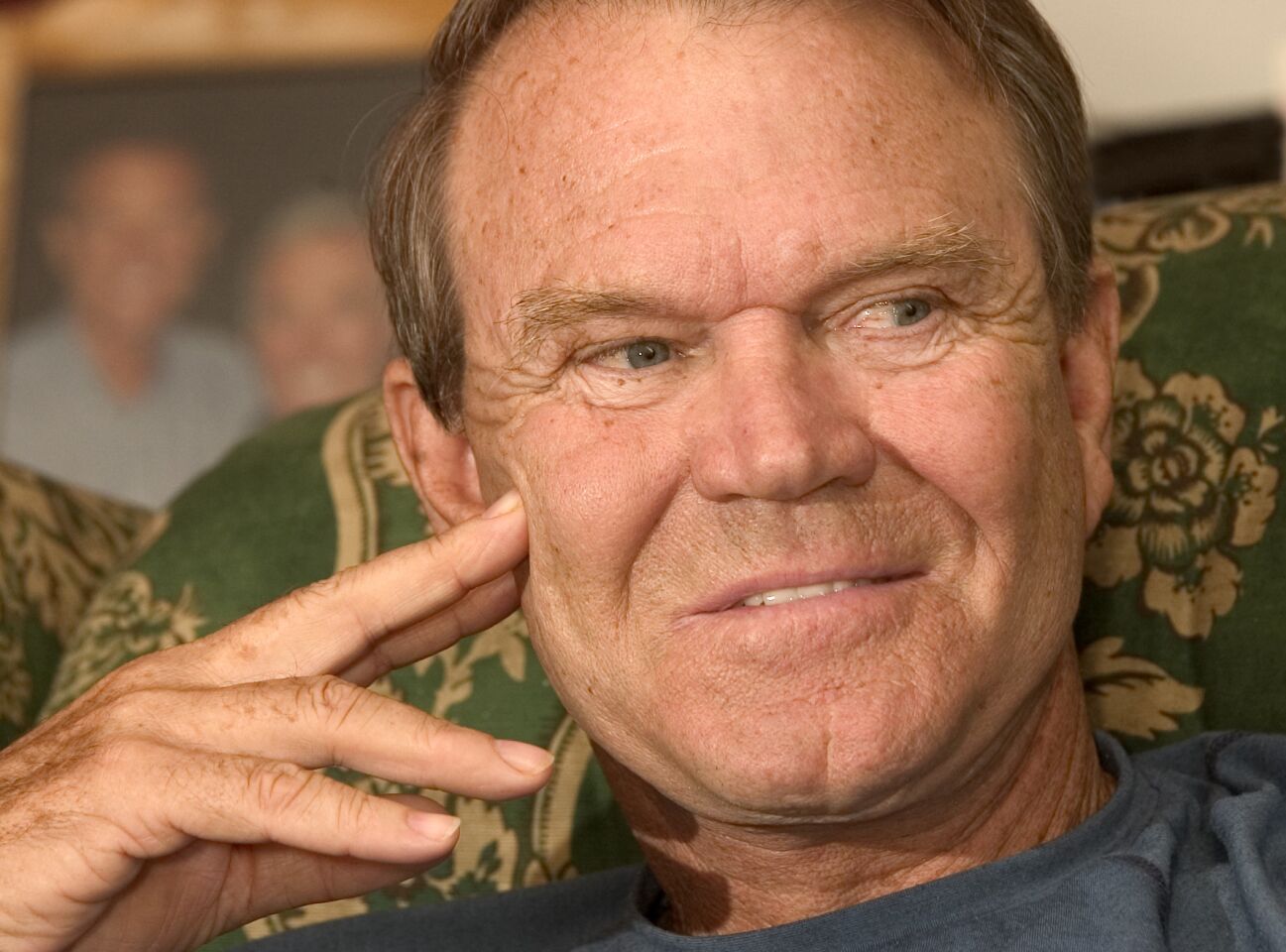 "I'd hate to see what happened to me happen to anybody else," the singer said in an interview at his Phoenix home on July 19, 2004, after he was convicted of extreme driving under the influence. Campbell was released from county jail after a 10-day stay.
(Sherrie Buzby / For the Los Angeles Times)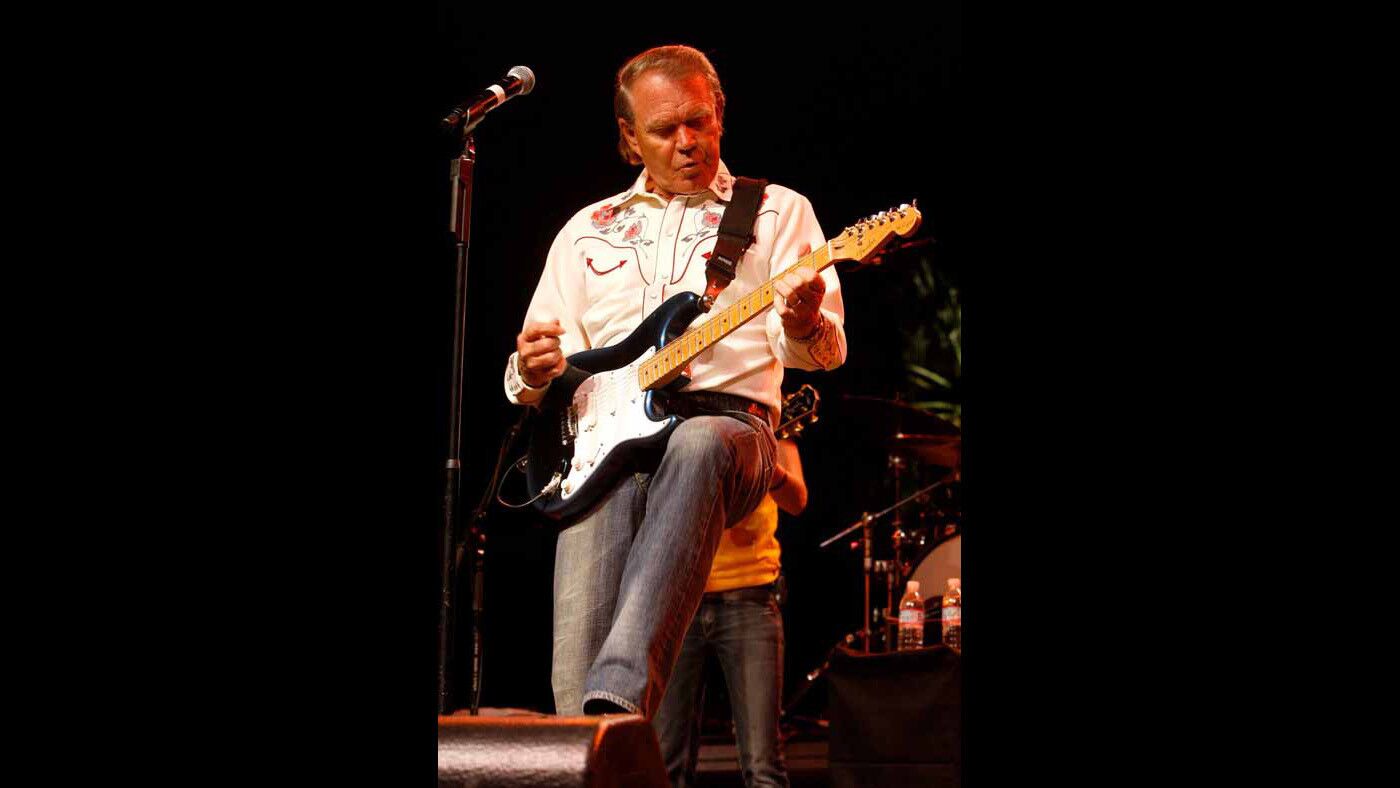 Campbell performs during Day 1 of the Stagecoach country music festival, held at the Empire Polo Field on May 2, 2008, in Indio.
(Michael Buckner / Getty Images)
"Glen is still an awesome guitar player and singer," his fourth wife, Kim Woolen, said. "But if he flubs a lyric or gets confused onstage, I wouldn''t want people to think, 'What's the matter with him? Is he drunk?'" The couple is pictured at their Malibu home on July 27, 2011.
(Genaro Molina / Los Angeles Times)
His big breakthrough, though, came in 1967 when his recording of the John Hartford tune "Gentle on My Mind" hit No. 1 on the country charts and the Billboard Top 40 and earned Campbell a Grammy.
"By the Time I Get to Phoenix" brought a second Grammy and debuted Campbell's fruitful pairing with songwriter Jimmy Webb — one of those made-in-heaven singer-songwriter matches that helped make legends of both men. Webb also wrote "Galveston" and the iconic "Wichita Lineman."
Campbell's first two hits earned him the Country Music Assn.'s 1967 Entertainer of the Year award. "By the Time I Get to Phoenix" earned him three more Grammys, including album of the year in 1968.
It wasn't long after that the rising star with the wide smile, dimpled chin and sideburns would add television show host to his resumé, first as co-host of a 1968 summer replacement for "The Smothers Brothers Comedy Hour," and the next year as host of "The Glen Campbell Goodtime Hour," a CBS prime-time variety show that aired until 1972.
Along the way he appeared on the big screen too — most notably alongside John Wayne in the original 1969 version of "True Grit" (Campbell played La Boeuf, the role reprised by Matt Damon in the film's 2010 remake), and as a Vietnam veteran returning stateside in "Norwood" (1970).
The 1970s found Campbell's music reaching a wider audience, as evidenced by songs such as "Rhinestone Cowboy," which reached No. 1 on Billboard's Hot 100, country and adult contemporary charts in 1975, followed two years later by his second and final No. 1 hit, "Southern Nights," written by revered New Orleans musician Allen Toussaint.
The '80s were a country song gone awry for Campbell, a decade defined less by his creative output than by his battles with drugs and alcohol and his tempestuous on-again, off-again affair with singer Tanya Tucker, who was half his age. By the mid-1990s he'd taken up residence at the Glen Campbell Goodtime Theatre in Branson, Mo., where he performed regularly. His output from these years skewed heavily toward Christmas albums, gospel records and best-of compilations.
In 2005 Campbell was inducted into the Country Music Hall of Fame. Three of his songs have been inducted into the Grammy Hall of Fame: "Wichita Lineman" (in 2000), "By the Time I Get to Phoenix" (2004) and "Gentle on My Mind" (2008). Campbell received a Grammy Lifetime Achievement Award in 2012.
He began a late-career renaissance in 2008 through his collaboration with producer and songwriter Julian Raymond, who persuaded Campbell to record a diverse batch of songs by younger, hipper artists, including Green Day, Tom Petty, the Replacements and U2.
Campbell released "Ghost on the Canvas" in 2011, following that with a final stretch of concerts. The "Goodbye Tour," which pushed into 2012, was the subject of the James Keach documentary "Glen Campbell: I'll Be Me," released in 2014 — the same year Campbell moved into an Alzheimer's treatment facility, after listing his Malibu home for sale the previous year. With the help of his children and admiring friends such as Willie Nelson, he released a final album in the spring of 2017, titled — simply — "Adiós."
His farewell tour and the accompanying film elicited an emotional outpouring. Rejecting the shame and secrecy that sometimes attend Alzheimer's, Campbell turned into an advocate for the disease and was staunchly public about his affliction; audiences cheered him even as he struggled to remember his lyrics on stage.
In the film, former President Clinton saluted Campbell's actions, saying his advocacy on behalf of those with Alzheimer's might ultimately outstrip his contributions to music as his most lasting legacy.
Yet even as Campbell's disease progressed, he retained a deep musical fluency. Campbell would forget the words to songs, his documentarian later said, but not the music. He could still hit the notes.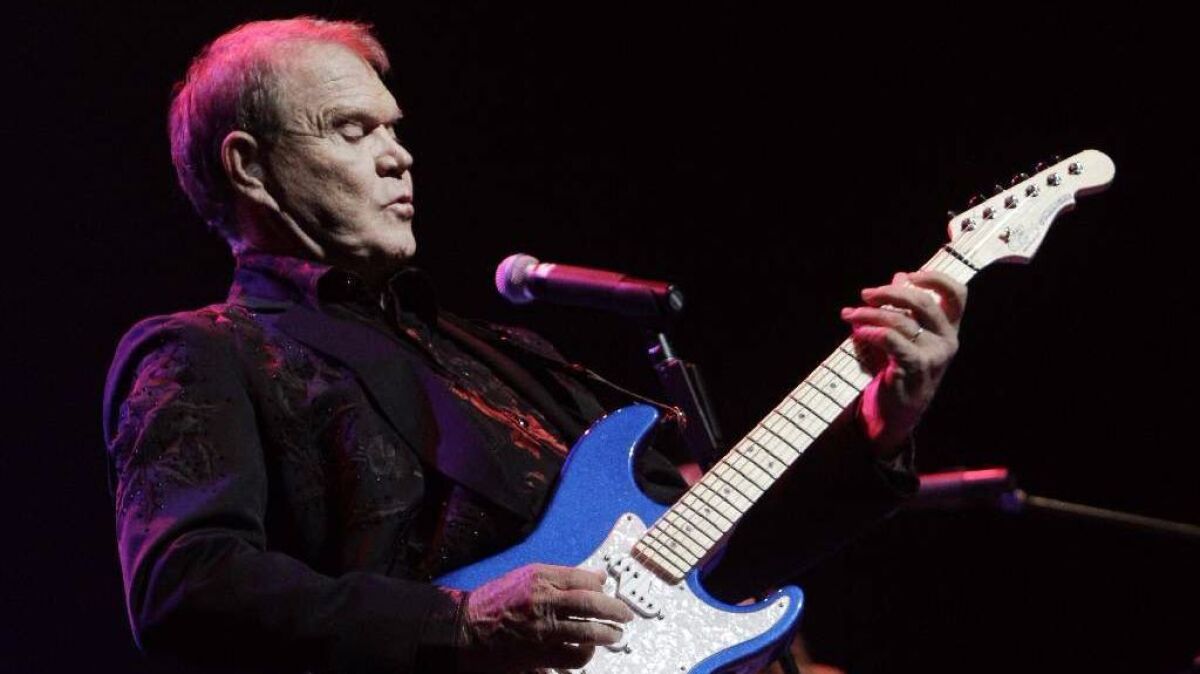 Also featured in the film was the song "I'm Not Gonna Miss You," which Campbell had written and recorded with Raymond.
Like the Goodbye Tour, the song is unique in the country canon. Stark, specific and unsentimental, its few simple lines convey profound loss, both for Alzheimer's sufferers and those who love them. It opens with, "I'm still here/ But yet I'm gone."
"I'm Not Gonna Miss You" received an Academy Award nomination for original song and earned Campbell the sixth and final Grammy of his career.
Campbell is survived by his wife, Kim Campbell; their three children Cal, Shannon and Ashley; his children from previous marriages Debby, Kelli, Travis, Kane, and Dillon; 10 grandchildren, great- and great-great-grandchildren; sisters Barbara, Sandra, and Jane; and brothers John Wallace "Shorty" and Gerald.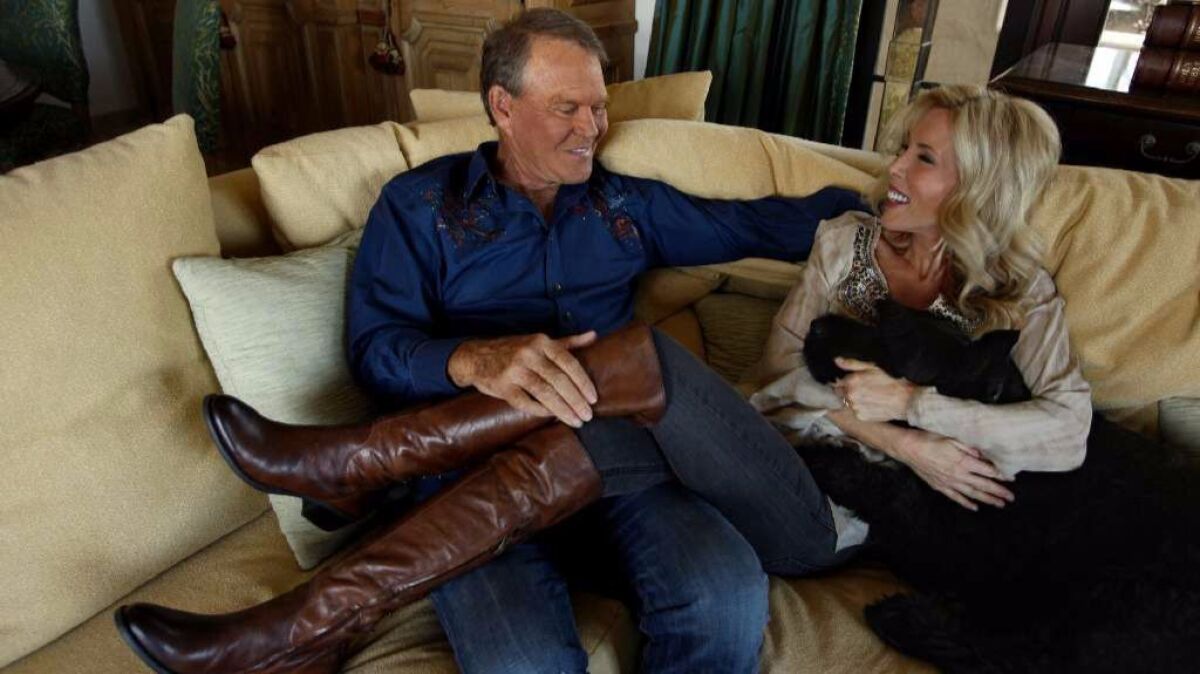 ALSO
What Chuck Berry's and Glen Campbell's final albums have to say about the end of the road
'A shining light in so many ways': Music world remembers country-pop great Glen Campbell
Grab a Kleenex: Glen Campbell's final studio album is called 'Adiós'
Grammys 2015: Glen Campbell's poignant win for best country song
adam.tschorn@latimes.com
---
Must-read stories from the L.A. Times
Get the day's top news with our Today's Headlines newsletter, sent every weekday morning.
You may occasionally receive promotional content from the Los Angeles Times.