Linda Ronstadt, whose backing band was the hub for the Eagles, remembers Glenn Frey
No one ever suggested that the Eagles invented country-rock music. The seeds for that hybrid had been planted and nurtured in the mid-1960s by the likes of the Byrds, Buffalo Springfield, the Flying Burrito Brothers, Linda Ronstadt and the Monkees' Michael Nesmith well before Glenn Frey came together with Don Henley, Bernie Leadon and Randy Meisner in the early '70s.
What the Eagles did was take their distinctive version of this Los Angeles-bred genre to international acclaim thanks to a combination of relentlessly catchy songs, an astute business plan and fortuitous timing.
See more of Entertainment's top stories on Facebook >>
Much of the credit for the band's recipe for success has been attributed to Frey, the singer and guitarist who died Monday at 67 from a combination of rheumatoid arthritis, acute ulcerative colitis and pneumonia.
"We originally hired Glenn to replace Bernie Leadon, because he left my band to be in the Flying Burrito Brothers," Ronstadt told The Times on Monday, remembering what prompted her to draft Frey to be part of her backing band in the early 1970s.
At the time, Frey was just one of hundreds of aspiring musicians hanging around Hollywood searching for an outlet for his music. He'd come to L.A. from Detroit, and one of his early connections was with singer and songwriter J.D. Souther, another Detroit native who'd grown up in Amarillo, Texas, before venturing west. They formed a band called Longbranch Pennywhistle, which played McCabe's Guitar Shop in Santa Monica and the Troubadour in West Hollywood, among other local clubs that constituted a cauldron for the brewing L.A. music scene.
Ronstadt and Souther had dated, so she encountered Frey when he was still in Longbranch Pennywhistle. Ronstadt's manager, John Boylan, invited Henley to join Ronstadt's band after he'd relocated from Texas.
"They were all great musicians," Ronstadt said, "but what I was most interested in creating was a harmony band, and they were a great harmony band."
What struck Boylan first about Frey, he recalled, was his "boundless energy for what he was doing. ... He was just a whirlwind. You could tell he had his heart set on what he was doing, and whatever it took, he was going do it.
"The other thing that impressed me was the scope of his musical knowledge," Boylan said. "He knew tons of different musical genres. He was a way better musician than a lot of people have given him credit for."
"Glenn was always smarter, and better prepared, than you thought he would be," she said. "It was like going into a card game with him. We used to play poker, and you'd go into a game thinking you were going to take his money, but he always ended up winning.
"When we played a grad night gig at Disneyland in 1971, we had to do four shows a night," she recalled. "You'd play a 20-minute set, then be off for three or four hours, then play another 20 minutes — there was a lot of time to kill between sets.
Glenn Frey, circa 1970. The founding member of the Eagles died at age 67 on Jan. 18.
(Michael Ochs Archives / Getty Images)
Glenn Frey performs with the Eagles at the Oakland Coliseum in 1977.
(Richard McCaffrey / Getty Images)
The Eagles, with special guest Jackson Browne (second from left), perform onstage at the Chicago Stadium on Oct. 22, 1979. Pictured are, from left, Timothy B. Schmit, Browne, Glenn Frey, Don Henley (on drums), Joe Walsh and Don Felder.
(Paul Natkin / Getty Images)
The Eagles perform on the TV show "Don Kirschner's Rock Concert" in 1979. From left: Don Felder, Don Henley, Joe Walsh and Glenn Frey.
(Fotos International / Getty Images)
Glenn Frey performs onstage at the Petrillo Band Shell during the Chicago BluesFest on July 4, 1985.
(Paul Natkin / Getty Images)
The Eagles, clockwise from upper left, Joe Walsh, Timothy B. Schmidt, Don Felder, Don Henley, and Glen Frey, pose before their "MTV Unplugged" taping in 1994.
(Bob Carey / Los Angeles Times)
Don Henley, left, and Glen Frey perform at an "MTV Unplugged" taping inside the Warner Bros. sound stage on April 25, 1994.
(Bob Carey / Los Angeles Times)
Glenn Frey of the Eagles performs onstage during the 16th annual Race to Erase MS event at the Hyatt Regency Century Plaza on May 8, 2009 in Century City.
(Kevork Djansezian / Getty Images)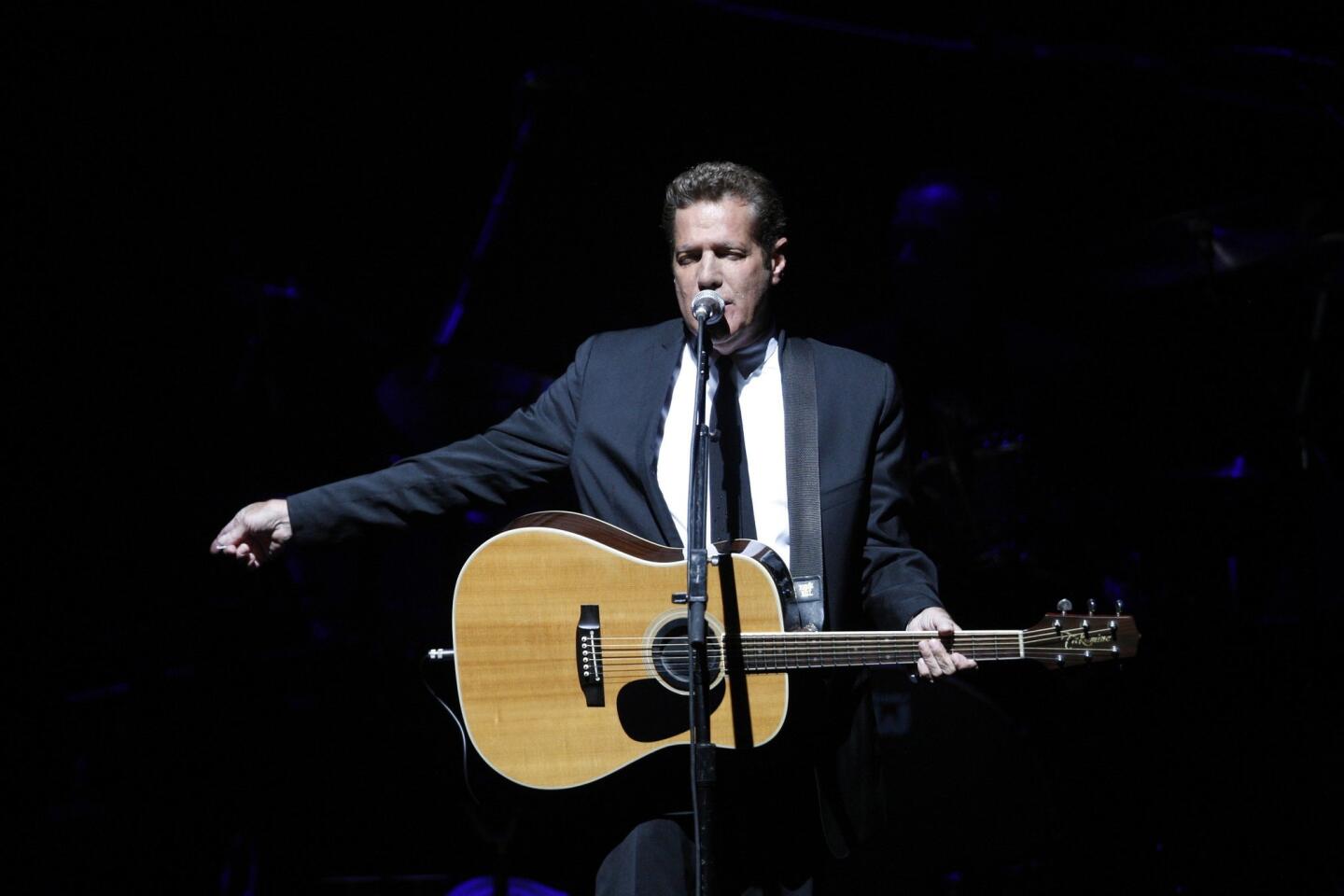 Glenn Frey performs at Belfast's Odyssey Arena in Northern Ireland in 2009.
(Peter Morrison / Associated Press)
The Eagles' Glenn Frey performs on Day 3 of the 2010 Austin City Limits Music Festival at Zilker Park in Austin, Texas.
(C Flanigan / Getty Images)
Glenn Frey on Jan. 19, 2013 at the premiere of the film "History of the Eagles Part 1."
(George Frey / EPA)
Glenn Frey performs with the Eagles at Muhammad Ali's Celebrity Fight Night XVI in Phoenix in March 2010.
(Ralph Freso / Associated Press)
Glenn Frey performs with the Eagles at Qantas Credit Union Arena on March 2, 2015 in Sydney, Australia.
(Don Arnold / WireImage)
"At one point we got into a poker game with Smokey Robinson, who also was booked there," she said. "I had a huge crush on Smokey at that time, and we were playing poker, and Glenn kept winning. I told him, 'Quit winning!' That's the kind of poker player I was."
His skills translated into the business world as well, said the Eagles' longtime manager, Irving Azoff, the superstar talent manager considered by many to be among the most powerful people in the entertainment industry.
"He was always telling people, 'When you're in the music business, you've got to have your music right, and you've got to have your business right,' " Azoff said on Monday. "Glenn taught me as much about business as he taught me about music. … He wasn't just an incredible writer, singer and musician, he also had incredibly good business instincts."
That played out in Frey becoming what he often described as the band's "quarterback," usually making decisions about what songs they should play, in what order, and what they would rehearse.
Sometimes that led to tension with the other band members. In an interview with The Times last year, Henley said he would have liked to have included more of the group's recent songs on its "History of the Eagles" tour in 2013 and 2014. "But that's not my decision," he said.
Azoff indicated that, with Frey, it wasn't so much a matter of exerting control but of having the acumen to keep the multiple plates spinning that are crucial to an organization as big as the Eagles.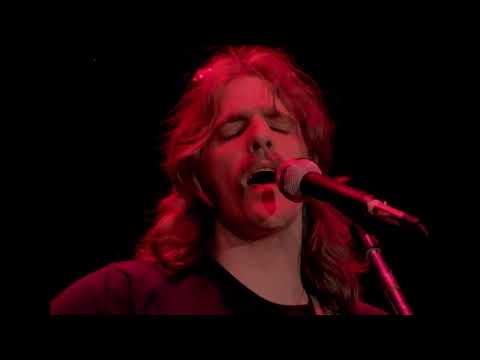 Glenn Frey - A collection of memorable songs.
"They had a really good creative give and take — it was not a dictatorship," Azoff said. "Don had his way of wanting to do certain things, and they worked all that out together."
Ronstadt said she knew from the start that the Eagles were destined for great things.
"The first time they started working out their harmonies, they needed a place to rehearse. J.D. and I had a house we were sharing, and we said, 'You can use our living room.' It was a small place, and there wasn't really room for six people, so J.D. and I went to the movies.
"When we came back, they had worked up 'Witchy Woman' in that room. They tuned their voices to each other in that room," she said. "It was the best I ever heard that song sung. It was just amazing — I knew then they were going to have hits. There was no doubt in my mind."
Twitter: @RandyLewis2
MORE:
In 'After Hours,' Glenn Frey's unlikely goodbye carries a hidden slyness
Don Henley remembers Eagles co-founder Glenn Frey as 'a brother to me'
Eagles guitarist Glenn Frey dies at 67: chief architect of band's vocal and instrumental blend
Get our L.A. Goes Out newsletter, with the week's best events, to help you explore and experience our city.
You may occasionally receive promotional content from the Los Angeles Times.