They had the beat: The Go-Go's say goodbye at the Greek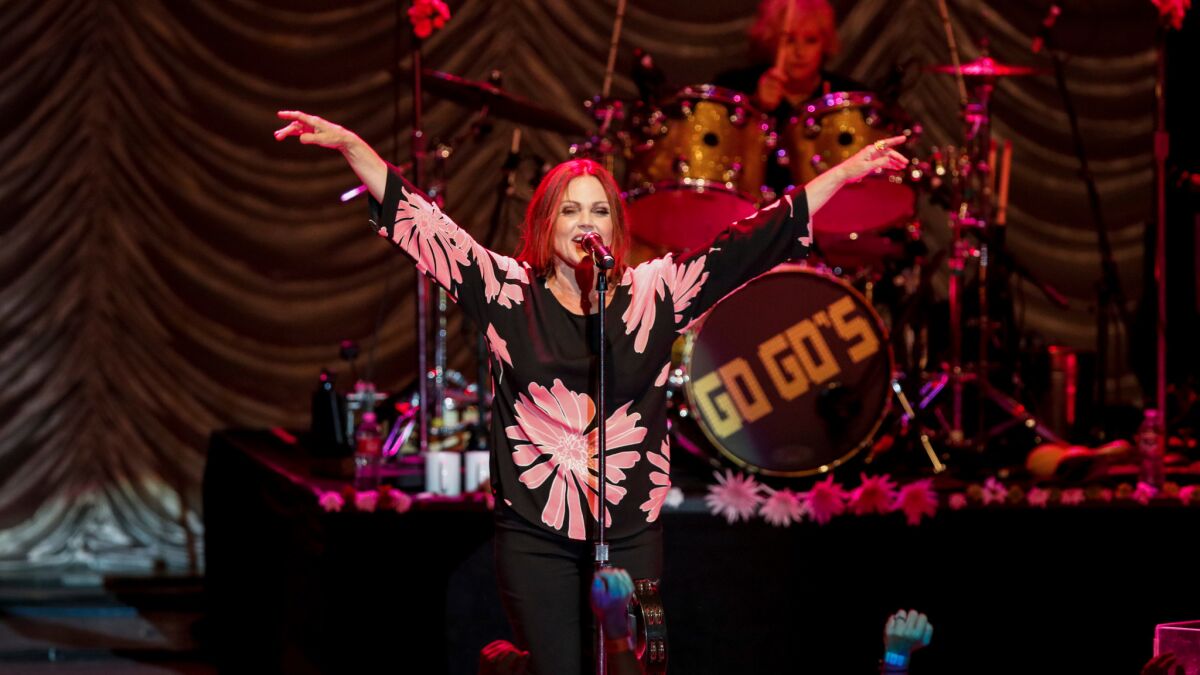 "We wanted to end up where we started," said Charlotte Caffey, and what she meant was Los Angeles. That's the city in which Caffey and her bandmates formed the Go-Go's in 1978, and it's the place they returned Tuesday night for the final show of a month-long farewell tour.
Yes, it's true: Thirty-eight years after they crawled out of the scuzzy L.A. punk scene that also produced the Germs and Fear, the ever-clever Go-Go's have called it quits (at least until Las Vegas or Coachella comes calling around 2021).
In interviews, singer Belinda Carlisle has suggested that the group — an all-female trailblazer known for MTV-era staples like "We Got the Beat," "Head Over Heels" and "Our Lips Are Sealed" — was looking to bow out with good relations and dignity intact. And, indeed, as they stood onstage at the Greek Theatre, the women looked perfectly happy to be retiring, especially since they were doing it "less than a mile," guitarist Jane Wiedlin pointed out, from the Hollywood clubs where the Go-Go's first got going.
"Maybe two miles," she clarified.
Yet it wasn't just geography that was neatly closing a loop here. As eager as the band was for a physical homecoming, Caffey's comment seemed also to reflect a musical ambition: Tough-minded and scrappy, this was a Go-Go's gig that felt to a surprising degree like one the group might've played three and a half decades ago.
Plenty happened over the years to take the band — which broke up in 1985 before later reuniting — away from its hardscrabble roots. Carlisle went solo and scored a string of glossy pop hits, including "Mad About You" and "Heaven Is a Place on Earth."
Caffey composed a musical about Linda Lovelace of "Deep Throat" fame. And drummer Gina Schock went into pro songwriting, penning tunes for the likes of Miley Cyrus and Selena Gomez. (Kathy Valentine, the group's longtime bassist, left in 2013 and was replaced by a touring member, Abby Travis.)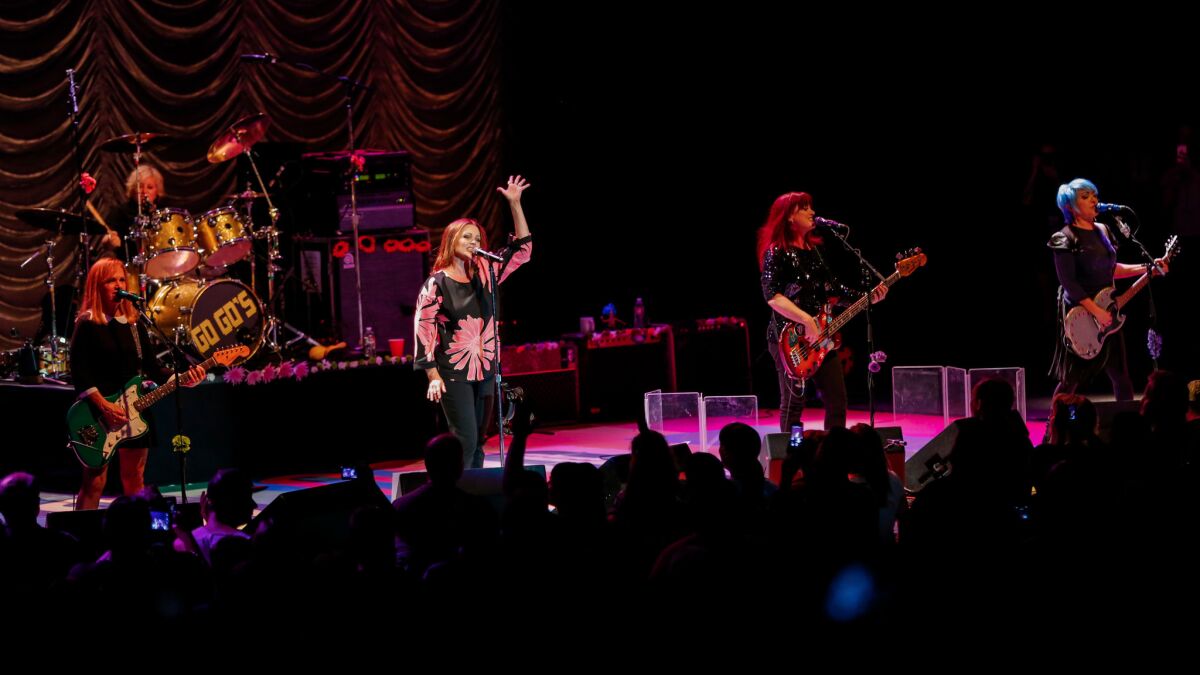 But at the Greek, the Go-Go's were back to basics, blazing through their oldies with the speed and muscle that made them a crucial inspiration to several generations of younger acts. One of them, L.A.'s Best Coast, opened Tuesday's show, and it was easy to hear "The Only Place" as an echo of the older group's "This Town."
"Hugely, hugely influential," said Best Coast's frontwoman, Bethany Cosentino, as she thanked her predecessors for the gig.
True to the economical spirit of the music, the Go-Go's didn't drag out this goodbye with long speeches or a corny video montage. From the band's opener, "Vacation," to its closer, "Head Over Heels," it was onstage for less than 90 minutes — and that included two encores.
Still, the women did make time for several rarities. Midway through the show, they played two hard-charging rave-ups from their early punk days: "Screaming" and "Fun With Ropes," which Wiedlin cheerfully introduced as "a little composition about bondage."
And Carlisle began the first encore with a scratchy, deeply felt rendition of Cyrus' "Wrecking Ball" that made you want to hear what else the group might do with the kind of Top 40 fare that long ago replaced the Go-Go's on the pop chart.
That was the paradox of this strong, unsentimental performance. You admired the band for going out with a powerful reminder of what once made it unusual as a group of women in their 20s.
But you were left wishing the Go-Go's would stick around and be something even more valuable: a fierce rock band filled with women in their 50s and 60s.
After the Go-Go's
"Are you guys gonna cry?"
That's what Best Coast's Bethany Cosentino asked the audience at the Greek as she prepared to hand over the stage to the Go-Go's for their final advertised concert. And given the quality of Tuesday's gig, tears might be understandable.
But as Cosentino was quick to add, the Go-Go's "live on forever" — not least in the music of Best Coast. Here are three more acts carrying on the band's spirit.
Bully
The Go-Go's didn't invent the idea of marrying sticky melodies to heavy guitar fuzz. But they certainly gave it new energy, as does this Nashville outfit led by singer Alicia Bognanno. Check out Bully's excellent 2015 debut, "Feels Like," for a blast of super-powered pop.
Colleen Green
L.A.-based Green understands the appeal of Carlisle's deadpan delivery, and she hones it to an absurdist edge in sly tunes like "TV," where she sings, "TV is my friend, and it has been with me every day from an early age."
Hey Violet
Moving from grimy punk to shiny pop like the Go-Go's once did, this long-toiling L.A. group just released a delightful EP, "Brand New Moves," that it made with Julian Bunetta, best known for his work with One Direction. Awaiting cries of "sellout" in 3, 2, 1…
Twitter: @mikaelwood
Get our L.A. Goes Out newsletter, with the week's best events, to help you explore and experience our city.
You may occasionally receive promotional content from the Los Angeles Times.