A new disco den rises from East Hollywood bikini bar Gold Diggers
When Dave Neupert began transforming the grotty East Hollywood bikini bar Gold Diggers into a new disco-vibed nightclub, weird remnants of the space's former life kept turning up.
"There were two whole floors filled with stuff," said Neupert, the co-owner of popular bars the Short Stop and La Cita. "Just boxes and boxes of '80s porn on VHS tapes. There was a stuffed bison head. Oh, and there was a coffin."

For the record:
10:50 a.m. Sept. 28, 2018Due to inaccurate information provided by a representative for the venue, the ownership of Gold Diggers was inaccurately stated in this story. Melanie Tusquellas is described as a former business partner with Dave Neupert. At the time of reporting, Tusquellas and Neupert were still partners in the venture.
The coffin, mercifully, turned out to be empty. But after three years, Neupert and his team have brought new life into Gold Diggers, and even discovered the space's B-movie past. The multifaceted project — one part den of vinyl-nerd iniquity, one part world-class recording studio complex and a boutique hotel — could cement the area as the city's next prominent music neighborhood.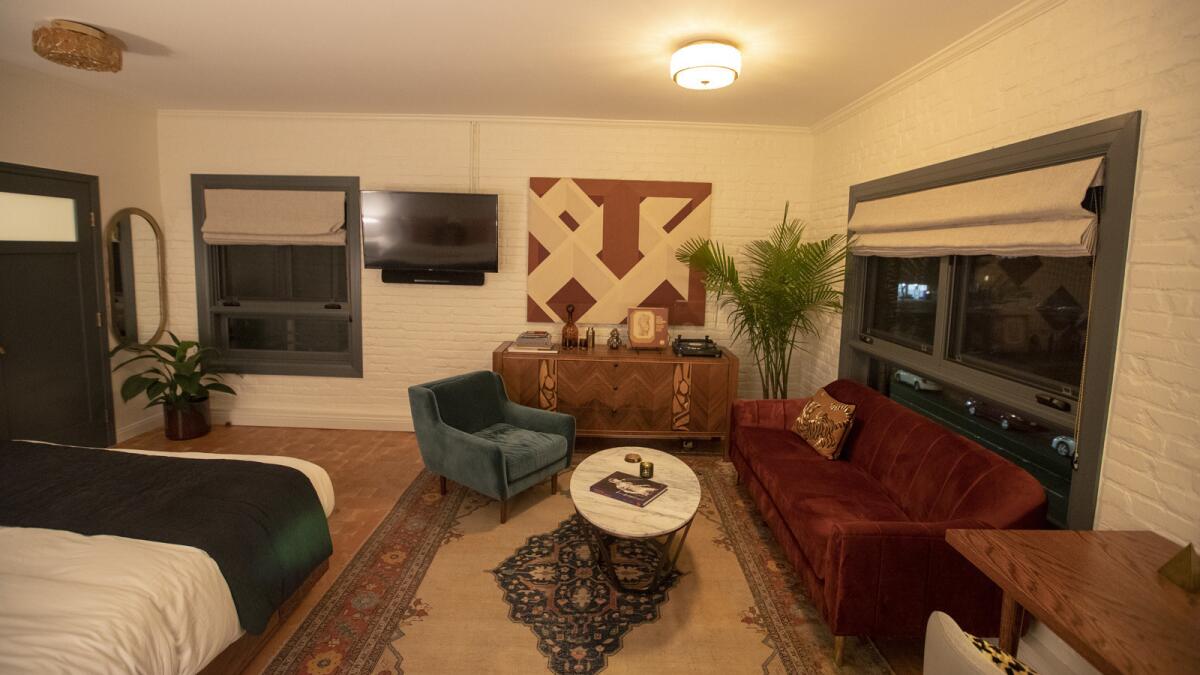 From the outside, Gold Diggers looks exactly as it did during the decades when it was a beacon for bad ideas on Santa Monica Boulevard near Western Avenue. The same neon-yellow plastic sign in a swashbuckling font; the same ochre street lamp flickers as one smokes cigarettes outside the pitch-dark entryway.
A Times reporter, after hailing a Lyft to the venue to catch a DJ set earlier this month, was greeted by an older male driver with a smirk of recognition: "Gold Diggers, eh? Nice one. Have fun tonight."
That was all part of the appeal for Neupert and then-partner Melanie Tusquellas (formerly of El Chavo and its like-minded mini hotel El Tres), who caught word through a real estate agent that the owners were looking to sell in 2015. The bar's deliciously dingy aesthetics spoke for themselves. But the upper floors and back-room complex, which had been essentially left to rot for years, had a history all its own.
The soundstage space was home to Ed Wood's production studios in the '50s (the original catwalks are still hanging). And for L.A. rock history buffs, the pre-Guns N' Roses combo Hollywood Rose allegedly had a lockout practice space there where they'd rehearse between binges.
"People have told me that the Doors and Jimi Hendrix practiced here, but there are a lot of people with legends about this place I can't verify," Neupert said. "I can't wait to find out more about its legacy as a music space. L.A. forgets its past so easily and we really wanted to shine a light on this building."
As he started renovating the upper and rear floors into the hotel and recording studio, he quietly began courting a new crowd to the bar. Not the young, moneyed clubber audience you'd find prowling the W Hotel down the street. The sort of 30-somethings with Japanese imports of obscure Italian vinyl disco edits.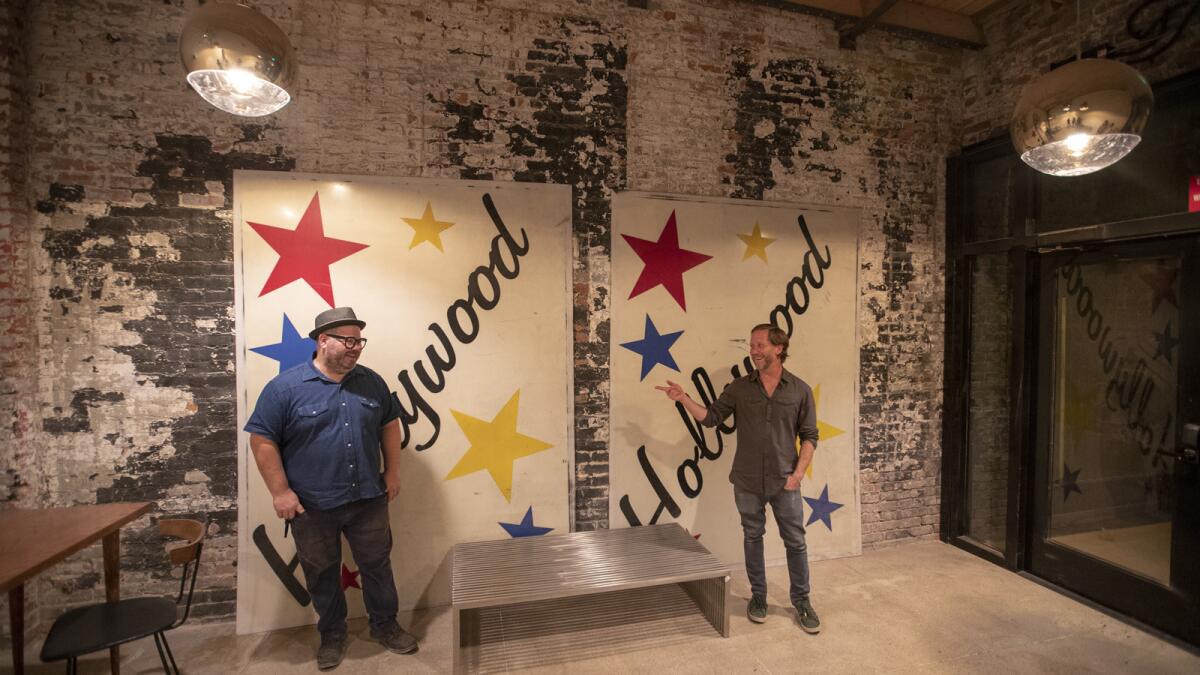 Neupert and designer Tiffany Howell of the firm Night Palm did spruce it up a bit (stripper poles out, '70s gilt light fixtures in). But for a crowd that was perhaps burning out on the after-hours warehouse scene, it was a well-timed mix of reliably tasteful music and lived-in tawdriness.
"Sleaze and failed glamour is always a nice feeling," said Wyatt Potts, the co-founder of the disco party Heat-Wave, the first club concept to alight in the new era of Gold Diggers. "It felt like you can dance and do what you want with no rules; it made the party work."
"It's revitalized me and made me more excited to be playing music in L.A. than I have been in years," said Daniel Terndrup, Heat-Wave's other co-founder and a producer who just released his debut LP on the hip electronic label Cascine. "L.A. gets a bad rap for being too cool for school, but everyone here has been so friendly and really built a community for us."
They quickly shaped a sophisticated club-music scene around it (Neupert guesses that "at least half the crowd that hangs out here any given night are DJs"). Artists are already taking note: The Danish post-punk group Iceage recently played a showcase of sweaty, shambolic new material there.
"Gold Diggers is a representation of the awesome retro feeling of Los Angeles that I adore so much," said Irena Azovsky, a local DJ out dancing at Heat-Wave on a recent Thursday. "The aesthetics that bring me the most kicks in L.A. are the '70s and '80s influences everywhere you look. L.A. really works with the time warp of spaces and as a DJ, I truly love it when venues in this city are able to bring that aspect to the table."
With the hotel and studio opening to the public and musicians this week, Neupert's vision for the complex is fully firing. In a famously fragmented L.A., a visiting musician might hole up in a West Hollywood Airbnb to sleep, cut their record somewhere out in the deep Valley, and unwind bar-hopping around downtown.
But the new Gold Diggers is like if Sound City studios had a pub where you could drink with Stevie Nicks and then wander upstairs to a hotel to hear the band's new demos and myriad couples' spats down the hall (though for a hotel above a bar and recording studio, it's impressively soundproof).
There's barely an inch of the 12-room hotel that doesn't artfully drip music history. From the original lobby paintings by Parquet Courts singer A. Savage to the stashes of old punk cassette tapes (found sealed in boxes next to the porn and coffin), velvet David Mancuso-era disco couches and original vinyl-pressed mixes by Justin Gage, founder of the longtime L.A. music blog Aquarium Drunkard, it's very much meant as a complement to the club scene downstairs.
Around back in the old Ed Wood studios, a few producers and engineers have already begun moving in and cutting tracks (among them Sam Hollander, who wrote Fitz and the Tantrums' smash hit "HandClap"). Dave Trumfio, who has produced for Wilco and My Morning Jacket, is overseeing the main recording rooms. A Slayer-themed graffiti tag from the studio's seedier era was purposefully left untouched in the renovation.
"If you book a recording session and feel like popping up on our stage that night, I hope it becomes that kind of place. I can't wait to hear the records that start coming out of the studio," Neupert said.
Of course, as with any project like this, gentrification is bound to come up. East Hollywood is in a prime niche between the established nightlife corridors of Hollywood, Silver Lake and Koreatown. A 1,200-capacity music venue, Vermont Hollywood, is slated to open down the street next year, a trend certainly not lost on the longstanding Oaxacan, Thai and Armenian neighbors.
In the next year, East Hollywood will likely become one of the city's busiest new music neighborhoods, with all of the attention and development that entails. "East Hollywood has its own strength. It's such a melting pot and we truly want to do right by that," Neupert said.
But Neupert is hopeful that locals and newcomers alike will appreciate the tasteful update on a building with a long history of tying one on. And if Gold Diggers' guests want to partake of that legacy in the new digs, well, Axl Rose might admit they're in the right place.
"There's a light above the door to the hotel, if it's green that means there's a vacancy. If it's 1:45 a.m. and you don't want to go home from the bar yet, you can go on to your room upstairs," Neupert said, with the slight grin of someone with a pretty good idea of what's gone down in this club before.
"And who knows where it goes from here."
For breaking music news, follow @augustbrown on Twitter.
Get our L.A. Goes Out newsletter, with the week's best events, to help you explore and experience our city.
You may occasionally receive promotional content from the Los Angeles Times.