Googoosh, Iran's Beyoncé before revolution halted her career, on her musical exile and grand return
Few performers have had to endure the kind of disruption that befell the Iranian singer Googoosh when, at the peak of her fame, the 1979 Islamic revolution upended her career.
Overnight, the magnetic singer and performer known and adored by millions could no longer express herself through music in her home country — nor could she leave. Like all female performers after the Islamic Republic of Iran was established, Googoosh was banned from singing in public.
At the time, she was as famous in Iran as Beyoncé is in America. Among her biggest fans? Mohammad Reza Pahlavi, best known as the last Shah of Iran.
"Everything stopped for me. Everything changed. I felt lost," Googoosh says during a recent phone interview. "That 21 years, I forgot who I am because they wanted me to be nobody."
Googoosh, who performs Saturday at the Hollywood Bowl, endured that non-musical reality. After 1979, her only access to Western pop was through soundtracks on illegal copies of movies and illicit bootleg VHS tapes containing the songs of Michael Jackson and Whitney Houston.
"Of course, I followed Michael Jackson," she says.
Born Faegheh Atashin, she had been fated to be a performer: Her father was a professional acrobat, entertainer and comedian, and by the time Googoosh could walk, she was onstage.
"I became his three-year-old partner," she says, "and then, little by little, I started singing."
At first, she imitated her Persian pop music predecessors, but in the 1960s, she started working on her own songs with a band, mixing Persian pop with Western rock — fuzz guitars and congas layered with sharp Arabic-style string arrangements.
Notes for "Googoosh," a transcendent collection of her work from the 1960s and '70s released by the respected reissue imprint B-Music/Finder's Keepers, describe a post-revolution atmosphere that resulted in "her records, and millions of others, being forbidden, hidden and destroyed."
What remained became highly collectable. What didn't, the notes add, "remain as distant and nonexistent memories in the mind of the most devout fans and fastidious vinyl librarians."
Told that one of her early 45 r.p.m. singles, a funky version of Sly & the Family Stone's "I Want to Take You Higher," goes for $500 on vinyl hub Discogs, Googoosh expresses surprise.
"I basically recorded in Farsi, but at the same time I could sing in maybe ten or eleven different languages on the stage," she says, adding that she'd signed contracts with major French and Italian labels, and sang and performed in French and English. She issued a version of "Respect," made popular by Aretha Franklin, that now fetches $200 on the collector's market.
The artist adapted songs across the 1970s, focusing on expressive, emotional ballads while working in touches of disco and Western pop. After the revolution, the styles she helped bring to the forefront were forbidden. It didn't help that she had often performed to an audience that included the just-deposed Shah.
Googoosh stressed that it wasn't just her who struggled with identity afterward: "Everybody did. Some left. Some wanted to leave, but they didn't know how or where. It was a day-to-day life." She resisted even thinking about performing, describing the creative silence after she "packed it and put it in the basement."
But a strange thing happened during her forced silence. Iranian emigres resettling around the world carried with them their Googoosh cassettes, and her music started drawing fans in cities with big Persian populations such as Paris, Toronto and Los Angeles.
In 2000, Googoosh was granted a passport and, with it, the ability to perform outside of Iran. Her first concert occurred in Toronto as part of a worldwide "Googoosh Comeback Tour." Drawing selllout crowds, she arrived for her first Los Angeles concert that August — a sold-out set at the Forum in Inglewood.
Wrote The Times' Don Heckman in a review of the concert: "For the packed house in the Forum, her return was a transcendent experience. And when Googoosh … finally appeared on stage, garbed in a luminous white gown, the response was deafening. Arms waved, tears flowed and the chant Goo-Goosh! Goo-Goosh! surged through the shouts and the screams."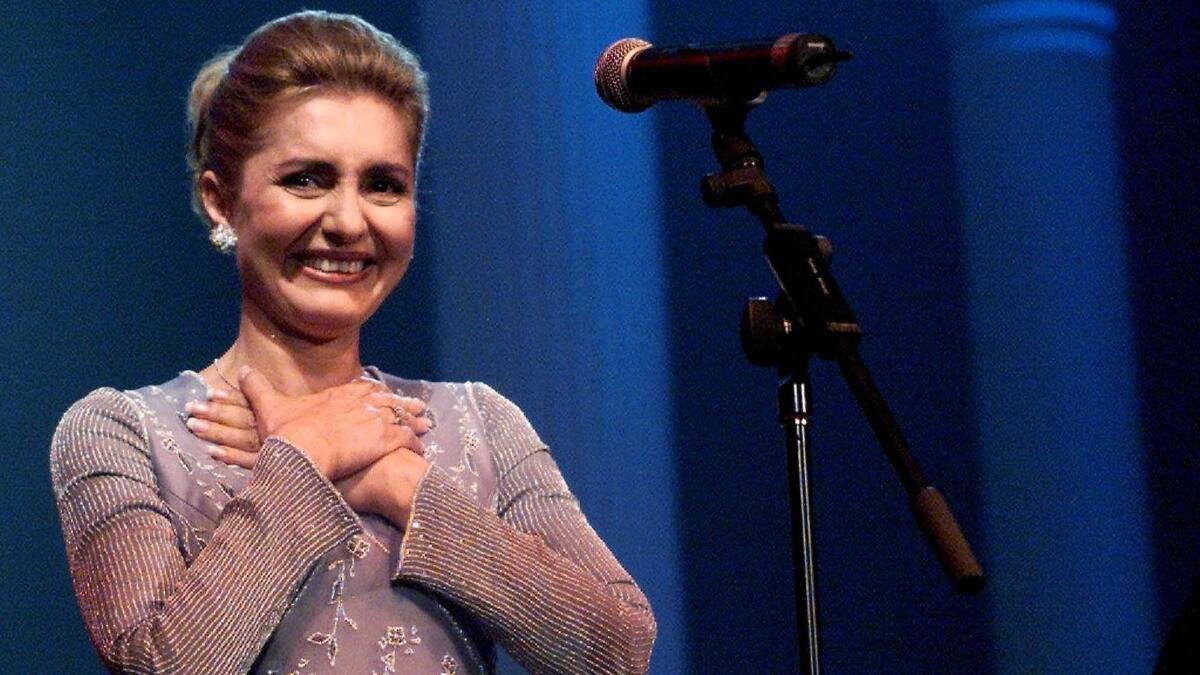 Everything stopped for me. ... I felt lost. ... They wanted me to be nobody.
— Googoosh
She has since performed at Staples Center, the Nokia Theater (now Microsoft Theater) and elsewhere. The artist holds a green card that allows her to live and work in the U.S. and keeps a home in Los Angeles (as well as Paris and Toronto).
As an Iranian passport holder, though, she was a victim of the Trump administration's October 2017 travel ban, which caused chaos at airports around the world when it was first enforced. Staying in London at the time, Googoosh was on her way to a concert in Phoenix when, despite her green card, she and her entourage were prevented from boarding their flight until a U.S. judge blocked the ban a few days later.
And though she hasn't performed in Iran since before the revolution, the artist stresses that her love for her country and hope for its future remain undiminished. For this, Googoosh turns to her manager and interpreter, Shahram Norz, to precisely explain her thoughts: "She follows the news and developments on a daily basis. It's the first thing she does. She listens to the radio shows, some based in Iran and some outside," he says.
Publicly, she is an outspoken supporter of "The Girls of Revolution Street," a movement by Iranian women that calls for an end to the "compulsorary hijab" law that requires all women to wear headscarves.
To that end, Saturday's concert at the Hollywood Bowl will occur with a specific intention in mind: to celebrate on the eve of Mother's Day the rights of Iranian women. It's them, she says, who have been responsible for spreading her music when the artist was unable to do so herself.
For that, she says she will be forever grateful: "They carried my music to feel that they were still in Iran."
***
Googoosh
When: Saturday, 8 p.m.
Where: Hollywood Bowl, 2301 N. Highland Ave., Los Angeles
Tickets: $59-$179
Info: HollywoodBowl.com
ALSO
Tears, cheers for an Iranian icon's return
Lifting the veil on Googoosh's music
The sound of distant stars: Expatriate Iranian pop singers rising in L.A.'s Tehrangeles
They rocked in Iran before the revolution: Kourosh Yaghmaei and Googoosh
Persian folk, funk and psychedelia win new generation of fans
For tips, records, snapshots and stories on Los Angeles music culture, follow Randall Roberts on Twitter and Instagram: @liledit. Email: randall.roberts@latimes.com.
Get our L.A. Goes Out newsletter, with the week's best events, to help you explore and experience our city.
You may occasionally receive promotional content from the Los Angeles Times.