The Grammys have finally embraced Justin Bieber. But is this progress?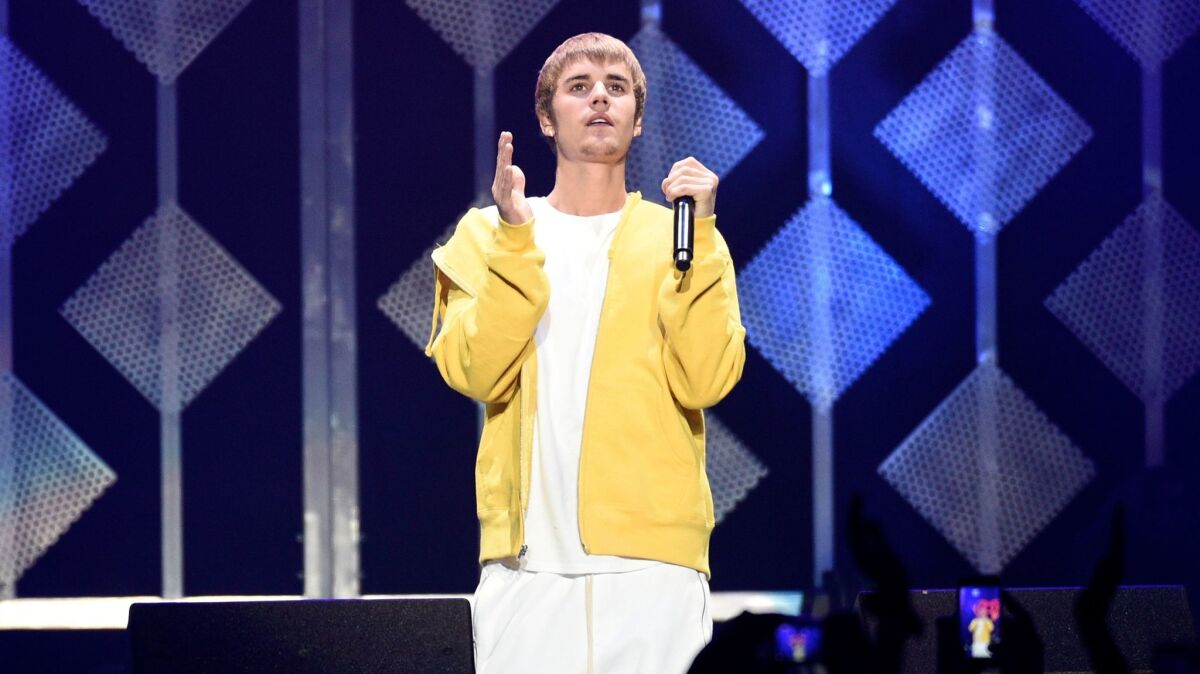 In December 2012, Ellen DeGeneres had Justin Bieber on her talk show to discuss the pop star's latest tattoo (a wise owl), what he likes to do on his days off (sneak into movies) and whether he was bummed not to have been nominated for a Grammy Award.
"It's definitely something that I was looking forward to," he said of being recognized for his blockbuster album "Believe," which failed to pick up a nod that year for music's highest honor. "But I know that it'll happen one day. I'm so young."
Beyoncé leads the pack of 2017 Grammy nominations, with a total of nine nominations. (Dec. 6, 2016)
Four not-so-long years later, Bieber is tasting sweet vindication with Tuesday's announcement of nominations for the 59th annual Grammys. The polarizing singer whose manufactured sound and tabloid shenanigans once put him beyond consideration is up for four awards, including the coveted album of the year with "Purpose."
And at 22 he made it happen while still a baby, at least by Grammy standards.
Indeed, Bieber may be the most surprising nominee in a category crowded with young artists. The Recording Academy is notorious for giving its flagship prize to past-their-prime veterans like Steely Dan and Herbie Hancock.
Yet this time all of Bieber's competitors are under the age of 40. Also nominated for album of the year are Beyoncé's "Lemonade," Adele's "25," Drake's "Views" and "A Sailor's Guide to Earth" by the roots-music maverick Sturgill Simpson.
Youngsters dominate other major categories too, such as record of the year (with nominees including Rihanna's "Work" and Twenty One Pilots' "Stressed Out") and song of the year (in which Bieber's "Love Yourself" will battle Mike Posner's "I Took a Pill in Ibiza," among others).
But if the famously fusty Grammys appear to be aging down, perhaps as a way to attract new viewers to a telecast whose ratings keep sliding, it's not quite the case that the academy has shaken its old loyalties.
Think of Bieber: While the sound of "Purpose" very much reflects the state of dance pop in 2016 — gleaming synthesizers and throbbing, sometimes harsh beats — the album uses those edgy textures to sell a classic confessional narrative. In songs like "Sorry" and "Mark My Words" he's apologizing for his public misbehavior over the last few years; several tracks even invoke God as a sure sign of his penitence.
Which means the grown-ups at the Grammys have finally embraced Bieber not because of who he is but because he's promising to change. That seems only clearer with the nod for "Love Yourself," an outlier of a folk-pop ballad that Bieber co-wrote with Ed Sheeran, an established Grammy favorite.
And the same goes for Posner, recognized for his clever top 5 hit about a drug-fueled meditation on the disappointments of fame. Look closely, though, and you see his nomination isn't for the popular club remix that makes "Ibiza" so funny; it's for Posner's lower-impact acoustic recording.
So: Welcome at last, young pop stars, to the prestigious Grammy club!
Now please hurry up and turn into James Taylor.
Twitter: @mikaelwood
---
Get our L.A. Goes Out newsletter, with the week's best events, to help you explore and experience our city.
You may occasionally receive promotional content from the Los Angeles Times.