Even without Ariana Grande, the Grammys soldier on and 'step up' in rehearsals
As rehearsals were underway for the 61st annual Grammy Awards, a controversy erupted after Ariana Grande told her 60-plus million Twitter followers that show producers were stifling her creativity and therefore would not appear on Sunday's show.
The flap, which unfurled in the media this week, added kerosene to the fire that's been burning under the Recording Academy ever since last year's ceremony. It was then that the organization's president Neil Portnow responded to a post-show question about the male-centric results during the show by imploring women in music to "step up."
Those two words unleashed a fury of criticism. There were calls for Portnow, who has steered and reshaped the Recording Academy over the past 17 years to industry acclaim, to resign from his post — and he eventually did, though he says his decision to exit had "no relationship" to his choice of words, however much he continues to express regret for uttering them.
So when Grande — one of the hottest pop stars of the moment and a double nominee for last year's "Sweetener" — confirmed reports that she had pulled out of Sunday's show after butting heads with producers over song choice, fans and critics pounced. Reports, confirmed by longtime Grammys producer Ken Ehrlich, stated that Grande wanted to perform a song from her new album, released today, "Thank U, Next."
"I've kept my mouth shut but now you're lying about me," Grande wrote on Twitter alongside a screenshot of an Associated Press interview in which Ehrlich said the pop star "felt it was too late for her to pull something together."
"Listen," Ehrlich told The Times on Thursday, "I was really hopeful that we would come to some understanding. Sometimes it doesn't work out. I don't fault anyone. We've done it before where artists do new material. That's not a hard and fast rule, but most of the time we've tied it to something that's nominated.
"Frankly," he added, "I've been hurting about this thing with Ariana as I was on her train early on. But I am really proud of the show we do have."
Grande wasn't the only act who declined an invitation to perform, despite being up for multiple awards. Kendrick Lamar, Drake, and Childish Gambino — whose poignant "This Is America" is up for record and song of the year — all said no, leaving industry insiders abuzz over who won't be in the audience or onstage when the ceremony goes live on Sunday. The show, hosted by Alicia Keys, airs on CBS.
I've been hurting about this thing with Ariana [Grande] as I was on her train early on. But I am really proud of the show we do have.
Grammys producer Ken Ehrlich
The no-shows illustrate a challenge that the Recording Academy is up against every year.
Even before last year's backlash, the institution and the producers tasked with putting together music's biggest night had been grappling with staying culturally relevant at a time when award shows are struggling to keep viewers tuned in.
So how do you put on a show that celebrates the nominee and taps into the pulse of today's music while being inclusive of the voices that help push the culture forward? The answer, producers learned long ago, is simple: You just can't please them all.
"Am I sorry that Drake is not on this year? Yeah, I am. I wish he was. Am I sorry that I don't have Gambino? I am. They've both made incredibly relevant music this year and they should be on this stage," Ehrlich said earlier, juggling multiple interviews with the Times with final bookings for the show. "What I do know is their feelings about the show are … complicated."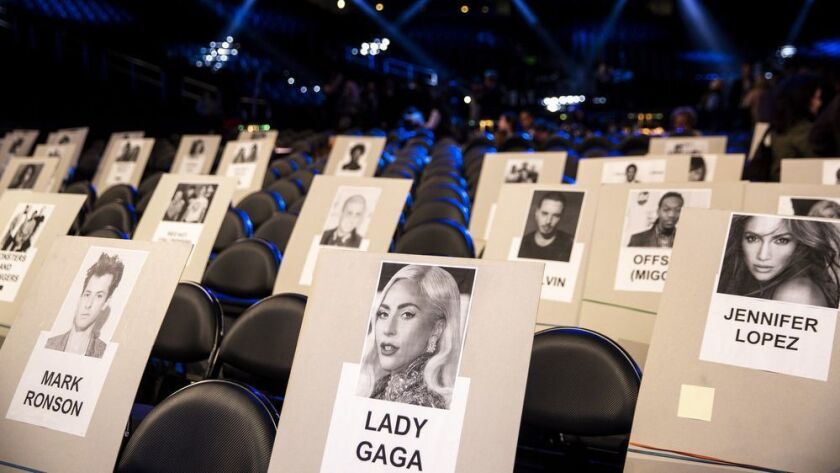 For 40 years now, Ehrlich has been the man behind the Grammys. He's the reason there are more musical acts on the show than awards — but more often than he'd like, the veteran Emmy-winning producer bears the brunt of the criticism over what happens onstage.
Inside the Staples Center, where the show returned after a beleaguered erection in New York for its diamond anniversary, Ehrlich was firing on all cylinders Thursday morning as the penultimate lap of the marathon that's been underway since the nominations were announced in December kicked off.
It was the first day of rehearsals and Ehrlich was in high spirits as he watched St. Vincent and Dua Lipa pull off a wildly daring flip on a refrain Aretha Franklin first made famous 50 years in a ferocious performance.
"At the end of the day, this is what I do this for — to elevate artists and help take them to the next level," he said from his post in the middle of the arena.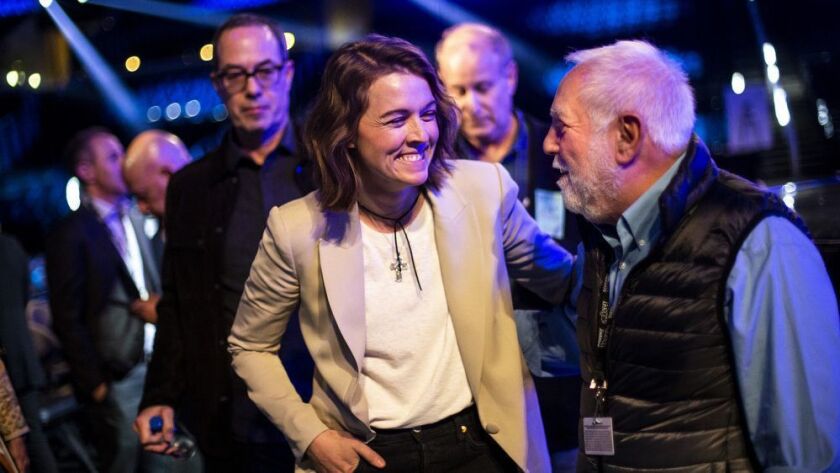 Sunday's show will feel like a major course correction from last year — and a direct response to its longstanding reputation for overlooking work by women and artists of color in major categories.
The four marquee categories — album, record, song and new artist of the year — went from five to eight contenders, which made room for a multitude of female performers to be represented.
Sunday's show is top-loaded with women. Of the 17 performances booked, there are only three that won't feature a female act.
And it's possible that this year will see some major, overdue firsts.
Cardi B could become the first woman to win the rap album award as a solo artist (she's also in the running for album, which a rapper hasn't won in 15 years, and record, which has never been awarded to a hip-hop track). Elsewhere, Brandi Carlile — this year's most nominated woman — leads the charge in what has been an incredible year for queer representation across the major categories.
"The show you're going to see on Sunday is not reactive to the events of last year," Ehrlich said. "I'm not voiding [Portnow's] words. Everyone knows there was a single, unfortunate utterance that kind of lit the match and pointed out a lot of problems that were real.
"But this show isn't women-heavy because somebody sat me down and said, 'We've got to fix things.' All I can do is try to build a great show, but the reality is I have no control over the winners."
Ehrlich does, however, have control over what pops up onstage and he's curated a show that's wildly diverse — and largely representative of what Grammy voters nominated.
Camila Cabello will open this year's show with a dazzling update of her breakout hit "Havana," with help from J. Balvin, Ricky Martin, Young Thug and Arturo Sandoval. Janelle Monáe, Lady Gaga, H.E.R., Cardi B, Carlile, and that aforementioned moment with St. Vincent and Lipa are among the scene-stealing bookings Ehrlich is proud of — along with the star-studded tributes, which like those adventurous artist pairings, have long been his signature.
The late Franklin will be honored in song by Andra Day, Fantasia and Yolanda Adams (they also appear on the Ehrlich-produced Grammy salute to Franklin airing next month on CBS). Another forthcoming special, "Motown 60: A Grammy Celebration," will be teased on the show with a medley from Jennifer Lopez (that one hasn't gone over so well online) and an appearance from the iconic label's most famous talent, Diana Ross, who will perform in celebration of her 75th birthday.
And this year's MusiCares honoree, Dolly Parton, will be feted on-air by Katy Perry, Kacey Musgraves, Miley Cyrus, Maren Morris and Little Big Town.
"I love when younger artists say 'Thank you, if it weren't for you, I wouldn't be doing what I do.' It's a part of the job that thrills me," Ehrlich said.
'I'd rather try and fail'
The now infamous "step up" fumble happened in a year where Grammy voters had earned goodwill for placing a plethora of hip-hop and R&B – the two most consumed genres of music — acts on the ballot in top fields.
It was short-lived.
The year's most nominated artist, Jay-Z, went home empty-handed, and although Lamar swept the rap categories, he lost album of the year to the Bruno Mars' retro R&B — a slight that was amplified when Lamar made history three months after the Grammys by becoming the first rapper to win the Pulitzer Prize for music.
And there was a dust-up over Lorde, the only woman nominated for album of the year that year, not being offered a solo performance slot and the night's most nominated women, Sza and Kesha, both going home empty-handed despite being front-runners.
Following the backlash of last year's events, the academy sprang into action.
A task force was assembled to explore the conscious and unconscious biases keeping women, people of color and the LGBTQ community from scoring equal consideration in the nomination and voting process. This lead to a larger voting pool with the recruitment of more than 900 new members to add to the academy's existing 25,000 membership. (Of the new members, 22% accepted in time to vote.)
Those changes led to a crop of nominees that are far more equally distributed. Among the 11 multiple nominees with five or more nods, six are men and five are women.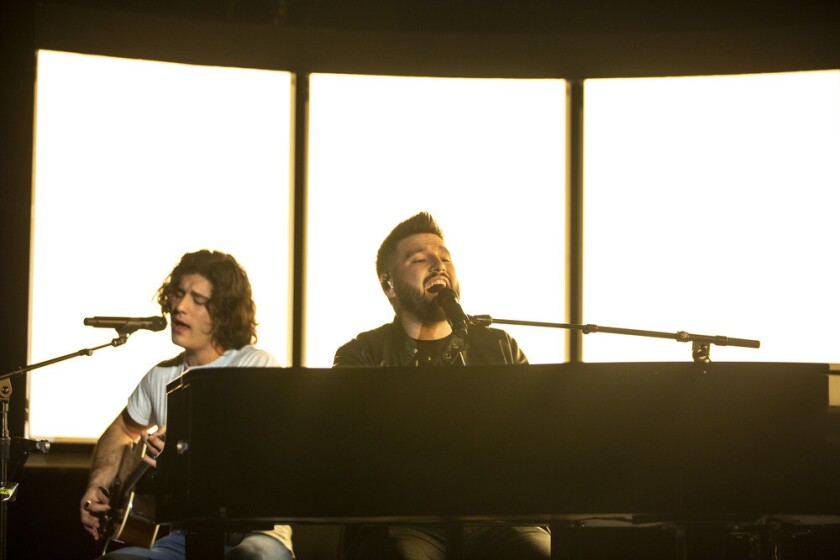 Still, there's work to be done.
Last week, the Recording Academy announced a new initiative aimed at bringing parity to producing and engineering, which has historically been dominated by men. Case in point, of the 48 producers and engineers credited for the eight tracks competing for record of the year, only two are female.
Carlile, who could become the first openly gay musician to win album of the year, was still in awe of her inclusion when we caught up with her at rehearsal.
"As a kid raised in the '80s and the '90s, the Lilith Fair movement was the first representation I saw of women headlining arenas and getting major deals and dominating the airwaves. That was major for me as a young girl in a small town and very well may be the reason I'm even standing here today," she said after rehearsals. "To maybe be a part of that for some young girl watching at home … I'm still trying to wrap my head around it. It's such an honor for me."
Whether or not it'll all be enough to change the perception of the awards remains to be seen — but the man in charge of steering the Grammys ship through one its rockier years feels great about the performers we'll see onstage, even if we don't like the results of the winners.
"There's an old line that says 'I'd rather try and fail, than never try at all.' We tried and we took some risks — and it's going to be killer."
---
Inside the business of entertainment
The Wide Shot brings you news, analysis and insights on everything from streaming wars to production — and what it all means for the future.
You may occasionally receive promotional content from the Los Angeles Times.