Review: Harry Styles is a young classic rocker on his dad-baiting solo debut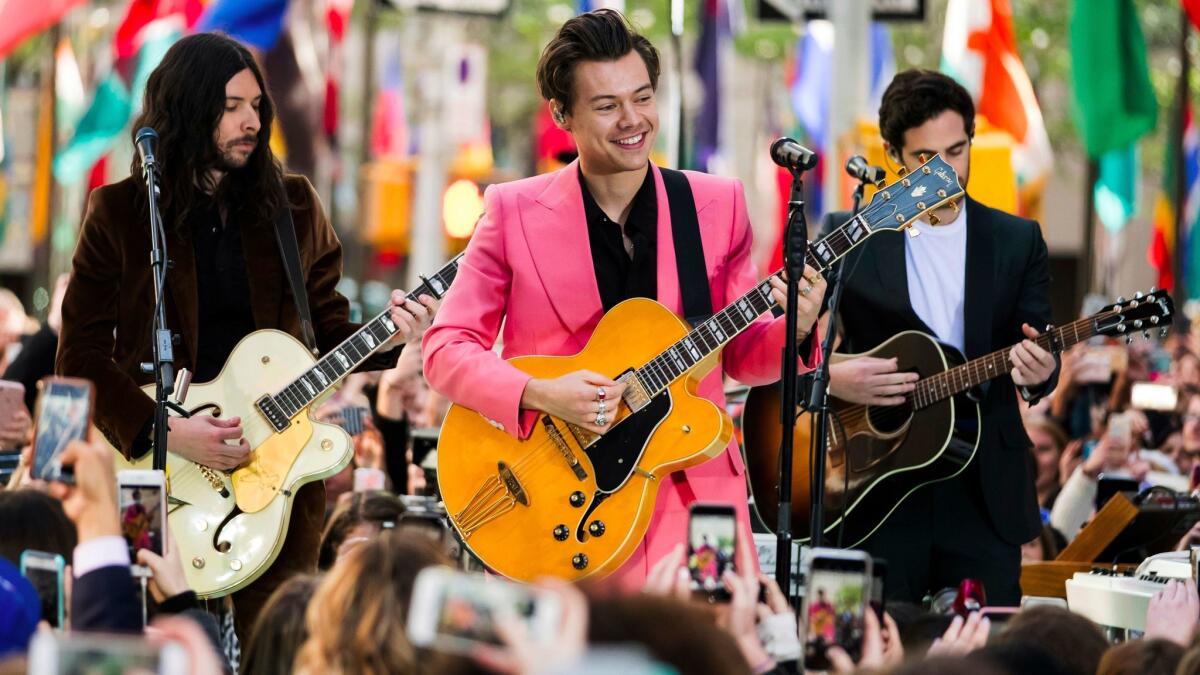 Pop Music Critic
Peering out at the audience from the stage at San Diego's Qualcomm Stadium in 2015, Harry Styles good-naturedly taunted a bored-looking father who'd been dragged to a concert of Styles' boy band, One Direction. The guy was refusing to clap along with one of the group's songs, Styles explained, which was kind of bumming him out. Then the singer had an idea.
"Pretend you're at the Eagles," he said.
Two years later, it's Styles, 23, who's imagining himself at a dad-rock gig on his self-titled solo debut. Full of echoes of the Beatles, Pink Floyd and the Rolling Stones (not to mention their latter-day inheritors such as Beck and Ryan Adams), it's a clear bid to be taken seriously by the type of listener who wrongly dismissed One Direction as teeny-bopper fluff.
"I just left your bedroom / Give me some morphine," Styles moans over the twanging guitars of the album's opener, "Meet Me in the Hallway," and it's hard to picture a boy-band veteran more efficiently demonstrating that he's all grown up.
Here's the thing about the proudly organic, dance-beat-free "Harry Styles," though: As eager as he seems to establish a new context — to lift himself out of the realm of branded lunchboxes and touch down among the real rock artistes — Styles never overplays his hand on this winningly relaxed collection. He understands that what made him a star in One Direction was the same thing that made icons of David Bowie and Mick Jagger: the sense that he isn't trying too hard.
To that end — and unlike his former band mate Zayn Malik on last year's sluggish "Mind of Mine" — Styles keeps things tidy: 10 songs in 40 minutes. In an era dominated by singles and playlists, "Harry Styles" is an album you want to play through and then start over again — a much savvier means of keeping the LP alive than going long and sprawl-y.
The 10 tunes basically circle the same topic, which of course is women in all their tantalizing complexity. (There's actually a song called "Woman.") In "Carolina" he's pining for someone with "a book for every situation / Gets into parties without invitations"; in "Kiwi" she "sits beside me like a silhouette / Hard candy dripping on me till my feet are wet." Another example of a line on the record that showcases Styles' songwriting wit: "There's not a drink that I think could sink her."
Sometimes he's mourning a relationship that couldn't last, as in the wistful "Two Ghosts," widely gossiped to be about his ex Taylor Swift, and the album's closer, "From the Dining Table," in which he wakes up alone in a hotel room. "Played with myself / Where were you?" he sings, a startling admission from someone in his closely scrutinized position.
But if Styles hasn't yet widened his lyrical scope to ponder diamond dogs or street-fighting men, the sonic variety he gets working with producers led by Jeff Bhasker (known for his collaborations with Beyoncé and Bruno Mars) reflects a mind that's plenty open.
"Meet Me in the Hallway" and "Two Ghosts" are rootsy soft-rock ballads with the slow-rolling swagger of the Stones' "Tumbling Dice." (Fun fact: "Exile on Main St." was released exactly 45 years before "Harry Styles," something you can bet Styles will happily point out to Keith Richards the next time they find each other behind the same velvet rope.)
"Carolina" shimmies like "Stuck in the Middle With You," while "Kiwi" has crunchy guitars out of vintage AC/DC. Then there's "Woman," which layers fuzzy blues licks and trippy backing-vocal "la la las" over a minimal but deeply funky bass line.
Styles shows similar range in his singing, moving from a honeyed croon in "Sweet Creature" to a dramatic wail in "Sign of the Times" to a breathy mumble in "From the Dining Table" that allows him to sell a line — "I've never felt less cool" — that nobody with his level of haircut should be able to sell.
Is it enough to convince millions of dads that Styles is more than a pretty face? If they can't hear that, they're not listening.
Twitter: @mikaelwood
ALSO
Miley Cyrus goes to 'Malibu': Listen to her rootsy new single
On the road with Billy Joel: The Piano Man talks Trump, L.A. — and new music?
Craig David on how to throw a house party: 'Someone spills something? Clean it up'
Get our L.A. Goes Out newsletter, with the week's best events, to help you explore and experience our city.
You may occasionally receive promotional content from the Los Angeles Times.