Home Grown Radio, where Nipsey Hussle fans mourn and LA hip-hop finds a voice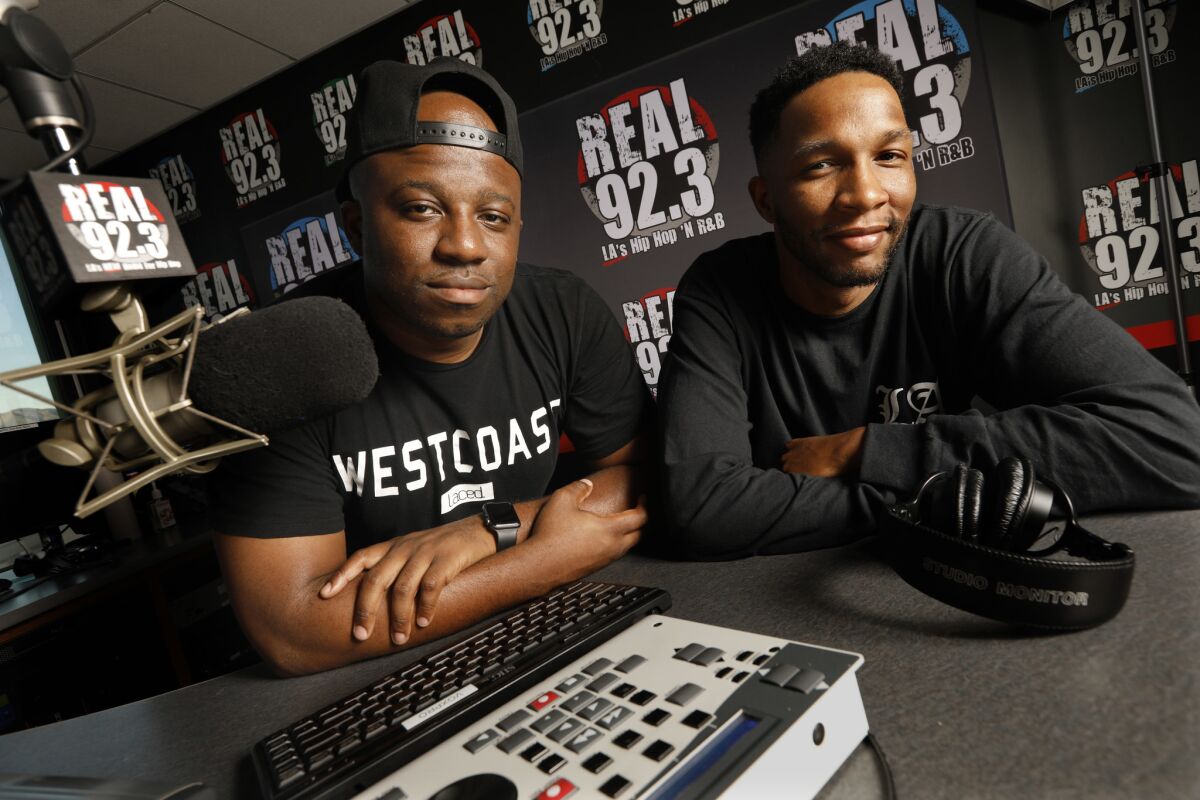 When Nipsey Hussle was killed on March 31, Los Angeles spiraled into a state of mourning. The nation watched as the city processed what some consider the most significant loss since that of Tupac Shakur.
One of the places that's provided comfort and room to reflect on Hussle's memory is "Home Grown Radio," the podcast-turned-internet-based gathering space and weekly Real 92.3 show that's become a leading voice in hip-hop. Led by Chuck Dizzle and DJ Hed, "Home Grown Radio" earned its credibility by building from the ground up with some of the industry's biggest names, including Hussle, who went from selling mixtapes out of the back of his car to being nominated for a Grammy.
"We were just there to document the process and witness a friend grow up in this business," Dizzle says on a recent afternoon before recording "Home Grown's" weekly radio show.
Dizzle, born Charles Dorsey, started "Home Grown Radio" in the early 2000s when he was a student at Cal State Long Beach. He wanted to make a platform for local artists to shine.
It was on Dizzle's couch that Kendrick Lamar officially declared that he was changing his rap name from K.Dot to the moniker that garnered him 13 Grammys.
A mutual friend introduced him to DJ Hed and they hit it off. Dizzle handled the interviews while Hed took control of the boards. The two have risen through the radio ranks and now host a weekly Saturday-night show that is nationally syndicated on iHeartRadio's Real 92.3.
"There was really nothing going in L.A. because the radio didn't really support local artists. So that was our focus," says Hed, born Aaron Drake, of "Home Grown's" origins. "That was kinda where it came from, 'Home Grown.'"
Dizzle and Hed established the show in Dizzle's apartment in Inglewood. Among the many people they interviewed beyond Hussle were gangster rap sensation YG and West Coast darling Kendrick Lamar. It was on Dizzle's couch, in fact, that Lamar officially declared that he was changing his rap name from K.Dot to the moniker that garnered him 13 Grammys. At the time, it wasn't much of an announcement.
"It was so fresh and so raw," Dizzle says. "These were homies."
But Hed knew they were making history one way or another.
"I was gonna figure it out and do this no matter what it cost me," he says, noting that both he and Dizzle have done a lot behind the scenes to help local artists. Hed would even provide gas money for an artist to come do an interview.
When it was first starting out, there were maybe four people in "Home Grown's" online chat room. Dizzle expressed frustration at the lack of reception, wondering if people cared about the West Coast. But slowly and steadily, the movement grew. One of the encouraging moments in its history was when the two interviewed radio legend DJ Julio G, who was a part of KDAY, one of the nation's most influential hip-hop radio stations. He came to "Home Grown" with a big appreciation of what Dizzle and Hed were doing, which further fueled the flame.
"It was like a passing-the-torch moment," Dizzle says.
Knowing full well the importance of a co-sign, Dizzle and Hed seek to give back in their own way. Both heavily use social media to highlight local talent and give words of wisdom.
Hed, known as "The Coast Guard" to many, mentors local DJ Cypress Moreno and DJs events around the city; during BET Weekend, he was named as the Cultural Curator for Kicksperience. And he was influential in helping Hussle get on national airwaves before his "Victory Lap" album was nominated for a Grammy.
"It's personal for me because I came up watching so many people get overlooked and overshadowed," Hed says. "DJ Hed is here to correct those wrongs. … I'm responsible for the import and export of the culture out of Los Angeles, California."
Dizzle hosts the PayDayLA concert series to help break new talent and tugs at heartstrings with his Dadvice series. And the "Home Grown" online radio station hosts other shows (including "The Essentials" with Groovy Liz and 4th Beats) for upcoming media personalities to do interviews and become tastemakers.
"This platform has never been about us," Dizzle says.
Bryan Sallis, who had previous experience in the music industry before becoming Dizzle and Hed's manager, was instrumental in creating the brand that "Home Grown" is today. He was amazed at the "pulsating energy of potential" that he witnessed after coming to the apartment to check out the show.
"I said, 'Yo, something's going on here,'" Sallis recalls. "'There's something special that nobody knows about.'"
He took it upon himself to get the word out about "Home Grown," using social media to invite people over to network and be a part of the movement. It became a family atmosphere as everybody got to know each other and share food cooked by Dizzle's wife, Tasha, who now owns her own catering business.
"It wasn't polished," Sallis says of the early days," but it was a good time."
Glasses Malone is an L.A. rapper and actor whose career has paralleled that of "Home Grown." He was one of the many artists who sat on the couch for an interview with Dizzle and Hed. Since then, Malone has spent some time on a major record label and established himself as a veteran in the local scene. He knows firsthand how "Home Grown" has served as an introduction to the game for many artists and cites the family atmosphere as something that has made the experience so special.
"It reminds me to keep things personal when I'm doing anything with my career," he says.
Sallis also brought in another key piece of the "Home Grown" puzzle: Sparkle Pratt, whom he calls "the glue of what's going on" because of her encouragement and dedication. Pratt had just graduated from UCLA with a degree that she wasn't going to use. But Sallis could tell by scrolling through Twitter that she was plugged into the L.A. music scene and would be a natural fit for "Home Grown." Sallis didn't give Dizzle and Hed a say in the matter; he introduced her to the team and she filled in all the business details, including booking the artists and creating blog posts for the website. She is now general manager of "Home Grown Radio," including the other shows that the Home Grown brand hosts.
"It was like, this is where I should have been a long time ago," Pratt says.
Word kept getting out about "Home Grown" and in 2015, after industry vet William "Fuzzy" West joined newly formed Real 92.3, Hed called up Fuzzy and let him know he wanted in on what was brewing.
"Hed don't ever ask for nothing, so if I have the chance to connect the dots for him, I'm gonna do it," Fuzzy says, adding that the people over at Real had already known of the "Home Grown" movement, "I just validated what they heard."
The transition to the big leagues wasn't easy as the duo had to master what Hed calls "the art of radio." But just like so many of the artists that they've helped build from the ground up, "Home Grown Radio" has blossomed into a true voice for the people.
Back at the recording spot for "Home Grown's" weekly show, Dizzle reflects on where he, Hed and Hussle started. "Things were full circle in terms of where he came from to where he was at," Dizzle says about Hussle on a recent afternoon as the rapper's final single, "Racks in the Middle," plays over the sound system.
---
Your essential guide to the arts in L.A.
Get Carolina A. Miranda's weekly newsletter for what's happening, plus openings, critics' picks and more.
You may occasionally receive promotional content from the Los Angeles Times.