Inglewood's Inner Wave a promising, needed voice on the local rock scene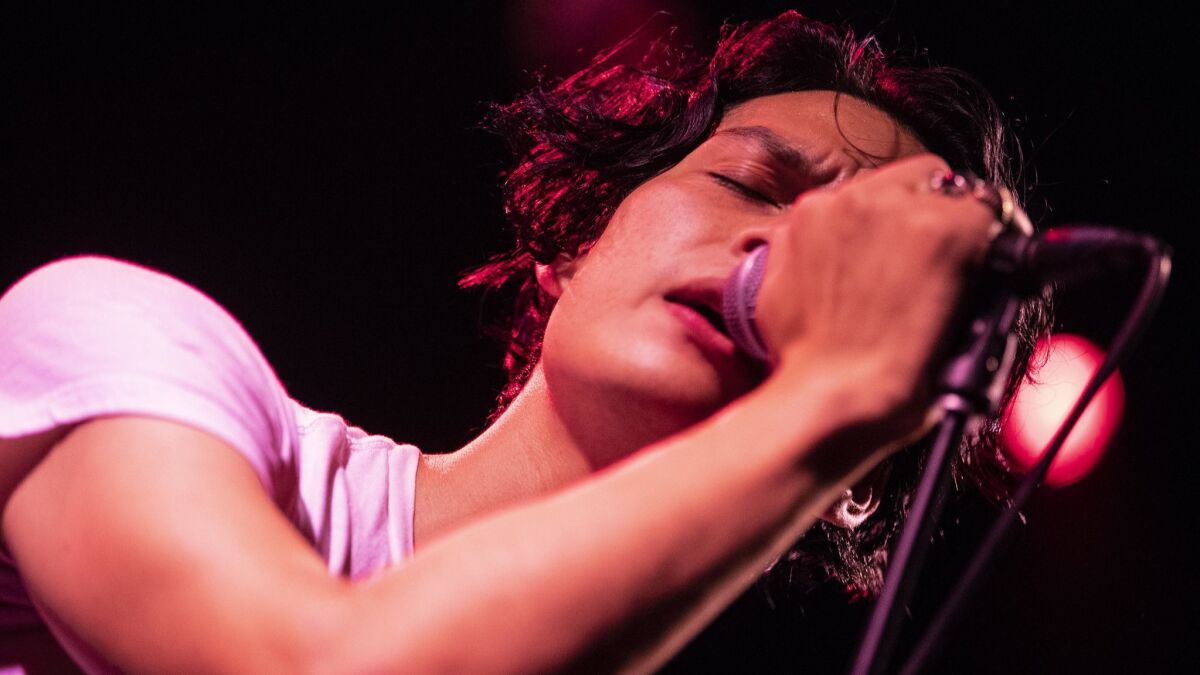 If you ever despair about making it as a young rock band in L.A., consider what the Inglewood quintet Inner Wave was doing not all that long before its show Thursday at the El Rey Theatre.
"I've been coming to this venue since I was 14; I used to work at a telemarketing thing down the street," said singer Pablo Sotelo.
"Give it up for telemarketing," he added.
Sotelo doesn't need to cold call strangers to get people into his projects anymore. Inner Wave is the latest in a boomlet of young Latinx psych- and oldies-influenced acts from well outside L.A.'s hipsterville neighborhoods.
The act is putting up huge numbers on streaming and subtly remaking local rock in ways that better reflect the communities that have always lived and worked here. Chicano Batman and Cuco are among the big success stories of late from that scene, and to judge by the crowd's reaction at Inner Wave's show Thursday, expect this band to be the next.
At the El Rey, the group was opening for Bane's World, a promising Long Beach act and like-minded collaborators with the group. It's no shine off the headliners, though, to say that there was a particular electricity in the room for Inner Wave, which has been knocking around the local scene for a few years but seems to have finally found a sound and stage presence all its own.
The act played the inaugural Tropicalia Festival last year, a first-of-its-kind showcase for mostly emerging Latinx rock and R&B talent. And now this tour, coupled with several million Spotify plays for its biggest singles, should vault Inner Wave much higher on the poster for future festival bills.
Sotelo in particular has a Julian Casablancas-cool with a nice-guy-from-literature-class charisma that obviously resonates with the band's young fanbase. He's got a crooner's baritone and a sweet-tempered falsetto, and some of the same aw-shucks vibe that made Cuco an unlikely pinup across Southland high schools.
That's all well and good, but now the songs are locked in place for Inner Wave, and a few of them sound like hits that can travel.
The band's latest LP, "Underwater Pipe Dreams," is its best-recorded and most ambitious work yet, a 19-song sprawl of an album, but nearly every song is refined down to three-minute tidiness. "Jerry" had a winning mix of organ-driven Brazilian psych with a cute-creepy self-deprecation: "Don't call the cops on me babe (yet)…My only crime is that I cared."
"Whoa," Inner Wave's newest single, is a chill-wavey electronic collaboration with Bane's World (whose singer, Shane Blanchard, popped out onstage to perform it with them). "1 4 2," in contrast, was pure pre-Beatles, East L.A. prom rock that had every couple pulling closer.
But "American Spirits" flipped a switch in the El Rey crowd like few tunes I've heard from a rising band in L.A. lately. It's got an instantly appealing Smiths-meets-surfer sound that feels intuitive to kids who grew up here.
Though it came out in 2013 — a lifetime ago in new music — it's a testament to how hungry this audience was for songs that resonate with their aesthetic and backgrounds. Bemoan the impact of streaming services all you want, but it is a gift that a tune like that can percolate so widely in the underground while the mainstream barely notices.
Bane's World is very much worth its own attention too. Blanchard is an extremely adept guitarist and vocalist and has an appealing stoner-Jeff-Buckley sound that feels ripe for the moment. It's no accident that Tyler, The Creator is a fierce champion: Blanchard is a bit like a new King Krule, a gifted jazz-guitar guy to whom rappers can turn for new textures.
But Inner Wave seemed to signal something else and vital: a local indie rock scene that finally represents the kids who have always been here.
For breaking music news, follow @augustbrown on Twitter.
---
Get our L.A. Goes Out newsletter, with the week's best events, to help you explore and experience our city.
You may occasionally receive promotional content from the Los Angeles Times.