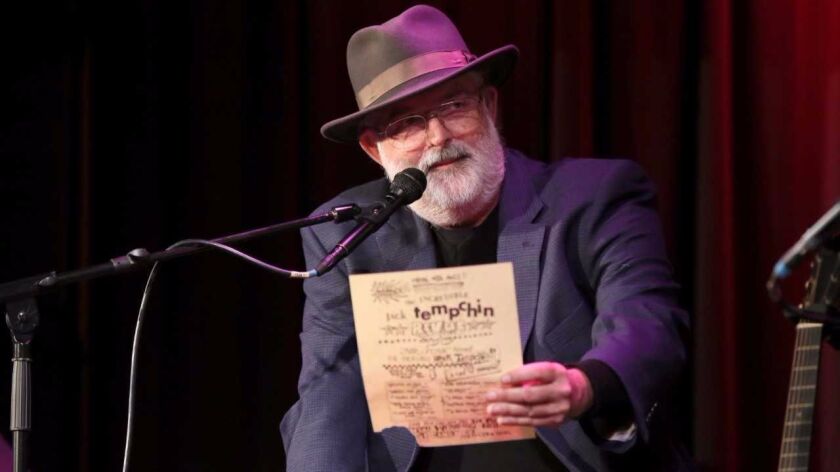 The secret to success as a songwriter is pretty simple, according to veteran musician Jack Tempchin, who wrote or co-wrote monster hits for the Eagles including "Peaceful Easy Feeling" and "Already Gone," not to mention numerous others for that group's co-founder Glenn Frey as a solo artist.
As he told an audience Wednesday at the Grammy Museum in Los Angeles, "Just make friends with a lot of really great songwriters and do it 10 or 20 years before they all become famous."
The San Diego native was referring, of course, to the friendships he cultivated starting in the mid-1960s with the likes of Frey — before he and Don Henley started the Eagles — plus celebrated Southland singers and songwriters such as J.D. Souther, Jackson Browne and others who came to define the Southern California rock sound of the 1970s.
Tempchin is an affable fellow who knows how to tell a story. He has plenty to share from his 50-plus-year career. He had numerous collaborations with Frey, including "The One You Love," "You Belong to the City," "Smuggler's Blues" and "Soul Searchin,'" and also penned "Swayin' to the Music (Slow Dancing)," a 1977 hit for Johnny Rivers, and others for a slew of country artists.
During his question-answer session with the museum's executive director, Scott Goldman, Tempchin was illuminating about the art of songwriting, but generally kept the tone light, such as when asked about his writerly discipline.
He responded saying he had experimented with writing daily regardless of what else was going on, yielding a raft of songs "that I threw out because they were no good."
Tempchin said that in his case, inspiration is at least as crucial as perspiration.
Much of the evening's discussion revolved around his friendship and working partnership with Frey, who died last year at 67 from rheumatiod arthritis, acute ulcerative colitis and pneumonia. The group is resurfacing this weekend for the Classic West Festival on Saturday and Sunday, when the revived act will be joined by country singer Vince Gill and Frey's son, budding musician Deacon Frey, who will share vocals on the many Eagles hits Glenn Frey sang.
Tempchin said that despite having provided the Eagles with a couple of early hits, his songwriting partnership with Frey didn't start until the Eagles went on hiatus in the early '80s. Because of the celebrated creative tension that often was part of the Frey-Henley songwriting process, "Glenn just wanted to have some fun, so he called me and asked me to come over and try writing together."
Tempchin said that when he arrived at Frey's Hollywood Hills house, he encountered a dark, atmospheric room illuminated by candles and filled with flowers.
"I said to him, 'Do you have a date coming over later?' He said, 'No, it's the muse, man! She's coming down to visit someone tonight, and I want to make sure it's us!'"
Tempchin's forthcoming Aug. 25 album, "Peaceful Easy Feeling: The Songs of Jack Tempchin," features his versions of his best known songs, many of which he never recorded. The work boasts guest singers including the Byrds' Chris Hillman, Rita Coolidge, Herb Pedersen and Janiva Magness.
"This record hasn't been released yet," he quipped, "but it's already full of hits." As Tempchin notes in the album's booklet, "Except for my song 'Slow Dancing,' all the songs on this record were either recorded by or written with Glenn. Glenn and I always had a fabulous time writing songs together. First we would talk about our lives and laugh. He was the funniest person I ever had the pleasure to know.
"Then we would sit around my kitchen table or in his little green house in Hawaii or in a rock star mansion he rented in the Hollywood Hills, and we would pick up several small Martin guitars and star noodling and jamming .… It was my good fortune that my buddy happened to be one of the best songwriters of our time and that I got to work with him."
See the most-read stories in Entertainment this hour »
Follow @RandyLewis2 on Twitter.com
For Classic Rock coverage, join us on Facebook
---