Jade Jackson is taking her small-town country songs to the world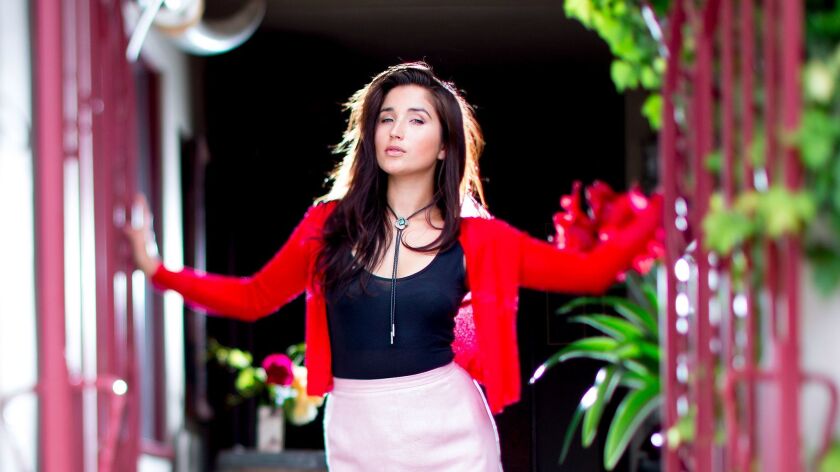 Pop Music Critic
Jade Jackson can recall every detail of the room in which she played her first gig — the size of the place, what it smelled like, the décor hanging on the walls.
But then of course she can: The venue, a cozy coffee shop in the tiny Central Coast city of Santa Margarita, sits just across the street from her parents' restaurant, where this gifted young country-rock singer has waited tables since her family settled here the summer before she began seventh grade.
"They had a guitar on display over there, so when I started writing songs, my dad was like, 'I'm gonna ask the owner if you can play,'" Jackson recalled recently as she gazed at the coffee joint through the restaurant's front window. "It became this thing where I'd go every Sunday — lay my lyrics on the ground, my hair in my face — and my family would come and watch."
More than a decade later, Jackson, now 25, still lives in Santa Margarita — and can still be found serving steaks and chops to hungry customers come dinner time.
Yet her audience is growing beyond her parents and two siblings. This spring Jackson went on her first tour, opening a string of West Coast shows for the veteran Orange County punk band Social Distortion, and last month she released her debut album, "Gilded," through Anti Records, the esteemed Los Angeles indie label known for putting out music by Wilco and Mavis Staples.
Produced by Social Distortion's Mike Ness, "Gilded" showcases Jackson's sensual, slightly husky vocals and her precisely detailed songwriting, which can shift between the concrete and the philosophical in a way that echoes two of her heroes, Hank Williams and Johnny Cash. Her crisp, twangy sound puts her in league with several other emerging California roots-music acts, including Sam Outlaw, Calico and Jaime Wyatt.
But Jackson's rustic background — she grew up without television or the Internet — gives her music a unique intimacy and emotional clarity, as though she'd chewed over each lyric while walking along Santa Margarita's dusty train tracks (which is more or less what happened).
Ride along with Jackson as she gives a tour of her Central Coast hometown.
"Do you remember when life was a spiral-bound, we were the pen?" she sings in "Back When," a moving lost-love tune full of inventive imagery. Later, over the galloping rockabilly groove of "Troubled End," she moves past outlaw cliché to describe how a female character falls for a dangerous man: "He passed the exit to her happy home / Wheels spinning wild down a lonesome road."
"Jade's songs just blew me away — they're so deep," said Ness, a hard-core country fan who has long made room in Social Distortion's punk rock for traces of Buck Owens and Merle Haggard. "How someone this young can write like this, I have no idea."
One reason might be early exposure to the greats. When Jackson was a child, her father, Jeff, regularly took her to out-of-town concerts by legends like George Jones and Ray Price. Country music played nonstop at home and, after the family moved to Santa Margarita from nearby Los Osos, at their restaurant, where the walls are covered with autographed album covers and ticket stubs.
Jackson showed early interest in performing, according to Jeff Jackson, who said 8-year-old Jade's "piano teacher would always have her go first at recitals. The other kids were too scared, but they'd see her and go, 'OK, I can do this too.'"
Yet it wasn't until she saw Social Distortion play when she was 13 — Jackson's mother went to high school with Ness' wife — that she saw herself as someone with a calling to write songs and be onstage. "That show gave me this tunnel vision about what I wanted to do," she said, which led to the coffee-shop gig and, soon, to paying work performing at wineries up U.S. 101 in Paso Robles.
"My thing was that I could play four hours without repeating a song," she said. And these weren't covers. "People would come up to me and be like, 'Can you do such-and-such?' and I'd be like, 'No, I only do originals.'" She laughed. "Not great for tips."
After high school, Jackson enrolled at the California Institute of the Arts in Valencia but experienced a freak accident during her freshman year in which she fell from a rope swing and suffered a broken back. Her recovery was grueling. At one point she felt herself slipping into an addiction to painkillers and flushed the rest of her supply down the toilet; a "gnarly" bout of depression followed.
Music took a backseat in this period. "I was just trying to feel normal again," the singer said. Eventually, though, she understood that performing was crucial to that feeling, so while home on a break she started jamming with a group of local players that included guitarist Andrew Redel, whom she knew from church.
On the Friday night before Jackson returned to school, the musicians played a "sloppy, last-minute" show at a spot in San Luis Obispo where Ness' wife happened to be; she sent a video to her husband, and a week later he called Jackson to ask if the singer wanted to make a record.
"Kind of a mind-blower, huh?" Jackson asked.
Andy Kaulkin, who signed Jackson to Anti, said he was drawn to her vivid storytelling, which he compared (in a possible first in music history) to that of both Tom T. Hall and Slick Rick.
"And I love the fact that she's not an archetype," Kaulkin added. "She doesn't go up there dressed as a cowgirl, you know what I mean? She's just herself."
To some degree, Jackson's individuality is a product of her upbringing, which she said involved very little exposure to the pop mainstream. "When people were listening to 'Hit Me Baby One More Time' and spraying Juicy Couture perfume, I was just like, 'I really don't fit in,'" she said.
So there's a temptation to think that her music could suffer as her world expands. Ness says he warned Jackson against living in L.A. or Nashville, telling her the pretension in those cultural capitals would "get in the way of the kind of nerdy, outdoorsy thing she has."
Yet the country establishment has been fairly accepting lately of relative oddballs like Chris Stapleton and Maren Morris, who've demonstrated that sanding one's edges is no longer the surest route to success. Given Jackson's talent — and her coming-of-age relatability — perhaps Anti's Kaulkin isn't stretching too far when he says he thinks "Gilded" could connect with fans of John Prine and Taylor Swift.
For her part, Jackson says she's eager to see what's out there, even as she admits that being away for college showed her how much she values her hometown. One semester she was looking at her fingernails, she recalled, and was struck by how clean they were. "I just realized I hadn't put my hands in dirt in months, and it started freaking me out."
In July, she'll head out for another tour with Social Distortion, this time traveling to New York before circling back to California for an appearance at September's Ohana festival in Dana Point.
Asked if the schedule includes cities she's never seen before, she laughed.
"Dude, I haven't really gone anywhere," she replied. "I've been here."
Twitter: @mikaelwood
ALSO
Björk brought strings — but no beats — to her sold-out gig at Disney Hall
What worked and what didn't at U2's 'The Joshua Tree' revival at the Rose Bowl
Chris Stapleton on drinking, hobnobbing and letting his songs 'get some age on 'em'
---
The complete guide to home viewing
Get Screen Gab for weekly recommendations, analysis, interviews and irreverent discussion of the TV and streaming movies everyone's talking about.
You may occasionally receive promotional content from the Los Angeles Times.