Review: Jawbreaker's reunion show at the Palladium was a vivid punk rock homecoming
Pop Music Critic
Not long into Jawbreaker's sold-out concert Thursday night at the Palladium — the first of three gigs this week by the reunited trio that long called California home — frontman Blake Schwarzenbach revealed that he was standing in the same room where he'd seen his first punk rock show.
The year was 1982, he said, and the bill featured Social Distortion, T.S.O.L. and Youth Brigade. Schwarzenbach, who made his name combining fast, loud riffs with thoughtful lyrics about romance and depression, recalled walking into the Palladium and being met by a "wave of violence and terror and adulthood."
And he remembered catching sight of an aging hippie dude flat on his back in a pool of blood — the victim, evidently, of a beat-down by a bunch of young punks.
Many in Thursday's crowd chuckled at the account as though they were relishing an old victory. But Schwarzenbach appeared to grasp something else: At 50 he now represents the hippie in any story about a clash between generations.
"This is exciting," he said in his signature blend of sincerity and sarcasm. "Guitar music, you know?"
Two decades after Jawbreaker broke up following the polarized reaction to 1995's "Dear You" — some viewed the album as an emo breakthrough, others as a post-Nirvana cash grab — guitar music has long since given way to hip-hop as the go-to sound for disaffected twentysomethings.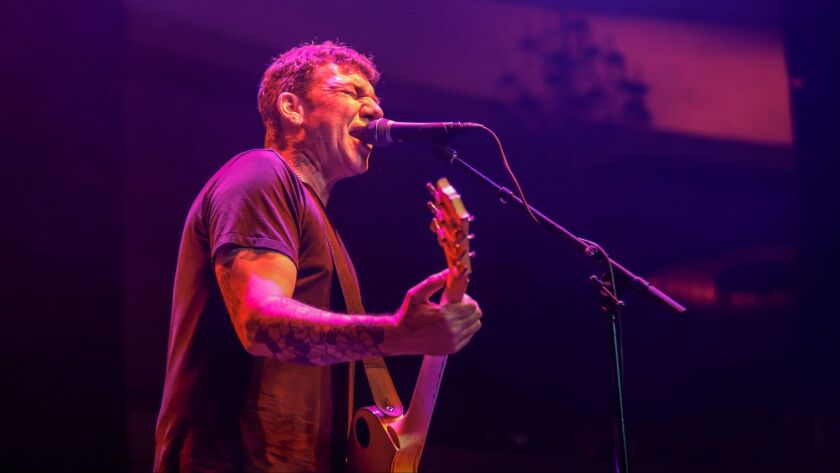 Yet the feelings in play haven't changed much. Consider that the chorus of one of last year's biggest hits, "XO Tour Llif3," has Lil Uzi Vert rapping, "All my friends are dead" — a precise echo of a key line from Jawbreaker's song "Million."
At the Palladium, where Jawbreaker was performing as part of a run of sporadic comeback shows that began last summer, Schwarzenbach seemed to think that the emotional potency of his music justified its revival — not to mention his decision to keep Jawbreaker's attack just as it was, with his fuzzy guitar and gruff vocals over Chris Bauermeister's meaty bass and drummer Adam Pfahler's propulsive beats.
And he was right.
Playing tunes from "Dear You" and from the band's previous albums — including its 1990 debut, "Unfun," which it recorded in Los Angeles before Jawbreaker moved north to San Francisco — the trio tapped into the confusion and desperation that drove its vintage work.
"Jinx Removing" had a ragged intensity, while "Boxcar," about punk-scene backbiting, was punchy and blaring. In "Accident Prone" the three musicians hammered away at a long, moody instrumental passage — clear indication of a commitment to their well-worn tools.
If Schwarzenbach knows he symbolizes the past, though, he's also determined to show he's attuned to the young people coming up un-quietly behind him.
At one point he mentioned that Thursday was International Women's Day, then added that he would say nothing about it.
"Let's just have a moment of male silence," he said slyly, about as radical an idea as one could hope to hear from an avatar of mid-'90s emo, which centered men's suffering at the expense of any other viewpoint.
That moment of silence took place, of course, amid an hour-long set of songs that could still describe women as two-faced meanies.
But for anyone with memories of the bad old days, it came as a welcome sight to see Schwarzenbach welcome Katie Crutchfield (whose band Waxahatchee opened Thursday's concert) onstage for a duet on Jawbreaker's "Ache," which Schwarzenbach said the group had never done before.
The gesture was small but it had the spirit of progress — one reason, perhaps, to push this veteran punk's comeuppance to some other time.
Twitter: @mikaelwood
---
The complete guide to home viewing
Get Screen Gab for weekly recommendations, analysis, interviews and irreverent discussion of the TV and streaming movies everyone's talking about.
You may occasionally receive promotional content from the Los Angeles Times.