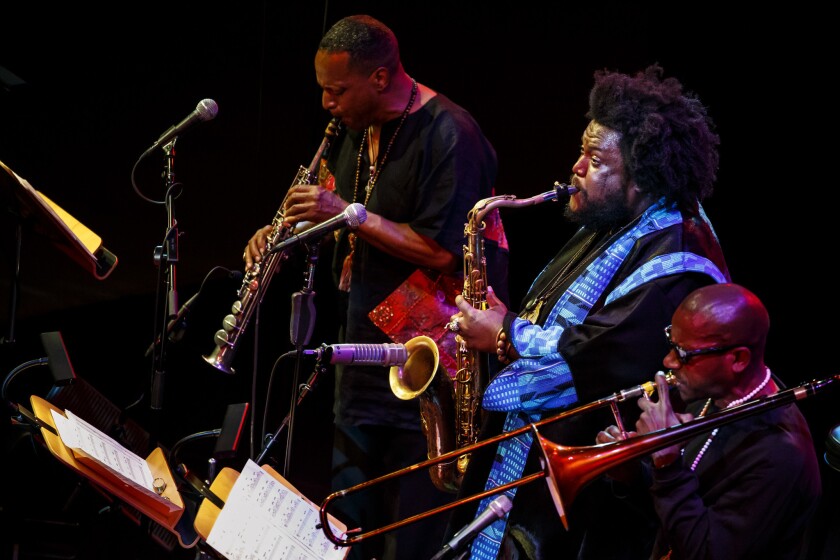 Kamasi Washington has had a pretty good year.
Since his sprawling debut "The Epic" was released in May 2015 on the groove-centric local label Brainfeeder, the saxophonist has risen from a local favorite to something of a national phenomenon.
After years of being mentored by revered L.A. bandleader Gerald Wilson, touring with Snoop Dogg and later burning up small rooms such as the Piano Bar in Hollywood and the World Stage in Leimert Park, Washington and his tightly knit band of childhood friends nearly ran the table on the 2016 festival circuit, including sets at Coachella, Bonnaroo, Glastonbury and the Newport Jazz Festival, where he performed on multiple nights this year.
Backed by a 10-piece group along with a string orchestra, choir and a spacey hero's journey concept over three discs, "The Epic" drew energetic young crowds to an improvisation-rich and often cathartic mix of the rafter-scraping power of John Coltrane with maximalist funk, spiritual jazz and R&B.
Aided by acclaim that came with being part of the roster of L.A. talent who helped make Kendrick Lamar's hip-hop masterwork "To Pimp a Butterfly," Washington has appeared in just about every arts and culture publication, often with a hyperbolic buzz declaring him the next jazz savior.
While hardcore jazz fans inevitably bristle at such ideas, Washington's impact on the musical conversation over the past year and a half is beyond argument, in addition to refocusing the national spotlight on an L.A. jazz scene that's long been rich with history and artistry. Coming near the end of seemingly nonstop touring schedule that began last year at packed Regent Theater downtown, Sunday night's date at a sold-out Disney Hall felt as much like a well-earned victory lap as a coronation.
Except Washington had other plans.
Resplendent in a black-and-teal African tunic, the soft-spoken saxophonist announced the night's program would feature all new music, most of it played live for the first time. Surrounded by 40 musicians that included a 12-piece choir and a young string orchestra (some of whom dressed in teal accents), Washington added, "Let's have some fun."
See the most-read stories in Entertainment this hour »
The band launched into "Show Us the Way," a piece Washington later said was inspired by Nat Turner and "The Birth of a Nation." Framed by a swirling, wordless chorus, the song began at a breathless pace, complete with an explosive solo turn from bassist Miles Mosley, who summoned a howl of guitar-hero effects and distortion.
As Washington leaned into his saxophone with growling, twisting fury, the cries of his horn sounded oddly distant amid the churning melody. For a moment, somehow, the band sounded too big for Disney Hall.
Though the venue has had sound issues with non-classical shows in the past, the perception was fleeting as the band settled into "Black Man," a piece co-written by pianist Brandon Coleman and vocalist Patrice Quinn (who can also be heard on "The Epic"). With a spoken-word intro that led into string-accented R&B steeped with cultural pride, the song drew a dotted line to opener Ron McCurdy, a jazz studies professor at USC whose poetic multimedia piece "Ask Your Mama: 12 Moods for Jazz" examined race through the lens of his quartet and writer Langston Hughes.
If anything, the night revealed that Washington is now thinking even bigger — no easy thing given the scope of the 172-minute "The Epic."
"Black Man" closed with an operatic flourish, and "Psalmnist" was playfully introduced by Washington as being "technically in 41/8" time (though he assured the crowd they would be still be dancing in their seats). With lush strings and rich harmony between Washington and trombonist Ryan Porter, the lovely "Space Traveler's Lullaby" eased into gentler waters in a piece that recalled the celestial excursions of Wayne Shorter.
"Connections" rode the clockwork swing of Coleman's piano into an impressive trade-off between violinist and cellist as drummers Tony Austin and Ronald Bruner Jr. provided a steady platform (his brother, Stephen "Thundercat" Bruner, another Washington collaborator and labelmate, was not on hand). After a delicate flute solo from Rickey Washington — Kamasi's father and renowned L.A. jazz figure in his own right — the saxophonist beamed as he nodded along with the song's insistent pulse.
Promising a "1987-style" high-five for whomever recognized his final song, Washington launched into Joseph Koo's theme from Bruce Lee's "Fist of Fury." As the orchestra churned through the piece's Ennio Morricone-esque sweep, the band coalesced into a propulsive '70s funk groove, reaching for a cathartic finish to a program that was already thick with cinematic grandeur.
"We home, L.A.," Washington said as a closing ovation swelled around him from a diverse crowd who welcomed back their conquering hero. "We home."
Follow me over here @chrisbarton.
ALSO:
Kamasi Washington expands jazz's boundaries on new album 'The Epic'
Kamasi Washington and band prove 'The Epic' hype, thrill a sold-out Regent
Appreciation: Bobby Hutcherson connected some of the highest points in jazz
---