Punk icon Kathleen Hanna takes her 'girls to the front' mantra to T-shirt line for Togo schoolgirls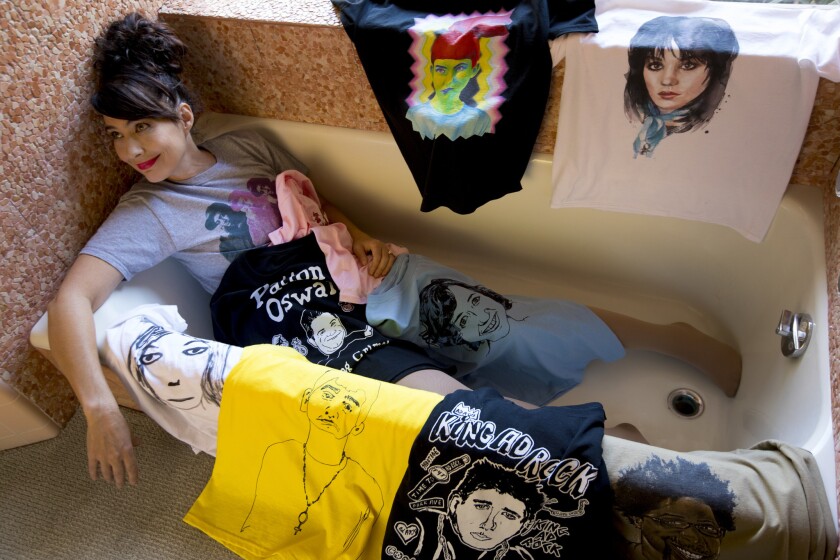 Kathleen Hanna uses air quotes around words.
"It's because I'm from the '90s," she jokes.

For the record:
2:35 PM, Nov. 26, 2018A previous version of this story spelled the restaurant where a Tees 4 Togo pop-up is being held as Squil. The correct spelling is Sqirl.
The frontwoman, activist and riot grrrl pioneer is responsible for the punk bands Bikini Kill, Le Tigre and the Julie Ruin. In the Olympia, Wash., scene 20 years ago, she influenced Nirvana's Kurt Cobain and instigated the "girls to the front" mantra.
But Hanna's not stuck in that time warp. She is name-checked by pop, electronic and hip-hop artists as diverse as Grimes and Princess Nokia, and since relocating to Pasadena with Beastie Boy husband Adam Horovitz, she's still a local firebrand.
When her landlord suggested she meet a resident named Tina Kampor, a former teacher who runs the nonprofit organization Peace Sisters for West African young women in Dapaong, Togo, Hanna took her family to a talk by Kampor.
"Tina spoke about a girl who got sick at school and she drove her to her house," Hanna says, with air quotes around "house." "The girl had no house. Girls aren't being taken care of. This girl was still pushing to go through school."
"When I first started I didn't know what I was getting myself into. I was a school teacher in home economics," Kampor says in a separate interview. "I wasn't making much, but by the time I left Togo there were three girls I was taking care of in school."
When Kampor moved to Pasadena in 2003 to earn her nursing degree, she kept her connection with the school in Dapaong and expanded Peace Sisters. Through the nonprofit, she's sent 130 Togo girls to school so far.
Hanna was captivated by Kampor's efforts and asked herself, "How can I bring the limited amount of notoriety I have to a project that needs it? I'm not making decisions because I've never been to Togo. Tina's the brains and the guts."
Last November Hanna raised $9,000 for Peace Sisters on Gofundme. Last month, she launched a clothing line: Tees 4 Togo.
It represents an idea Hanna has tinkered with for years, and one she had after seeing people bootleg shirts of her face online. She once considered making T-shirts to raise awareness around the water crisis in Flint, Mich., but at the time Hanna was recovering from late-stage Lyme disease, a period also documented in 2013 biopic "The Punk Singer." With the disease behind her, she pondered a T-shirt line called Design Against Lyme too. "But I was gonna have to talk about Lyme disease over and over," she says. "That's not sustainable."
The ball dropped with Kampor.
"When she heard me talk she gave a check...and it was a big check," Kampor says "One of the board members called me and said, 'Oh my god, Tina do you know who gave you the check?' I said, 'No she's my friend Kathleen.' They said, 'You need to look it up!'"
As Hanna talks about the project, she wears a Tees 4 Togo T-shirt with an image of Sonic Youth's Kim Gordon. Other portraits in the line include comedian Patton Oswalt, rock star Joan Jett, rapper Chuck D, author-musician Brontez Purnell and actress Kristen Schaal, drawn by artists such as Sarah Larnach, Adee Roberson and Hannah Lucy.
"Do I really care about girls' education or do I just want a better wardrobe?" she says with a laugh. The shirts, sold on Hanna's Tees 4 Togo website and on select weekends in December at a pop-up run by L.A.'s Sqirl restaurant, are $40 each — which equates to one girl's annual tuition in Togo.
The appeal to supporters goes beyond money.
"We're all desperate to get out of the American mind-set," says Hanna. "People think, 'Hey I'm sending little Timmy to school for $40,000 a semester!' What does that mean? Our country has played a part in colonization. We've exploited people who can't survive in their countries because we've taken resources. It's hideous."
L.A. Times critics' picks: The best 2019 tickets for giving the gift of live music and theater »
Growing up in Oregon, Hanna had a better experience than the Togo girls, but their fight for education speaks to her past.
She was 15 when she had an abortion. She worked as a stripper to pay for college. "If I couldn't read or write I wouldn't be in a band," she says. "My parents didn't go to college. I felt lucky."
At college she learned about feminism via friends. "We traded book lists, had meetings at each other's houses, shared High Performance magazine." She was compelled to spread the word, which is why she started her bands. "I could've worked in food service for the rest of my life. There's nothing wrong with that. I'm just bad at it."
Around the time Hanna joined forces with Peace Sisters, the #MeToo and Times Up movements were exploding. She welcomed them but felt the spotlight shouldn't only be on white and first-world women.
"I've been in music for 30 years," she says. "I want solutions now." At the same time, she says, "If we don't hear everyone's voice we're not hearing anyone's voice," she says. "White feminism can burn and rot in hell as far as I'm concerned. I don't wanna be part of women climbing the corporate ladder."
And she doesn't want to share her horror stories.
"You want me to re-live my trauma? I don't wanna do that," she says. "What I want is for the men to get together. If we had the answer it'd be over."
President Trump's remarks branding African nations and others as "shithole countries" only made Hanna more certain that her energy should go into Kampor's project. She is now listed as an ambassador on the Peace Sister website.
Hanna realizes that some might criticize her involvement. "I'm a white cisgendered woman with money. I have the luxury to do this and I'm far from perfect."
But just as she sparked change by launching riot grrrl zines and bands, Hanna hopes to inspire an entrepreneurial spirit in Togo's girls. "Their stories will change the world," she says. "I wanna see the plays they make, hear the music they compose, read the books they write."
It's uncomfortable for Hanna to admit that the biggest lesson Kampor has taught her is how fortunate she is to be in America, this despite her frustration at the current political and social climate. As is likely expected, Hanna has forceful opinions on Trump. "A white nationalist is running the country," she says, tears forming. "I can't even talk about it."
The day after Trump was elected, The Julie Ruin played a show in New York ("Everybody was crying, I wanted to crawl into a hole and die"). Le Tigre played the day after George W Bush was elected. "It's difficult to be onstage in those moments because it's private. I need to not be in a band during the next election."
Hanna's riled by music's racial inequalities too. "Why is it that at indie shows the only African Americans are black male bouncers? I'm sick of it. I don't wanna play shows any more. People are token-ized. I've been that woman asked to be on the bill at the last minute, getting paid half of what everybody else did. It doesn't feel good but it gets my ass in the door. I'll just go there and blow their ... minds."
Despite her frustrations with music, Hanna hasn't left that world behind.
A few months ago, Bikini Kill's catalog was finally issued on Spotify. Hanna can't summarize why it's taken so long. The band never put CDs out — they didn't want fans to keep buying new formats.
"I'm all up for not having to kill animals for the gelatin in vinyl, or not having CDs end up in a landfill," she says of streaming's positives. The fact that artists weren't being remunerated fairly derailed them. "Bikini Kill is not as small as most indie bands but we're not as big as most major bands. We own our label. Tobi [Vail, drummer] sends the mail order, her sister runs the business. It's hard to give it away."
It feels notable that there has been no new music from Hanna following Trump's election, but she is working on songs. "I haven't missed it," she says. "I like being private. I like not being looked at."
Tees 4 Togo has given her renewed vigor, as has Trump's desire to de-legalize transgender communities, "all the murders of black people that go unnoticed" and the Senate hearings for Supreme Court Justice Brett M. Kavanaugh. During Bikini Kill, Hanna was a sexual abuse counselor, helping fans after gigs, and Christine Blasey Ford's assault allegations against Kavanaugh has triggered the memories.
"I can't return to that work," she says. Throughout her 20s, Hanna helped at shelters, on phones and in legal advocacy. She had to stop.
"I've heard devastatingly horrible accounts over and over. I try to get people to call crisis lines. They'll say, 'I'd never call, I wouldn't wanna waste someone's time.' What do you think is happening that's worse than your assault? You can't make a list of who's had the worst or best rape."
Hanna neglected her own trauma too. She's only just getting on top of it. "I need to deal with my stuff, my mom's stuff, my friends' stuff, not do surgery on myself while trying to help others."
In a few weeks she'll turn 50. "I'm psyched to be 50," she says. "I'm just happy to be... alive."
In 2020 she'll visit Togo herself. A few weeks ago she received a video of one of the girls who had made her own art — a comedy skit poking fun at sexist men in the community.
"Hell yeah," says Hanna. "She's a ringleader making skits about what they're going through but making people laugh."
Miles and genealogies apart, but the apple doesn't fall far from the tree.
---
From the Emmys to the Oscars.
Get our revamped Envelope newsletter, sent twice a week, for exclusive awards season coverage, behind-the-scenes insights and columnist Glenn Whipp's commentary.
You may occasionally receive promotional content from the Los Angeles Times.