Kendrick Lamar takes aim on new song: 'Donald Trump is a chump'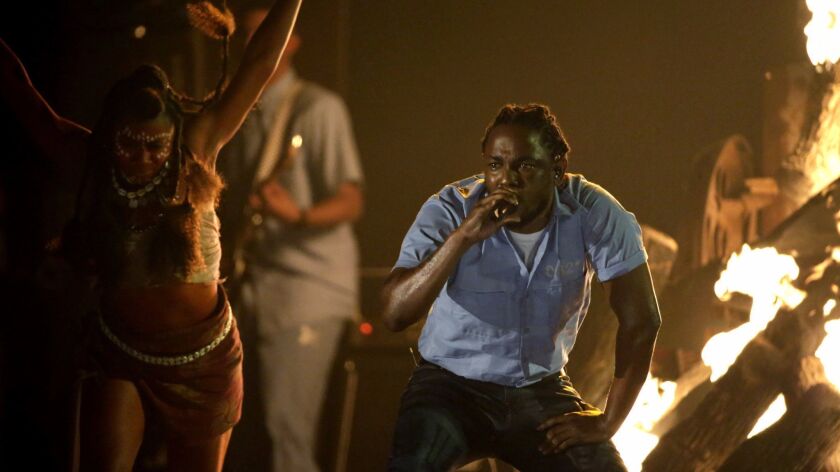 Kendrick Lamar's warning is clear on the new single "The Heart Part 4."
"Y'all got till April 7 to get y'all [stuff] together," he raps.
What happens then? A new record? An anti-Trumpist insurrection? Whatever it is, after Lamar released the scalding single on Thursday night, the big takeaway is this: More fire is coming, and just in time for his Coachella headlining sets.
"The Heart Part 4" is a sequel in an ongoing series spanning his entire discography, but this is the strangest and most forceful installment yet. The song radically changes beats and patterns every minute or so, and Lamar sounds invigorated by the challenge. He nimbly navigates the structural turns, and sleuthing fans claim they picked up on some subtle Drake and Big Sean blasts in there.
But the song's most quoted line comes halfway through: "Donald Trump is a chump/ Know how we feel punk/ Tell 'em that God comin'/ And Russia need a replay button/ Y'all up to something."
Lamar slayed at his FYF Fest set last year and may be aiming even higher in a post-Trump era. In a recent interview with the New York Times, he said that the new record may take a more activist turn.
"I think now, how wayward things have gone within the past few months, my focus is ultimately going back to my community and the other communities around the world where they're doing the groundwork," he said. "'To Pimp a Butterfly' [his acclaimed 2015 album] was addressing the problem. I'm in a space now where I'm not addressing the problem anymore."
For breaking music news, follow @augustbrown on Twitter.
ALSO:
Coachella's 2017 lineup reflects America and refracts its troubles
FYF Fest impresses in sound, but feels on the precipice of change
---
Your essential guide to the arts in L.A.
Get Carolina A. Miranda's weekly newsletter for what's happening, plus openings, critics' picks and more.
You may occasionally receive promotional content from the Los Angeles Times.