FYF Fest impresses in sound, but feels on the precipice of change
Kendrick Lamar on the first night of FYF.
(Michael Owen Baker / For The Times )
Fans get excited as Tame Impala takes the stage Saturday at FYF Fest.
(Michael Owen Baker / For The Times)
Kendrick Lamar performs on Saturday at FYF Fest.
(Michael Owen Baker / For The Times)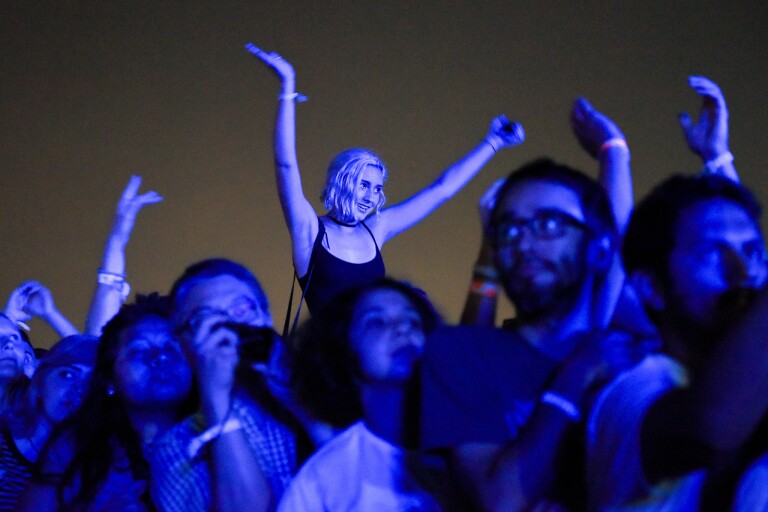 Fans watch Tame Impala at the two-day festival held at Exposition Park.
(Michael Owen Baker / For The Times)
The Los Angeles Memorial Coliseum is the backdrop for FYF Fest at Exposition Park.
(Michael Owen Baker / For The Times)
A fan crowd-surfs during the set of Todd Terje & the Olsens at FYF.
(Michael Owen Baker / For The Times )
Peter Moren, of Peter Bjorn and John, takes a leap.
(Michael Owen Baker / For The Times)
Grace Jones performed late Sunday at FYF Fest.
(Christina House / For The Times)
Tame Impala performs Saturday night.
(Michael Owen Baker / For The Times)
Carrie Seely and Landon Becker pose for a shot at FYF Fest.
(Michael Owen Baker / For The Times)
Lead singer Alexis Taylor performs with Hot Chip at FYF Fest.
(Michael Owen Baker / For The Times)
Amy Knutson dances with a bird of paradise in Exposition Park.
(Michael Owen Baker / For The Times)
Ty Segall performs on the first night of FYF Fest.
(Michael Owen Baker / For The Times)
Jackie Cespedes, center, hugs Alvaro Ramirez, left, and Emily Joy at FYF on Saturday.
(Michael Owen Baker / For The Times)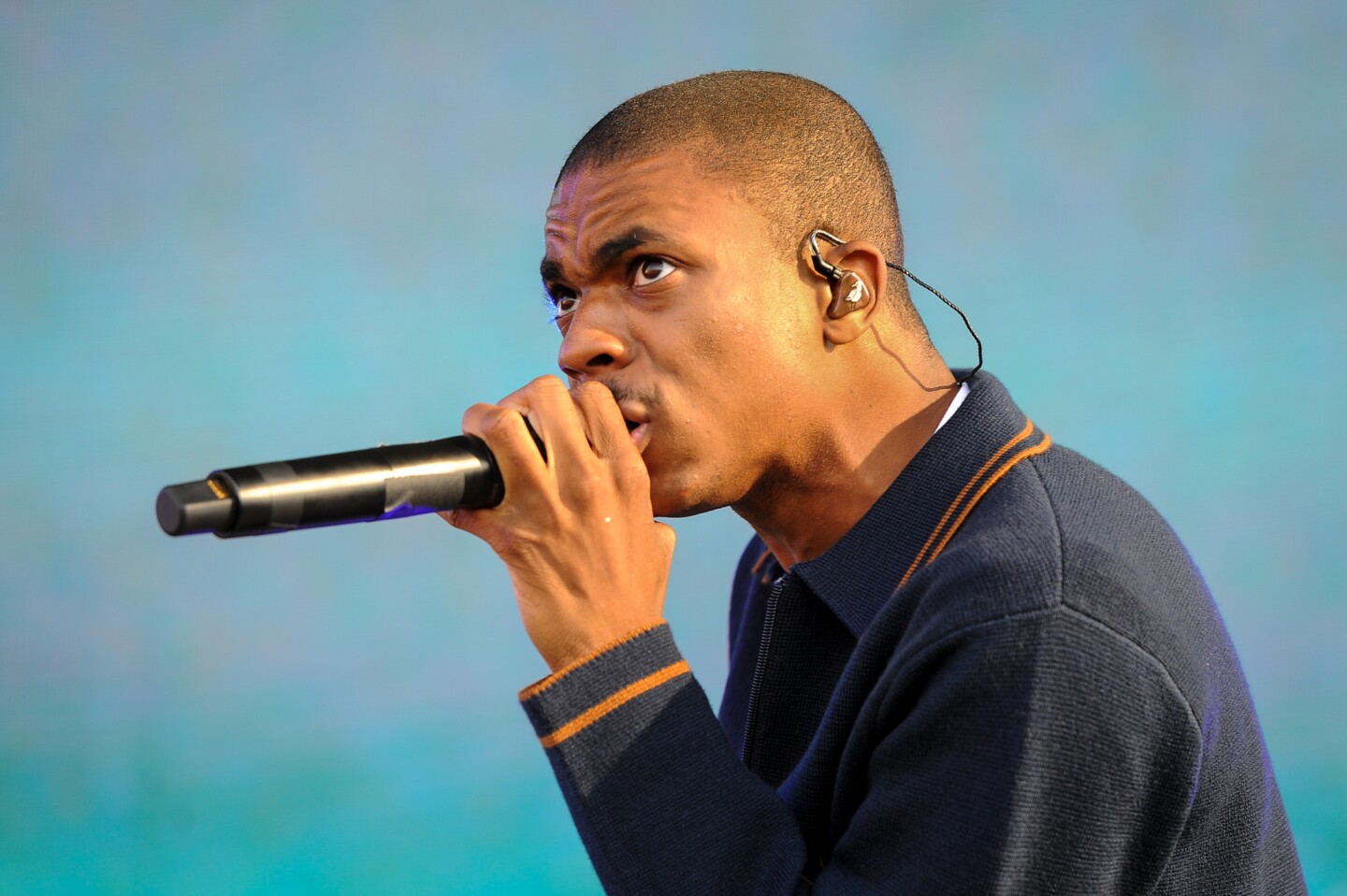 Vince Staples performs at FYF Fest.
(Michael Owen Baker / For The Times)
Michelle Salas stands near a bubble machine on Saturday at Exposition Park.
(Michael Owen Baker / For the Times)
FYF becomes practically its own city when it takes over Exposition Park each summer. But the fest, like much of L.A. in general, may be hitting its gentrification phase.
On one hand, 38,000 well-heeled, beautifully dressed local music fans happily paid $217.83 for general admission tickets and $361.68 for VIP perks. The bands on the bill covered a swath of tasteful, diverse and progressive genres, from minimal techno to scorching punk and arena-sized psychedelia — the best lineup yet, many fans seemed to agree.
And the food was superb. Who could have imagined eating oysters on the half-shell at FYF just a few years ago?
But some discontent lurked onstage and off.
On Saturday, the Long Beach rapper Vince Staples dedicated his anti-brutality anthem "Hands Up" to police officers everywhere, icily deadpanning that "You're doing a stellar job." There were also logistical concerns. Some fans grumbled as the always-formidable lines to get in the sprawling venue seemed even worse this year, and layout changes made some pathways feel like crowded back-alleys.
And then there was a simmering sense that — like the rents in many of the L.A. neighborhoods whose music scenes helped create FYF — the fest's growing clout may leave some in its core audience behind.
"I'm just used to seeing shows in basements," said John Klein, 21, from Salt Lake City. "FYF seems kind of fashionable now."
He then alluded to FYF's bigger brother, the Coachella Valley Music and Arts Festival in the desert city of Indio. Both fests are promoted by Goldenvoice, and Coachella over the years has earned a reputation as a place for the trendsetters to be seen.
FYF, said Klein, is "not quite like Coachella, where you have to hire a personal trainer three months in advance, but I get a sense this doesn't cater to me, that the people who are actually making art can't afford to come here."
"We're used to just drinking 40s with our friends at shows, so we're kinda having a hard time [affording refreshments] right now," added Patrick McBride, 21, from Philadelphia. "But we did meet some cool kids earlier who had hopped the fence to get inside."
"I remember when it was like $15 to get in all weekend," said Orsi Villacorta, who lives in East L.A. and recalled the fest's scrappy early days at the Echo Park club the Echo. "Now it's pay rent or buy FYF tickets. But It's still punk. I always want to come because I never know what I'm going to get."
Indeed, what you got onstage at FYF was as good as its ever been.
See the most-read stories in Entertainment this hour >> »
Staples, the Long Beach MC, was a steely highlight of Saturday afternoon, as was the rowdy Oakland MC Kamaiyah. But alongside them, chilled-out cosmopolitan electronics from Todd Terje and Air proved that FYF has both a sense of humor and a retro-future panache. Shellac and the hardcore supergroup Head Wound City played knives-out punk—one act slow and menacing, the other fast and flailing.
On FYF's main stage, Tame Impala showed why it's the rare indie-rock band that commands a pop-sized audience today. Sun-dazed hits from "Currents" landed with '70s-rock swagger and 2016 digital ambiance. Small wonder that Lady Gaga, who is reportedly working with the band's Kevin Parker on new music, showed up onstage to simply greet the crowd and confer her approval.
Kendrick Lamar, as always, was his own force of nature, playing to a hometown crowd more hipstery than normal for him but no less devoted. Despite the deep rivers of political thought that flow through his album "To Pimp a Butterfly," he kept his radicalism fairly close to the vest at FYF — preferring to show, not explain, just how much Black Lives Matter.
Underneath footage of black icons like Muhammad Ali and Oprah Winfrey, which contrasted with images of Ronald Reagan and Bill O'Reilly, he played a hit-packed set from "Pimp" and "good kid, m.A.A.d. city" (with a dip into 2011 breakout "section.80") with the verbal precision and physical showmanship of a great rock band.
In fact, he had a stellar one backing him, showing that no one can rally L.A. like Kendrick Lamar, be it in his hometown of Compton or a parking lot adjacent to the L.A. Coliseum for FYF.
On Sunday, the afternoon mood was a little more jubilant (despite what looked like even longer lines to get in, stretching up and down Vermont Avenue in each direction). The Black Madonna brightened up her late-night club music for one of FYF's more upbeat, intelligent DJ sets. On the main stage, Blood Orange reprised the group's two Theatre at the Ace gigs for a lithe and lean funk lesson.
The pop-punk quartet Saves the Day stirred up all sorts of teen angst in its now-thirtysomething crowd at FYF. The band performed the entirety of its 2001 album "Stay What You Are," a staple LP for the now-cool kids running fests like FYF. Rarely has any act here earned a more thorough singalong than the one Saves the Day got for "At Your Funeral."
Later, the night was scheduled to get dancier and more dramatic, with LCD Soundsystem book-ending its Coachella reunion; Grace Jones performing a rare full-regalia festival date, and Anohni playing her Eco-apocalypse electronic album "Hoplessness." If you could fight through the usual FYF travails, more joy and ambition awaited you inside the grounds than perhaps any year before it.
For better and worse, FYF is L.A.'s most definitive local festival. It represents everything good about our town right now — the diversity of the crowd, the quality of our creative scenes and a hometown artistic bonhomie that's the toast of American culture.
But all that influence comes at a price, one that FYF's core audience may be unable (or unwilling) to scrounge up in the future.
ALSO
Kendrick Lamar thrills an adoring hometown crowd — and conquers at least one skeptic at FYF Fest
FYF Fest: Tame Impala's Kevin Parker is making behind-the-scenes moves toward pop
Britney Spears is back in control on her sexy new album 'Glory'
---
The complete guide to home viewing
Get Screen Gab for weekly recommendations, analysis, interviews and irreverent discussion of the TV and streaming movies everyone's talking about.
You may occasionally receive promotional content from the Los Angeles Times.