Behind the scenes of the KISS farewell tour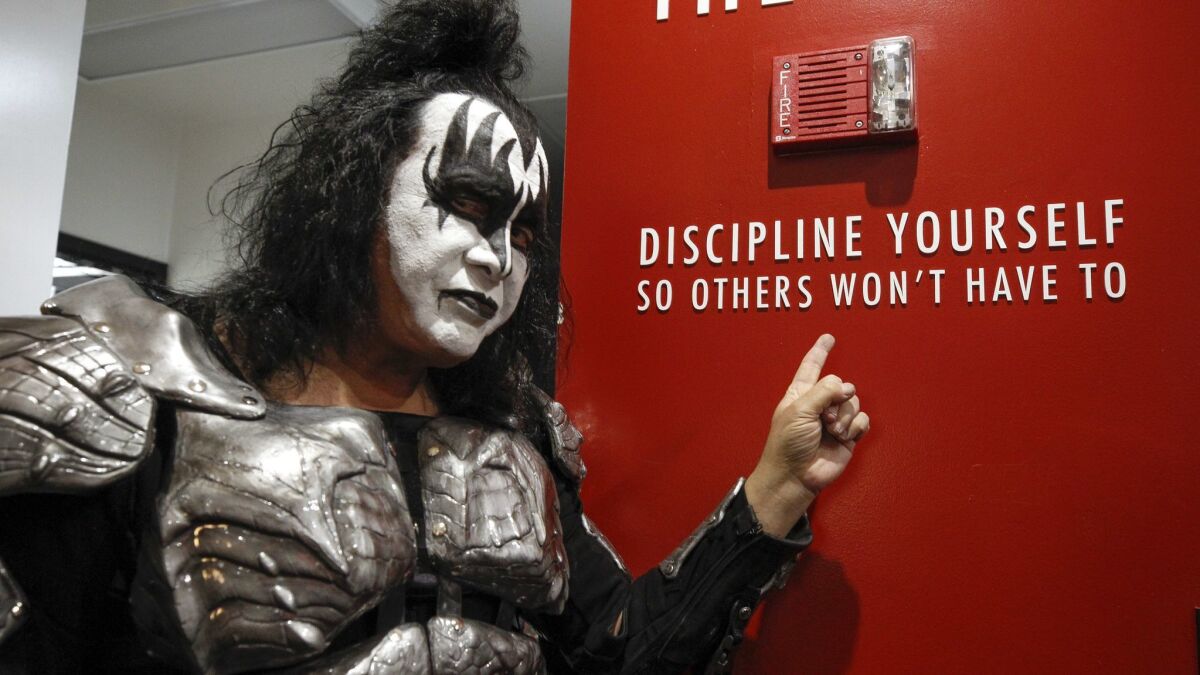 Reporting from San Diego —
Somewhere in the skies above San Diego, the God of Thunder is eating a sugar cookie. Gene Simmons of KISS is snacking, out of costume, and looking relaxed in the front rows of his band's private jet, but he's begun to notice the hills coming awfully close outside his window.
Less than an hour ago, this Gulfstream jet took off like a rocket from Van Nuys Airport, with a former F-14 fighter pilot in the cockpit and a flight attendant named Kate in a black KISS uniform. Their destination is now just minutes away, and the entire band is onboard, ready for the night's two hours of vintage rock hits and fireballs shaped like mushroom clouds.
It will be the fifth stop on the KISS End of the Road tour, near the very beginning of a two-year victory lap for the flamboyant hard rock quartet, which emerged 47 years ago as pop culture champions in platform boots and kabuki makeup. But right now, this plane is stuck circling San Diego, as flight controllers keep the air clear for a military jet pilot who lost his canopy.
"Wow. He's OK, right?" asks Simmons, dressed entirely in black, wearing a cap with his personal moneybags logo. He's the singer-bassist-co-founder of KISS, known to fans as the Demon, the God of Thunder and Dr. Love, notorious for decades of spitting (fake) blood and (real) fire at concerts.
A capacity crowd of 10,489 awaits them at Viejas Arena, and most of the shows are expected to be sell-outs. (The tour lands Saturday at the Forum.)
"What is that thing that connects to the fans and the band? It's not just songs," says Simmons, who turns 70 this summer. "It's sort of a gathering of the tribes, because it is culture. There's no reason to put KISS tattoos on your body and to name your children after our songs. There's this other much bigger idea that hovers above the band and the fans. There's some connection to your life."
In back of the jet is singer-guitarist Paul Stanley, his partner in the music and business of KISS, chatting with actor-comic George Lopez, close friend and leading contender for the title of Super-fan No. 1. Stanley wears a stylish flat-brim cowboy hat given to him by Lopez, who will be on the jet for many dates before this tour is done.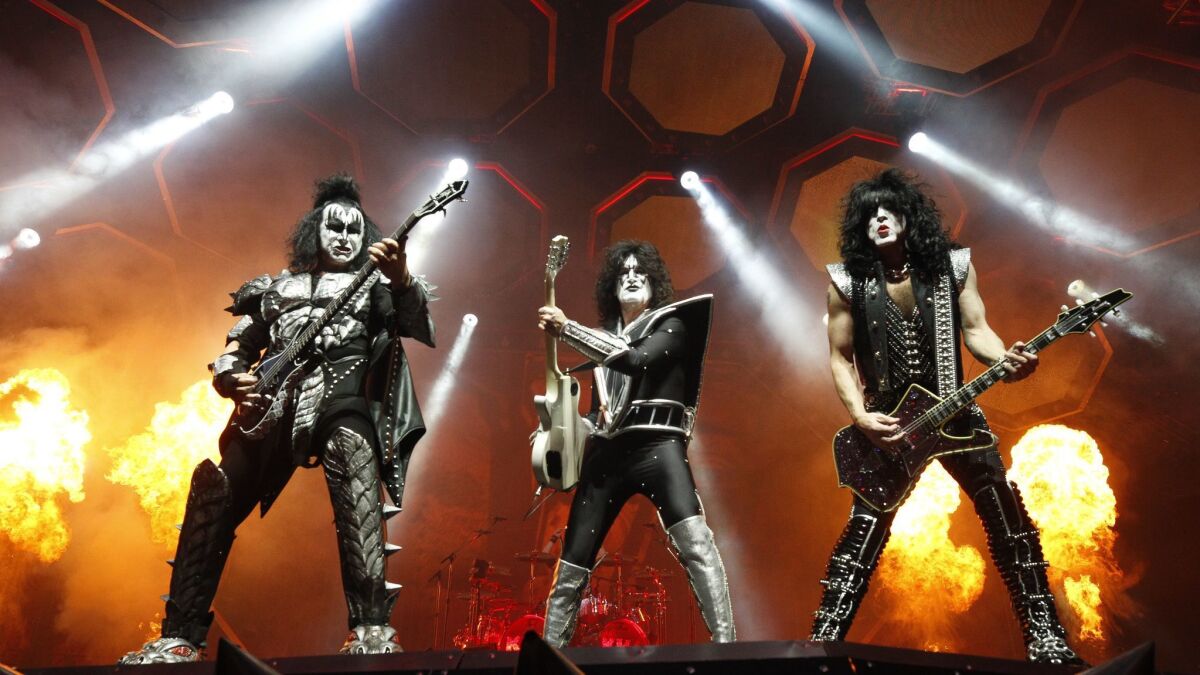 "About 25 years ago when we first were approached with the idea of having a plane, we were totally against it because we thought that it was excessive and symptomatic of everything we didn't want to do or be," says Stanley, 67, a surprising statement, perhaps, from someone who will soon be flying above an arena crowd on a zip-line. "But it allows you to do more shows; you actually work harder, but the grind is easier."
The tour is booked through the year across the U.S., Europe and Australia, with more dates to be added, including the first-ever KISS concert in Israel, where Simmons was born.
Drummer Eric Singer, 60, on the plane with an octopus medallion over his chest, says: "I want to enjoy every show, every gig, every day that we do. I want to enjoy all of these moments as they happen. Because when it's over, it's over."
Simmons holds up his cell phone to show a full screen of outgoing messages about the show's effects, sound, timing. A few days ago, lead guitarist Tommy Thayer suggested they switch out the shock bombs for fiery mushroom-shaped plumages during the opening moments of "Deuce."
"At the first show we had some problems onstage," Simmons says. "The fans didn't know anything. They just went, 'Wow!' "
Production manager for the tour is Robert Long, who began as Stanley's guitar roadie in the mid-'90s. Now 47, he's been with KISS since, one of only two crew members who have been with the band a quarter century. His company also designed the stage production, shaping the lighting and effects for each tune: creating "a Fourth of July party" of flash for "Rock and Roll All Nite," an explosion of flames for the darker "War Machine."
While the band travels by jet, the End of the Road tour rolls on 17 trucks, about 40 percent larger than past arena tours. It also dwarfs anything built during the legendary KISS extravaganzas of the 1970s, as Long discovered in 1999 when resurrecting the old stage and special effects for the period film "Detroit Rock City."
"We recreated a '77 stage from scratch at the same measurements and put it in an arena, and it was the smallest thing," recalls Long, who has also worked with Mötley Crüe. "It was comical by comparison. Everything was smaller back then. Everybody was discovering what you could do in this business."
During the show, Long will be on the headset helping to call cues for lighting, pyro and hydraulics, along with the stage manager. Other crew members have been with KISS for 10 years or more, but none are peers from the band's fabulous first decade.
"Let's be frank about it: The idea of being a 70-year-old member of a road crew for most people is not what they would aspire to," says Stanley. "I'm still in touch with people who have moved on to different times in their life. That's a choice you make and a smart one. I can't imagine somebody 40 years later still wanting to be tuning my guitars or climbing that scaffolding."
To be Superman with a guitar doesn't suck.
— KISS guitarist Paul Stanley
The singer has weathered his own physical abuse through years of touring and multiple surgical repairs to his rotator cuffs and both knees as well as a hip replacement. At the concert tonight, Stanley will fly along a zip-line above the crowd during "Love Gun," shouting "I'm comin' to see ya!" In concert, he says, the stunt is easy. Rehearsal is different.
"I'm not really fond of it," he says of being airborne in an empty arena. "With an audience it has an air of invincibility, and that's exhilarating. To be Superman with a guitar doesn't suck."
In the background, as always for the last 17 years, is a nostalgic contingent of fans, bloggers and radio hosts who call for a reunion of the original quartet that conquered the '70s, including guitarist Ace Frehley and drummer Peter Criss. In recent years, Frehley, who quit in 2002, had seemingly reconciled with Simmons and Stanley, who guested on some of his recent solo albums.
In 2000, KISS embarked on a farewell tour, four years after the original quartet reunited and returned to wearing their iconic makeup to renewed success. That long goodbye kept getting extended, and by 2003, both Criss and Frehley were gone. KISS chose to continue with new members wearing the face paint. "We thought we couldn't exist without Ace and Peter," says Simmons, "and were wrong."
After the latest farewell tour was announced, Frehley very publicly lobbied to return as a full member. Stanley now says that door was never open. When Simmons remarked that Frehley's past problems with drugs and alcohol remained an issue, the guitarist fired back that questioning his 12 years of sobriety was personally damaging. "The gloves are off!" he wrote online, charging Simmons with groping his wife at an event at Capitol Records.
"I'm not gonna say anything in print other than I love Ace and Peter and I thank them forever — they're every bit as important as Paul and myself for launching the band," Simmons says. "I'm not going to make any guesses of why the emotions are so volatile, but it's happened before."
At 57, Thayer is the youngest member of KISS. As a kid growing up in Portland, Ore., Thayer first saw KISS in 1975 at the Paramount Theatre. His lasting memories from the show are of flames surrounding the band.
"KISS back then was considered to be a little more dangerous. It was a band that parents didn't like," Thayer remembers with a grin. "They felt that it might be a little satanic and were out there in leather and spitting up blood. As a 14-year-old kid, it was like, this is ... cool!"
On this final world tour, Thayer says, "There's kind of an emotion to it. Even though we say every time this is the biggest and baddest tour, the preparation and the rehearsing is beyond anything I've done since I've been in KISS. It's a cut above."
Backstage at Viejas Arena, Lopez is in the hospitality room, waiting for his four rock star friends to complete the two-hour ritual of putting on makeup and costumes. His relationship with KISS goes back to his childhood in San Fernando, where he battled regularly with his grandfather over the KISS posters on his bedroom walls.
"At some point the saddest day is when you got to take them down," Lopez recalls. "You realize you're trying to bring a woman home, and you're like 21 or 22, and you got KISS posters in your room? 'Yeah, this is my little brother's room.' "
By the '90s, Lopez was a hardcore fan again, and eventually became close to the band, as he is to Eddie Van Halen and Carlos Santana. "I'm a frustrated guitar player," admits Lopez, 57. "I don't have the patience to learn a song all the way through, but I can play the beginnings of four good songs and make you think I can really play."
When Simmons, Stanley, Singer and Thayer reemerge, they're transformed into imposing alien beasts of black, white and silver and stand several inches taller than before. Their first stop is an intimate gathering of a half-dozen fans, each of whom paid $7,000 for the "Ultimate VIP Experience."
Among the handful gathered are three adult brothers in matching black T-shirts displaying the 1982 album "Creatures of the Night." Simmons hooks an arm around the neck of one, and Stanley begins polishing the shaved head of Lawrence Ray, 35, of Fort Worth, Texas, saying: "I see, I see — hair follicles!"
Singer taps out a beat against the back of Russell Ray, 36, of Washington, D.C. Eldest brother Jay Johnson, 46, invited the others to the San Diego concert, and his wife gifted them with the pricey VIP passes, including a private tour of the stage before the show. "Being with my brothers is worth it," says Johnson, who'll be watching the show from the pit with them. "We don't get together that often, so this is awesome for that."
The band steps into the next room and a less expensive meet-and-greet with a larger crowd of fans in line to take photos. A young man in Demon makeup rolls up in a wheelchair, poses with horns held high beside the band and gets a round of applause.
A woman in blue, Tracy Cullen, 55, a legal secretary from San Diego, throws her arms around Stanley and doesn't let go. She's carried around the room with Stanley's every step. "That's my mom," says her son, Michael Cullen, 26, who notes later that she's done this before.
The two-hour performance in San Diego is unrelenting sound and fury — 20 hits and fan-favorites, beginning with "Detroit Rock City," with Simmons, Stanley and Thayer descending from the ceiling, charging through its ancient, exhilarating riff. They rock out and blow fire and interact with the crowd: "Let me hear ya!"
As fans exit, Long walks the stage to survey the damage: splashes of stage blood, guitar picks, drool. He notes a light fixture was singed by a fireball. The crew hurries to pack up for the next tour date, less than 24 hours away.
For the most intense fans, it's an emotional time. After San Diego, Lopez sees them again in Anaheim and at the tiny Whisky on the Sunset Strip. Lopez hasn't worn KISS makeup since he was a teenager on Halloween 1976 but knows he'll have to put it on at least one more time before the tour is over.
"I'm going to do it and take a picture," says Lopez, who hasn't decided which character he'll go out as. "Maybe I'll go half-half. Just putting that on, I'll be 14 years old again."
♦ ♦ ♦ ♦ ♦ ♦ ♦ ♦ ♦ ♦
KISS
When: 7:30 p.m. Saturday
Where: The Forum, 3900 W. Manchester Blvd., Inglewood
Tickets: $104.50-$470
Info: msg.com/the-forum
Get our L.A. Goes Out newsletter, with the week's best events, to help you explore and experience our city.
You may occasionally receive promotional content from the Los Angeles Times.