KISS is on its final, final farewell tour, Gene Simmons pledges ahead of Anaheim date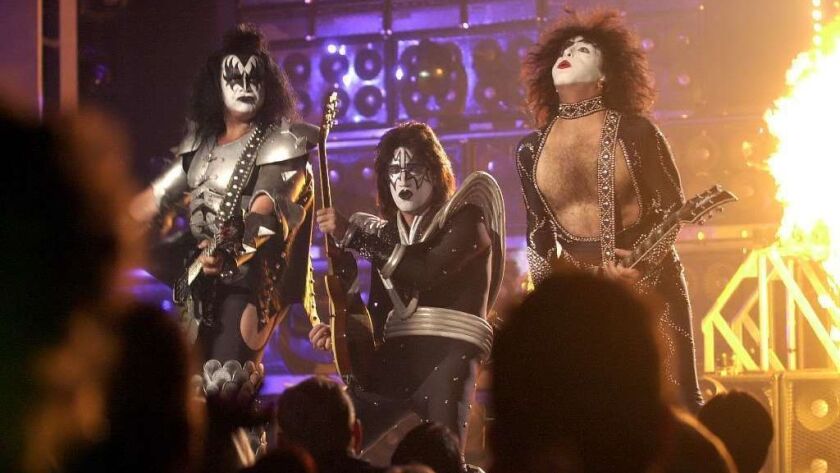 Nearly 20 years after KISS' farewell tour, Gene Simmons insists the band will hang it up for good when its "End of the Road" engagements conclude. Simmons, who turns 70 in August, said he simply cannot perform too far into his eighth decade wearing 40 pounds of armor and platform boots.
"This is a good time to do one last victory lap," the band's bass player, co-lead singer and public face, said by phone. "You want to go out on top."
KISS has been rocking a feverish fandom since the mid-1970s, the shows as notable for outlandish makeup and costumes as for the similarly festooned "KISS Army" of attendees. The tour comes to the Honda Center in Anaheim on Feb.12, and Simmons promises that KISS — not precisely known for restraint — will exceed its previous spectacles.
"It's by far the largest and most over-the-top we've ever done," Simmons said.
This includes the band descending from the rafters to open the show. Fans can expect pyrotechnics aplenty and, of course, Simmons spitting fake blood and — dressed in a studded dragon costume — breathing fire.
"There's nothing subtle about what we do," he said, adding the show will incorporate gravity-defying antics and "more firepower than most Third World countries."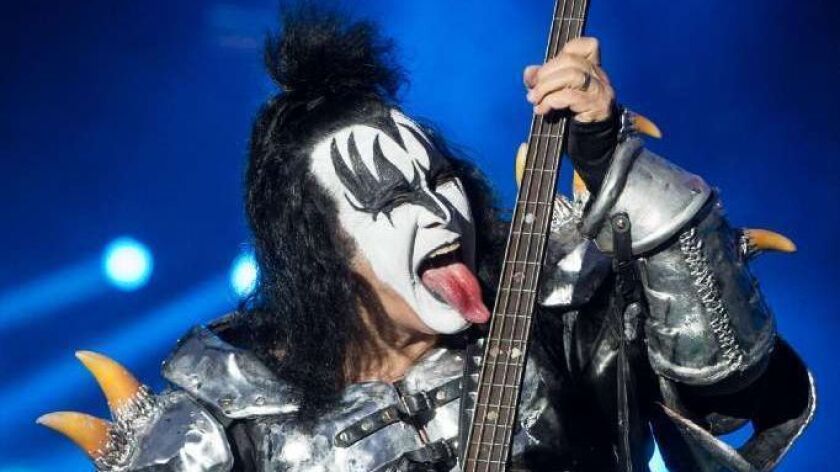 Also familiar is the band's long list of hits. The Kabuki makeup-painted rockers are performing "Rock and Roll All Nite," "Shout it Out Loud" and "Beth" on this tour, according to recent set lists, as well as stadium staples like "Detroit Rock City," "Deuce" and "Black Diamond."
When pressed if this truly is the end for KISS as a touring entity, Simmons said it's a fair question given the propensity of acts — from Cher to the Eagles — hitting the road long after their promised codas.
The band's 2000-01 farewell tour, Simmons said, sent off the original quartet. While Simmons and frontman Paul Stanley have been in the band consistently since its founding, original guitarist Ace Frehley and drummer Peter Criss had left the group several times. The dawn-of-the-millennium outing gave fans one more chance to see the classic lineup.
"It had to do with our two original members who yet again had come to the end of their rope, as they say," Simmons explained. "Each had been in and out of the band three different times. And we love them as human beings, but not everybody is [meant for the long run]."
Criss was substituted by a new drummer in 1980; Frehley jumped ship in 1982. Freshmen members were outfitted as new "characters" in terms of their costumes, although KISS famously eschewed makeup in the late '80s. But after the farewell tour, Criss and Frehley's cat and spaceman personas weren't retired, but filled by guitarist Tommy Thayer and drummer Eric Singer.
Much like a soap opera casting new actors for long-established roles, the current incarnation features the same characters but different performers.
"We [had] made a judgment that without Ace and Peter, KISS couldn't continue," Simmons says now. "But the fans kept asking, 'Why not?'"
Evidence was everywhere: Sammy Hagar had replaced David Lee Roth in Van Halen; AC/DC has had two frontmen since Bon Scott's 1980 death. Fleetwood Mac soldiered on without Lindsey Buckingham, Pink Floyd without Roger Waters. Simmons pointed to the success of Genesis when Peter Gabriel went solo.
"We saw other bands had very healthy lives and continued on," Simmons said. "So many of those rules are self-imposed, and at the end of the day, our knees buckle to our bosses, which is the fans."
In its nearly half-century career, KISS continues to be as much a merchandise machine as a metal band. Given the musicians are basically playing roles onstage, it's little wonder the lineup appears on all manner of tchotchke, from T-shirts and action figures to dolls and lunch boxes. Simmons and Stanley even own Rock & Brews, a chain bar and restaurant with a Tustin location that will be predictably rocking after the Anaheim show.
And for those who cannot imagine heading into eternity without their favorite band, KISS Kaskets are for sale.
"There's a large market for it [as] people continue to die," Simmons said.
IF YOU GO
Who: KISS: End of the Road World Tour
When: Feb. 12 at 7:30 p.m.
Where: Honda Center, 2695 E Katella Ave., Anaheim
Cost: Tickets start at $35
Information: (714) 704-2400, hondacenter.com
---
Get the Latinx Files newsletter
Stories that capture the multitudes within the American Latinx community.
You may occasionally receive promotional content from the Los Angeles Times.