Review: Kim Petras embodied a night of celebration and frustration at L.A. Pride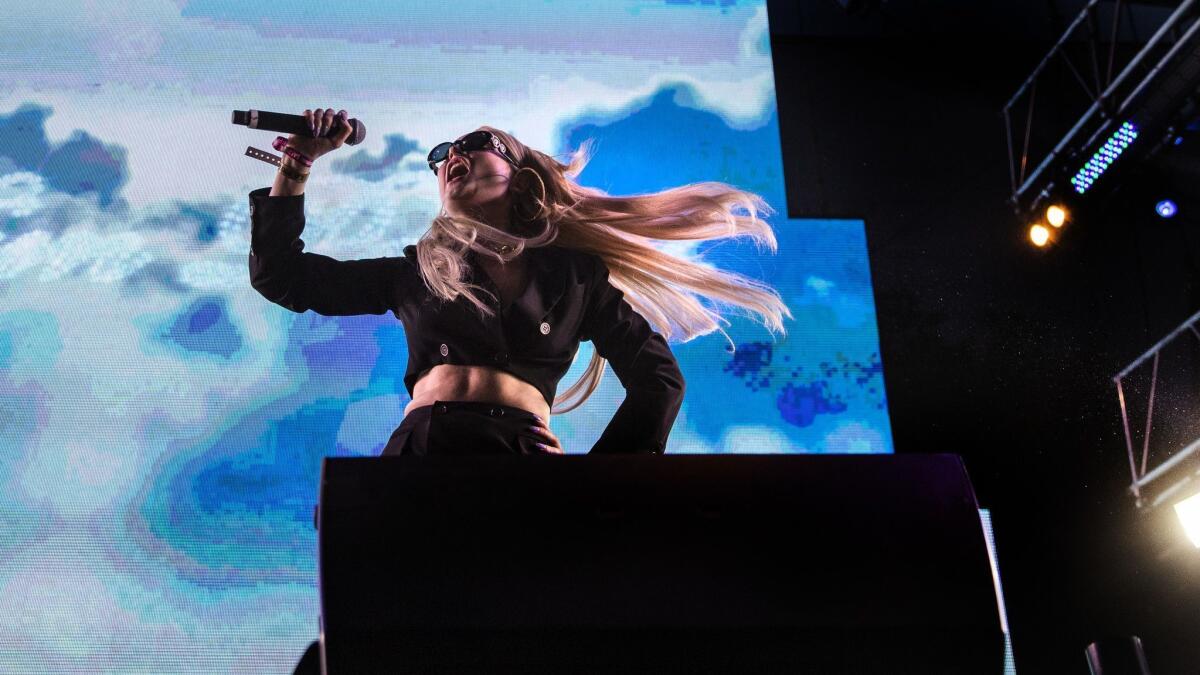 Pop Music Critic
Progress met a few problems Saturday night at the L.A. Pride festival in West Hollywood.
The good news? With a musical lineup dominated by women, including Kehlani, Icona Pop and Kim Petras, Pride sold all its available passes for the first time in the event's history, organizers said. The sold out show happened just weeks after the cancellation of FYF Fest, which was to feature Janet Jackson and Florence + the Machine, leading some to question the commercial viability of such a bill.
In fact, Pride's inclusive vision may have proved too attractive: Numerous ticketholders were turned away Saturday night after being told the festival had reached capacity.
Pride later issued an apology and said that people with unused tickets for Saturday could use them to get into the two-day festival's second show on Sunday. (A spokesperson didn't immediately confirm how many passes had been sold.)
What's more, Pride's sound system wasn't always up to the demands created by such a large crowd.
Several times Saturday, the main-stage speakers cut out for minutes at a time, leaving the acts performing onstage more or less unheard by the thousands gathered in West Hollywood Park near the Pacific Design Center.
"This is unacceptable," Kehlani said with obvious irritation near the end of her headlining set.
An Oakland-born R&B singer who's collaborated with the likes of Eminem and Zayn, Kehlani used slick soul grooves to put across frank thoughts about sex and romance. Sweden's Icona Pop sang about finding liberation through partying. Other performers on Saturday included Keri Hilson, DJ Wizz Kidd and Superfruit, the last featuring two members of the hugely popular a cappella group Pentatonix.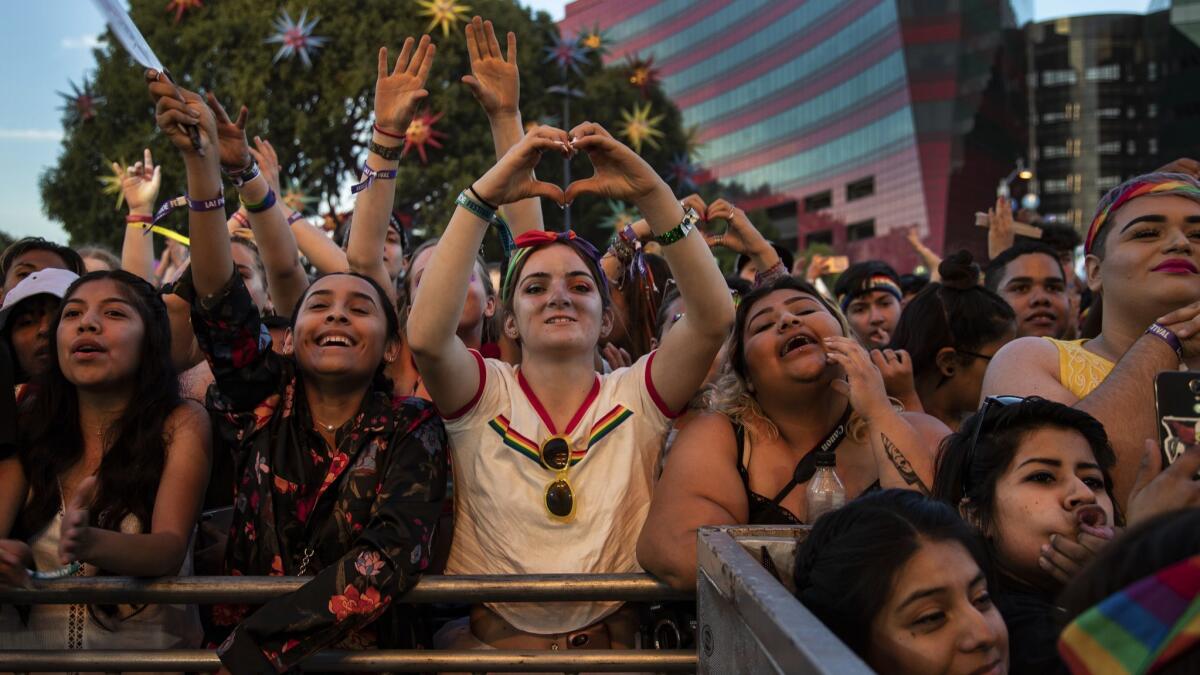 Yet the evening's most interesting performer was Petras, whose standing as a progressive icon is as complicated — and, to some, as frustrating — as Pride's logistics.
Born in Germany and now living in Los Angeles — "just down the street from here," she pointed out cheerfully from the stage — Petras is a young transgender artist with a handful of smart and catchy singles making waves online.
She broke out last year with "I Don't Want It At All," a brilliant spoof of bratty entitlement in which she describes her search for someone who will buy her designer clothes — and won't make her wait for them: "If I cannot get it right now," she sings over a bubbly electro-pop groove, "I don't want it at all."
Since then, she's released several more tunes, each as knowing and as well constructed as the last. There's the fizzy "Heart to Break" and the self-affirming "Can't Do Better" and "Hillside Boys," about guys in Range Rovers who make her heart "sparkle like Champagne."
"I have a thing for rich dudes," Petras said Saturday, flipping her long blond hair. "I hope it's relatable."
She was kidding, sort of. But what's remarkable about Petras' work is indeed the way she so deftly employs pop's established language to represent a marginalized viewpoint.
So what's problematic about it? That her principal creative partner behind the scenes is Dr. Luke, the once-powerful producer and songwriter whom Kesha has accused of sexual misconduct.
For some listeners, that association — not to mention Petras' claim in a recent NME interview that she "wouldn't work with somebody I believe to be an abuser of women" — is too much. (When faced with further criticism for seemingly suggesting that Kesha is lying, Petras said her "positive experience" with Dr. Luke "does not negate or dismiss the experience of others or suggest that multiple perspectives cannot exist at once.")
Aside from the producer's guilt or innocence, Petras' music risks being tainted by the troubling idea that Dr. Luke is cynically using her and her story as cover to reestablish himself in a pop industry that's never been more eager to flaunt its progressive values.
Not that anyone at Pride seemed to be thinking too hard about any of this as the music played.
Mostly, Petras drew enthusiastic cheers as she belted "I Don't Want It At All" and "Heart to Break" — and even when she improvised a dance solo after the speakers conked out during her song "Faded."
On a night of both celebration and frustration, though, that didn't mean the noise was undetectable in the air.
ALSO
Why FYF Fest's cancellation feels like such a discouraging setback
Kehlani just wants to be happy after grappling with darkness. New album 'SweetSexySavage' leads the way
Kehlani, once on edge, proves at FYF that she is now a festival powerhouse
'When you're black you have to fight': Tinashe, Kehlani and other female R&B artists struggle for attention
Icona Pop's balancing act at the Fonda Theatre
Twitter: @mikaelwood
Get our L.A. Goes Out newsletter, with the week's best events, to help you explore and experience our city.
You may occasionally receive promotional content from the Los Angeles Times.