Review: Don Henley, Jackson Browne and friends salute Linda Ronstadt at Parkinson's benefit
Fans and pop music critics alike have long extolled the power of Linda Ronstadt's voice.
But the facet of her talent most consistently lauded Sunday night at the Theatre at Ace Hotel in L.A. during a star-studded salute to Ronstadt benefiting research into Parkinson's disease was her ears.
That is, her knack for identifying great songs and songwriters, whether they fit the mold of what was au courant when she was recording and touring before Parkinson's robbed her of her career.
See the most-read stories in Entertainment this hour »
It was evident in the show's lineup, which featured Eagles founding member and songwriter Don Henley as well as fellow singer-songwriters Jackson Browne and J.D. Souther, singer Aaron Neville, multi-instrumentalist David Lindley and latter-day disciples such as country singer-songwriter Brandy Clark, rocker Grace Potter, Guatemalan singer Gaby Moreno, L.A. indie-rock band Dawes and Southern California roots-music champions fiddler-singer Sara and guitarist-singer Sean Watkins.
Dolly Parton made a guest appearance on film extolling their work together, along with Emmylou Harris, in the acclaimed roots-country "Trio" project.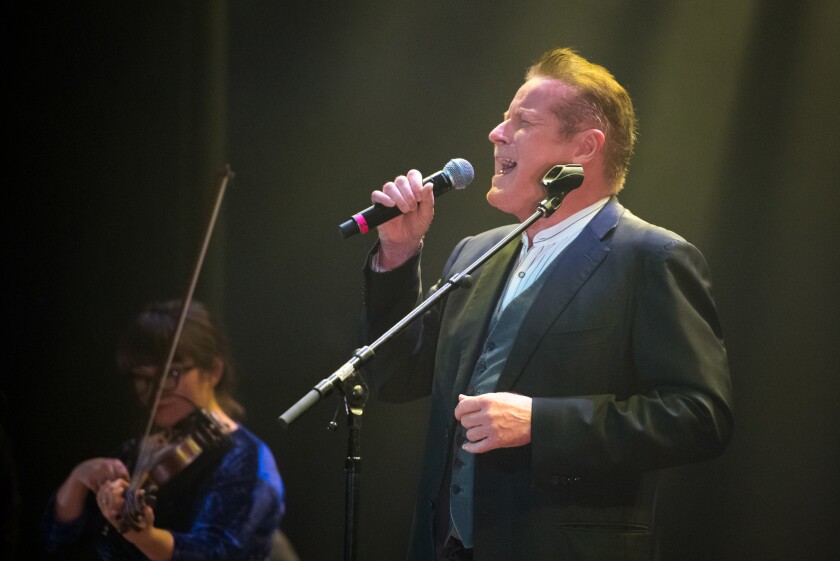 For all that star power, it was equally impressive to consider so many others that the 10-time Grammy Award winner has been closely associated with who might easily also have taken part: Smokey Robinson, Chuck Berry, Bonnie Raitt, the Monkees' Michael Nesmith, Neil Young, longtime producer Peter Asher, songwriters Karla Bonoff, Libby Titus, etc.
Ronstadt's ear for first-rate material was apparent Sunday in the renditions of signature songs from her wide-ranging repertoire. They spanned the aching beauty of the song Henley identified as his first collaboration with his late songwriting partner Glenn Frey, "Desperado," as well as Kate and Anna McGarrigle's haunting "Heart Like a Wheel."
Not to be outdone was the otherworldly beauty of Roy Orbison's "Blue Bayou," and the infectious rock 'n' roll ode to heartbreak in Phil Everly's "When Will I Be Loved."
Show organizers noted that 100% of the proceeds from the sold-out tribute would go directly to fund treatment and cure efforts being conducted through the Michael J. Fox Foundation for Parkinson's Research.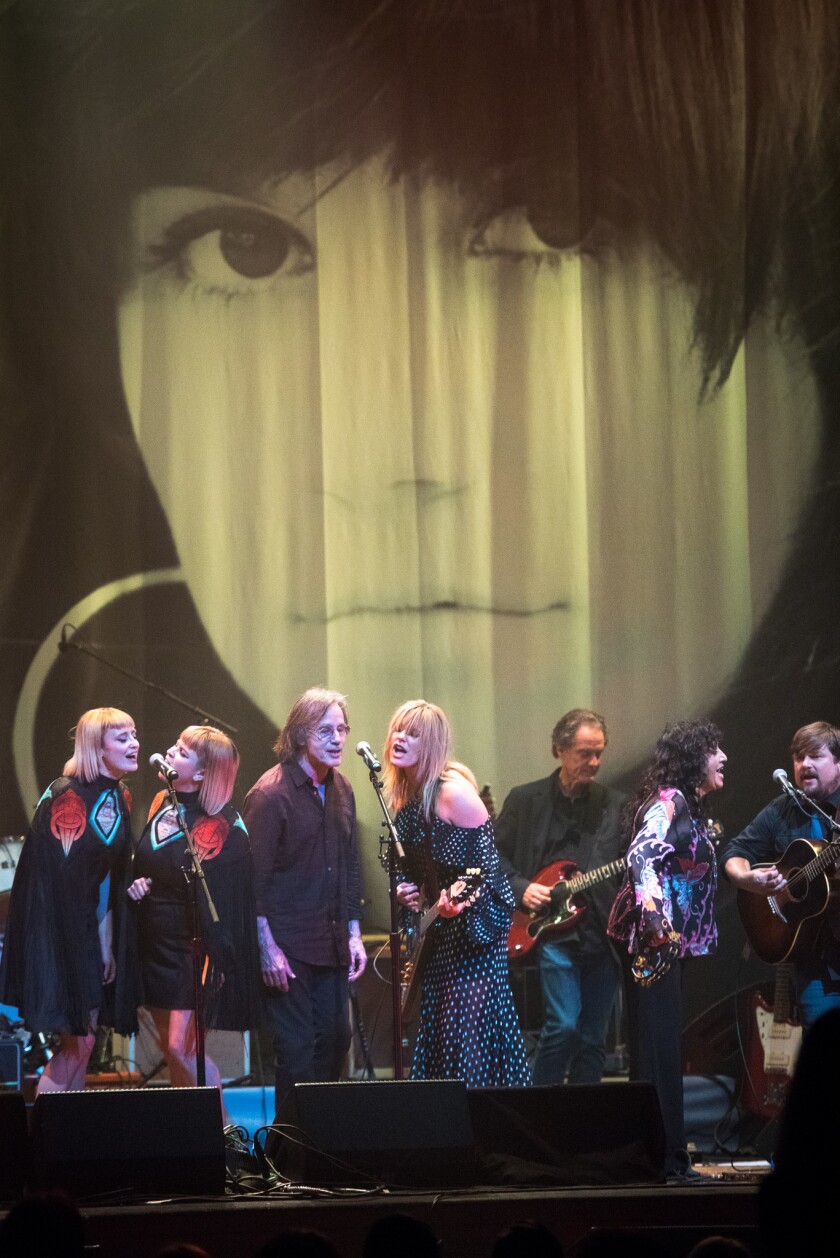 In 2013, Ronstadt went public with her Parkinson's diagnosis, revealing that the degenerative disease had rendered her unable to sing. In subsequent interviews, she said she'd begun noticing a decline in her ability to control her voice going back a decade or more.
Sunday's show, however, was light on elaboration about the toll Parkinson's can take, and heavy on celebrating the vision Ronstadt brought to her career.
A tribute to an interpretive singer can seem like an odd exercise. Like salutes to Ella Fitzgerald, Frank Sinatra or Elvis Presley, on the surface, it might sound strange to gather musicians to sing songs that Ronstadt hadn't written but had instead popularized through her unique vocal skills.
What emerged, however, was as much a salute to her border-blind attitude toward music, one that powerfully informed the Americana music genre that developed in the '90s and since.
She had to fight, for instance, to record the McGarrigles' Gothic ballad of doomed romance, "Heart Like a Wheel," but her instincts, as they so often were, proved to be spot on.
Her longtime friend and frequent harmony partner Maria Muldaur sang it gorgeously — including the existentially dark third verse that Ronstadt's recording bypassed — backed by a stellar band consisting of keyboardist Benmont Tench of Tom Petty's Heartbreakers, guitarist Greg Leisz, drummer Don Heffington and bassist Sebastian Steinberg, with help from the Watkins siblings.
Likewise, it was considered by most of those around her to be career suicide when she insisted in the 1980s on recording an album of pre-rock material with arranger-conductor Nelson Riddle. Yet she gave us "What's New," the 1983 album that started a flood of rock world singers taking on the Great American Songbook.
Even with that success, she also was lobbied heavily against indulging her wish to make an album of the Spanish-language songs she grew up loving and singing with her family in Tucson, Ariz.
"Canciones de Mi Padre" (1987) became, as Moreno noted, the biggest selling non-English language album in the history of the U.S. music industry. It earned Ronstadt a Grammy for Mexican American album and spawned a similarly successful and Grammy-winning sequel, "Mas Canciones," four years later.
Moreno, whose voice is thinner but equally powerful to Ronstadt's, paid homage to that chapter in her predecessor's career with a potent performance of "Rogaciano el Huapanguero."
Lindley delivered one of many highlights of the evening with his solo rendering of "Poor Pitiful Me," written by another of the great L.A.-based songwriters of whom Ronstadt was an early champion, Warren Zevon.
Lindley told the audience how Ronstadt fought to get him a recording contract for his band, El Rayo-X, volunteered to produce an album and promised to get the label to promote it. " 'We'll shove it down their throats'," was how Lindley remembered Ronstadt's vow to him.
Neville went it alone singing their duet "Don't Know Much," preceding it with a heartfelt speech about their musical compatibility, referencing the way both felt "our voices were married."
As was often the case Sunday, Henley pointed out the game-changing effect Ronstadt had on the careers of so many aspiring songwriters when she turned her attention to one of their songs.
"This song got very little notice when it came out on our second album in April of 1973," Henley said of "Desperado." "When Linda recorded it and put it out on her 'Don't Cry Now' album in September of 1973, everything changed."
Follow @RandyLewis2 on Twitter.com
For Classic Rock coverage, join us on Facebook
---
Your essential guide to the arts in L.A.
Get Carolina A. Miranda's weekly newsletter for what's happening, plus openings, critics' picks and more.
You may occasionally receive promotional content from the Los Angeles Times.