Review: Los Tigres del Norte keep crowds dancing in the aisles at the Hollywood Bowl
The Hollywood Bowl is a complicated venue for performers. The bucolic setting is a well-known distraction from the music. Bands that know how to rile up a human mass in a sports arena somehow lose their way before happily picnicking hordes.
The best acts approach the Bowl as if they are singing not to people, but to the mountain before them. On Saturday night, Los Tigres del Norte sang to the mountain.
In an ebullient performance that kept the crowds at the Bowl bouncing in their seats and dancing in the aisles, Los Tigres, the renowned norteño band that began life as itinerant musicians in the Mexican state of Sinaloa, strolled onto the stage in sparkling dinner jackets. Los Tigres then proceeded to rule that stage for almost two hours.
They got the night rolling with their hit 1976 narco ballad, "La Banda del Carro Rojo," about a band of smugglers who find themselves on the losing end of a shootout with Texas Rangers. And from there, they took the Bowl (which was at about 80% capacity) on a rollicking sonic trip through their greatest hits.
This included "Contrabando y Traición," the 1972 narcocorrido about love, smuggling and betrayal that launched their careers. "La Puerta Negra," from 1986, a brassy paean to forbidden love. And "Jefe de Jefes" (Boss of Bosses), which describes a man at the top of his game — an apt tune for a band that remains beloved half a century after its members first took to the stage as children.
There wasn't a tune that didn't have the audience wailing along with the lyrics or belting out gritos, the mournful Mexican cries, in response. The concert had the feel of a joyous family party. And in many ways, it was a party, for a family band that for decades has taken the Latino immigrant experience and made of it poetry.
Led by brothers Jorge, Eduardo, Hernán and Luis Hernandez, with cousin Oscar Lara on drums, it was a gathering that served as a jubilant moment of Mexican pride at a time in which Mexican and other Latin American immigrants have found themselves vilified by some politicians. (President Trump famously kicked off his presidential campaign by referring to Mexican immigrants as "rapists").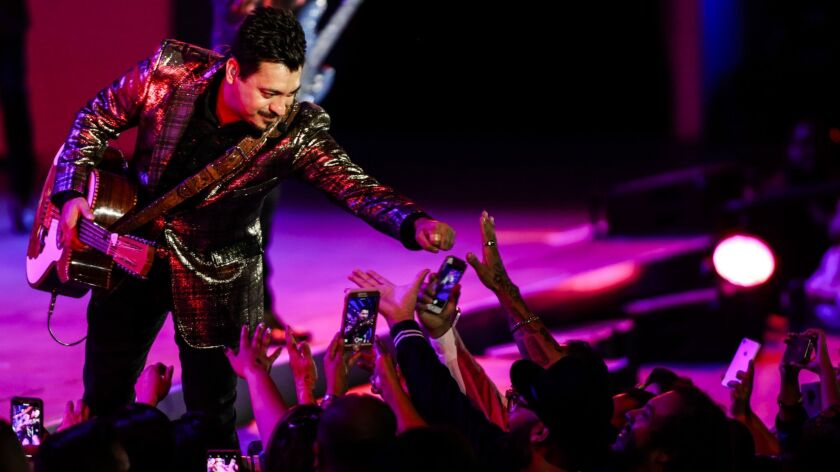 It was a party — for a family band that for decades has taken the Latino immigrant experience and made of it poetry.
It also represented a unique confluence of events.
Saturday night was also the highly anticipated rematch between Mexican boxer Canelo Alvarez and Kazakh rival Gennady Golovkin. During musical breaks, fans kept tabs on social media feeds for the latest news. One concert-goer, draped in a large Mexican flag, streamed the bout on his cellphone to those seated in his immediate vicinity. When the news came through that Alvarez won, clusters of people erupted in cheers.
Moreover, the weekend marked independence celebrations for Mexico, El Salavador, Guatemala, Honduras, Nicaragua and Costa Rica — something the band acknowledged with shouts of "¡Que viva México!" and by playing their 1989 tune "Tres Veces Mojado" (Three Times a Wetback) about immigrants who cross multiple borders in their harrowing journeys to the United States.
"I dedicate this next song to Mexico and Central America!" exclaimed Jorge to the roar of the crowd, before launching into the opening accordion riff.
The concert was an important musical milestone too: the first time a norteño act headlined at the fabled Hollywood Bowl — an achievement that may be long overdue, but is nonetheless significant for drawing attention to a wildly successful musical genre that is all too often ignored by the critical establishment.
In their show, Los Tigres would not be ignored.
Things kicked off with two opening acts: Los Cadetes de Linares de Los Primos Tijerina (a contemporary iteration of a long-running Mexican band) and Los Cachorros de Juan Villarreal, the latter of which made most of interstitial moments with some jazzy accordion jams.
Los Tigres took the stage with YOLA, the Youth Orchestra Los Angeles, led by conductor Juan Felipe Molano. How a symphonic orchestra would work with norteño, which is built around bouncing polkas and fast-paced accordion riffs, was a lingering question as cellists filed onto the stage.
Both groups of musicians chose their pairings well. The orchestra would chime in during more languid, romantic ballads or tunes that demanded a big-band sound, such as "Quiero Volar Contigo," with its seductive cha cha cha beat.
But YOLA stood down on the more traditional norteño tunes: fast corridos about unrequited love and smuggling gone wrong. In those moments, Los Tigres was simply Los Tigres.
Hernán wielded his glittery bass like a ceremonial sword. Eduardo made the saxophone wail. In particularly poignant moments, lead singer Jorge would remove his cowboy hat with a graceful sweep, or jab at the sky in mock rage.
During the rousing Latino-pride anthem "Somos Más Americanos" (We Are More American), he sings: "I am the blood of the Indian / I am Latino / I am mestizo."
Then he removed his hat and gestured at his own facial features.
"Even though it hurts our neighbors / We are more American / Than all of the gringos," he sang.
Throughout the tune, a woman seated behind me mirrored his every last gesture. The entire Bowl seemed to join in for the chorus.
Some of the members of Los Tigres have been playing for 50 years; at moments, their voices sound frayed (especially on long notes). But that matters little to their audience, for they are consummate showmen.
On Saturday, the Hollywood Bowl was packed with recent immigrants from Mexico and third generation Chicanos. There were cowboy hats and dapper suits, baseball caps and light-up floral headdresses. One man toward the front waved an Argentinean flag throughout the show. A few fans connected with YOLA talked classical music in the stands.
None of those differences mattered when Los Tigres took the stage. For a night, we were all americanos.
ALSO
On Saturday, Los Tigres del Norte will become the first norteño act to play at the Hollywood Bowl
Canelo Alvarez earns redemption with a close majority decision win over Gennady Golovkin
Los Tigres del Norte get a star on Hollywood Walk of Fame -- finally!
Sign up for our weekly Essential Arts & Culture newsletter »
---
Inside the business of entertainment
The Wide Shot brings you news, analysis and insights on everything from streaming wars to production — and what it all means for the future.
You may occasionally receive promotional content from the Los Angeles Times.