James Marcus Haney's lucky 'break' into rock films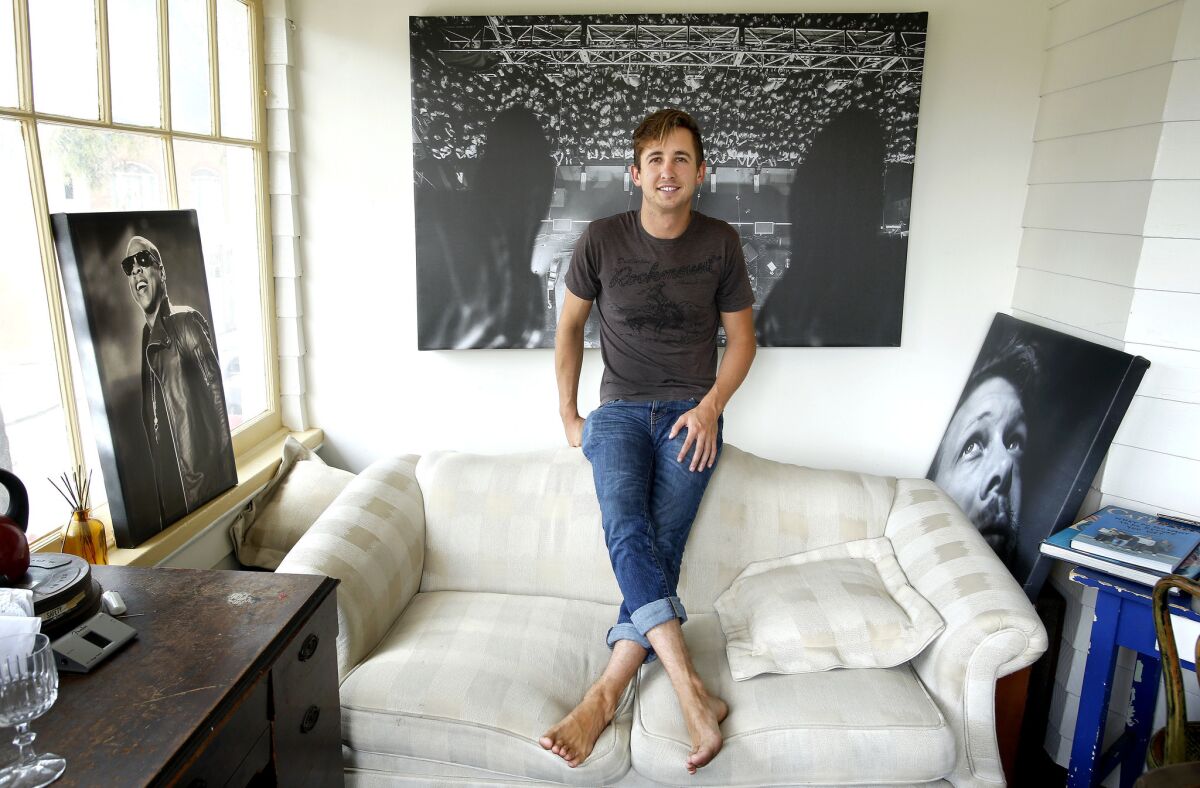 After James Marcus Haney snuck into his first music festival, he found himself in an opportune spot: Using his cameras as props and a "press pass" made with a shoelace, he placed himself on the 2010 Coachella stage alongside one of the festival's biggest acts, Muse.
With his gear around his neck, the then-USC film school student figured he might as well hit "record." "I'm supposed to be looking like I'm shooting anyway, so I might as well be taking real pictures," Haney, now 26, recalled, lounging in his Venice apartment that doubles as a photo studio. "That kind of blossomed into what we're doing now and all the insane stuff that's happening."
------------
FOR THE RECORD:
James Marcus Haney: An article in the Aug. 5 Calendar section about photographer and filmmaker James Marcus Haney indicated that his documentary "Connaroo" was about other festival-goers sneaking into the music festival Bonnaroo. The film was about his own efforts.
------------
By "insane stuff," the Arcadia native means his first feature documentary, "No Cameras Allowed," which premieres on MTV on Aug. 29. The doc starts with Haney's stunning photos and video from Coachella in 2010 of Jay-Z and Edward Sharpe and the Magnetic Zeros, among others. That experience emboldened him to crash other festivals, including Bonnaroo, Ultra, Austin City Limits, Glastonbury in the U.K. and, of course, Coachella again.
It's this heist movie aspect that also makes "No Cameras Allowed" exciting, as Haney schemes with his friends to sneak into festivals, even as security becomes tighter. The group creates fake wristbands, climbs under fences and spends the night in portable toilets, all to get in without paying.
"This film is much more of a love letter written to music festivals rather than a how-to to sneak in, how to stick it to the man," Haney said. "We've gotten a lot of response from festival heads, some of it negative, some of it positive."
When contacted, Coachella promoter Goldenvoice did not have a comment.
"No Cameras Allowed" succeeds by combining crisp, creative footage of a diverse range of musical acts with Haney's own coming-of-age story.
His Coachella 2010 photos earned him passes to Bonnaroo, where he again angled for a better view by posing as press for the Manchester, Tenn., festival's entire run. That footage turned into a short documentary, "Connaroo." He passed the doc along to the band Mumford & Sons, which he'd filmed at the festival, and the next Coachella, he found himself following the band onstage with his camera — this time at the act's request.
Mumford & Sons invited him to join them on their Railroad Revival Tour in April 2011, shooting their six-city train tour across the Southwestern U.S. Yet Haney had one last round of finals to finish at USC to earn his degree.
"I had to pick between college and the tour," Haney said. His Venice studio, though maintained like a college beach house, reflects the decision he made. There's no framed degree. Instead, crisp photos of Marcus Mumford and festival crowds do an effective job of filling the wall space.
Haney said he began editing together his footage from festivals to create the documentary. Once he realized he "had something," he started looking for a producer to help fund the finishing touches.
"We made a little pitch trailer, and that's what ripped through Hollywood," Haney said, still a bit in disbelief. "I met with some of my heroes. Spike Jonze sat down with me three different times, gave me notes. Judd Apatow sat down with me and gave me notes. So many people were interested very early on and gave me incredible help."
Haney chose Fake Empire Productions, a company run by "Gossip Girl" and "The O.C." producers Josh Schwartz and Stephanie Savage. Schwartz said Haney "knows how to capture a moment" as well as artfully compose a shot, adding that "most importantly, he seems to be in the right place at the right time." MTV eventually signed on as the doc's distributor, not changing a frame from Haney's finished product.
"I grew up discovering music on MTV, and for them it's kind of a step towards bringing back that MTV spirit that I grew up with, and that's really exciting for me," Haney said.
A sold-out show last month at the Wiltern, where the doc premiered, followed by a surprise Young the Giant concert, indicated that fans seemed to be connecting with Haney's adventure. Haney said he'd snuck into that venue for many concerts. This time, he had his own dressing room.
Ideally, Haney would like to screen the film in tandem with concerts across the nation and even abroad, hoping to create for the audience the festival experience he loves. He's continued to find work as a filmmaker and photographer, touring with Mumford & Sons and shooting their "Babel" album cover, which features a cameo by the 68-year-old Grim Grim, a Welsh man featured in the doc whom Haney befriended while hitchhiking to Glastonbury.
Despite "No Cameras Allowed" forming a sort of chronicle of Haney's unconventional career path, he struggles to pinpoint exactly how sneaking into Coachella on a whim in 2010 turned into where he is today. He calls it a mix of talent and, yes, a bit of luck.
"Was I lucky at sneaking into every music festival? Yeah," he admits. "But I was looking for those lucky windows, so you have to be very aware and open and receptive to jumping on that luck happening."
Get our L.A. Goes Out newsletter, with the week's best events, to help you explore and experience our city.
You may occasionally receive promotional content from the Los Angeles Times.