Country singer Margo Price's debut has even got Jack White excited
Don't get Margo Price wrong. It's not that the Illinois-reared, Nashville-based singer-songwriter isn't flattered by comparisons to such respected country forbears as Loretta Lynn, Dolly Parton and Emmylou Harris.
It's just that such compliments only tell half the story.
"I don't just want to listen to music made by women, and I don't just want to listen to music made by men," said Price, 33.
"I just want to listen to good music," she said. "Bob Dylan and Neil Young are two of my greatest influences. I love Willie Nelson, I love Porter Wagoner."
Price's debut, "Midwest Farmer's Daughter," was recorded at the fabled Sun Studios in Memphis, Tenn., and it sounded sufficiently fresh to indie music tastemaker Jack White that he opted to put it out on his Third Man Records. When tickets for her Southland performance Thursday at West Hollywood's Troubadour went on sale last spring, they sold out so quickly a second show was added Oct. 12, which sold out as well.
The artist, sitting next to a leaf-strewn swimming pool of the Beverly Hills-adjacent Air BnB house she and her entourage rented recently on a short swing through Los Angeles, is focused on being the first Margo Price rather than "the next" somebody else.
"I wonder if Loretta's getting tired of seeing my name," she said. "People have said, 'Oh, she's the next Loretta Lynn,' but there'll never be another Loretta Lynn. What made her so wonderful is that she was so original. If there's anything I pull from her, it's to have that originality and to be different."
So far it seems to be working.
Price took home the Americana Music Assn.'s award for emerging artist of the year in September. The country community has been drawn to her sharp songwriting and steely vocals, as well as her no-nonsense approach.
Her work is drawn from the hardscrabble life she lived growing up in Buffalo Prairie, Ill., before moving several years ago to Nashville with her husband, frequent songwriting collaborator and band mate Jeremy Ivey.
See the most-read stories in Entertainment this hour »
Price's sassy "About to Find Out" may indeed recall the spunk Lynn characteristically invested in her country convention-defying songs of the 1960s and '70s, while "How the Mighty Have Fallen" wouldn't sound the least out of place on one of Harris' albums from the '80s or '90s.
But she also channels country's revered outlaws with the muscular country rock of "Tennessee Song," her jailhouse lament "Weekender" and an instant honky-tonk classic "Hurtin' (On the Bottle)."
The latter two emerged in part out of the downward spiral she took in 2010. At the time, one of her and Ivey's infant twin sons died of a rare birth defect, hypoplastic left heart syndrome.
"I dealt with it very poorly. I was offered therapy from the hospital to go to a group with mothers who'd gone through the same thing. In hindsight I should have gone right away. It isn't that I was prideful, but I thought that that I could deal with it with my husband. I just thought we could help each other through it, but it was so difficult, so much more difficult I've ever been through," she said, her voice starting to break. "It's still hard some days."
She's been forthright talking about how she resorted to heavy drinking, a remedy that landed her a weekend in jail for getting behind the wheel of her car while intoxicated.
She subsequently sought therapy, has met with other parents who lost children and has found some measure of solace in focusing on the couple's other son, Judah, who is just starting kindergarten and sometimes travels with her while she's touring.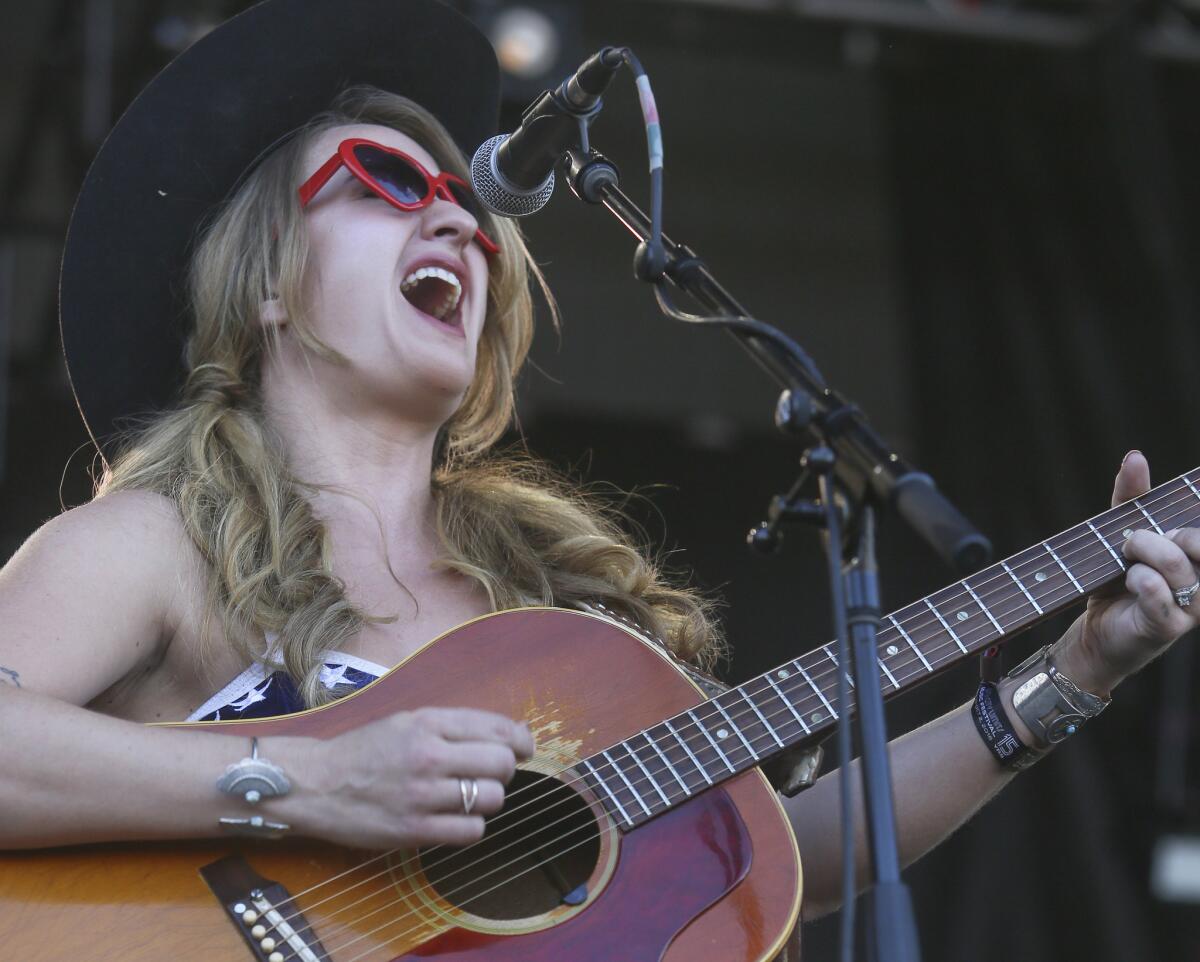 Price grew up immersed in music. Her mother favored Top 40 AM radio while her father leaned more to classic-rock. Then, of course, there was the vintage country she soaked up in visits with her grandparents.
Her great uncle, Bobby Fischer, was even a professional songwriter. He crafted songs recorded by numerous country singers, including George Jones, Conway Twitty and many others "on up to Reba McEntire," as Price notes.
Having a close relative in the country music business must have been a great leg up, no?
"He was in his 70s, or maybe at least his 60s, when we moved to Nashville. I went over one time and played him a song that I was so proud of," she recalled. "He just sat there quiet after I finished. Then he looked at me, right in the eyes, and said 'Here's what you do: Go home. Get rid of your TV, get rid of your computer, turn the radio off and just write.'
"That was his way of saying 'You're not there yet, but keep trying,'" she said. "It really hurt my feelings at first because so many people nowadays are afraid to be honest. But that was great. It really lit a fire under my ass, and I thought I do have to get better."
The excitement surrounding Price has quickly elevated her name into the class of upstart country musicians including Chris Stapleton, Kacey Musgraves, Sturgill Simpson, Jason Isbell, Brandy Clark and others.
"I definitely feel comforted that they're out there doing it," she said. "That was the nice thing [at recent awards ceremonies] seeing Jason and Sturgill and Chris getting these accolades. I admire very much what they are all doing.
"The pop world and the rock world, too, has people like [her friend, Alabama Shakes' lead singer and songwriter] Brittany Howard and Father John Misty. They're true poets, and it's great to see them come up and do something that's out of the box, and yet it's getting widely accepted. That's amazing, especially after the long drought of boy bands and all the Disney stuff."
Follow @RandyLewis2 on Twitter.com
For Classic Rock coverage, join us on Facebook
ALSO
Rick Astley of 'Never Gonna Give You Up' fame talks about life after becoming a meme
They feel you: Depeche Mode is coming back with a new tour and studio album
Adam Levine recruits Kendrick Lamar to drop a verse on new Maroon 5 single 'Don't Wanna Know'
Get our L.A. Goes Out newsletter, with the week's best events, to help you explore and experience our city.
You may occasionally receive promotional content from the Los Angeles Times.