MC Hammer is headlining Staples Center — in 2017. How did this happen?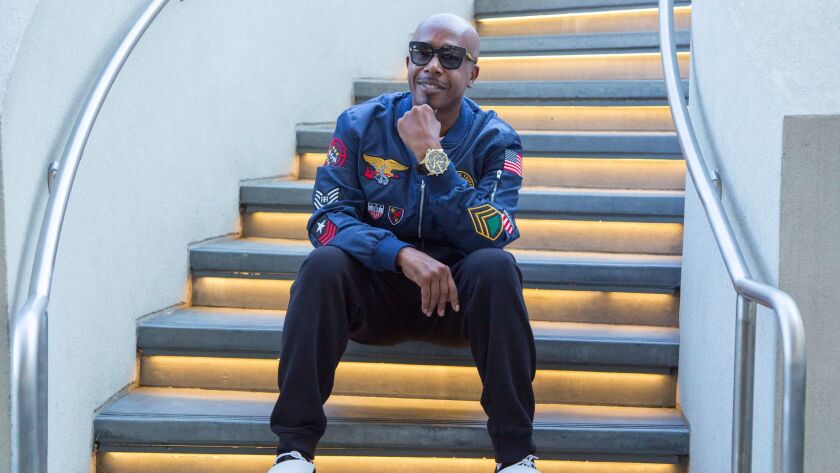 Pop Music Critic
Turns out you can touch this.
As he strode through the Hollywood & Highland complex on Wednesday afternoon, MC Hammer was approached by a group of young men who looked surprised to have crossed paths with the flamboyant rapper famous for his 1990 smash "U Can't Touch This."
For the record:
7:06 a.m. Sept. 18, 2021An earlier version of this article referred to the ensemble that will accompany MC Hammer at Staples Center on Sept. 8 as the Los Angeles Youth Orchestra. The group will be the Inner City Youth Orchestra of Los Angeles.
Could they shake Hammer's hand, maybe get a quick selfie? Sure, no problem — Hammer had time for that. And how about these other folks? Just one more picture? OK, OK. Fist bumps all around.
In a walk of just a few hundred feet — from the Loews Hollywood Hotel to the studios of Revolt TV, where he was due for an appearance to talk up a concert he's playing Friday night at Staples Center — MC Hammer pressed flesh half a dozen times, each with the willing patience of a man eager to hang on to his fading celebrity.
And that's what Hammer is, right?
Maybe.
Yes, the songs that made him one of hip-hop's first real-deal pop stars — "2 Legit 2 Quit," "Pray," his silky rendition of the Chi-Lites' "Have You Seen Her" — are decades behind him. And no, it's not likely he'd be headlining Staples if Friday's show weren't connected to a splashy network television special.
But talk with him for a few minutes and a slightly different picture emerges, that of a principled entertainer with more in his head than a shrinking spotlight.
For starters, the Oakland native born Stanley Kirk Burrell is pretty suspicious of media attention — hardly the norm for someone trying to stretch his renown for another few years. When we sat down, Hammer, 55, immediately wanted to know what my angle was; he'd more or less stopped speaking with entertainment journalists, he said, because they always approached him with such shallow questions.
"If I'm one of five things that you've got to do this week, how can you take the time and really research?" asked the rapper, who was dressed in a satiny flight jacket and fitted sweats far more snug than the so-called Hammer pants he once popularized. "And in my case, you've got to research 30 years," which is how long it's been since Hammer released his debut album, "Feel My Power," in 1987.
"If I were interviewing you, I'd go back and find out what are the causes that Mikael supported, what kind of things he's been involved in," he said. "I'd want to do a real story and give people a narrative of a human being.
"They already know the music!" he continued, referring to himself again. "You're not doing a story about a guy trying to make an audience. My music's already been heard by billions. Billions! So you can't introduce me as an artist."
And anyway, he said, he long ago took his messaging into his own hands as an early adopter of social media. Indeed, Hammer has been more visible in recent years as an Internet entrepreneur than as a musician; at the moment he's "heavily invested in blockchain technology" and is working with a business partner on the use of Bitcoin in Africa.
He's also an activist: Last month he turned up at San Francisco's City Hall during a demonstration meant to counter a proposed right-wing rally that ended up being called off. And he described Friday's concert as the "after-party" to "XQ Super School Live," an all-star TV production featuring Justin Timberlake and Lin-Manuel Miranda, among others, that will "invite the public to help rethink the future of American high schools," according to organizers.
Yet he retains the instincts of the flashy performer who set the table for rap's eventual bling-ification. At Staples, his show will include local dancers, along with a choir and the Inner City Youth Orchestra of Los Angeles — "a higher level of excellence," he called it, and a spectacle in keeping with those he brought to MTV and took on tour in the early '90s.
Those extravaganzas, he added, came straight from one person.
"Nobody told me, 'Hammer, you should dance.' 'Hammer, you should make music with energy.' 'Hammer, you should sing "Have You Seen Her," ' " the rapper said. His eyes were hidden behind a pair of large Dolce & Gabbana sunglasses, but as he spoke I thought I could see them glinting with pent-up irritation.
"These are all things I had to do myself. On my first four or five albums, I don't have any songs that somebody brought to me and said, 'Hammer, this is a good song for you to do.' I had to pick every one and create the visuals around it and the marketing campaign, hire the directors, everything."
MC Hammer didn't stop releasing music after the '90s. There have been albums and scattered singles, and in 2012 he and Psy mashed up "2 Legit 2 Quit" with the Korean star's viral hit "Gangnam Style." He retains a firm grip on his old music too: Asked in his Revolt segment about the song "Unconditional Love" — written for Hammer by Tupac Shakur during the former's brief stint on Death Row Records — he busted out almost the entire song without accompaniment.
Still, Hammer seems out of step with today's hip-hop scene, and that might be partly by choice. He disapproves of the way young MCs such as Future rap about using prescription drugs like Xanax and Percocet to get high; this week he tweeted an article that said scientists had found traces of antidepressants in fish in the Niagara River, adding "Speechless smh" (for "shaking my head").
"This stuff is killing kids, it's getting them locked up in the penitentiaries," he said. "I've seen the effects on people I love, and I despise it. It's a stench in my nostril. So who's gonna say something? I can't wait for the next man. I'll say it, and I can handle whatever.
"I'm not trying to be popular at the expense of a generation."
Which doesn't mean popularity is of no interest to him — or that it's not a means to an end. Hammer's goal is "promoting peace and love and harmony and positivity and healthiness and family and eternity and hard work," he said, an expansive message that of course requires an audience to receive it.
And though fans have demonstrated little interest in his new music, Hammer's vintage hits have proven surprisingly durable. Just this year, Fifth Harmony sampled "Pumps and a Bump" for its song "He Like That."
Might we see him hit the road like his fellow '90s icon Puff Daddy did with last year's successful Bad Boy Family Reunion tour?
"We'll see," Hammer said. "I want to do what I call 'events' — coming to a city and getting your dancers and your horn players and embracing your culture. We can do that in L.A., we can do that in New York, we can do that in Houston.
"And, by the way, those things are on my mind. Houston is on my mind; Irma coming to Florida is on my mind. I was just talking to the CEO of one of the five largest corporations in America — I texted him and I said, 'Man, I'm ready to help.'
"As a musician, I'm ready. I'm lean and mean; I ain't carrying but 3% body fat, if that. So I'm ready. You'll see."
Twitter: @mikaelwood
ALSO
How the boys of One Direction are setting out on their own
What Donald Trump had to do with the smash-hit remix of 'Despacito'
'You ever seen history?': Puff Daddy brings Bad Boy — and some famous friends — to the Forum
---
The complete guide to home viewing
Get Screen Gab for weekly recommendations, analysis, interviews and irreverent discussion of the TV and streaming movies everyone's talking about.
You may occasionally receive promotional content from the Los Angeles Times.