Mike Love on his new album and that time the Beach Boys played a prison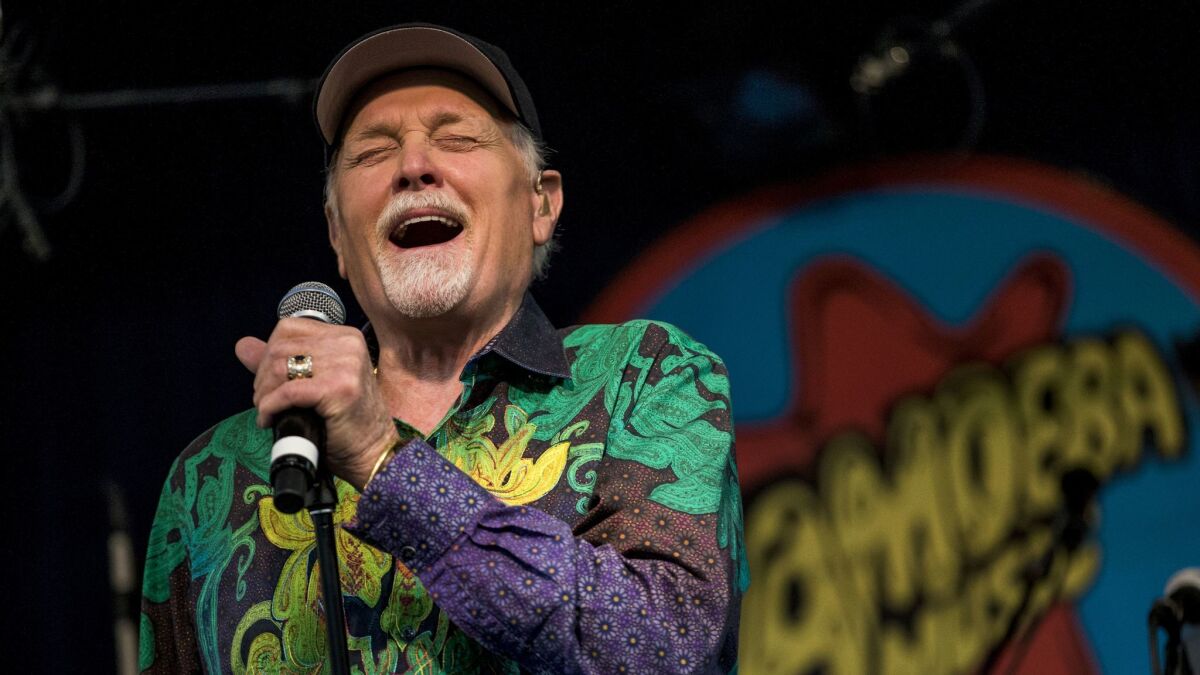 Pop Music Critic
As historic wildfires burned vast swaths of Southern California, Mike Love of the Beach Boys stood on a small stage at Amoeba Music and described an idealized landscape of good vibrations and fun, fun, fun.
To judge by the serene expression on his face, Love — a longtime proponent of the Transcendental Meditation technique he famously learned from Maharishi Mahesh Yogi in the late 1960s — had risen above any distress the blazes might've caused him.
"The West Coast has the sunshine," he sang with what still looked like pride, "and the girls all get so tan." To punctuate the well-worn lyric, he pointed at people in the small but enthusiastic hometown crowd; later, he used his hands to form the shape of a heart.
Yet a flicker of anguish showed itself earlier, before the Dec. 6 gig, as Love, 76, sat in a cluttered back room at the Hollywood record store.
"I was looking out the window from our balcony, watching the plumes of smoke at like 7 o'clock this morning," he said. Love explained that he and his wife, Jacquelyne, were staying at the Four Seasons on Doheny Drive, with a view of the Skirball fire in Bel-Air. "I stood there and just thought, 'Oh, my goodness.'"
Then he said with a grin, "Jackie wouldn't even let me go swimming down in the beautiful pool because of the air quality. I said, 'What kind of air quality you talking about? I grew up in L.A. There's been smog here for 300 years.'"
A happy resident these days of Incline Village, Nev. (on the north shore of Lake Tahoe), Love was in town this month to promote "Unleash the Love," the first solo album in decades from the only guy with the legal rights — and perhaps the fortitude — to tour under the Beach Boys brand name.
It's a double-disc affair, with 13 new songs about peace and positivity and a dozen re-recorded Beach Boys classics, including "California Girls," "Help Me Rhonda" and "Do It Again."
On that last one, Love shares vocal duties with his friends John Stamos and Mark McGrath, and it's impossible not to recognize how much more relaxed Love sounds with them than he did a few years ago playing high-profile concerts with his cousin Brian Wilson.
As even casual Beach Boys fans know, Love's relationship with the group's troubled genius has been strained for years — they've fought about money and creative credit — which is one reason the Beach Boys' so-called reunion album, 2012's "That's Why God Made the Radio," made for a pretty miserable listen.
"Unleash the Love," on the other hand, reflects no turmoil at all; it's as even-keeled as "Kokomo," the late-'80s Beach Boys hit that Love famously shepherded without Wilson's involvement.
That's not to say the album is good, exactly; new tunes like "Pisces Brothers," about Love's friendship with George Harrison, and "All the Love in Paris," with an appearance by the smooth-jazz saxophonist Dave Koz, are as corny as you might fear.
But it's kind of fascinating to hear Love reclaim the old stuff as though he could protect it from the inferno that is his family history.
Part of what he's doing, of course, stems from his awareness of the market, a head for business that goes back to the '60s, when he'd show up at the offices of the William Morris Agency and work with the Beach Boys' promoter, Irving Granz, to book the group's opening acts.
"I've always been part of that process," Love said. "Now it's AEG and Live Nation — they're the big Goliaths. But guess what? They don't run Texas Christian University's performing arts center. And we can go there, and people are totally fans and they're not gonna have to pay too much."
At Amoeba, Love sang a handful of new tunes, including "Only One Earth," which had one of his daughters delivering an incantation about winds and spirits. But he knew what folks had come to hear — and, as on "Unleash the Love," he didn't make them wait long for "Good Vibrations" and "Fun, Fun, Fun."
In its blandly crowd-pleasing aspect, there was something almost service-minded about the performance that made you think of a plumber or a lifeguard. Love typically plays more than 100 shows a year with his version of the Beach Boys (which includes Bruce Johnston), and he says his mission — his job, in fact — is to re-create the original records in order to inspire bliss in the audience. He credited his father's work ethic for that approach.
"He'd get up at 5:30 in the morning and go to work at 6 at Love Sheet Metal and make kitchen equipment," Love said, sipping an almond-milk latte. "In World War II they made galleys for warships, and later on they did the Bob's Big Boy restaurants and the UCLA Medical Center."
But as suits the man who couldn't resist mentioning L.A.'s pre-industrial smog, Love also plays the old music as a means of setting the record straight — of arguing that these are his songs as much as they're Wilson's.
When I asked how long he and Jacquelyne had been married, he ended up telling a long story about how he'd dictated the lyrics to "Good Vibrations" to one of his previous wives as he drove to the studio to record the song.
"I said, 'Take this down: I love the colorful clothes she wears,'" Love recalled.
He has plenty of other tales, including the time the Beach Boys played a state prison in McAlester, Okla.
"This was a while ago," Love said, referring to the show that took place in 1969. "My cousin Carl was drafted but he didn't go; he became a conscientious objector. But there was a while where the FBI was looking for him. And so when they made the determination that this guy is not gonna go to Vietnam, we did a lot of things — prisons, hospitals — as part of his service."
Love remembered talking to bank robbers. "Great guys," he said. "Intelligent. But maybe not the right lifestyle choices." He also said he sat in the prison's electric chair. "It wasn't occupied at the moment."
Recounting the episode, Love seemed to relish the details as they came back to him. There was a warden — "tall guy, 6'4", big Stetson hat" — and a weirdly cozy dinner before the gig. As he got going, though, Love's tour manager interrupted him; it was almost show time at Amoeba, and he still had his vocal warm-ups to do.
When he got onstage, Love quickly mentioned the fires after opening with "Getcha Back," a tune he wrote for the Beach Boys' self-titled 1985 album. He was sorry to hear about all the destruction, he said, as it had surely kept some people from coming out that night.
Twitter: @mikaelwood
Get our L.A. Goes Out newsletter, with the week's best events, to help you explore and experience our city.
You may occasionally receive promotional content from the Los Angeles Times.