Matt Bellamy of Muse on what L.A. has to do with their slick new album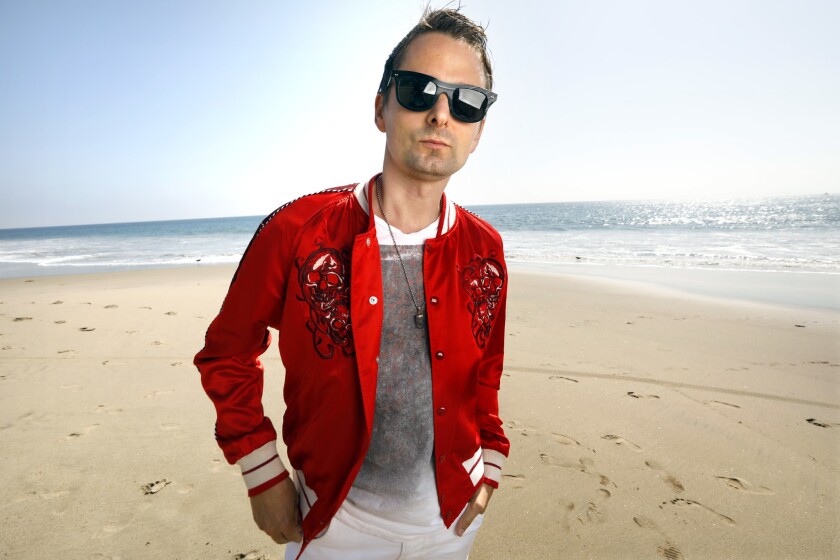 Pop Music Critic
Matt Bellamy sipped his cappuccino and peered at the ocean as he thought.
Asked how he came to live in Los Angeles, the frontman of England's Muse — one of that country's biggest rock groups, and one whose music has proudly echoed such foundational British bands as Queen and Pink Floyd — had already mentioned what he called "the obvious stuff," by which he meant the weather and the landscape and the fancy beverages on the beach.
But there was something else that drew Bellamy to California — something he wanted to describe with just the right words on a recent afternoon at his private club in Malibu.
"It really feels like it's the cutting edge of creativity in the world, and not just in music and film and the arts, but in technology too," he said after a moment. "In the past I've had quite a lot of anxiety about technology's impact on our lives," which was certainly one way to describe the mindset that led to an old song like Muse's "Dead Inside," with its vision of being "crushed and pulverized" by a murderous android.
"Here, though, the optimism around technology is palpable," Bellamy went on. "There's so much excitement as compared to England — you know, the land of Orwell.
"I think that's made me a little bit more positive about it as well."
That freshly buoyant attitude permeates Muse's new album, "Simulation Theory." Released last week, it's the Grammy-winning trio's eighth full-length but the first they've made as "L.A. natives," Bellamy said before correcting himself with a laugh: "Well, not natives, but real residents."
And though it's still full of the heavy riffs that endeared Muse to an audience of would-be guitar heroes, the record makes happy use of the gleaming synth textures and crisp programmed drums that define much of the pop music made here. Portions of "Simulation Theory" were produced by Shellback, known for his work with Taylor Swift, and the veteran hip-hop beatmaker Timbaland.
Long perceived as the auteur behind Muse's grandiose music, Bellamy said he was inspired to loosen his control over the group's sound by the collaborative spirit he saw at work in California's tech and film industries.
The singer also credited his experience getting into virtual reality — specifically the game "Star Trek: Bridge Crew," which he said he's spent countless hours playing online with strangers from all over the world — and his four trips to Burning Man.
"It's a total escape from regular life," he said of the annual Nevada festival adored by futurists. "And when you escape, what you find is that people are generally lovely. There's a natural desire to cooperate and create friendship."
Bellamy said the bright, compact sound of "Simulation Theory" — a record with little apparent worry about its musicians' reliance on machines — represented a reaction to Muse's previous album, the sprawling and paranoid "Drones."
For that record, which came out in 2015, the group recorded with Robert John "Mutt" Lange, the old-school hard-rock perfectionist, whose "obsession with precision could be psychologically difficult," Bellamy said.
"There were certain songs that he just couldn't let go of — that we had to take away from him to finish." The frontman laughed. "If we did everything he said, we'd probably still be recording it now."
Bellamy added that Lange, whom he described as "kind of a left-libertarian conspiracy theorist," pushed him to further explore the dark political themes that have always run through Muse's music.
And for all the optimism of the new album, those themes still crop up on "Simulation Theory," whose title refers to the idea, popular in science fiction, that we're living inside a computer program devised by an advanced race.
In the funky "Thought Contagion," Bellamy sings about the spread of fake news, while "Propaganda" layers warnings about "pretty lies" over a slithering, Prince-like groove. Then there's the sleekly propulsive "Get Up and Fight," the latest in a series of Muse songs urging action against some unspecified oppressor.
Bellamy, who formed the band with bassist Chris Wolstenholme and drummer Dominic Howard in the English port town of Teignmouth in 1994, said Muse's "populist viewpoint," as he called it, can be traced to the trio's growing up "feeling like nobodies from nowhere."
"It's the sense that people far away from you, who have no skin in the game, are dictating your life," he said, laying out a version of the argument that helped drive the U.K.'s Brexit vote and put Donald Trump in the Oval Office.
"I'm frightened when I listen back to songs like 'Uprising,'" Bellamy said of Muse's stomping 2009 hit in which the singer exhorts the audience to "rise up and take the power back."
"It was almost predicting a kind of revolt that was about to happen — and did happen," he said. "What's going on in Europe and the U.S., it's quite ugly; it's not how I wanted it to happen.
"But I can sympathize with everyday people feeling disconnected from the powers that be."
Given what he sees as the ugliness of Trump's style, was Bellamy tempted to make his disapproval clear — à la Roger Waters, for instance, who's played concerts with a floating pig emblazoned with the president's face?
"To me that's a step too far," he said. "It's too preachy. I prefer the music to move people on an emotional level towards their own decisions about how they'd like to change things, rather than me saying, 'This is how you do it.'
"But God knows what I'll think when I'm [Waters'] age," he added, laughing. "Maybe when you start to feel like time is running out, you start saying it as it is."
Next year Muse is set to take "Simulation Theory" on the road. But if the band's new songs express hope about the ways technology might bring us together, Bellamy says he wants the live show to dial back the high-tech gadgetry utilized in the last few Muse tours.
"I've been thinking about how to use people more in performance — choreography, costumes, interpretative dance," he said. The singer called himself a big fan of Philip Glass' notion of "programming humans to do things that are quite machine-like."
And he said he was blown away by David Byrne's recent road show, which had the former Talking Head and his band carrying their own instruments on a bare stage.
Byrne's production was, indeed, a thrill. Where had he caught it?
"You know what, I'll be honest with you," Bellamy said with a sheepish grin. "I saw it on YouTube."
Twitter: @mikaelwood
---
The complete guide to home viewing
Get Screen Gab for weekly recommendations, analysis, interviews and irreverent discussion of the TV and streaming movies everyone's talking about.
You may occasionally receive promotional content from the Los Angeles Times.