What it was like to road-trip with David Byrne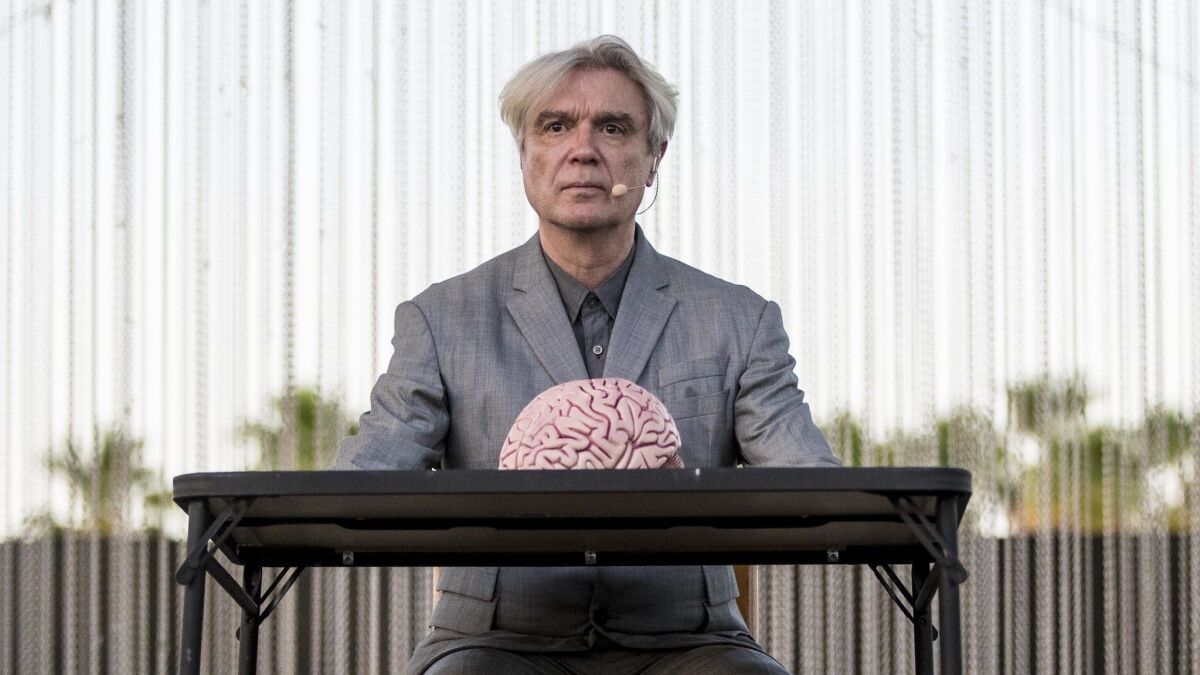 Pop Music Critic
"You must be my ride," David Byrne said, hopping off his bicycle as he pulled up in front of a West Hollywood hotel. "Want some juice? I didn't drink any of it — it just spilled while I was riding over."
Given that I was indeed Byrne's ride — the veteran art rocker's conveyance on a recent afternoon to a concert in San Diego — I accepted the bright-orange carrot-and-cayenne concoction, then slurped it down as a member of Byrne's road crew loaded his bike onto one of several tour buses idling outside the hotel.
The buses would take Byrne's 11-person live band a couple of hours south, where they were due to perform this month ahead of a gig at the Coachella Valley Music and Arts Festival in Indio. But the singer himself had agreed to travel with me in order to discuss "American Utopia," a strong new solo album on which the former Talking Heads frontman ponders life during Trump time.
Before we got to that, though, I asked this longtime New Yorker, whose old group emerged in the mid 1970s from the punk scene based at CBGB, how familiar he felt with Los Angeles. Turns out he once lived here for a while: After Talking Heads shot its iconic concert movie "Stop Making Sense" at the Pantages Theatre in 1983 — you can still picture him in that oversized suit — Byrne stuck around to assist the film's director, the late Jonathan Demme, as he oversaw the editing process; the singer bought a house in Laurel Canyon (which his ex-wife now owns) and eventually got into movies himself with 1986's quirky "True Stories."
As we pulled onto La Cienega Boulevard, Byrne, 65, noted the ongoing renovation of the Beverly Center, that fortress-like relic of the shoulder-pad '80s. He'd eaten at the mall the night before, at some farm-to-table spot in keeping with "Alice Waters and Wolfgang Puck and all that kind of California stuff," he explained.
Then he laughed.
"What in the world? I'm having dinner at a restaurant in the Beverly Center. That is so uncool!"
"American Utopia" is Byrne's first proper solo record since "Grown Backwards" in 2004. In the years following that one, he focused on a number of more esoteric projects, including musicals about Imelda Marcos and Joan of Arc and an elaborate arena production in which he arranged for high-school color guard teams to perform to live accompaniment by hip musicians such as St. Vincent and Devonté Hynes.
Yet the new album looks for a spot closer to the center of the American conversation. It has songs about gun violence and consumerism; the tone is spooked but resilient. And the sound reaches happily toward pop — catchy melodies, slick rhythms — in a way that Byrne hasn't seemed interested in doing for ages.
"American Utopia" also arrives amid something of a Talking Heads mini-revival. Last year Father John Misty name-checked the band's "This Must Be the Place" in one of his tunes, while Selena Gomez built her Top 40 hit "Bad Liar" around an instantly recognizable sample from "Psycho Killer." ("It's a really good song," Byrne said of "Bad Liar.")
With this in mind, you get the sense that Byrne is trying to take advantage of a moment. He was inspired to mount his current tour, due to circle back to Southern California for an Aug. 25 date at the Shrine Auditorium, not only because he was excited about his new material but because of something his booking agent told him. "He said, 'David, I'm hearing a lot of demand for you,'" Byrne recalled as we got on the 405 Freeway. "So I said OK."
Beyond Coachella, the lengthy trek includes stops at other festivals like this weekend's New Orleans Jazz & Heritage Festival and Panorama in New York, where he'll perform alongside Janet Jackson and the Weeknd — a kind of re-immersion into the pop scene he last inhabited back when "Burning Down the House" was burning up MTV.
In the car, I mentioned that he wasn't the only influential veteran on the bill at Coachella; Nile Rodgers was also set to bring his disco band Chic to the youth-oriented event. Byrne, dressed in white jeans and expensive-looking moccasin-style shoes, said he'd played not long ago with Chic and that they'd sounded great. Then he looked out the window quietly for a minute before asking if buses were allowed to use the HOV lane.
If he was uncomfortable with the idea of being thought of as an old-timer — well, that might just be Byrne's manner. As he's been making clear onstage for decades, he's slightly uncomfortable (in a friendly way) about virtually everything. But Byrne may also reject the old-timer thing because his show operates so differently from the nostalgia-trip approach favored by many of his peers.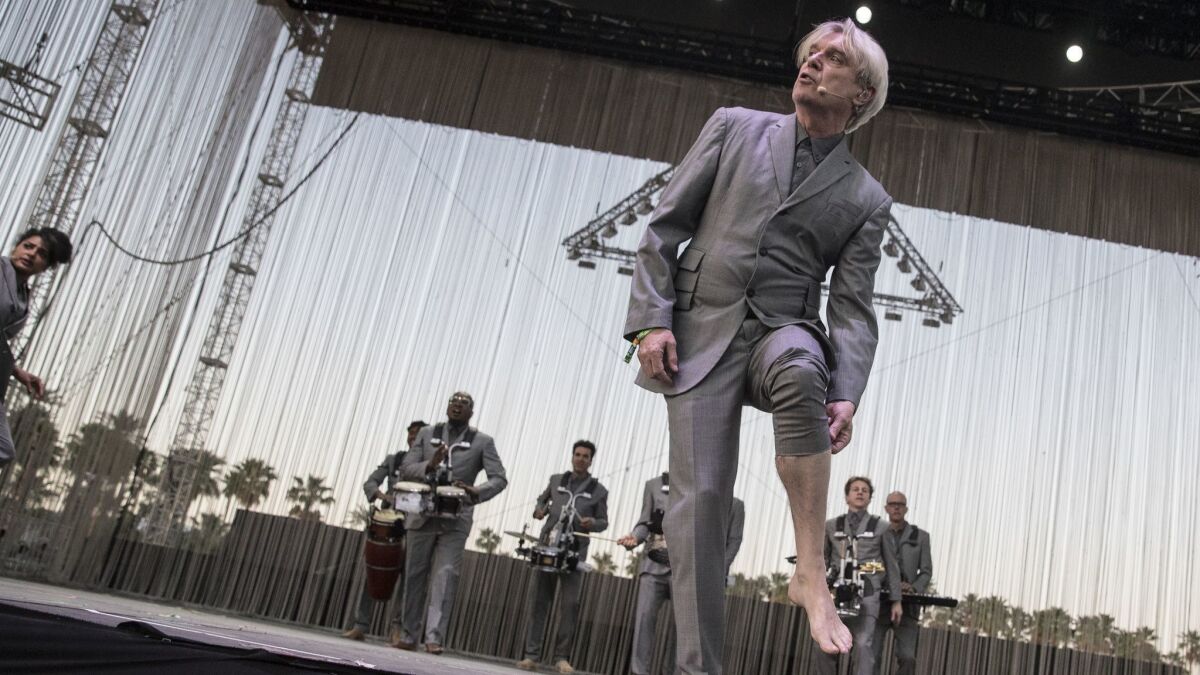 On this tour Byrne and his band are performing on a bare stage surrounded by a curtain made of chains; they play only instruments they can hold, which gives the presentation a radically minimalist vibe that makes even oldies like "Once in a Lifetime" seem fresh.
The singer said his goal was creating a strong visual impact without spending a fortune. But his models were relatively lavish productions by Kendrick Lamar (who toured last year with a gigantic high-def video screen) and Beyoncé (whose "Formation" tour involved a state-of-the-art cube).
Angie Swan, a guitarist in Byrne's live band who's also played with Fifth Harmony and will.i.am, described Byrne's essential "openness to newness" and said he "wants to be up to date with what's going on in the world."
You can hear that on "American Utopia," which he insisted he didn't write specifically in response to Donald Trump but which definitely catches the unease many feel with this president at the controls.
As we munched sandwiches Byrne brought along for the ride, I asked him about his news diet. He said he reads several newspapers on a tablet every morning over coffee and grapefruit juice. "But I have to monitor my input," he added, "because the anger and frustration — I can get carried away with it."
In fact, he began collecting more reassuring news stories recently — "things where a city or a state or a village have kind of solved the problems that larger governments seem incapable of dealing with" — and highlighting them in a web series he calls "Reasons to Be Cheerful."
When he started, he posted some items that turned out to be inaccurate, which some readers were more than happy to point out. So now he employs people to research and fact-check for him. "If I can do it, Facebook can do it," he said.
Speaking of Facebook, I said, I wondered what his attitude was regarding the digital accessibility now expected of celebrities. He said his office handles all his social media on his behalf. "I don't deal with it myself at all," he said. "Sorry if some people thought that was me posting. But that's not the kind of person I am."
Another reservation he has about the internet is "the sense that everything is up for grabs — that if I see something I think is cool, I can just use it," he said, "instead of giving credit to the person who thought it up." He remembered being shocked to see Beyoncé borrowing images without apparent attribution from the Swiss artist Pipilotti Rist in her video for "Hold Up."
"I talked to other people in the art world and they were appalled as well," he continued. "Then one of my friends was working with the artist and asked what she thought, and she goes, 'I think it was great because now people know who I am.'"
Byrne laughed in his deadpan fashion. By this point we were approaching downtown San Diego, and I asked if he could pull up the Maps app on his iPhone to get directions to the theater he was playing.
"I usually use Google Maps," he replied, punching in the address.
In another minute or so we pulled up to the place. Byrne's name was on the marquee.
"Somebody will come help you with parking," he said.
Twitter: @mikaelwood
Get our L.A. Goes Out newsletter, with the week's best events, to help you explore and experience our city.
You may occasionally receive promotional content from the Los Angeles Times.