Review: Roger Waters' high-tech Us + Them spectacle soothes and galvanizes at Staples Center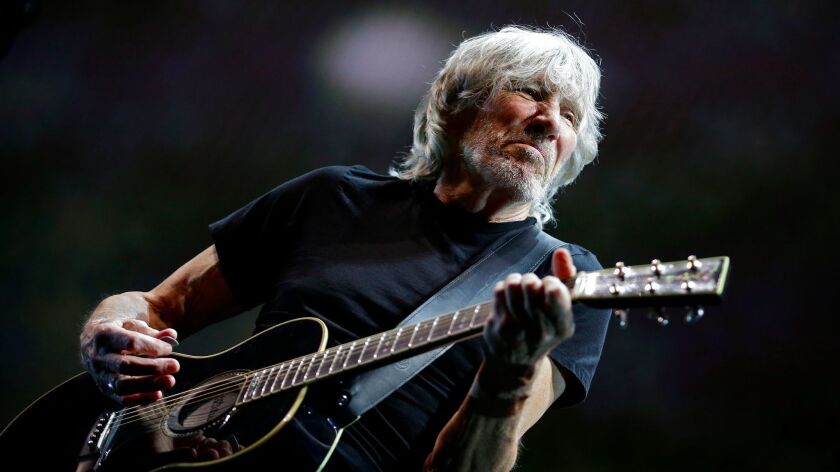 Pop Music Critic
The responsibility to engage met the temptation to zone out when Roger Waters brought his Us + Them tour to Staples Center on Tuesday night for the first of three concerts at the downtown arena.
The tour comes behind "Is This the Life We Really Want?," a strong new solo album from the Pink Floyd veteran on which he takes aim at President Trump — the brainless "nincompoop," in Waters' view, responsible for everything from the normalization of racism to Greenland's projected ruin as a result of climate change.
Like most rock-star rabble-rousers, Waters is light on practical solutions to the problems he presents. But he is urging action of a kind: "We will not listen to your" nonsense, he promises (in harsher language) in "Broken Bones," a strummy acoustic plaint addressed to those pursuing abundance at the expense of liberty.
To show he's serious about pushing back, the 73-year-old adds an F-bomb that feels only more explosive for how pretty the music is.
Beauty was in no short supply at Staples Center, where Waters' typically elaborate production put his expert road band (filled with hip young players like singer-guitarist Jonathan Wilson and drummer Joey Waronker) on a stage tricked out with sophisticated visual components: high-definition video screens, a floating orb equipped with a camera, a collapsible replica of the iconic Battersea Power Station pictured on the cover of Pink Floyd's "Animals."
MORE: Roger Waters speaks out on a grand scale with new album, Us + Them tour »
The images weren't necessarily meant to be lovely. During the new album's "Déjà Vu," grainy footage from a presumably American bomber plane showed a truck being obliterated from above; "Pigs (Three Different Ones)," from "Animals," was accompanied by doctored photos of a seething Trump dressed in Nazi regalia.
But set against the gorgeous zero-gravity throb of Waters' music — solo material along with songs from Pink Floyd's mid- to late-'70s heyday — the artfully edited display had a lulling effect that seemed at odds with his stated desire to shake things up.
"Black and blue / And who knows which is which and who is who," Wilson sang dreamily (filling in for Pink Floyd's David Gilmour) in "Us and Them," and it was awfully easy to recline in one's seat and listen to his nonsense.
Waters understands this tension, of course: He's the guy who wrote the words to "Comfortably Numb," which closed Tuesday's show in a blaze — well, a slow burn — of self-doubting psychedelia.
And there were moments of real rupture, as in a pummeling rendition of "Brain Damage," from "The Dark Side of the Moon," and "The Great Gig in the Sky," which Waters' backing vocalists — Jess Wolfe and Holly Laessig of the indie band Lucius — sang while staring into each other's eyes, their platinum-blond wigs creating an appealingly eerie reflection.
Tunes from "Is This the Life We Really Want?" offered less happy sedation. In "Picture That," Waters jabbed his finger in the air as he threw out one disturbing vision after another: "your kid with his hand on the trigger," someone "glued to a screen in the state of Nevada." Here his voice was ragged, the song's grim sentiment unsweetened by sight or sound.
Mostly, though, Waters' high-tech spectacle made you wonder which he was trying to do: galvanize his fans or soothe them. (A more charitable read might be that he was critiquing their reasonable desire to be soothed at a moment of crisis.)
Nowhere was that ambiguity more pronounced than at the end of his first set, just prior to an intermission that split the three-hour concert into halves.
Waters was playing "Another Brick in the Wall," his anti-tyranny chant from "The Wall," when a group of teenagers he'd brought onstage tore off the orange jumpsuits they were wearing to reveal black T-shirts that read "Resist."
Were we supposed to take inspiration from these kids — from their eagerness to stand up and be counted?
Or was their activism allowing an older generation to wriggle off the hook?
Twitter: @mikaelwood
ALSO
The Moody Blues open the season — and flirt with self-parody — at the Hollywood Bowl
What Chuck Berry's and Glen Campbell's final albums have to say about the end of the road
Lindsey Buckingham and Christine McVie on their duets album: 'We kind of blew our own minds'
---
The complete guide to home viewing
Get Screen Gab for weekly recommendations, analysis, interviews and irreverent discussion of the TV and streaming movies everyone's talking about.
You may occasionally receive promotional content from the Los Angeles Times.